Imagine you are eagerly awaiting your Amazon package only to find out that your package got missing and was snatched away by cunning porch pirates.
It's an absolute bummer for all Amazon shoppers, and unfortunately, many have dealt with it in the past. Thankfully, Amazon now offers a solution through Amazon Hub Counter.
This program delivers your packages securely and lets you retrieve them seamlessly at your nearby Amazon Hub Counter.
This guide will uncover everything related to Amazon Hub Counter service and how it's a game-changer for avid Amazon shoppers. Let's dive right in!
What is Amazon Hub Counter?
Amazon Hub Center is a designated spot where your packages find a temporary home before you claim them. It keeps you from the hassle of nervously checking your doorstep for package arrival.
Instead, you can have them delivered directly to the Amazon Hub Counter near you.
Amazon introduced this service in 2019. The platform allows local businesses like grocery stores, whole foods stores, and gas stations to act as Hub Counters.
This is perfect for anyone tied up with work or social commitments. Your package will patiently wait for you at the Amazon Hub Counter until you can swing by and pick it up.
Amazon Hub Counter vs. Amazon Hub Locker: What's the Difference?
The primary difference between an Amazon Hub Locker and Counter is that the former is self-service while the latter involves interaction with people.
Amazon Hub Lockers are stationed at convenient locations. They stow away your packages until you arrive to pick them up.
It offers a touch-free and seamless experience. You receive a notification with a unique pickup code after your online purchase. You can use it to pick up your package at the drop-off location.
For those unsure about locker location, simply Google Amazon drop off near me, specifically for Amazon Hub Lockers. The search results will show you the closest drop-off points.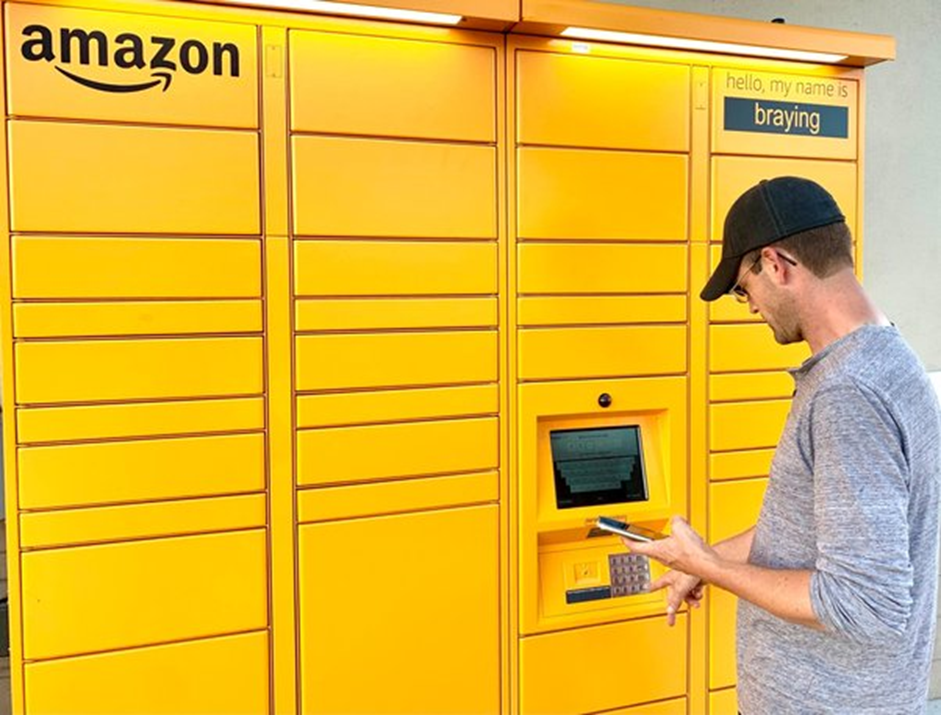 Contrarily, Amazon Hub Counter is staffed by real people. Your local Hub Counter team guards your Amazon packages until you arrive to receive them.
Overall, Amazon Hub Locker offers automation and efficiency, while Amazon Hub Counter makes up for a more personalized experience by adding a layer of human interaction.
What's the Cost of Amazon Hub Counter?
Since online shoppers are budget-conscious, they frequently question the cost of Amazon Hub Counter services.
The good news is this program doesn't come with an additional price tag. Amazon, the customer-centric platform, offers it to level up your shopping experience without digging into your wallet.
So, when you opt for Amazon Hub Counter, know that you are choosing a safe harbor for your packages. It is like having your cake and eating it too - you enjoy the perks of safe deliveries without spending a dime from your pocket.
How to Use Amazon Hub Counter?
If you are intrigued to utilize this service but aren't sure how to go about it, fret not. Here are a few simple steps to follow when placing an order on Amazon.
Select a product eligible for Amazon Hub pickup and add it to your shopping cart.
Choose the Proceed to Checkout option.
Make sure you search for an ideal Amazon Counter pickup location before completing the checkout.
You can use a zip code, an address, or a landmark to search for an Amazon Hub.
Once you find one, select Ship to this address to complete your order.
After this, you'll receive a 6-digit code to be used for the pickup.
As soon as the delivery driver drops your shipment at the designated location, you will get a notification through email or message. Then, you can visit the nearby counter and pick up your order.
How to Use Amazon Hub Locker?
Follow the below steps to use Amazon Locker to get your packages:
Place the order on Amazon and choose the Amazon Locker nearest to your location.
Visit the locker area and type the 6-digit code you received previously in your email or through a message on the touchscreen display.
You can also scan the barcode using the locker scanner (It is located below the Locker touch screen).
If the pickup locker necessitates a smartphone with the Amazon Hub app, here's what you can do.
Visit the locker location.
Click the Start Pickup option through the email containing your delivery confirmation. As you do, you'll revert to the detail page of the Amazon Shopping app's Locker.
Turn on your Bluetooth to establish a connection with the Locker.
Now select Open Locker through the app to open it.
Amazon Hub vs. Home Delivery: Which One to Consider?
Home delivery, of course, is a tried and true method. It's like having the store come to you, making shopping as convenient as a few clicks.
However, the unpredictable weather and prying eyes might affect your doorstep delivery. Therefore, Amazon introduced the Amazon Hub Counter and Locker program.
Here's a quick overview to help you choose your best option:
Amazon Hub alleviates your worry. First, you do not need to stress over getting your order delivered to the wrong address. Second, you won't fret over not being at home to receive the package.
Amazon Hub is meant to provide a secure experience. It is designed to keep your package away from porch pirates and thieves.
Picking orders from a nearby location boosts the delivery time. In other words, you can receive the parcel as soon as it arrives at the hub instead of waiting for a home delivery.
Amazon Hub can be your best bet if you intend to surprise your family member with a gift. They won't get to know you placed an order, and you can pick it up from the counter as it arrives.
Although the ultimate choice boils down to personal preferences and lifestyle, Amazon Hub Counter and Locker add a layer of security and control that home delivery fails to offer.
Key Reminders About Amazon Hub Counter
It is worth remembering all products available on the platform aren't eligible for the Amazon Hub Counter program.
The product must meet a few requirements to qualify for either service, as follows:
The product measurement should be less than or equal to 16 x 12 x 14 inches.
The package weight must be less than 10 pounds.
The order must be below $5,000.
The package must not contain any chemicals or hazardous items.
The items aren't from another country.
The package does not contain products from Subscribe & Save.
It doesn't include Release-Date Delivery products.
Here are the specific requirements if you choose the Locker pickup service:
The product must not exceed 36 x 24 x 24 inches or weigh over 33 pounds.
The package doesn't contain items from Subscribe & Save or products for Release-Date Delivery.
All products are sold and delivered by Amazon.
They are available for delivery within 24 hours.
Counters are typically open for customers during the store timings. You generally have 14 days to pick up your product from Hub Counters.
However, Lockers require you to pick up the delivery within 3 business days. Once the time exceeds, Amazon assigns a Call Tag for the package.
How to Set Up Amazon Hub Counter?
Setting up an Amazon Hub Counter can bring additional foot traffic and help you boost brand awareness. People coming to get their packages from Hub will also explore your store, which can help you increase sales. So, it's a strategic move to bring in more customers and grow your sales.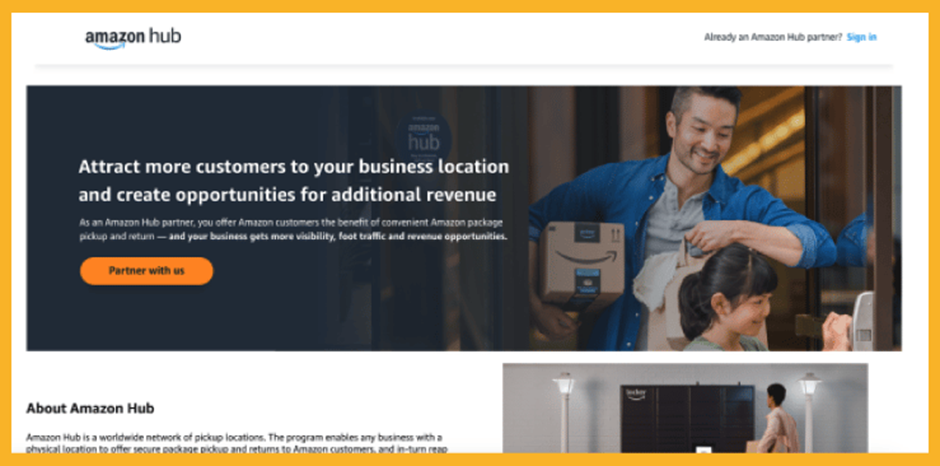 Here's how to set up an Amazon Hub Counter:
Visit the Amazon Hub sign-up pageand tap Partner With Us.
Carefully fill the questionnaire. Make sure you enter the correct contact information and location details.
Amazon will contact you and discuss further once you qualify for the program. You can expect a response in around 2 weeks.
FAQs about Amazon Hub Counter
Q1. Are Non-Amazon Packages Accepted At Amazon Hub?
No, Amazon Hub only accepts Amazon packages - hence the name. These counters do not entertain shipments placed through other e-commerce platforms.
Q2. Is It Possible to Return Goods to an Amazon Hub Counter or Locker?
Yes, it is possible to return goods to an Amazon Hub Counter and Locker. You can initiate a return through the official Amazon website or app by selecting a nearby Counter or Locker as the return address.
Once the platform processes your return, you can drop off the package at the given location. For Lockers, you receive a unique code to enter on the touch screen once you return the product. For Counters, the staff scans the QR code before accepting your return.
Q3. Will Amazon Pay Me for Hosting an Amazon Locker?
Amazon doesn't pay businesses for hosting Amazon Hub Counter or Locker. However, hosts get to enjoy other benefits. For instance, their stores get increased foot traffic and potential sales from people visiting to pick up their Amazon orders.
Wrapping Up
The worry of missed deliveries and porch pirates often accompanies online shopping. Fortunately, Amazon Hub Counter/Locker emerges as the epitome of security and convenience.
It offers safe storage and peace of mind every online shopper expects after placing orders for products they have been eyeing for a while. It keeps them from constant check-ins and delivery anxiety.
So, if you seek to transform your online shopping into a stress-free experience, Amazon Hub Counter and Locker have your back.
- End -