I. Introduction
Ladies' fashion hoodies are highly sought-after trendy items in the women's clothing market.
The summer movie "Barbie" has sparked a global frenzy of "dopamine" and "Barbie Pink" after its release. Related keywords such as Barbie and Pink have also seen a significant increase in search volume on Amazon. However, as summer transitions into autumn, the once popular dopamine-inspired fashion trend has gradually faded, making way for a new trend called "Mélange," which focuses on brown as the main color palette for outfits.
Taking Paris Fashion Week as an example, the autumn-winter exhibitions showcased color combinations primarily featuring deep brown, khaki, ginger yellow, and warm orange. The intention is to create warm and layered looks using different shades and saturation levels. This trend encompasses various styles, including hoodies, sweaters, suits, and coats.
This report selects one of the women's hoodies on the Amazon US market for a brief analysis. From the aspects of market trends, product analysis and consumer insights, product recommendations, etc., we hope to provide valuable information for cross-border industry stakeholders of Amazon.
II. The SWOT Summary
The Fashion Hoodies & Sweatshirts market has a large volume and high competition. Compared to other markets, new products are more likely to be favored by consumers. However, there are challenges such as funding for inventory and operational development. Sellers need to consider their own situation before deciding whether it is suitable to enter this market.
Strengths
38% of the TOP100 products are new, and new products are relatively easy to enter the market due to their large market size.
They can achieve decent sales even without entering the Best Sellers Rank (BSR). There is a wide range of pricing options available, and each price range can generate profit margins.
There are multiple logistics options to choose from, and the probability of stockouts is low.
There are few patents, and the probability of infringement is low except for specific elements.
Weaknesses
The product return rate is high, at 17.8%.
Most of the products in the top seller's stores are similar products, focusing on one product line and demonstrating strong capabilities.
The majority of the products are meticulously crafted with A+ content, videos, and high-quality images, surpassing the standard for most categories, showcasing excellent operational abilities.
Opportunities
There are many directions for product differentiation, which can be extended through product style, collar type, fabric, function, etc.
The lifecycle of fashion products is not very long, and the acceptance of new products is higher.
Threats
The variety is high, and there are high requirements for stocking and financial capabilities in the early stage of product development.
The seasonality is severe, and efficient coordination is required for stocking, operations, and promotion.
III. Market Analysis
The basic situation of the market
The basic market situation involves searching for women's hoodies using core keywords and finding three subcategories on Amazon: Fashion Hoodies & Sweatshirts, Active Sweatshirts, and Active Hoodies. Based on the top 100 product images and explanations from Wikipedia, we can summarize briefly as follows:
The main difference between hoodies and sweatshirts lies in whether they have a hood or not. The distinction between fashion and active lies primarily in their different usage scenarios. The former is often suitable for everyday wear, while the latter is commonly used for sports occasions.
Based on the basic situation of the three submarkets mentioned earlier, we will proceed with the analysis by selecting the Fashion Hoodies & Sweatshirts segment that has the largest market size, the lowest monopolistic effect, and the highest proportion of new products.

Google trends
Based on the trends of the past five years, all the key terms have Google search popularity, and the year-on-year search popularity index has been increasing annually.
The keywords exhibit clear cyclical variations, reaching their peak in December every year and hitting the lowest point in May.
The keywords for this product include:
hoodies for women
sweatshirt for women
zip up hoodie women
oversized hoodie
half zip pullover women
The trend in the past five years.

The trend in the past 1 years.

Sales and competitive situation of BSR
In terms of monthly sales, there is a clear seasonality, and this year's sales data has increased compared to last year.
In the past four years, sales have shown both positive and negative growth, and were severely impacted by the 2019 epidemic. However, a quick recovery was achieved and it is expected that annual sales will exceed 7 million by 2023.
The number of category products in 2021 has already exceeded 20,000, and there is a great market demand, but the market competition is also quite fierce.
The quantity of products in different categories fluctuates during peak and off-peak seasons. The fast fashion industry experiences a phenomenon of quick turnover, which presents both opportunities and challenges for new products.

Summary of Market
There are many subcategories of women's hoodies available for selection on Amazon, but based on market conditions, the Fashion Hoodies & Sweatshirts category is the most suitable for long-term development as it has the largest volume, lowest monopolistic effect, and the highest proportion of new products.
In addition, as of now, the monthly year-on-year data for women's fashion sweatshirts has shown a clear upward trend with a significant increase in growth rate. It is expected that the annual sales volume in 2023 will exceed 7 million. Among the top 100 products in this category, the collar-style sweatshirt has a slight advantage when classified according to different styles.
The proportion of new products in this market is quite high, with a large market and many competitors. However, as long as one digs deep with dedication, they can also get a share of the pie. For sellers, opportunities and challenges coexist.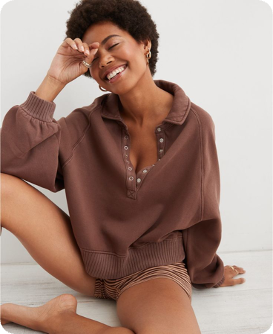 IV. Product Research
Analysis of the Collar Style Hoodie
In terms of product elements, the main features are semi-open zippers or buttons, kangaroo-like pockets in the front waist for easy storage of small items, and most of them are designed without a hood.
In terms of product materials, they are basically composed of 50% polyester and 50% cotton, which have good skin-friendly properties.
In terms of product style, most of them are loose and casual plus-size styles, with a few slightly slim-fit designs suitable for sports scenes.
In terms of product colors, black, white, and gray are the main versatile colors, and this year there are hot new warm colors such as khaki gray, khaki, and brown.
In terms of product size, they basically cover the US standard sizes of S-XL, with some adding XXL and above sizes, and there are not many sizes below S.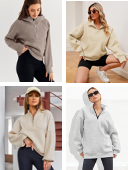 From recent sales trends, it can be seen that women's collared hoodies have seen a significant increase in sales starting from 2022, and by October 2023, sales have approached the peak level of December 2022.
Synchronously observe the price trend, the product fluctuates up and down in the range of $30-$45, without any significant upward or downward trend, which belongs to the natural fluctuation range.
Taking a closer look at the trend of the number of ratings, we can see that the rating count is steadily increasing. Judging by the slight slope, it appears that the growth rate in the second half of the year will be slightly higher than in the first half.

Product Price Distribution
Most of the products are distributed in price ranges above $25, with only one product priced below $25. Additionally, the average sales volume per ASIN is highest in the $35-$39.99 range, exceeding 10,000 units.

The new products are concentrated in the price range of $25 to $39.99, and the proportion of new products is balanced, indicating a wide range of pricing options.
Sales of Collar Style Hoodies by Brand
| | | | | | |
| --- | --- | --- | --- | --- | --- |
| Brand | ASIN | Monthly Sale | Sale Proportion | Monthly Revenue | Revenue Proportion |
| AUTOMET | 4 | 46,243 | 25.56% | $1,611,394 | 25.65% |
| Trendy Queen | 5 | 40,637 | 22.46% | $1,385,789 | 22.06% |
| Dokotoo | 2 | 12,853 | 7.10% | $444,579 | 7.08% |
| AlvaQ | 1 | 12,810 | 7.08% | $473,842 | 7.54% |
| WYNNQUE | 1 | 9,010 | 4.98% | $297,240 | 4.73% |
| LASLULU | 1 | 9,002 | 4.98% | $359,990 | 5.73% |
| Fisoew | 1 | 8,756 | 4.84% | $376,420 | 5.99% |
| Floral Find | 1 | 7,621 | 4.21% | $220,857 | 3.52% |
| BLENCOT | 1 | 6,960 | 3.85% | $229,332 | 3.65% |
| PRETTYGARDEN | 1 | 6,885 | 3.81% | $254,607 | 4.05% |
| BTFBM | 1 | 6,844 | 3.78% | $246,316 | 3.92% |
| Ezymall | 1 | 4,587 | 2.54% | $137,564 | 2.19% |
| ATHMILE | 1 | 4,263 | 2.36% | $84,919 | 1.35% |
In the performance of the collar-type women's fashion sweatshirt brand, except for the top 3 brands that have multiple AISN entries, the others only have 1 ASIN entry. The top 3 brands occupy more than 50% of the market share for this style. However, even so, the monthly sales of single products from the other brands behind them still exceed 4,000 units, indicating a large market volume.
AUTOMET, CN, Guangzhou Baiyun, Old Shop, Feedback 2868, has 183 products, many of which are ranked within the top 10,000 in the clothing category. It has its own private domain and continues to update new products. Trendy Queen, CN, Guangzhou Baiyun, Old Shop, Feedback 1230, has 73 products in the store, all of which are clothing and many of which are seasonal items ranked within the top 20,000 in the major categories. It is a big seller with strong operations. Dokotoo, CN, Quanzhou, Fujian, Old Shop, Feedback 4867, has more than 1,000 products in the store, all of which are clothing.
The top brands for this style are all vertically operated stores, and apart from clothing, there are rarely other product categories. The sellers behind them are relatively strong, and this category is more suitable for clothing brands with funds and strength to go overseas, rather than for novice sellers.
The monopoly situation of the top 100 brands.
The top three category brands account for 38% of sales, while the top ten brands account for 65% of sales. There is not a significant monopoly effect, which provides many opportunities for both new and old sellers to develop and grow.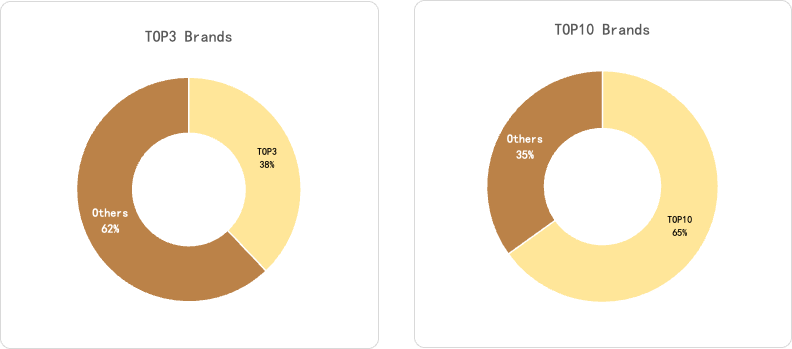 New styles of women's fashion hoodies inspired
Product Design:
From the New Releases+TOP100 list, the product design of this product is mostly loose-fitting with tightened cuffs and hem, suitable for various occasions such as casual sports, effectively covering body fat. Some new models also feature drawstrings and contour lines in their design, making them more stylish and fashionable.
Collar Design:
In the New Releases list, there are many different collar designs, such as large collars with zippers or buttons, high collars with hoods, and round collars with pocket designs. These not only provide warmth for autumn clothing but also add a cute and playful visual experience.
Product Fabric:
In the New Releases list, various fabrics such as blended fabrics, spandex, polyester, and cotton with a waffle-like texture are used. Lightweight and elastic fabrics are appropriately selected to ensure lightness and comfort when worn, providing users with a better experience.
Innovative Features:
By adding a few innovative features, the sweatshirt stands out from other products in terms of functionality. For example, hidden zippers, double-sewn contour lines, and other designs increase practicality and convenience.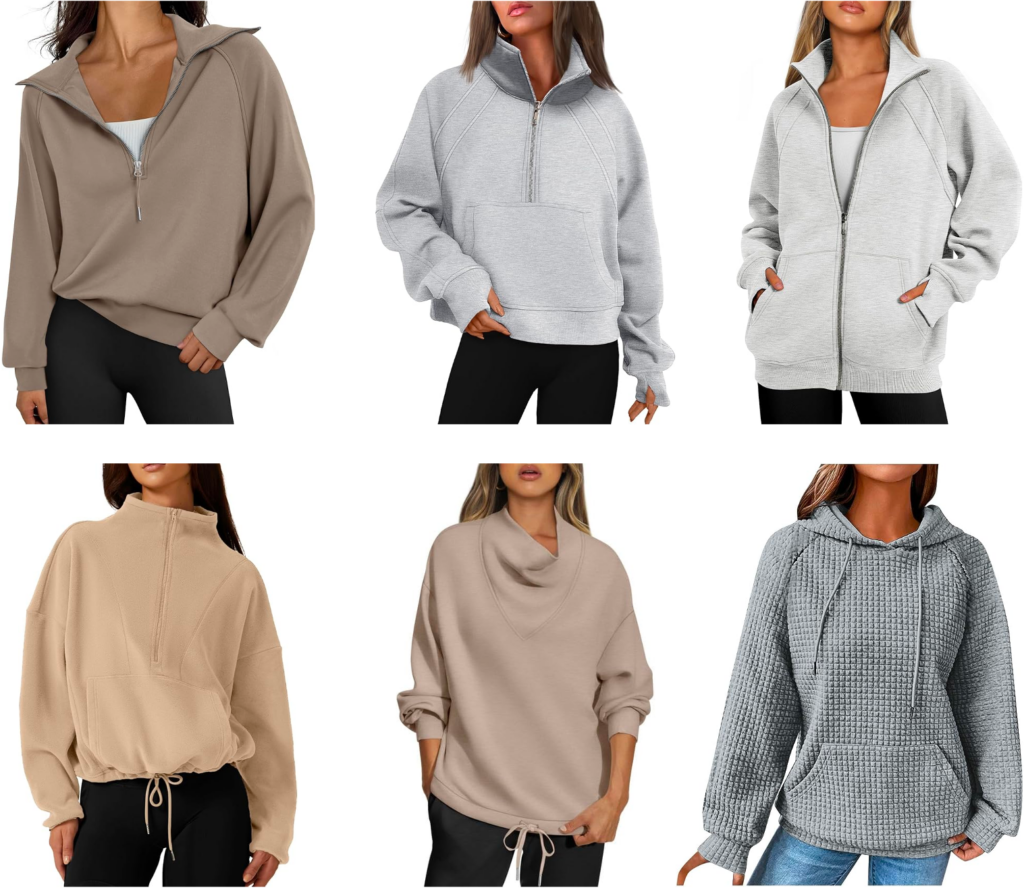 V. Competitive Analysis
Basic information about BSR competitors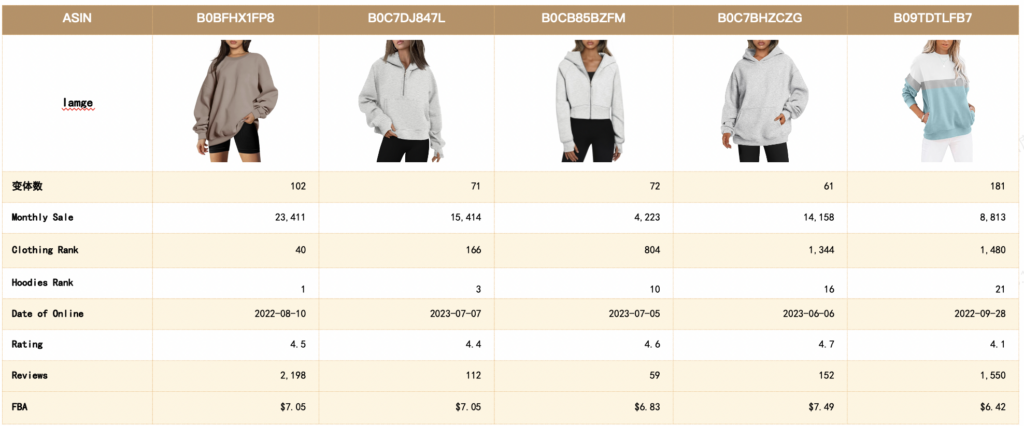 Customer Profile Analysis

From the basic consumer profile, we can see that the primary consumer group for solid color hoodies is women, but it also includes men with families among the purchasing population. The relationship between users and buyers is mostly intimate family members such as daughters, wives, and mothers.
In terms of usage scenarios, apart from regular home and office settings, gyms and cycling are also among the top three scenes, aligning with the trend of outdoor activities after the pandemic.
Regarding purchasing behavior, gifting is the top reason, with the highest purchase volume in the summer. It is speculated that users tend to choose this category of products as gifts during promotional events like Prime Day and Mother's Day. As a basic item, solid color hoodies have higher acceptance among gift recipients due to their practicality and cost-effectiveness.
Mining New User Profiles
From the trends in the demographics and venue data, the following three segmented groups are our main target audience:
Young women who love sports: Through cross-analysis, this group is the primary consumer and user of solid-colored sweatshirts. Comfort, versatility, and value for money in sports settings are the key factors that influence their purchasing decisions.
Female professionals such as nurses, teachers, and tailors who require comfortable clothing for work: This group typically works long hours and does not have a specific dress code, making simple and comfortable sweatshirts a versatile choice.
Male users with family members: The relationship between the user and the purchaser is often an intimate family member such as a daughter, wife, or mother. This group has a need for shopping but not necessarily for personal use, so price, packaging, and other marketing incentives will be the core factors influencing their purchasing decisions.
An example of a typical user image (from actual user photos):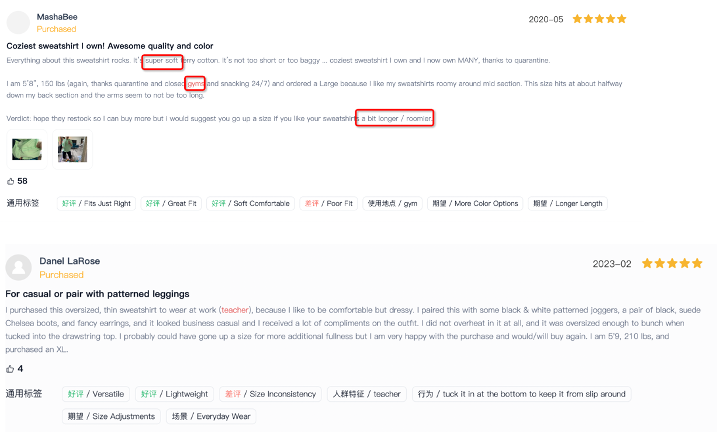 The use cases of BSR competitors
Work attire and sportswear are the top scenarios, where comfort, versatility, and cost-effectiveness are the key factors determining the purchase. Gift-giving is identified as the most frequent scenario, with a higher number of purchases during the summer season, particularly during back-to-school season and Mother's Day, when gifts are often given to daughters and mothers.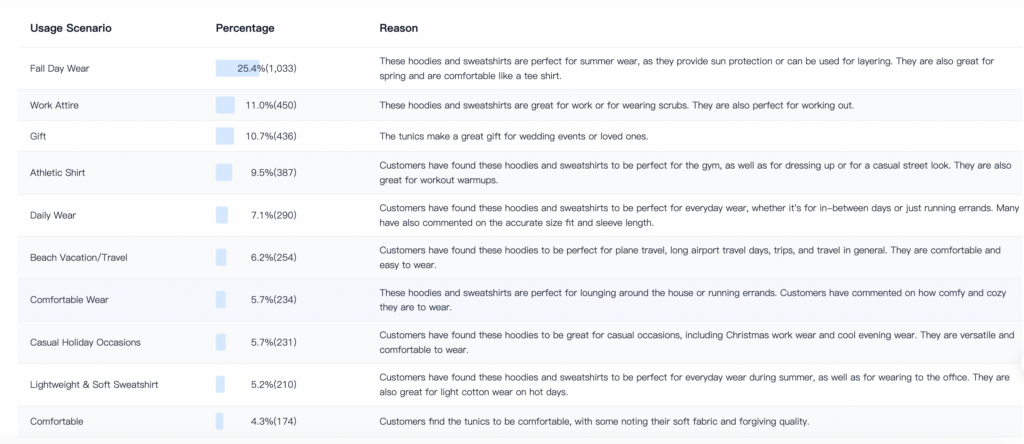 The core sales price range for this category is $10-40, and user preference is very low for prices exceeding $40. In gift-giving scenarios, the preferred price range is $20-30 due to its high cost-effectiveness. However, in outdoor scenarios such as travel, consumers tend to choose products in the $30-40 price range. In these scenarios, consumers are choosing for themselves and will consider both functionality and comfort, leading them to choose slightly higher-priced products.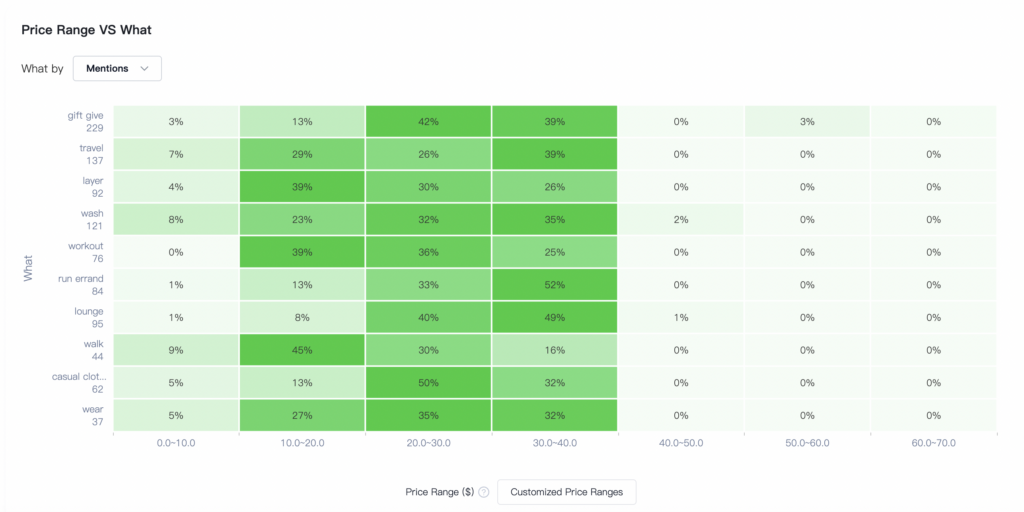 The advantages and disadvantages of the product
The most influential factor that causes a decline in product ratings is poor quality. From the specific factors, we can see that thin fabric, easily broken zippers, color discrepancies, and sizing issues are the core reasons why users perceive the experience as poor.
The core reasons for positive user evaluations also revolve around quality, with the main demands being lightweight, comfortable, and proper sizing. Additionally, multiple colors and cute elements are also sought after by young consumers.


The conclusion can be drawn from the above NR/PR.
In the product selection process, we need to fully consider key factors such as thickness, zipper, color difference, etc. to ensure product quality. Basic hoodies do not have many design elements, and based on demographic analysis, it is known that the usage scenario requires high comfort. Products with multiple colors will be popular among users, and for cross-border sales in China, it is important to consider European and American clothing sizes, especially for pregnant women and overweight populations.
In the product operation process, we should emphasize color selection and cute design elements that are close to basic clothing. At the same time, we should emphasize comfort and versatility for usage scenarios such as sports and office, which are commonly used by users. If possible, provide detailed descriptions of sizes and model wearing feedback on the product page.
VI. Summary of All
Product Selection Recommendations
The basic models need to strictly control the size, zipper, and comfort.
On the basis of quality assurance, choose products with a variety of colors or special prints.
Lightweight and close-fitting factors are bonus points for sports compatibility.
Operational Optimization Suggestions
Product description materials can highlight sports, teaching, and other usage scenarios.
Detailed explanations about the increased size, and model fitting experiences can dispel users' concerns about sizes.
The selling points emphasize creating a versatile atmosphere for various scenarios such as sports, holiday gifts, home leisure, and travel.
Marketing Suggestions
Focus on the summer holiday peak season and do gift marketing.
In addition to female users, consider expanding the promotion to male users who have family members.
VII. Shulex VOC
A SaaS platform for global voice of customer and product research. More efficient, less cost and stay ahead! It helps to ship products your customers love, 5X faster using ChatGPT. Discover a wealth of insights without lifting a finger.
- End -