Analysis Purpose
Explore customer profiles, pain points and pleasure points using VOC analysis of Portable Power Station products on US Amazon. Gaining insights into the product needs and opportunities from the usage scenarios. Mainly focus on:
● Category user profile analysis
● Analysis of usage scenarios and requirements
Analysis of consumer pain points and pleasure points.
Comprehensive feasibility recommendations
Data source

Number of Asin:82
Number of review:22638
Marketplace:Amazon US
Last Update:2023/06/15
Overview of Group of Customers
Profile of Basic Group of Customers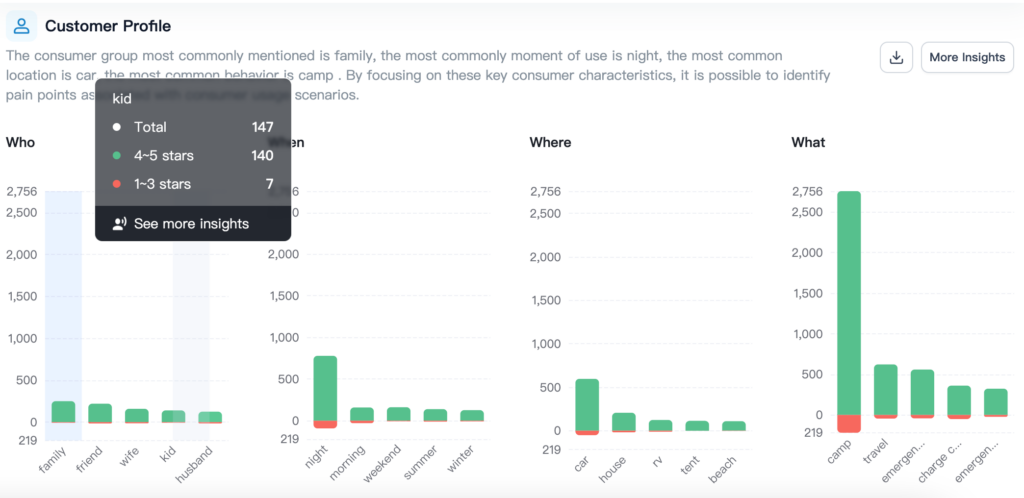 Basic Customer Segmentation
Occupation
Camper 14.3%
Social/ Relationship
Family 20.2%
Engineer 11.1%
Friend 18.5%
Photographer 8.1%
Place
Vehicle Carrying 20.68%
Time Interval
Night 39%
Home/Office 7.1%
Morning 8.3%
Truck/Lorry 6.2%
Afternoon 0.5%
Season
Summer 6.6%
Frequency
Weekend 9.2%
Winter 5.9%
Daily basis 4.4%
Thunderstorm 5.2%
Basic customer segmentation of the portable power station: Family/friend as a unit of the user groups; daily at home, to solve the problem of power outages at night and power problems during bad weather, as well as vehicle carrying during weekends, to solve the problem of camping power.
Discover New Audience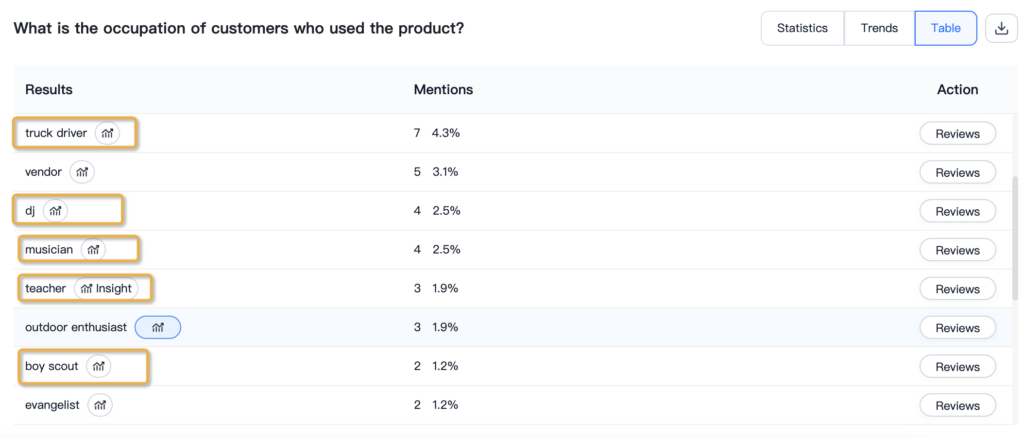 From the customer Identity trends and venue data, 3 segments could be targeted simultaneous:
Truck Drivers: 4.3% of reviews mentioned that they are truck drivers, while 6.2% of their usage scenarios stated that they would carry the product in a van/truck.
DJs/Musicians: 5% of reviews mentioned that they are DJs or musicians, and their usage scenarios are not limited to camping and home, but more for outdoor performance venues.
Outdoor training organizations: this segment can be divided into Scout guides/teachers 3.1%,Radio communication engineer 2.4%, Boy Scouts 1.2%.
Summary of Audience Analysis
From the basic demographic profile, the biggest difference between home portable energy storage products and commercial energy storage products is that we need to clarify the multi-scenario of the products. For instance, we usually take disaster relief, medical care, and energy saving as the key selling points of commercial and public energy storage products. As for portable home energy storage products, we need to emphasize the multi-purpose use of the product, such as home backup power, camping power supply equipment, garden power supply equipment.
For different niche, we need to emphasize the compatibility between functions and features. For example, we need to emphasize the cost-effectiveness and sustainability of the product for truck drivers, and the multiple interfaces and sustainability of the product for musicians.
For business purchasing, we can adopt a more flexible sales model. Such as Amazon business enterprise purchasing, crowdfunding platform customized service, crowdfunding platform suite discount.
Usage Scenarios
Basic scenarios overview

| | | |
| --- | --- | --- |
| Top 5 scenario | Custom label | AI label |
| Camping | 16.88% | 33.6% |
| Travel | 9.24% | 9.6% |
| Vehicle Carrying | 6.56% | 1.4% |
| Emergency | 5.64% | 10.7% |
| Medical (ventilator) | 5.08% | 5.4% |
Camping is the highest scenario identified by both the custom label and the AI label, combined with the audience analysis, family and friends camping needs and outdoor training organizations are the first-tier audience.
Travel and emergency are the second-tier scenarios, corresponding to the product design, the product design that needs to be highlighted is portable and battery usage.
Vehicale carrying and medical scenarios are not the priority.
Discover New Scenarios

Scenario seasonality: Except for the annual Amazon sales season (Prime Day in July), the peak lies in the spring and summer every year, and the trough is in the winter. Combined with the spring and summer camping scenarios and the summer power outage scenarios, spring and summer are the best time for product scenario-based marketing.
Pricing Scenarios Differentiation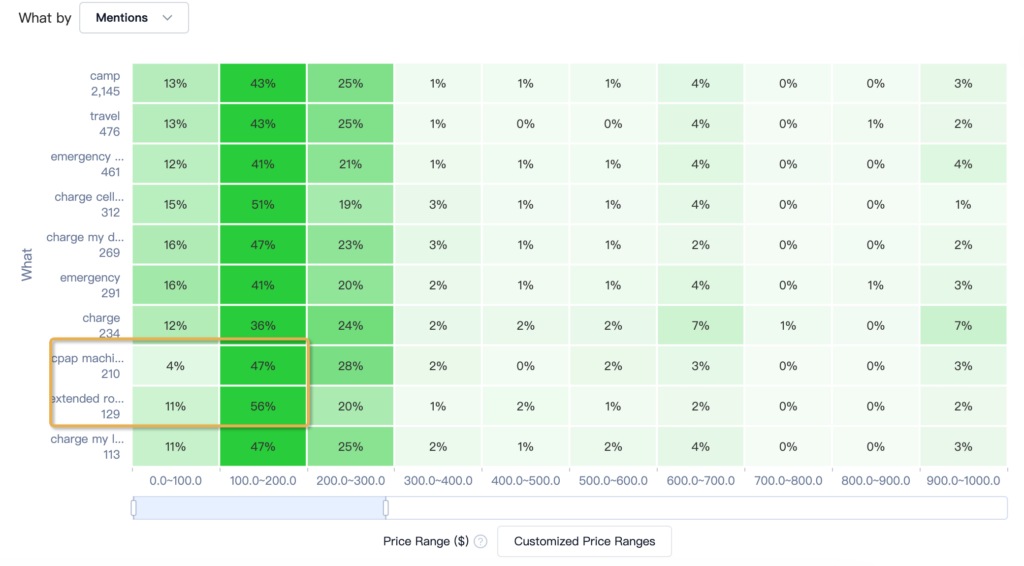 ● Products are focused in the $0-100, $100-200, and $200-300 price range
● Products in the $0-100 price range do not have a high mention rate in the scene. This shows that low-priced products focus on basic functionality as selling point.
● Products in the $100-200 price range have the highest scenario mentions, where travel and medical are above average. Apparently, the versatility of the product is going to be reflected in the low and middle price range.
Pains points/ Pleasure Points Overview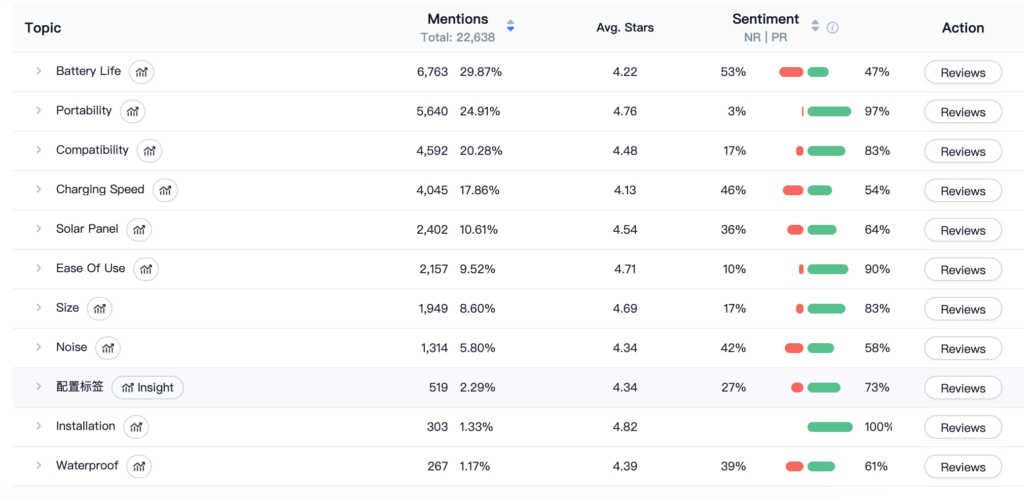 Pains Point/ Pleasure Points
Factor
Factor Analysis
Pleasure Points

Principle of 'I have better ones
when others have them, also the basic entry barrier in the category.
Portability
Portability was mentioned in 5,640 reviews, account for 24.91%, of which 97% were positive.
The direct user perception of portability is the product weight and easy to storage.
For portable energy storage products of different capacity segments, consumers are satisfied with products of 7lbs-20lbs weight.
User friendly
User friendly was mentioned in 2,157 reviews, account for 9.52%, of which 90% were positive. User friendly means out-of-the-box feature. from the review, the easy-to-understand manual, the easy-to-read function screen, the convenient operation buttons,the 'make sense' location of back end interfaces (the same type of ports, planned for the same side), and even the friendliness to the disabled are all reflections of simplicity and convenience
Compatiblity
There are 4,592 reviews mentioning compatibility, accounting for 20.28%, of which 83% are positive. The high-frequency equipment that appear from the original feviews are refrigerators, air conditioners, desk lamps, computers, televisions, fans, and heaters.
Size
There are 1,949 reviews mentioning volume, account for 8.6%, of which 83% are positive. Consumers are far less sensitive to volumn than weight. From the original photo attached, the unit is typically stowed in an RV storage, refrigerator crevice in the kitchen, and workroom shelf. Therefore, we don't have to be for the sake of being small.
Pains Points

Principle of I have when others don't give you an edge over competitors.
Sustainability
There are 6,763 reviews mentioning sustainablity, accounting for 29.87%, of which 53% are negative. Battery capacity and sustainablity are the priority of consumers. From the original review, consumers are more concerned about the safety measures and device depreciation under different watt. Taking Jackery B082TMBYR6 as an example, if the device is used at 300W for a long time, the security measure will be turned off and the battery will be depleted. As above, we should solve the safety and output mechanism under different power levels more intelligently to ensure that the device can maximize the battery life.
Charging Speed
There are 4045 reviews mentioning charging speed, accounting for 17.86% of the total, with a negative review rate of 46%. Among the negative reviews, consumers have expressed concerns about having to wait a long time for a second charge or being unable to fast charge a portion of the battery in emergency situations to ensure operation. EV Station charging stations can solve some of these problems, as they are faster than wall chargers and solar chargers, and they are also free.
Noises
There are 1314 reviews mentioning noises, accounting for 5.8%, with a negative review rate of 42%. In the original text of the reviews, noise is usually reflected in loud fan noise, noisy 700W-1000W charging, and noisy cooling fans. Noise is difficult to avoid in hardware design, but if the charging mode can be controlled through an app during charging, the noise can be reduced to solve some of the problems.
Solar Charging
There are 2402 reviews mentioning the use of noise, accounting for 10.61%, with a negative review rate of 36%. As a self-charging expansion device, consumers are dissatisfied with the high cost, high environmental requirements, inability to store or fully charge, and inability to bring on transportation such as airplanes. Some of these problems can be solved through product design and sales models, such as modular solar charging bundles.
NR/PR Overview
AI Analysis on NR
| | | |
| --- | --- | --- |
| Negative Feedback Topic | Reasons for Negative Feedback | % |
| Charging issues | customers reported various issues with charging, such as incomplete charging, slow charging, and device shutting off while charging. | 26.5% |
| Compatibility | customers reported that the product is not compatible with certain devices, solar panels, and beds. the plug to charge it does not fit, and it only accepts two-prong plugs. | 16.3% |
| Defective product | customers reported receiving defective products that did not work or stopped working entirely after connecting. | 12.2% |
| Power output | customers reported that the product is not powerful enough for specific devices and cannot run appliances or things that require more than 12v power. | 10.2% |
| Expectations | customers reported that the product did not meet their expectations and was overpriced for its quality. | 6.1% |
| Solar panel compatibility | customers reported that very few solar panels work with this unit, and it is difficult to order and use with the product. | 6.1% |
| Reliability | customers reported that the device stopped working after some time. | 6.1% |
| Customer service | customers reported poor response from customer service and no customer service to talk to. | 6.1% |
| Quality issues | customers reported receiving error codes when attempting to charge and that the product stopped working after a short time. | 6.1% |
| Stability | customers reported that the product is not stable and tips over easily, even on a flat surface. | 4.1% |
AI Analysis on PR
| | | |
| --- | --- | --- |
| Positive Feedback Topic | Reasons for Positive Feedback | % |
| Portability | lightweight and easy to carry, compact size, convenient for on-the-go use, easy to move around the house, great for camping and outdoor activities | 31.3% |
| Power capacity | provides enough power for devices, holds a lot of power, long-lasting battery pack, powerful, has real outlet plugs and a light | 10.4% |
| Durability | survived a hurricane, sturdy and well-built, withstands drops and rough handling, can withstand outdoor use | 9.0% |
| Versatility | can power a variety of items, can be used for camping, emergencies, and everyday use, multiple output ports | 8.3% |
| Capacity | long-lasting power for various devices, large capacity, provides ample power for basic needs | 8.3% |
| Powerful | can handle multiple devices and appliances, provides sustainable power supply, provides enough power during power outages | 6.9% |
| Power output | provides enough power for small devices and appliances, compact and powerful, provides sufficient power for various devices | 6.9% |
| Camping | performs well during camping trips, useful for charging devices and powering small appliances while camping, suitable for outdoor activities | 6.9% |
| Charging speed | fast charging speed, impressively fast ac charge rate, charges quickly | 6.3% |
| Usage scenarios | useful for power outages, camping, and rv travel, great for shooting outdoors and charging digital products | 5.6% |
NR/PR Analysis
NR/PR mainly reflect consumer satisfaction and product quality, and they are direct reasons for low or high ratings. The product rating also influences the conversion rate of purchases. From the reasons summarized by the AI above, NR/PR can be categorized as follows:
Category
Issues
Positive review
Negative Review
Product Performance
Charging
5.6% Fast Charging
26.5% Insufficient charging,slow charging,interrupted charging
Operation
18.3% Stops working
Power watt
13.8% Stable output for mutiple devices simultaneously
10.2% Insufficient power watt
Battery capacity
18.7% Sufficient battery capacity and sustainability
Product Design
Compatability
8.3% Multiple interfaces
16.3% Incompatibility with certain devices
Portability
31.3% small and lightweight
Expansion
6.1% Incompatibility with solar charging version
Usage
6.1% Error codes appear
Appearance
9% Sturdy and durable
4.1% Unstable
Operational Services
Operation
12.5% Multiple scenarios and purposes
6.1% Low cost-effectiveness
Service
6.1% No response from customer service
Based on the above NR/PR, we can conclude that during our operations, we need to continuously emphasize the product's versatility, adaptability to various scenarios, and portability. We should also express these qualities through the atmosphere of the scenes. Simultaneously, while continuously improving the charging, operation, and output quality of the product, we should use means such as user manuals, customer service, QA, images, and videos to ensure that customers have a clear understanding of the product's compatibility and enhance their ability to self-diagnose and troubleshoot.
Feasible Suggestions:
Product Design Suggestion
● Basic requirements for the product: portability, user friendly, high compatibility
● Unique advantages of the product: long battery life, fast charging, noise-free
Long battery life: Cooperate with the app to intelligently monitor and solve safety and output mechanisms under different power levels, ensuring maximum battery life and performance.
Fast charging: EV Station charging stations can solve some problems, as they are faster than wall chargers and solar charging, and they are free.
Noise-free: If the charging mode can be controlled through the app during charging, the noise can be reduced to a certain extent.
Operation Optimization Recommendations
Emphasize multiple charging options on selling points

Emphasize multi-scene ambience on selling point
Multi-purpose: outdoor, travel, power outage, studio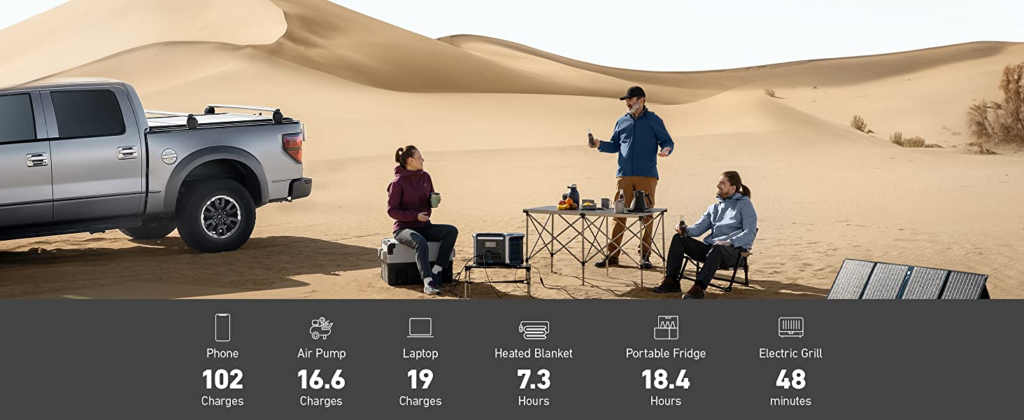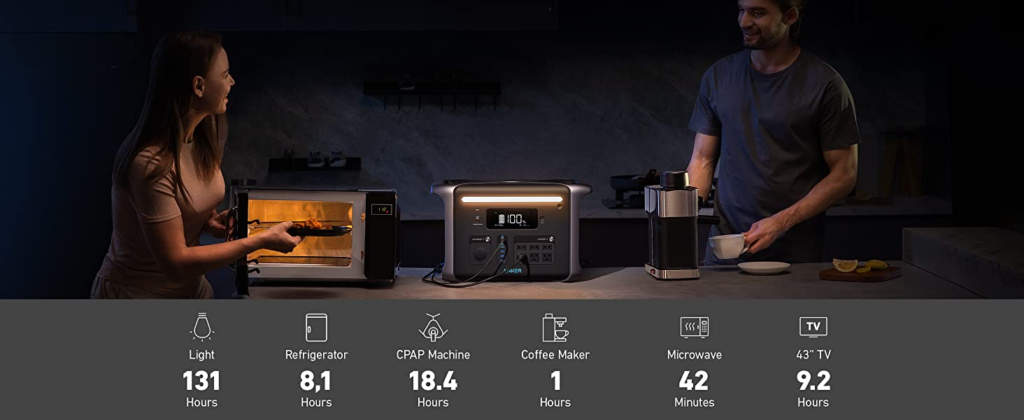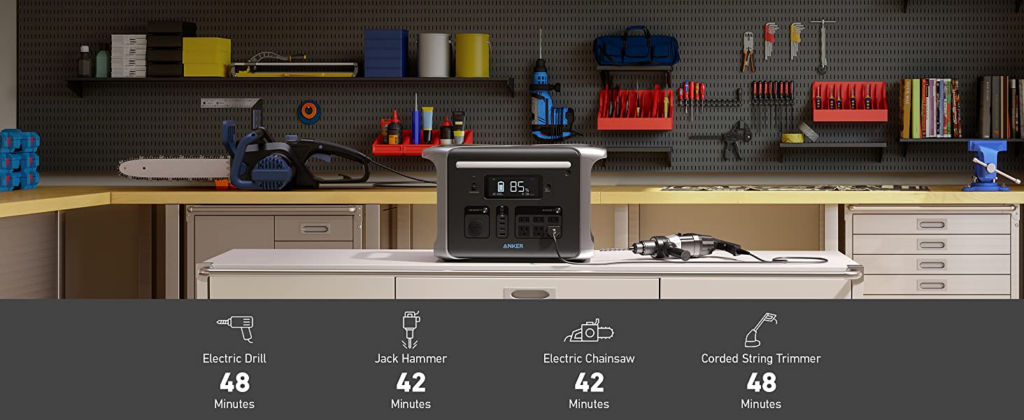 FAQ, customer service, operating manuals to clarify compatibility and troubleshooting
Marketing Recommendations
Spring and summer marketing peak season
Try new target groups: In addition to families and camping enthusiasts, you can try to promote to new target groups such as Boy Scouts, musicians, teachers, electronic engineers, and radio communication engineer.
Combination or group purchase mode: You can combine accessories for sale, or open group purchases for outdoor camping bases, Boy Scout organizations, etc.
VOC Analysis Suggestions
Portable energy storage products have a high technical content, and AI tag function can be used to further divide parameters and set tags according to different capacities, interface quantities, input and output standards, etc., to better understand VOC products in each segment, and better meet consumer needs.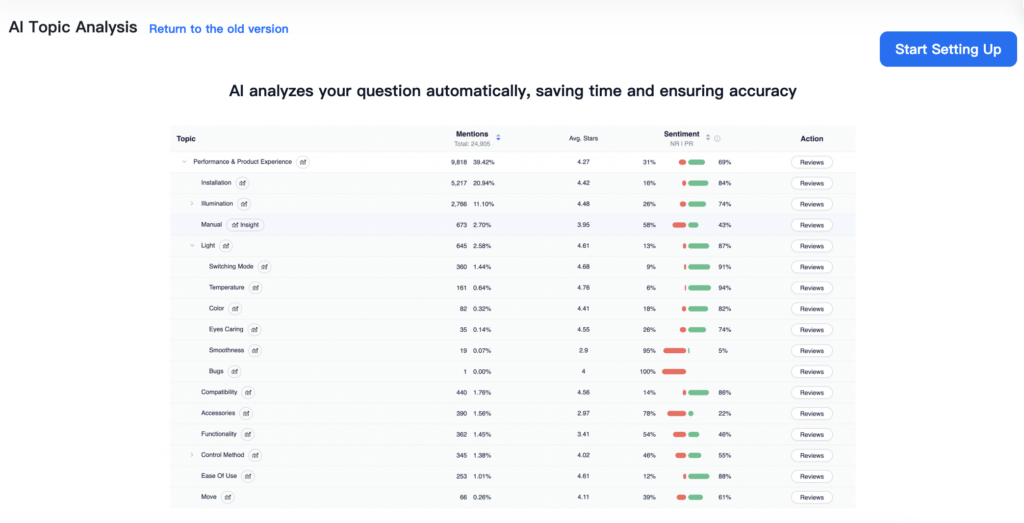 - End -