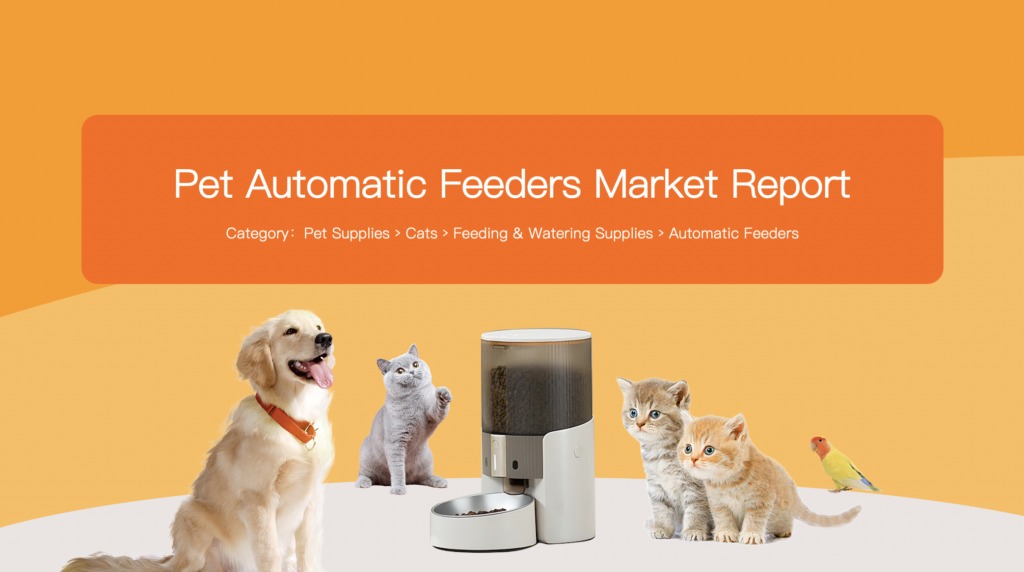 Amazon Category:Pet Supplies › Cats › Feeding & Watering Supplies › Automatic Feeders
Introduction
A pet feeder refers to a device that provides pets with a timed and quantified food supply automatically or manually.
With the continuous progress of society, work pressure is increasing, and the pace of life is getting faster. In order to alleviate stress and loneliness, more and more people choose to keep pets as companions. However, due to busy work schedules, they often leave early and return late or travel out of town, which makes it difficult to ensure that their pets eat regularly.
This not only affects the mood of pets, but may also lead to damage to household items, and in severe cases, endanger the health and safety of pets. Therefore, a pet feeder that provides timed feeding is crucial to ensure their health and happiness.
This type of feeder is usually suitable for household pets such as dogs, cats, birds, etc.
CONTENTS
1. Global Market Scale
2. Market Insights
3. Product Research
4. Competitive Analysis
5. Profit Analysis
I. Global Market Scale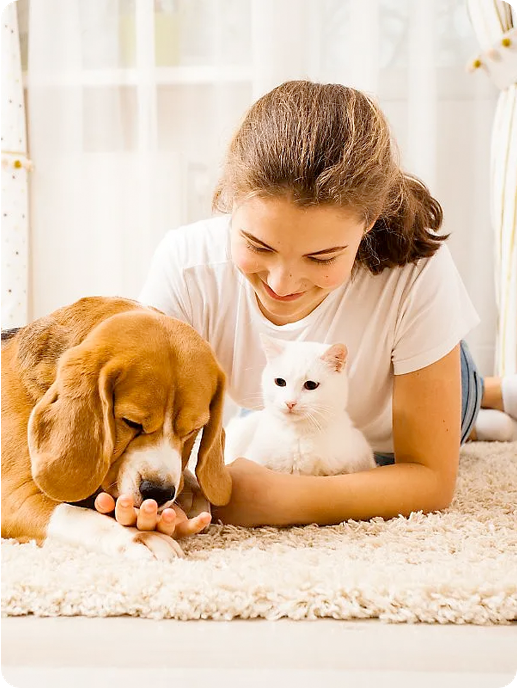 Global Pet Market Size
In the case of the United States, it is projected that the pet industry will reach spending of $136.8 billion in 2022.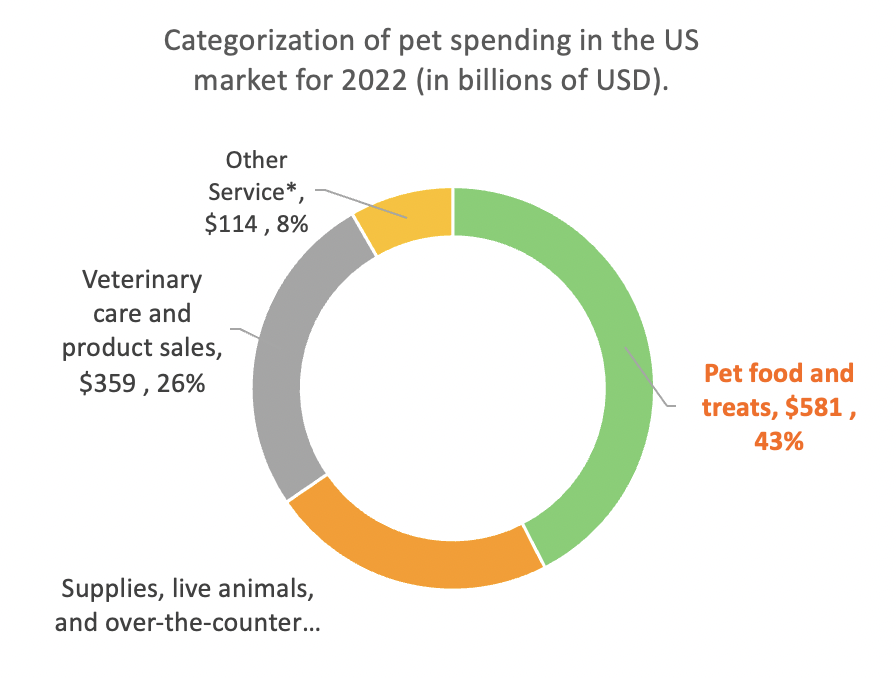 Assuming a forecasted compound annual growth rate of 8.61%, it is expected that the pet market size will reach around $206.7 billion by 2027.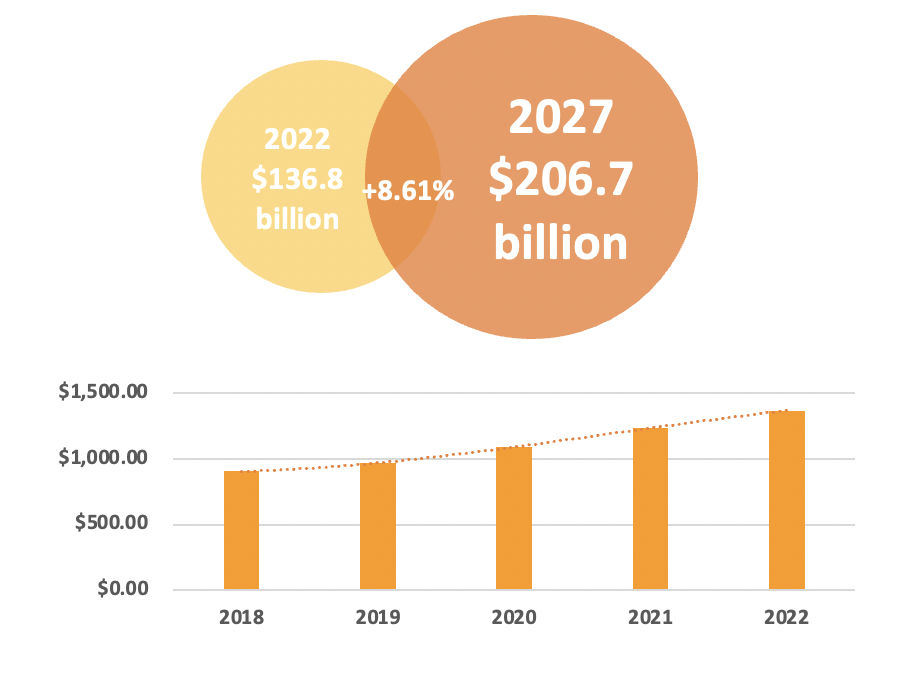 Customer Profile and Trends
The APPA National Pet Owners Survey forecast for 2023-2024 shows that 66% of American households (86.9 million) will own pets.
•The top three types of pets owned by households in the US are dogs, cats, and freshwater fish, which account for a total of 84.01%.
•Due to the impact of the pandemic in recent years, it is predicted that the overall number of dog owners has decreased, while the number of cat owners has been increasing year by year.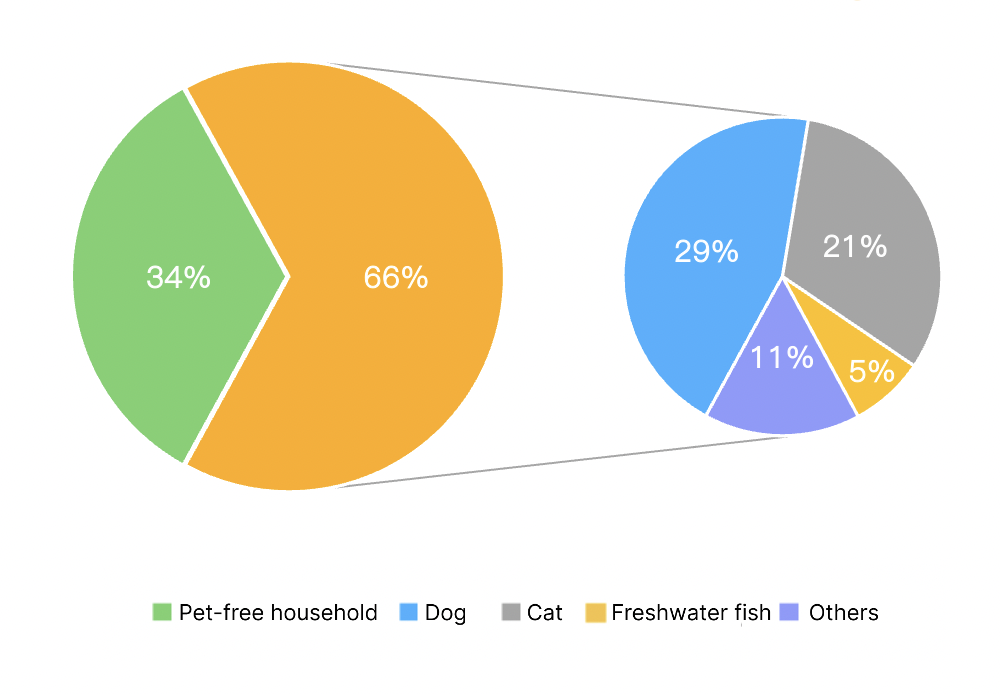 Customer Profile and Trends
According to the 2023 forecast data from APPA, the millennial generation has the highest proportion of pet owners, reaching 33%, when divided by the generation of pet owners. Adding Generation Z, the proportion of people under 40 who own pets in the United States reaches 49%.

Future Trends

Summary
•In the United States, the pet market is showing an overall upward trend in size. Although the types of pets kept vary, cats and dogs remain the mainstream. According to the latest survey data from APPA, the number of dogs kept may decrease, while the number of cats kept is expected to show an upward trend.
•The most surprising fact is that 66% of households in the entire United States own pets, and both the younger and older generations are passionate about keeping pets. Among them, the younger generation in particular likes to try various novel pet products online and is willing to spend more money on pets.
•Compared to this, the older generation may spend relatively more on pet medical care due to the longer time spent raising pets.
Overall, the pet market in the United States will continue to grow, and the pet industry will continue to innovate and develop to meet people's needs and preferences for pets. The future of this industry will be full of unlimited opportunities and challenges.
II.Market Insights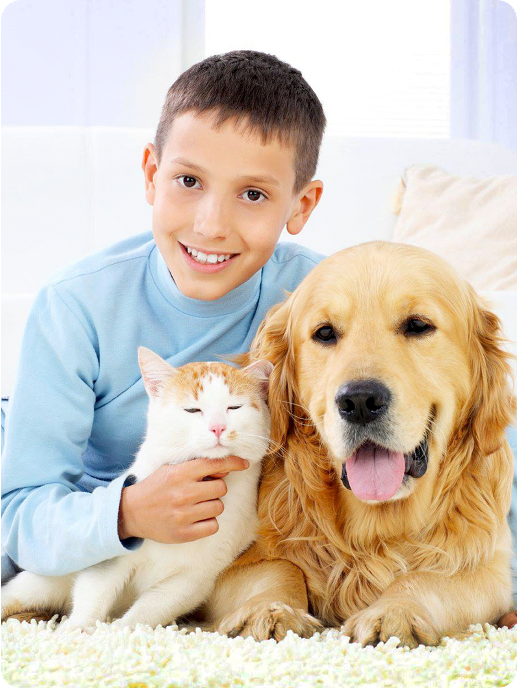 Basic Situation of the Market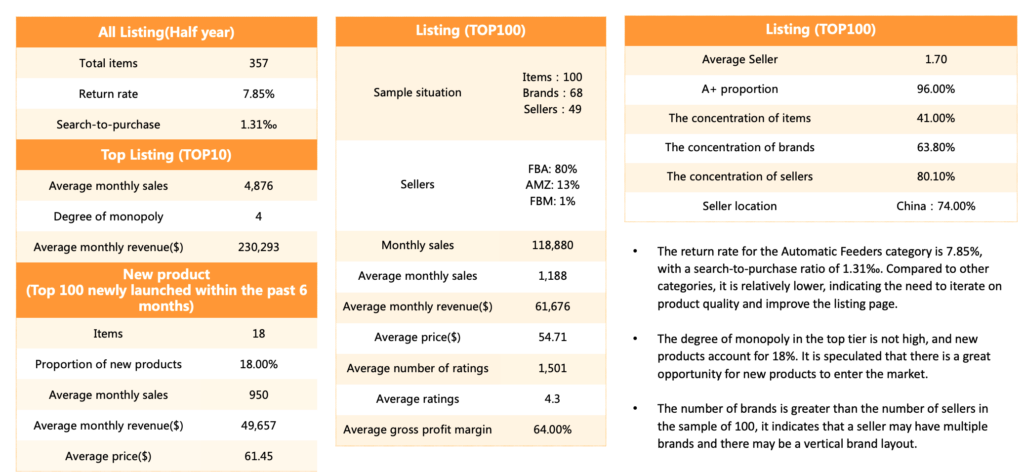 Category Keywords Google Trends
•Each keyword has Google search volume, and there is no particularly significant peak or valley, indicating that seasonal effects are not significant.
•From the trend analysis of the past 5 years, the performance of the keywords in this category is stable, with an overall trend of stability and improvement.
•Compared to keywords with "cat" in them, which have shown a significant upward trend in recent years, it may be worth paying attention to attribute words when optimizing keywords.
Category Keywords:
automatic feeders
automatic cat feeder
automatic cat food dispenser
pet water dispenser
auto cat feeder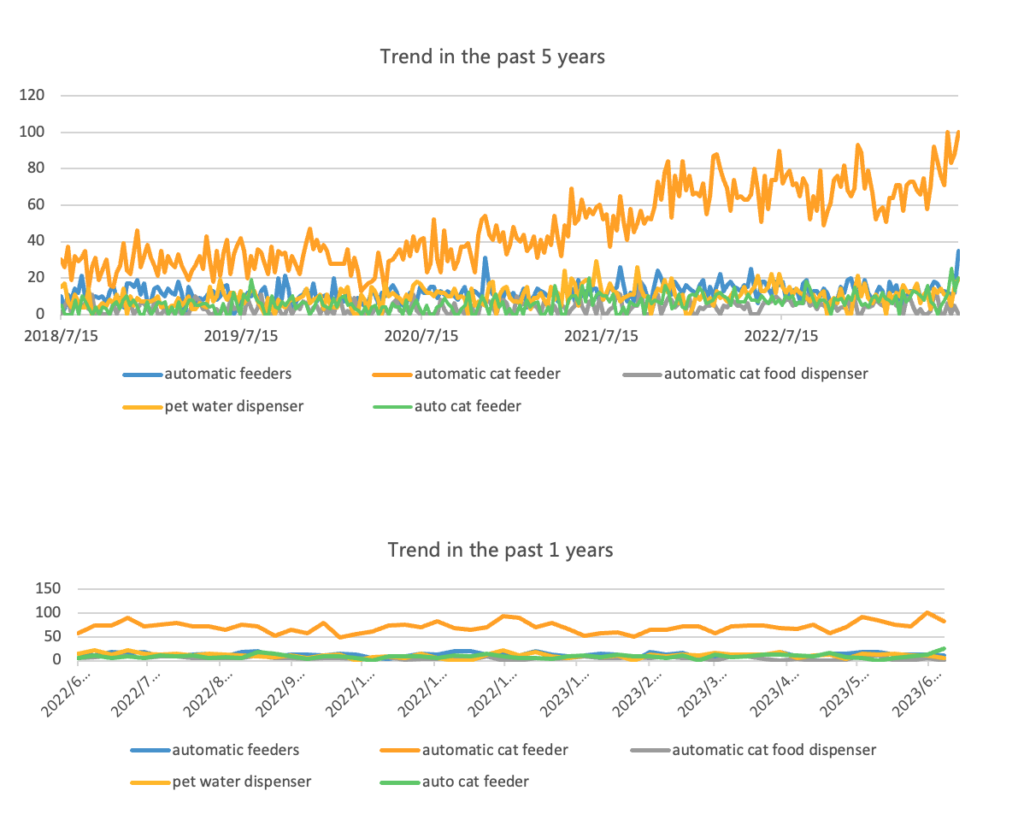 BSR sales and competition
1. The sales data for the category as a whole shows an upward trend, with steady growth in sales for the top 100 BSR products and a relatively large increase. It is expected that the sales peak in 2023 will exceed 10 million US dollars.

2. The market capacity is not large and relatively stable, with the number of products mostly maintained between 350-450 most of the time.
3. Looking at the data for one year, the sales volume remains stable throughout the year but is influenced by overall market traffic in November and December, which are relatively hot selling months.

4、 Looking at the 5-year sales changes, there is also a stable growth trend, with a very rapid increase in annual growth rate in the other 4 years except for 2020, which was affected by the outbreak of the pandemic.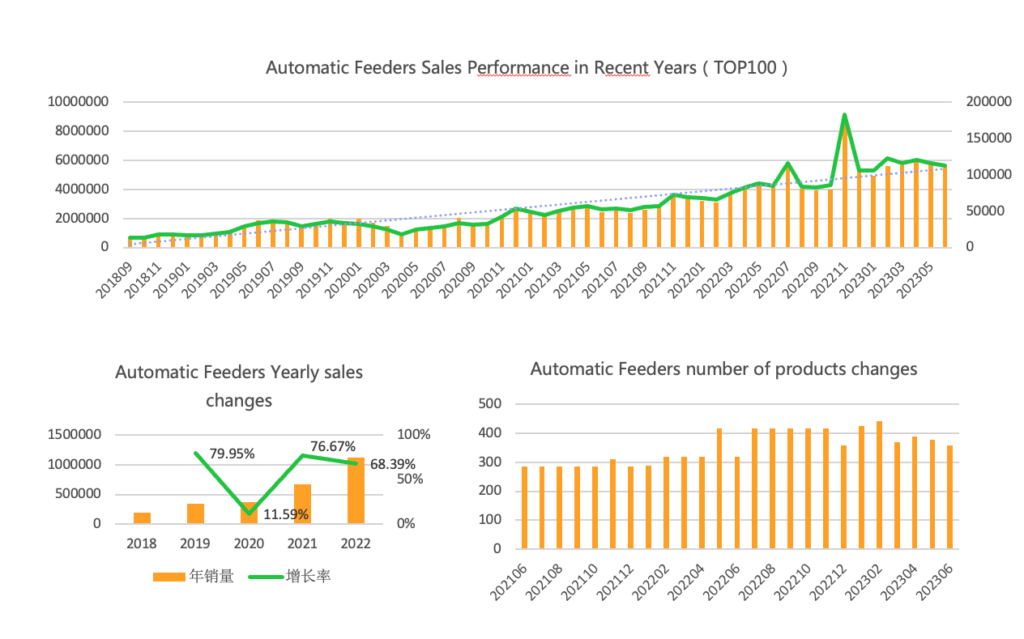 Automatic Feeders(TOP100) Category Analysis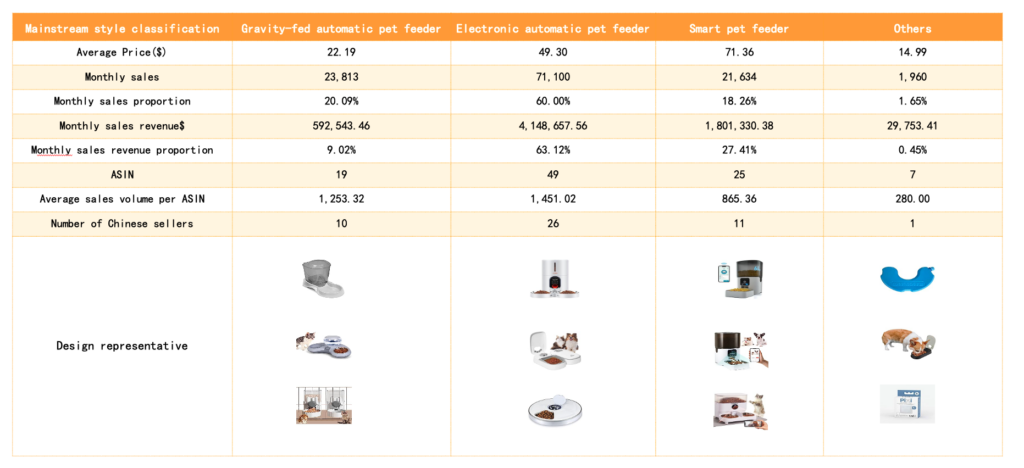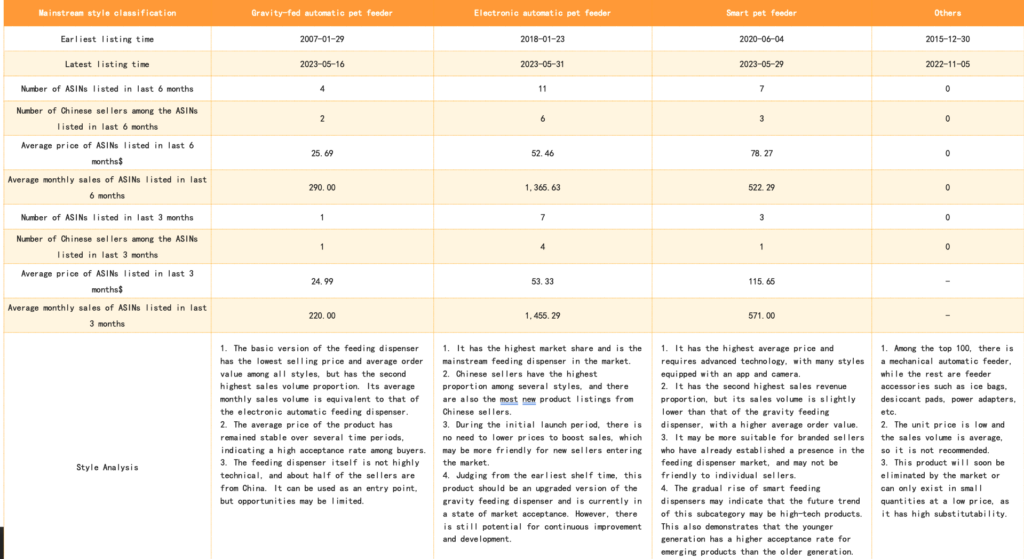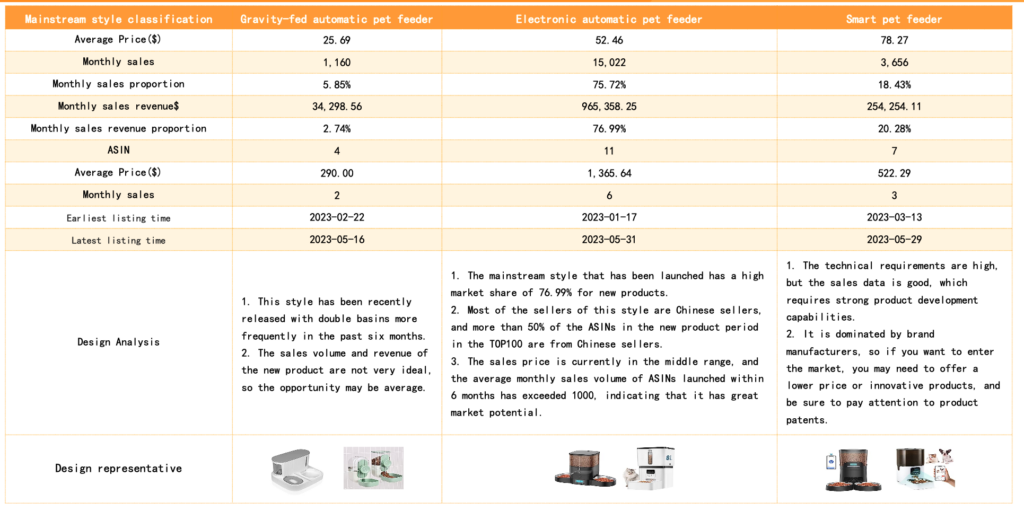 Summary
1.According to data analysis, the market for automatic pet feeders shows a relatively stable growth trend on Google Trends. Meanwhile, with the sales volume increasing year by year and the growth rate being significant, the number of competitors has remained relatively stable. If this development trend continues, the future development potential of the leading brands in this segmented market should not be underestimated.
2.More than 80% of the products in the TOP100 have A+ or video content, indicating that sellers in this market have a high level of operational maturity and place great emphasis on creating A+ content and videos for their listing pages. If you intend to enter the automatic pet feeder market, you will need to have strong financial resources and operational capabilities, and pay more attention to the details of your product pages.
3.Based on the performance of products in terms of BSR, electronic automatic feeders are currently the mainstream products in the market, while smart feeders are gradually emerging as a trend. Gravity-based automatic feeders may gradually be eliminated by the market.
III.Product Research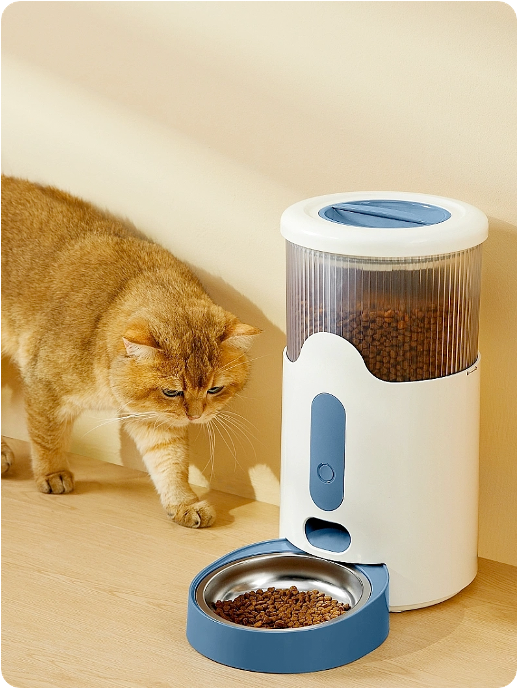 Insights on mainstream styles
1. Based on appearance, pet feeders can be divided into tall column-shaped and short column-shaped ones. Tall column-shaped feeders have grain storage spaces that come in cylindrical and square shapes, with the majority being square-shaped.
2. In terms of the number of feeding bowls, pet feeders can be categorized as single-bowl and double-bowl feeders. Both tall column-shaped and short column-shaped feeders come in these two structural variations.
3. When it comes to product colors, the main color tones are black and white.

The monopoly of mainstream style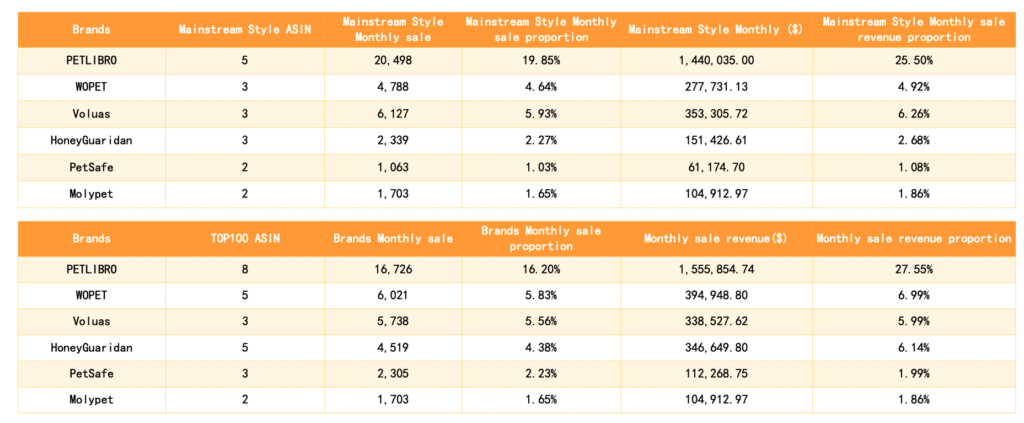 •Among the 100 products in the TOP100, there are a total of 69 brands. 35 of these brands belong to mainstream styles, and their monthly sales volume exceeds 1500, indicating that there is still a relatively large market demand.
•Among them, 6 brands have multiple ASINs in the TOP100, with a total of 18 ASINs. These brands are strong competitors and can be used as a reference for developing new products.
The price range for mainstream style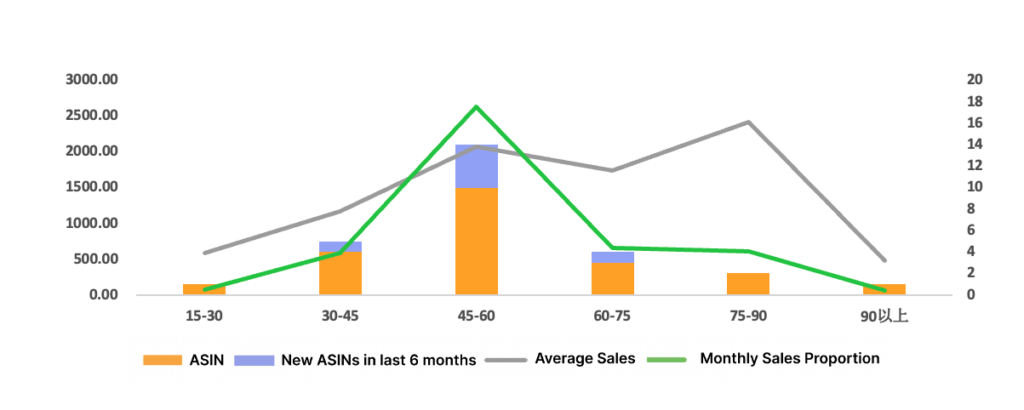 •1. The price range of 45-60 has the highest sales volume proportion among pet feeders in the TOP100.
•2. In the TOP100, new products of mainstream styles are concentrated in the price range of 30-75.
•3. There have been no new products introduced in the price range above 75 in the past six months, indicating that buyers hold a certain level of rationality towards prices. Therefore, new product pricing cannot be too high, and cost control is necessary.

Brand sales volume and brand monopoly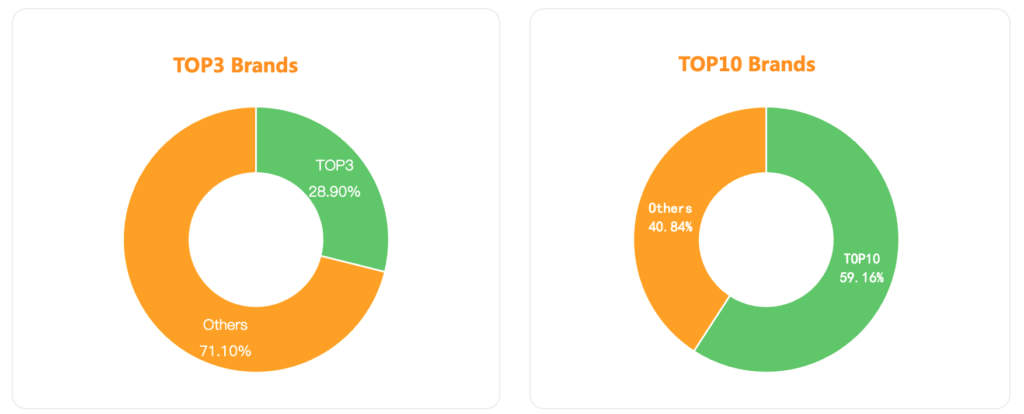 The top three brands in the category account for 28.90% of the sales, while the top ten brands account for 59.16% of the sales, indicating that the category is relatively less monopolistic and there are opportunities for new brands and new products to make breakthroughs.
Brand sales volume

•Among the brands of the products in the TOP100, there are a total of 69 brands, and the sales data of the top ten brands are shown in the table above.
• The sales of the top ten brands account for 59.7% of the 69 brands, and the sales revenue accounts for 63.06%.
This situation, where there is no brand or sales monopoly, indicates that buyers' recognition and repurchase rates of brands are not particularly high, and there are no high industry barriers for new products to enter.
Relevant information on precise keywords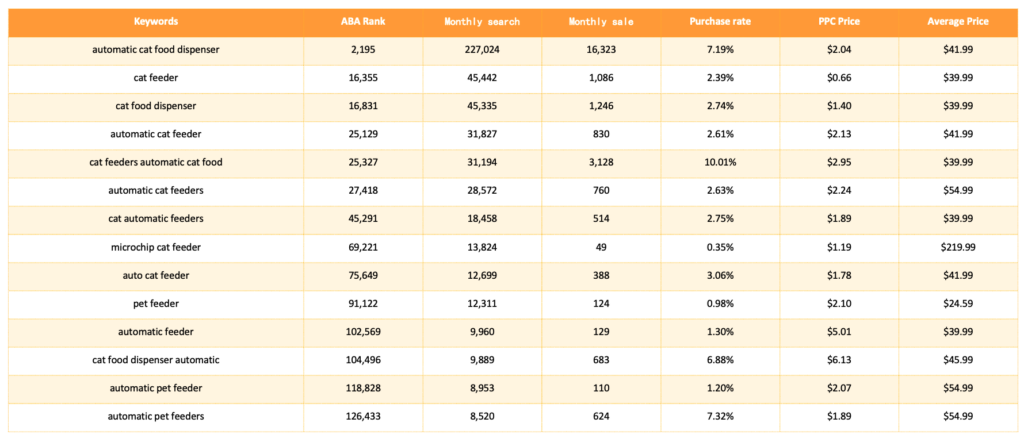 Regarding the product's average order value, certain keywords have a high PPC bid, which may be due to intense competition in other categories for those particular keywords.
Summary
The appearance, number of feeding bowls, and colors of mainstream products have certain commonalities, and there is a large market demand. However, brand competition is fierce, and sellers entering the market should be prepared mentally.
•Products priced between 45 to 60 yuan have the highest sales, so new products should not be priced too high, and cost control is necessary.
•The category is not heavily monopolized by brands, so there are opportunities for new brands and products to make breakthroughs.
•In terms of precise category keywords, the bidding for some individual keywords is relatively high, which may be influenced by competition from other categories.
IV. Competitive Analysis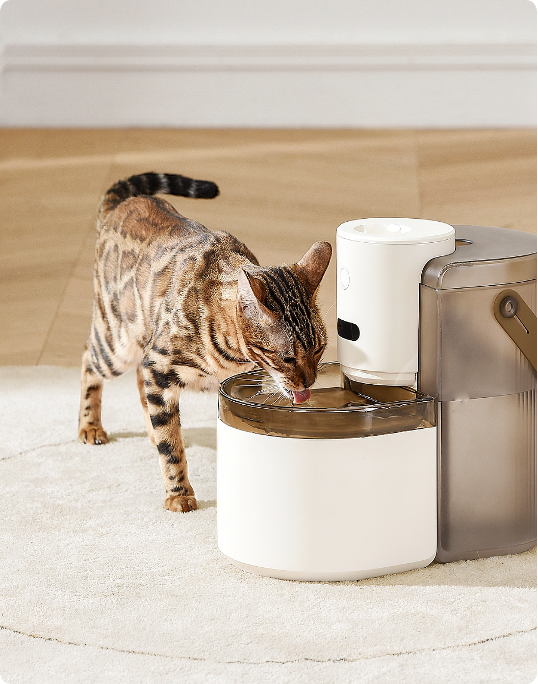 Basic about BSR competitors
Negative review analysis of BSR competitors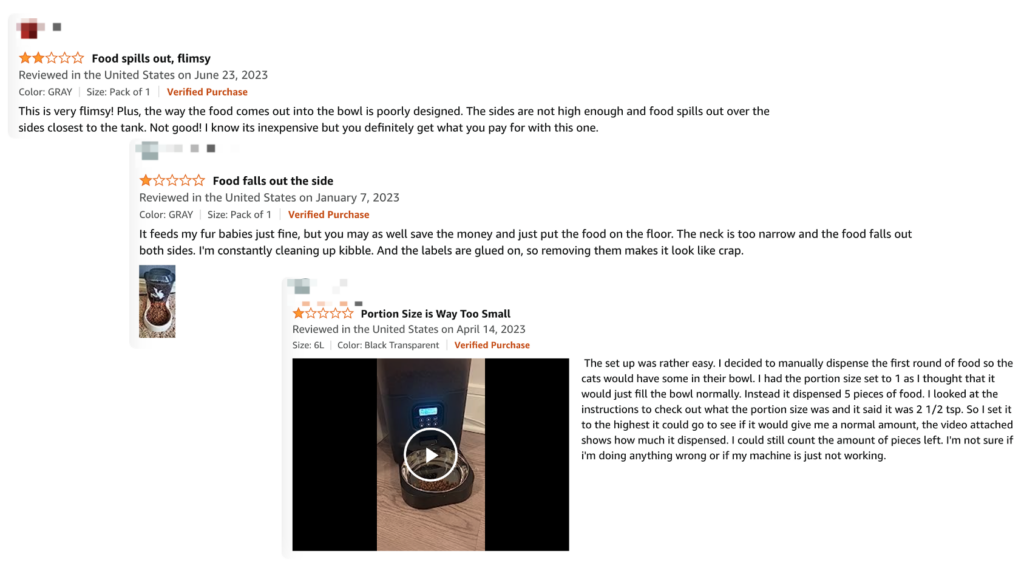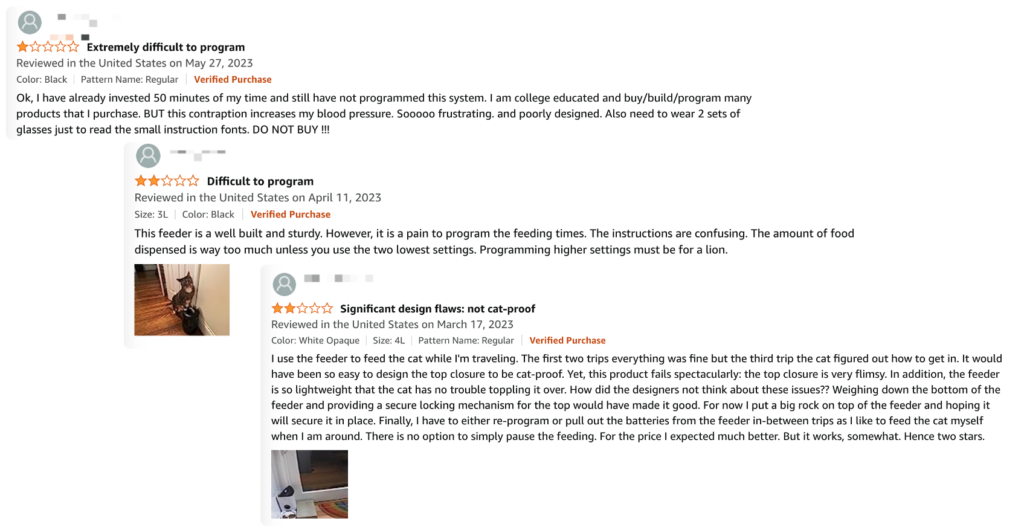 Risk warning
The conclusion drawn from this search does not have legal validity. It serves only as a reference for assessing the risk of patent disputes and does not guarantee the complete elimination of potential patent disputes or litigation in the future.
In the US design patent search for pet feeders, there is a high degree of similarity and risk, and most of them have been filed within the past 2-3 years. It is recommended to consider filing a patent application before selling (if you decide to file a patent, please confirm the market sales situation and file the application before selling).
Summary
1. The main issues raised in complaints and negative reviews relate to the safety, quality, portion size, design, dispensing, noise, settings, malfunctions, and unreliability of the feeder.
2. Neutral reviews also highlight some issues, such as poor food distribution, fragility and susceptibility to damage, and difficulty in setting up.
3. The QA content reveals some directions for research and development, such as the possibility of larger food particles getting stuck, the lack of internet connectivity, and the absence of an on/off switch.
In summary, the current demand of buyers is mainly focused on core functions such as timed feeding and product safety, and there has been no significant change in demand recently. If the product is developed based on these core needs, it should focus on how to meet customer needs and what advantages it has compared to competitors. For sellers with long-term plans, they can consider innovation beyond timed feeding modules and autonomous drinking, such as video monitoring and music playback, as suggested by the QA.
Finally, before entering the pet feeder market, it is recommended to consider filing a patent application in advance, as there are already similar product patent situations in the market, which poses a high risk of infringement. In addition, all electrical products require CE certification.
V.Profit Analysis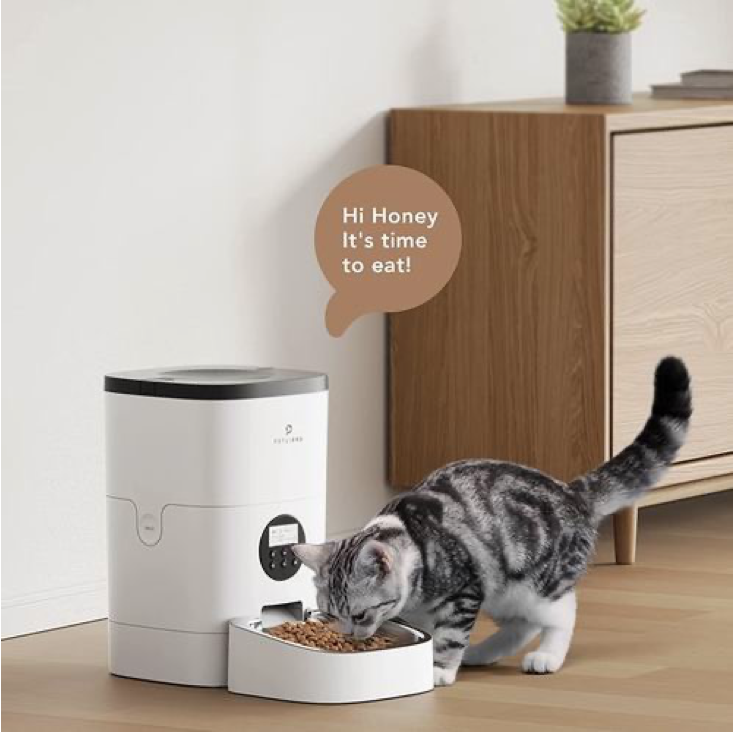 Explanation of Profit Calculation Data
Judging from the appearance of the best-selling products, they are mostly presented in two forms: tall column or short column. The number of feeding bowls is either single or double, and the two structures have a slight impact on the size and weight of the product.
The product fluctuates in size between 7*7*12 inches (17.78*17.78*30.48cm), and the weight is mainly around 4.0 pounds (1.81kg). The cost is $13 USD, and the price for a single bowl is generally stable at $49.99 USD.
The product fluctuates in size between 8*8*13 inches (20.32*20.32*33.02cm), and the weight is mainly around 4.5 pounds (2.04kg). The cost is $30 USD, and the price for a double bowl is generally stable at $69.99 USD.
The specific profit still needs to be based on the actual situation of your own product. The calculation results provided are only rough estimates for reference.
Rough Profit Calculation
Based on the rough calculation results, it appears that the gross profit for this product is not very high. I would recommend opting for sea freight to reduce transportation costs and allocate more budget for marketing expenses.
Important considerations:
1. Profit calculation is closely related to the dimensions (length, width, height) and weight of the product. It is also important to consider the logistics channel quotations from different logistics providers at the specific time of calculation.
2. For products that contain batteries, special channels may be required for shipping, while some products can be shipped through regular channels. It is necessary to assess the available resources to determine the appropriate shipping method.
3. The calculation only includes core expenses. Any additional expenses that may have been overlooked should be calculated separately.

Summary
Overall, there is room for upward development in this subcategory, but it may be more suitable for brand-oriented sellers who are expanding overseas or factories with certain R&D capabilities.
For small sellers, it is important to focus on product profitability and operational barriers to entry. If a small seller wants to try, it is recommended to start with FBM testing first, and it is not recommended to enter the market rashly.
- End -