Have you ever scrolled through Amazon, stumbled upon a specific product from a seller, but lost track of it in the endless sea of options? If yes, you aren't alone.
Many Amazon users can relate to this frustration. With its multitude of third-party sellers, the platform often makes finding specific seller's products challenging. In fact, it's akin to searching for constellations in the night sky.
But fret not - we are here to make your life easier. Whether you are an Amazon seller spying on your competition or a buyer looking for your favorite products, we will spill the beans on how to search Amazon by seller and contact them.
When to Contact an Amazon Seller and Why?
Whether you are a seller or a buyer, there will be instances when you need to find a particular seller. Knowing when to contact a seller can help you make informed decisions.
As a buyer, you may want to interact with the seller to ask product-related queries, order information, etc. In contrast, if you are a seller, you may want to interact with the other sellers for multiple reasons. Here are a few reasons that can urge sellers to conduct the Amazon seller search:
1. To Resolve Order Hassles
It is not uncommon for Amazon customers to encounter order problems with sellers. Therefore, sellers often contact other sellers to resolve issues associated with the orders. These may include but aren't limited to inaccurate product listing, shipping problems, customer disputes, and more.
Effective communication can resolve the problem and make up for positive customer satisfaction. Not only does it improve the seller's reputation but also the platforms'.
2. Concerns Related to Intellectual Property
Intellectual property is a critical asset for any business, highlights Forbes. In the event a seller encounters an intellectual property issue, he/she might reach out to that seller to address it.
This might happen when one seller infringes on another seller's intellectual property rights, like copyrights, trademarks, and patents. Protecting your intellectual property is vital to maintaining a brand reputation and ensuring a fair place in the competitive business landscape.
3. Collaboration
Oftentimes, sellers conduct the Amazon seller search to contact other sellers for collaboration. This could be about cross-promotions, bundling products, or collaborative marketing efforts. This helps them boost sales, get exposure to new customers, and increase long-term profitability.
4. Wholesale Inquiries and Product Sourcing
Amazon sellers often intend to expand their product catalog or make their way into a new market. So, they try to interact with other sellers for wholesale queries and product sourcing. This gives them valuable insights into the possibility of buying products at wholesale rates and allows them to invest their money wisely.
5. Competitive Analysis
The Amazon marketplace is very competitive, with millions of sellers competing to win customers over each other. So, another reason for sellers to look for how to search Amazon by seller is to do competitive analysis. They may contact other sellers to learn about pricing, market trends, product listing, and additional information. This allows them to tweak their strategies for a successful business on the platform.
How to Search Amazon By Seller?
Now that we have learned the possible scenarios that can urge the need to do the Amazon seller search, let's shift our focus to how to search by seller on Amazon.
Below are a few methods on how to search Amazon by seller and thrive in the evolving Amazon marketplace:
Method 1. Find the Product's Store & Seller
Identifying the product store is one of the simplest ways to know about the seller. Follow the steps below to use this method:
Visit the official Amazon website and choose a particular product.
Select its product listing, and you'll be reverted to the product's page.
Once you do this, you will find the store and the relevant seller information. You can find the store through these steps:
Go to the product page.
Check for a blue hyperlink below the product title. This is the store name.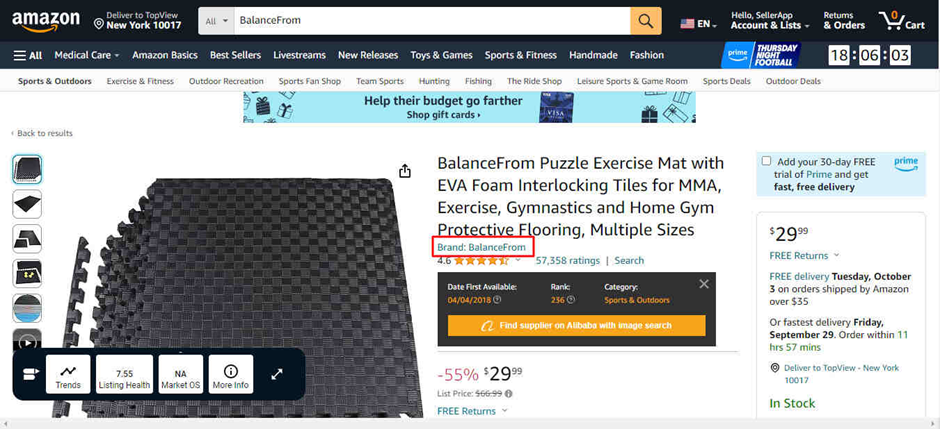 To find information about the seller:
1. Look into the section on the right sidebar from where you can add the product to the cart.
2. Below, you will see the "Sold By" option, and the seller's name will be next to it.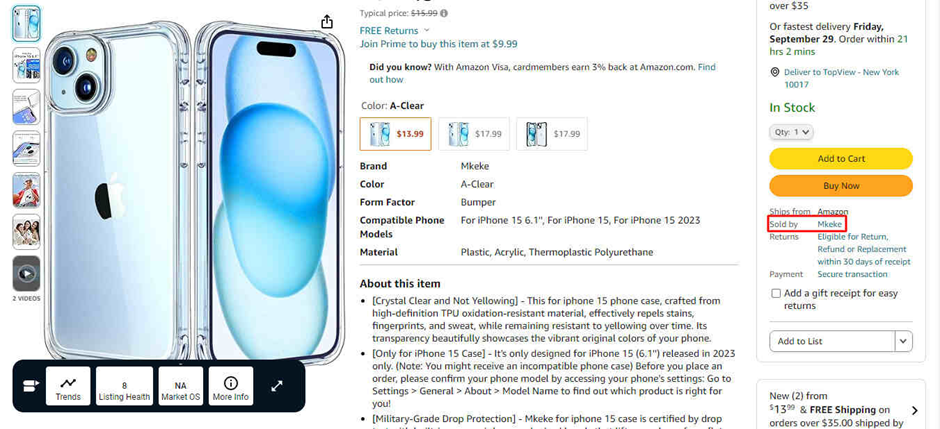 3. Click on the seller's name to find more information.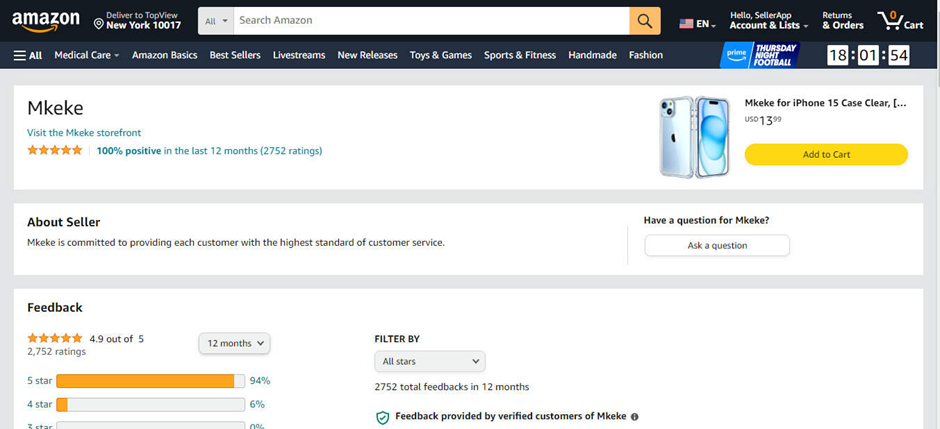 This way, you can easily find information about the store and the seller directly from the product page and proceed further accordingly.
Method 2. Use Amazon Storefront Name
Another effective method to address how to search Amazon by seller is to use the Amazon storefront name. If you know the exact storefront name of the seller, follow the below steps to search for the seller:
1. Visit Amazon's homepage and navigate to the URL section from the top.
2. Add "/shops/" followed by the storefront name at the end of the URL. For example, "https://amazon.com/shops/typethestorenamehere".
3. Hit enter after typing the URL, and you will be directed to the storefront page of the seller you are looking for.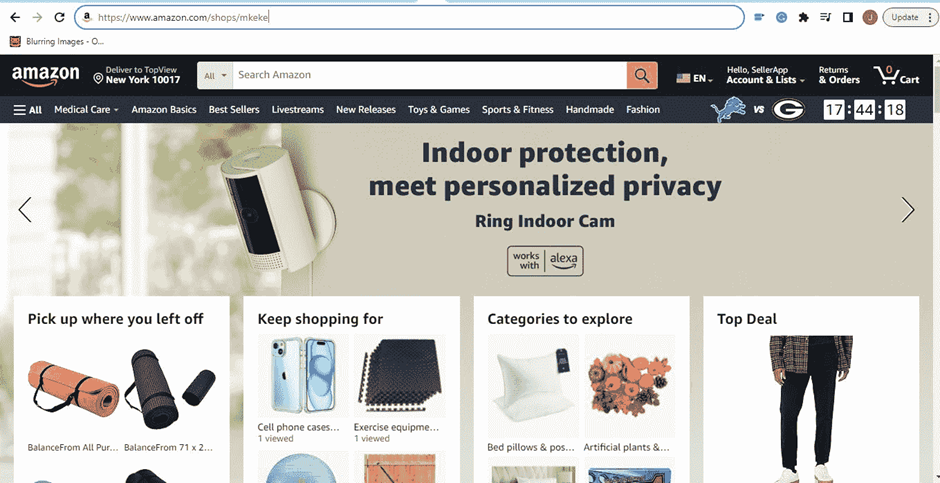 Once you see the seller's storefront, you will find all the information you need, from their product listings and offerings to ratings and reviews.
Method 3. Use Search Bar
Amazon's search bar also allows you to conduct the seller search quickly. Follow the below steps to use the search bar:
1. Visit the official Amazon website.
2. Go to the search bar and type the seller's name.
3. Click Search, and the platform's search algorithm will provide a list of results based on the given name.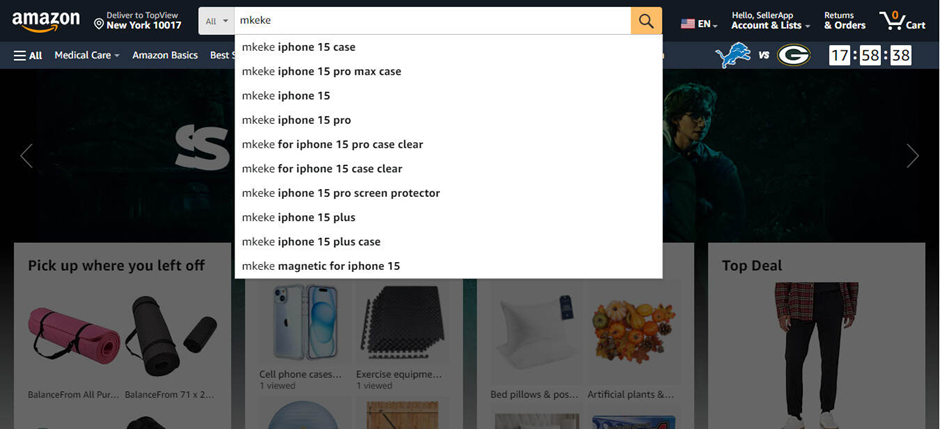 Remember, however, that the displayed results may include random products that are not from the seller you are looking for.
Method 4. Navigate Departments
You can also browse the department list to find the seller. Here's how to do that.
1. Find the Shop by Department section on the left side of the homepage. Here, you can browse items by particular departments or categories.
2. Select the department that relates to the product type you are looking for.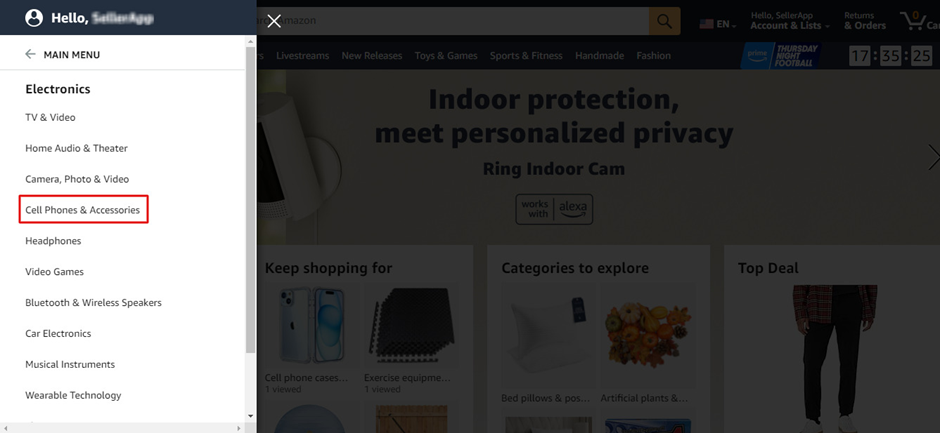 3. Once you do that, consider specifying the subcategory. This will highlight the products similar to the one you have in the back of your mind.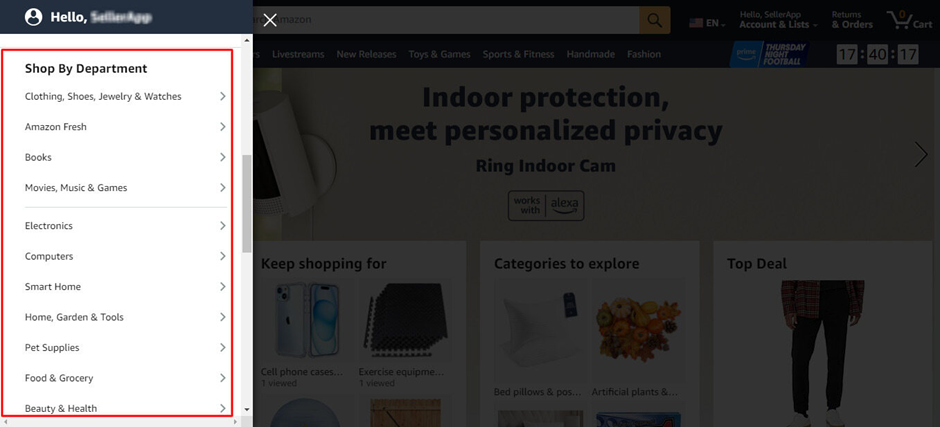 4. Initiate the search, and you will be taken to a page that displays products within the department you chose.
5. Find the Featured Brands section on the left side of the page.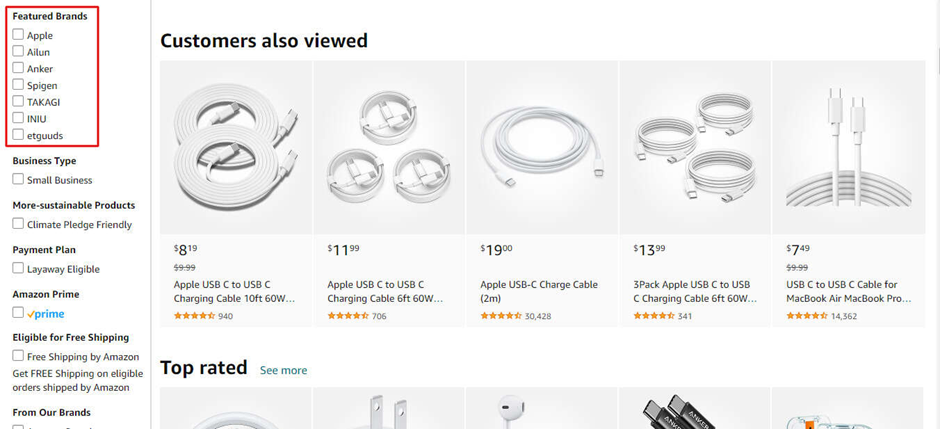 6. Choose the boxes next to the sellers' names and view only relevant items from the selected sellers.
This way, you can easily locate sellers based on the specific product department.
How to Contact an Amazon Seller?
Now that we know how to search by seller on Amazon, the next thing is to look into how you can contact one.
Fortunately, contacting an Amazon seller is relatively straightforward. Here are a few steps to get started:
1. Visit that particular product's page for which you want to contact the seller.
2. Use any of the above-mentioned ways to track down the seller's name.
3. Navigate the Ask a Question button on this page and click it to write a message.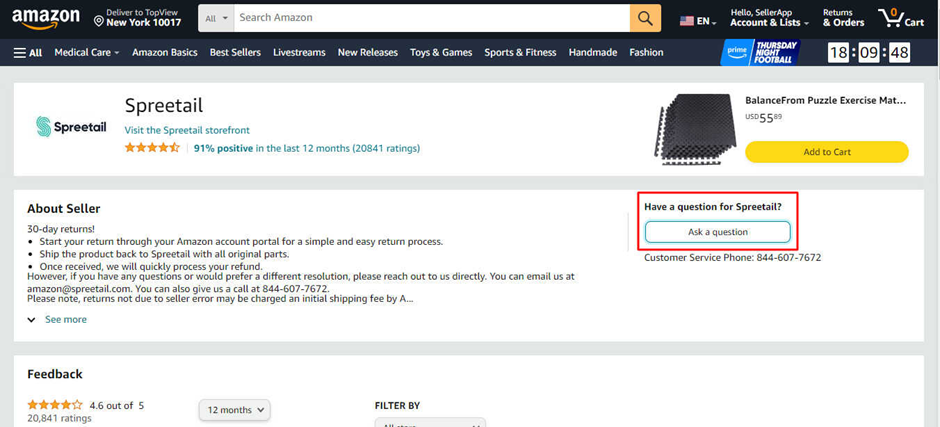 4. Type your message and send it.
Pro tip: Keep the message short, clear, and crisp.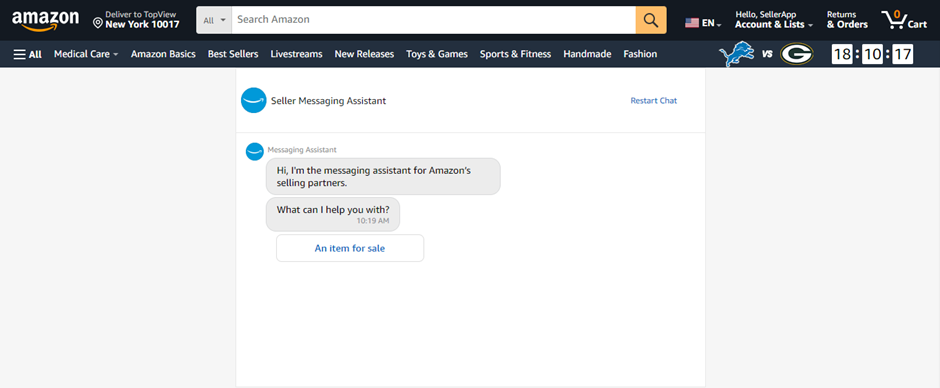 5. Check for the response on Amazon's messaging system. Sellers most likely respond within 48 hours. However, a few might take more time.
This way, you can easily contact the Amazon seller and get the required assistance quickly.
What to Expect from Communication?
Once a seller responds to your messages, here's what you can expect:
Quick Response: Since sellers are conscious about maintaining their reputation, they would likely respond to you within 24-48 hours.
Professional Behavior: Amazon sellers are known for their professionalism. Therefore, you can expect the seller to maintain a respectful, concise, yet comprehensible interaction.
Problem Resolution: Regardless of your concern or query, the seller will actively take steps to help you, which is a plus.
In short, you can expect a professional and helpful response from the sellers to your queries.
Conclusion
Understanding the nuances of Amazon seller search presents various opportunities. Sellers can learn about their competition and get their questions answered by contacting other sellers. On the other hand, it also allows buyers to track their favorite sellers for a seamless and targeted shopping experience. So, keep this guide as your reference for how to search Amazon by seller and use any of the methods discussed to reach out to your desired seller and exchange a meaningful conversation.
- End -