Amazon has hundreds of millions of products on its sales platform, driven by over 1.9 million active Amazon sellers globally. In 2020 alone, Amazon sellers sold around $295 billion worth of products. Almost a quarter of these sellers use the "wholesale" model to sell on Amazon.
Amazon wholesale is the sales model where a seller purchases bulk products from another manufacturer/distributor and resells them at a higher price on Amazon. With the right strategy, many Amazon global wholesale sellers are making thousands of bucks monthly. Therefore, this guide talks deeply about Amazon wholesale, how it works, comparisons with other sales models, pros/cons, and similar details you need to know. So, stick with this article to learn how to start a wholesale Amazon FBA business in 2023.
A Quick Look at Amazon Wholesale Model
The main steps involved in selling wholesale on Amazon include the following:
Set up an Amazon seller account
Conduct product research to find a high-demand product
Source the product from the brand, distributor, or manufacturer at a cheaper rate
List the product on Amazon
Start selling and managing your account (inventory, shipping, marketing, etc.)
These are the basic steps to conduct a wholesale business on Amazon. Later in this guide, we will talk deeply about those steps and minor details you need to know to start an Amazon wholesale business from scratch.
Note: You may need a business license and a resale certificate or sales tax permit to run the wholesale business on Amazon. These are required to let you get products tax-free and empower you to collect sales tax required by the state. In fact, many brands/manufacturers may also require you to show these two items before providing you with products. So, check out the state-specific wholesale requirements before opening the wholesale account.
Wholesale vs. Other Sales Models
Before diving deep into Amazon's FBA wholesale model, it's important to clarify how it differs from other sales models. So, let's quickly compare wholesale with other popular sales models.
Wholesale vs. Dropshipping
Dropshipping is the sales model in which dropshippers do not own the products. What they do is list the products on Amazon. When a customer places the order, they put a separate order to the manufacturer/supplier of the product, who delivers the product to the customers on the dropshipper behalf.
In contrast, wholesalers own the inventory. They are responsible for delivering the orders themselves or through wholesale Amazon FBA (fulfillment by Amazon).
Wholesale vs. Private Label
Private label is the sales model in which sellers sell their own branded products. They create their own product listings on Amazon.
On the other hand, wholesalers purchase existing branded products at a cheaper rate and resell them at a higher price. They don't have to create new product listings and can add their products to existing ones.
Wholesale vs. Arbitrage
Arbitrage is the sales model in which sellers purchase products from websites or retail stores at a discounted rate and then resell them on Amazon.
In contrast, wholesalers also buy branded products but negotiate the rate directly with the manufacturer or distributor and buy in bulk quantities. Some even opt for the Amazon global online wholesale pallet approach. In short, they have a larger inventory and a higher profit margin.
Why Choose Amazon Wholesale?
There are many pros and cons of choosing Amazon wholesale business, as follows:
Pros
Faster to Establish: Wholesale is the faster and easier way to start selling on Amazon. Within a few weeks of work, you can have your Amazon account operational and start making sales.
Sell Established Products: Wholesale allows you to sell products of brands that buyers are already searching for. This lowers the need for extensive marketing for product awareness.
More Profitable: Wholesale model is a faster way to generate profit on Amazon. Most of the wholesalers can make profits within six months.
Scalability: Wholesale model is very easy to scale. As you get experienced with Amazon wholesale mode, you can easily find more products from established brands, list them, and expand your business.
Cons
Up-front Investment: You must purchase bulk products before selling on Amazon. So, it requires a significant up-front investment in purchasing and storing inventory.
Competition: Almost all the products you intend to sell will already be present on Amazon by other sellers. This means more competition, which requires extra effort to attract buyers to your listings.
Extensive Research: It requires significant time and effort to do product research and find the right product to wholesale. Moreover, you also have to negotiate with the manufacturer.
A Step-by-Step Approach to Start Running an Amazon Wholesale Business
Now that we know all the basics about Amazon's wholesale business, let's focus on the main topic, i.e., how to start selling wholesale on Amazon. So, below we are providing a comprehensive step-by-step approach to start an Amazon wholesale business from scratch:
1. Product Research
The first thing to run an Amazon wholesale business is finding the right wholesale product. Before you begin product research, you should remember one important thing, i.e., avoid products sold by Amazon or private label sellers.
If Amazon sells the product, it will be priced much lower than other competitors, making it very difficult to compete and get a profit margin. Similarly, avoid products with just one seller, as it's a private label seller. Look for products with multiple sellers, indicating that the product is either an arbitrage or wholesale product.
It would be best to look for small to medium-sized brands, as they will be willing to sell products at a wholesale cost. To research products, use Shulex VOC AI product research analysis that helps you find winning products. It provides a comprehensive competitive analysis, letting you know their monthly sales, ratings, and other details.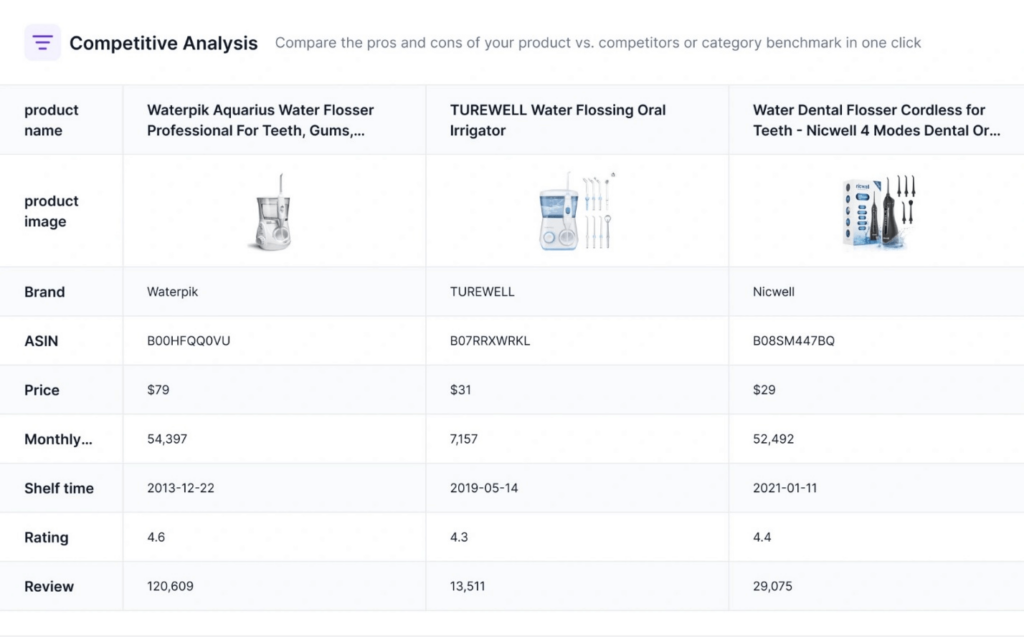 Moreover, Shulex VOC creates customer profile analytics, reflecting the customers' sentiments about the product. Even if you struggle with searching for the right category or product, you can use its ChatGPT-powered chat box to get assistance.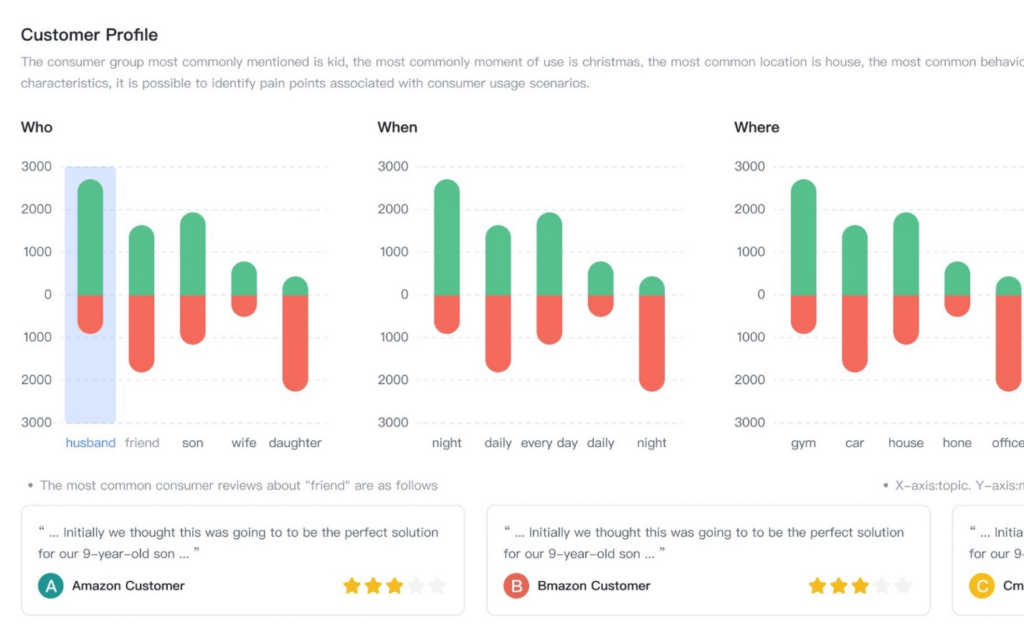 2. Calculate the Profit Margin
Once you have picked the product(s) for Amazon wholesale, the next thing is to calculate the profit margin. Follow the below points to calculate the pricing and profit margin:
Make Sure Your Product is Within 2% of the Buy Box Price
The Buy Box on Amazon is a golden "Buy Now" button on the right side of the product page, which allows customers to buy the product instantly. It is important that the product's pricing is within 2% of the current price in the Buy Box. Otherwise, the Buy Box might not show up on your product page.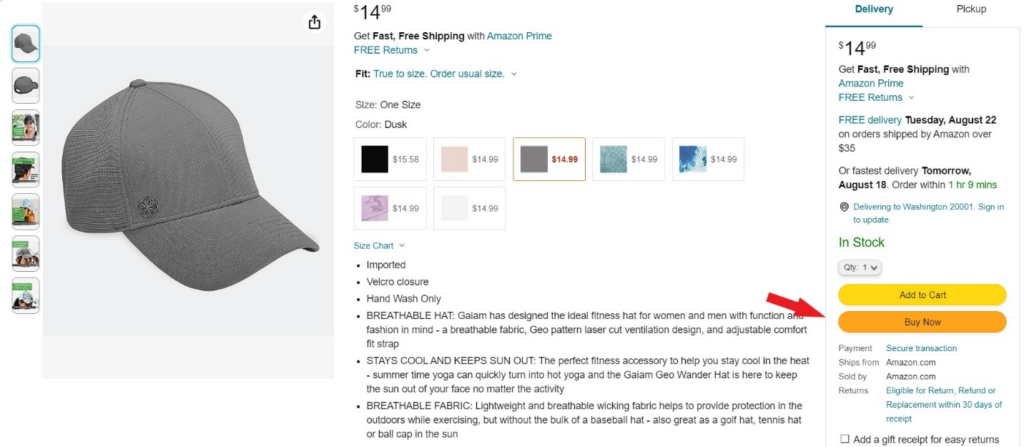 Evaluate the Product Fees
You should be clear about what are the fees associated with the products. If you plan for the Amazon FBA wholesale program, use Amazon's FBA calculator. Enter the product's ASIN and other details to get the estimated fee plan.
Subtract the product cost from the Amazon fee and see the final figure. If you get positive digits, then you are making that much profit from the product.
Now estimate the monthly sales you can make for the product. First, gather the number of sales your competitors are making using the Shulex VOC product research feature. Once done, divide that number by the total number of existing sellers plus one (you). For instance, if a product has monthly 1500 sales and there are 7 existing sellers, then your monthly sales will be:
Monthly sales = 1500 / (7+1) = 187.5 units per month
You should avoid storage fees on Amazon by stocking massive product inventory in the Amazon warehouse. It is recommended to stock just 2-3 months of products. So, if you are selling 187 products, you should arrange an inventory of max 560 units.
3. Search Product Supplier
Now you have to look for a supplier that can supply you with the products at the best rate and quality. The product you chose will likely have multiple Amazon FBA wholesale suppliers. However, the recommended approach is that you try to get in touch with the brand owner.
So, search for the brand's official contact details by simply doing a Google search. Talk with them about the pricing and other details. You may even have to convince them that you can provide value to their company and increase their sales.
This way, you can finalize the deal and open a wholesale account with them. In this process, you might also have to register a legal business entity in your state and get a resale certificate. Once done, you can start placing orders or even get the products shipped directly to Amazon.
4. List the Product and Start Selling
The last step to begin Amazon wholesale is to list the product in your Amazon seller account and start selling. Create a compelling product listing with high-quality images and descriptions. You can use Shulex VOC AI assistance to craft SEO descriptions with relevant keywords. Once the product is listed, you are all set to start selling and fulfilling orders.
How to Fulfill Amazon Wholesale Orders
To fulfill Amazon wholesale orders, you have two ways:
1. Fulfillment by Amazon (FBA)
Amazon FBA wholesale is a program by Amazon that allows sellers to ship their products to Amazon's fulfillment centers. Once the customer places the order, the Amazon staff packs and ships the products themselves. This way, the wholesale Amazon FBA program takes away the hassle of shipping products to the customers. However, Amazon charges a fee for this way of shipment.
2. Fulfillment by Merchant (FBM)
FBM is completely opposite to Amazon FBA wholesale. In this program, you will store, package, and ship products to customers. This approach is useful if you want to avoid paying Amazon's FBA fee or want a greater degree of control over the fulfillment process.
Wrapping Up – Take the First Step to Your Million-Dollar Amazon Wholesale Business
Amazon's wholesale business has empowered many individuals to become millionaires in just a short span. With the right strategy and tools, Amazon FBA wholesale is an excellent way to start generating profits on the world's largest online marketplace. So, take the first step into the Amazon wholesale arena and direct your path to building a million-dollar business.
- End -