Customer service is of utmost importance in today's competitive era. 81% of customers say that a good customer service experience prompts them to purchase again from a brand. That's why it is more than ever important to employ top-notch support strategies to achieve your business's sales goals.
While you can hire a human staff to take care of customer support, it comes with a number of downsides. For example, support agents can't be available 24/7. Moreover, not all customers will get the response at the same time. According to a survey, 96% of customers leave you for poor customer service.
Fortunately, the evolving technology has a solution - a customer service chatbot. Based on AI models, it can help you automate tasks like answering common queries of consumers. Keep reading to learn about this technological product in detail!
What is a Customer Service Chatbot?
A customer service chatbot is an AI and machine learning-powered bot that is designed to tackle customer inquiries through business messaging platforms.
It basically utilizes existing resources like FAQs or knowledge base articles of your organization to answer questions like "What are your pricing options", "How can I add additional users", etc.
The best part is that these bots are trained to identify and respond to multiple variants of the same question. So, irrespective of the way customers articulate their queries, the bot will present immediate answers in the desired tone that aligns with your brand.
Why is Customer Service Chatbot Important?
Exceptional customer service is directly linked to the growth of the business. According to 64% of businesses, the sales of their products or services witnessed prominent growth due to offering good customer service.
Thus, companies that aim for a boost in their revenue should look for ways to revolutionize their customer support. One such effective way includes incorporating a customer service chatbot that is important for multiple reasons:
Your business has customers from all around the world making inquiries in different languages. So, a chatbot can offer multi-lingual support.
You cannot hire a support team that is available 24/7 due to budget constraints. So, a chatbot offering round-the-clock availability is an affordable alternative to this.
Your customer service team is unable to handle the workload. So, the chatbot can deal with frequently asked queries autonomously.
You want to ensure brand consistency across different channels and platforms. So, the chatbot can deliver the same tone and service quality.
All in all, making use of the chatbot for customer service can lead to improved customer satisfaction and retention, resulting in higher sales and brand reputation.
Advantages of Using Customer Service Chatbot
The customer service chatbot is not just a fancy way to deal with customer service; it also comes with a number of benefits, as listed below:
Round-the-Clock Availability: With a customer service chatbot, you can ensure that you offer assistance to customers at any hour, irrespective of the difference in time zone. The 24/7/365 availability ensures no one has to wait for a long time to get answers to their queries, leading to a reduced bounce rate.
Flexible Learning Capabilities: Chatbots have the ability to evolve continuously by learning from each interaction to enhance future support quality. Also, this is not only based on the algorithm but can also be guided by human input through email responses, support articles, etc.
Custom Consumer Engagement: You can conveniently program chatbots to identify diverse customer profiles and tailor the answers accordingly. A few such attributes include business type, subscription level, and location.
Rich Customer Insights: Your business's customer support agents can sneak peek at a potential consumer's chat with the bot and treat them accordingly for increased chances of lead conversion. For example, if someone has several concerns regarding pricing, your customer support agent knows which factor to focus on when dealing with them.
Reduced Operational Costs: An IBM report suggests that businesses usually spend $1.3 trillion on 265 billion customer service calls each year. With chatbot customer service, these expenses can be reduced by up to 30% by quickening the response times and handling up to 80% of queries.
To sum up, the customer service chatbot brings a multitude of benefits to businesses. From providing accurate information to being available 24/7 and beyond, this technology has all the power to revolutionize the support services offered by your business.
Cons of Customer Service Chatbot You Need to Know
Although the customer support chatbot is beneficial in multiple aspects, it also has a fair share of drawbacks, as listed below:
Chatbots have limited responses, and they can't answer complex queries by themselves.
If customers aren't able to get what they want from the chatbot or their request isn't understood accurately, they may end up frustrated and look for alternatives.
If businesses plan to integrate advanced bots with sophisticated algorithms, they must bear high costs before setting everything up properly.
When you take a step back and look at the bigger picture, it's clear that chatbots offer more advantages than disadvantages. That being said, implementing them into your business customer service could lead to improved consumer engagement and increased profits, which is what every business needs today.
Examples of Customer Service Chatbots
The industry is now filled with several companies offering chatbots for customer service. Here are a few top ones so you can make an informed decision for your business:
1. Shulex Service GPT
Powered by cutting-edge Generative AI technology, the Shulex Service GPT  is designed to provide precise answers to customer queries round-the-clock. It leverages GPT-4 to process information from your support content, offering high-quality and contextually relevant responses.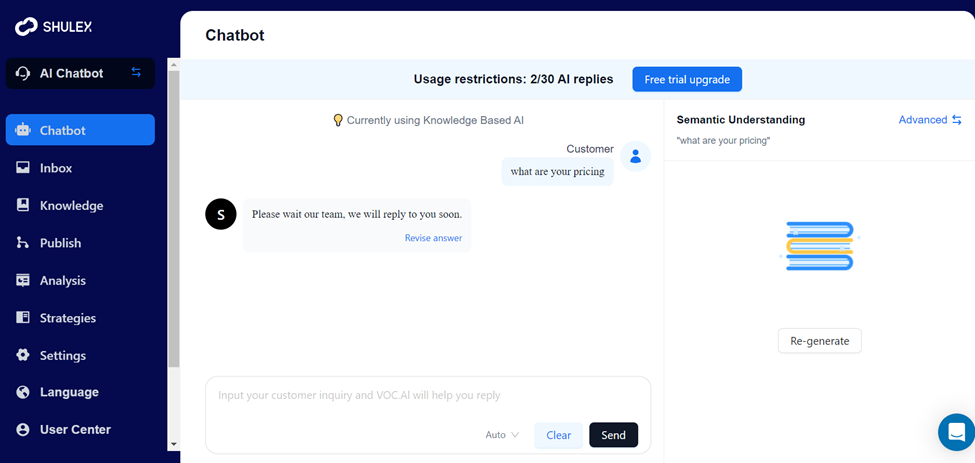 Not only is the bot easy to train and implement, but it also guarantees to resolve 80% of questions by customers, including unique challenges and industry-specific queries. Some top brands that trust their customer support affairs with Shulex include P&G, Worthfind, Open AI, Shopify, Amazon, and more.
Let's have a look at some of Shulex customer service chatbot features that make it unique of all:
Uninterrupted 24/7 personified intelligent customer service and Q&A.
Autonomous knowledge base construction with conversational AI.
Respond to customer queries in natural language to generate engaging and human-like conversations.
Customizable to suit different domains, languages, and scenarios.
Scalable to handle large volumes of customer interactions without compromising on quality or speed.
Learn from customer feedback and data to improve its performance and accuracy over time.
Adapt to different customer personalities and preferences to provide personalized and relevant responses.
Seamless integration with various platforms and channels, such as websites, mobile apps, social media, etc.
Support multiple languages, such as English, Chinese, Spanish, French, and more.
Detect and analyze the emotions and attitudes of customers and then adjust tone and style accordingly.
In short, Shulex Service GPT offers the most modernized and advanced customer service chatbot to businesses that is intelligent, easy to configure, and efficient in its operations.
2. Resolution Bot
Resolution Bot is a customer service chatbot that operates on Intercom's platform. It also offers immediate and relevant responses to consumer queries. It is built on machine learning technology and is capable of providing tailored solutions extracted from a business's knowledge base rather than generic responses.
Besides possessing the ability to resolve up to 38% of customer questions automatically, Resolution Bot is available 24/7 and also offers global reach with multi-lingual support.
Biteable is one of the top brands that depend on this chatbot for its customer support tasks. In fact, its VP stated that integrating this technology has helped it save 1000 hours of users and 800 hours of support staff.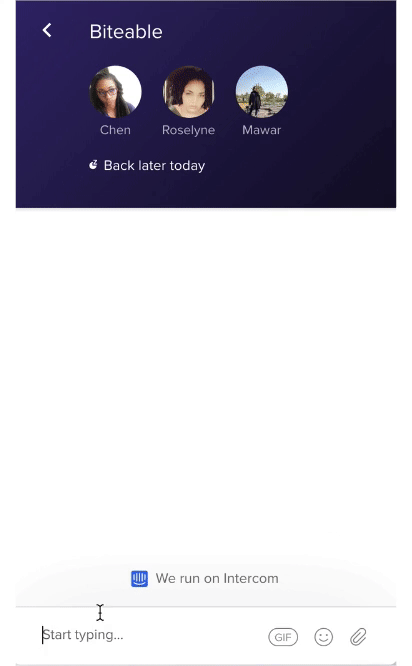 3. HubSpot Chatbot Builder
Another provider that offers the best chatbot builders in the market is HubSpot. With this service, you can easily streamline your business's customer interactions, eliminating the need for human involvement.
The chatbot is not only suitable for answering queries precisely, but it also helps qualify leads for your company. What sets it apart is the fact that it employs a user-friendly setup process that does not require coding.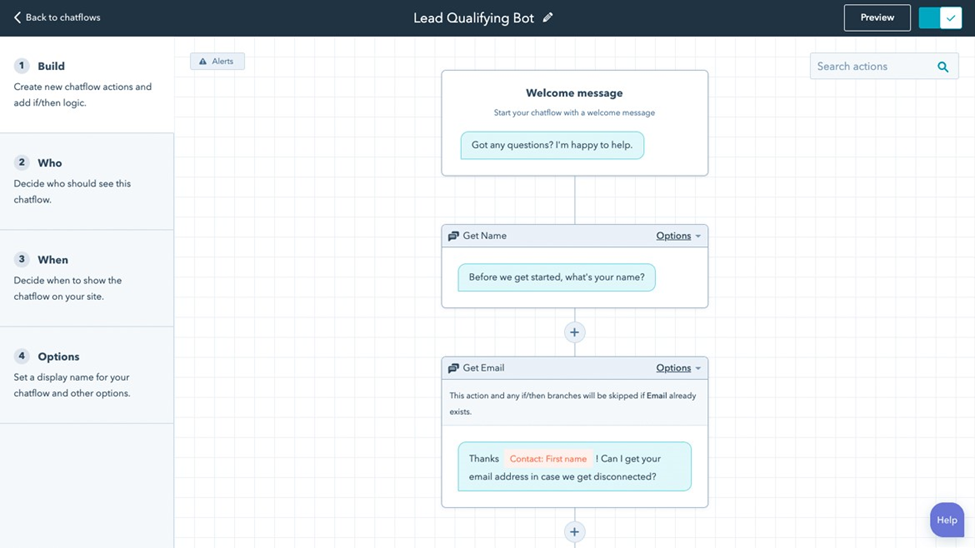 Wrapping Up - Increase Your Business Sales with Customer Service Chatbot
Customer service chatbot is a robust technology that can help businesses improve their customer support services. You just need to use it to its higher potential, and achieving things like higher consumer satisfaction rates, better conversions, and more sales won't be a problem.
To wrap up, we recommend you find the ideal customer service chatbot that aligns with your business needs and gives your customers a modernized way to interact with your brand. It requires commitment, investment, and time, but it ensures a higher return on investment, a loyal customer base, and a competitive edge.
- End -