With an inventory of over 12 million items, Amazon's product catalog is constantly expanding; in fact, thousands of new ASINs are generated on a daily basis. Creating and utilizing Amazon ASINs is essential for sellers to conduct business on the platform.
But what exactly is an ASIN, and why does it matter? What are the best Amazon ASIN lookup tools?
This article will explain the ins and outs of leveraging this essential tool for your business.
Part 1: What is Amazon ASIN?
Every item on Amazon is assigned an exclusive 10-character code called the Amazon Standard Identification Number (ASIN). This identifier consists of a combination of numbers and letters. Each product has its own distinct ASIN that any other product can't replicate. Depending on the marketplace you are using, different items may have different ASINs, even if they are still the same product.
Take Amazon, for example; their ASIN is unique and can be used on the main website and other marketplaces like Canada's .ca, China's .cn, Japan's .co.jp, UK's .co.uk, and so on.
Amazon assigns these figures to each product to monitor inventory, pinpoint products, and index catalog pages. Therefore, knowing the ASIN creation policy and how to use the correct numbers for your listings is important. Doing so will help customers find your products when searching on Amazon.
How To Find An ASIN?
The ASIN can be found on the product's URL or information page.
Suppose our product is the Breville Blend Active Bottle.
To find the ASIN on the product's URL,
Go to the Amazon website and search for the product you are searching for.
Once you have found the product, check the product's URL.
You can find the ASIN in the product's URL after the "/dp/" part.
In our example, the URL is:
https://www.amazon.co.uk/example/B0B2KQ9ZG5/
Here, the ASIN is B0B2KPCBJZ. Alternatively, you can find the ASIN on the product's information page. Here, the ASIN of the Breville Blend Active Bottle is B0B2KQ9ZG5.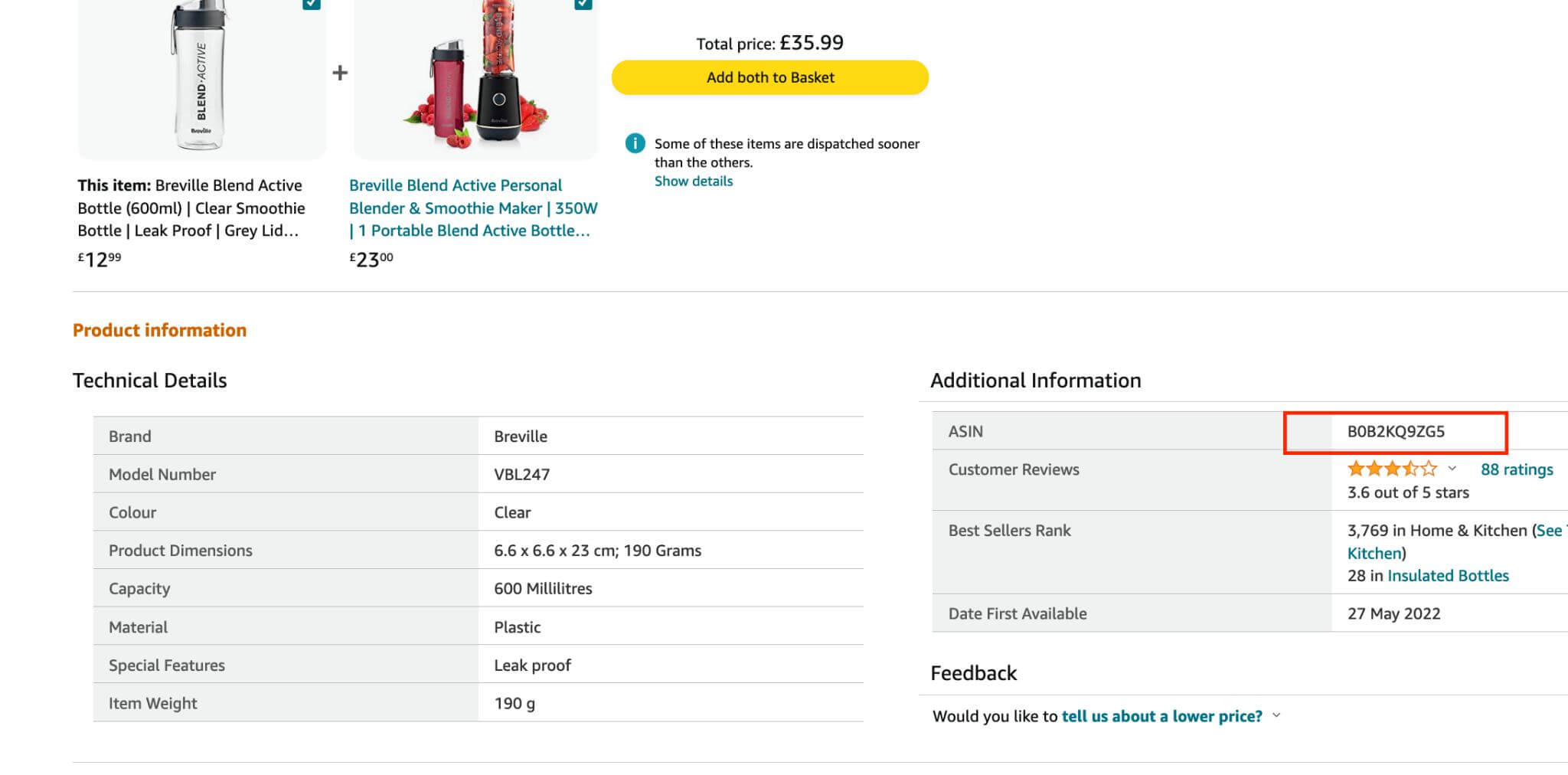 Part 2: Why Is Amazon ASIN Important For Your Business?
The Amazon ASIN is essential for your business on a few levels.
Firstly, it will help you keep track of sales and inventory. Since each product has its unique identifier, you can plan and ensure enough stock is available to meet customer demands. ASINs can be used as a reference for catalog data and index product pages, allowing customers to search and browse products easily.
Secondly, Amazon's ASIN number is essential for the catalog's organization since it gives customers more options to search through different categories of items. Furthermore, they can quickly type a product description or its ASIN number in the search box and find exactly what they are searching for.
Finally, a product's Amazon Standard Identification Number (ASIN) helps display the product whenever customers search for it on Amazon. Therefore, sellers must incorporate the proper ASIN identifier into their products or risk being excluded from Amazon search results.
Part 3: Best Tools To Use An ASIN
When identifying a product's ASIN number, you can use many Amazon ASIN lookup tools. These tools give you all the information you need about a particular item.
Here are three popular Amazon ASIN lookup tools:
The All-in-one Amazon ASIN Lookup Tool provides sellers with a comprehensive analysis report with the necessary data to accurately assess a product's performance. This tool also helps you pinpoint success factors and opportunities for increased sales. This report also provides you with daily sales and revenue projections, potential FBA savings and gains, top keywords to drive traffic, and keyword rankings over a given period. Furthermore, it provides PPC expenditure on campaigns, buy box pricing information for new and pre-owned items and listings of competing products.
Shulex VOC is a powerful tool that uses ASIN to analyze customer reviews and detect buyers' sentiments based on keyword phrases. It helps you understand how customers feel about your products allowing sellers to implement the best action to improve their sales.
This AI-driven tool harvests and assesses thousands of Amazon customer reviews to provide you with invaluable insights into what customers liked, hated, or whether they wanted something different. With Shulex, you can analyze one ASIN or several ASINs at once so that you can develop different ways to improve the product and add more value for consumers.
Schulex also allows Amazon sellers to explore customer demographics, read and export hundreds of reviews, search reviews based on keyword phrases, and identify buyers' positive and negative perspectives about a particular product.
Recognizing what your customers don't appreciate about a product is essential, as you can prevent those same issues with your offerings. This tool will help bridge the gap between customer expectations and their experience. By avoiding negative comments and boosting positive feedback, you can eventually improve the consumer's perception of your product by avoiding negative comments and implementing positive feedback. This can help determine whether or not that product should be sold on Amazon.
This ASIN tool from AsinZen allows Amazon Sellers to acquire and export any desired ASINs from various Amazon pages, such as Amazon product pages or search for ASINS on any Amazon search page. ASIN Fetcher supports over 15 Amazon marketplaces from Canada, the UK, and more. Furthermore, ASIN Fetcher allows sellers to export data onto a system clipboard or CSV/Excel files where you can view prices, seller names, fulfillment types, and clickable hyperlinks immediately upon purchase.
Part 4: Summary
ASIN is a fundamental element of your sales strategy on Amazon, so it's essential to understand how and why they are used. You will notice more efficient transactions and improved business growth by correctly assigning an identifier to each product you sell. ASIN tools like Amazon ASIN Lookup Report, Shulex VOC Review Analyzer, and ASIN Fetcher by AsinZen, can help you gather valuable insights into customer sentiments that may improve sales on your site. By leveraging these tools, you can maximize profitability and growth potential on Amazon.
FAQs
How to look up an Amazon ASIN?
First, you need to log into your Amazon seller account. Once logged in, you will have access to the Seller Central dashboard. Then, click 'Reports' and select the Amazon ASIN Lookup Report from the options. This will generate a list of your products and their respective ASINs. You can also use Shulex or ASINFetcher to look up ASINs for other Amazon products.
- End -