When it comes to running an Amazon business from scratch, many Amazon sellers agree that Helium 10 is the best all-in-one tool. Its popularity is easy to understand as it offers numerous features in one software suite, making it a reliable tool for advancing your business.Helium 10 can help you discover high-margin products, determine the best keywords to include in your product listings, and create effective phrases for Amazon PPC ads. Being a SaaS product, he has a low barrier to use and is available with a paid subscription. However, despite the many positive aspects of this software, sellers at different stages of the process may seek an alternative product similar to Helium 10 or one that better meets their needs. To help you determine if this software is right for you, let's start by discussing the pros and cons of Helium 10. Also compare the differences between the different products to help you choose the best product for your Amazon business.
The Pros And Cons Of Helium 10
Pros
Helium 10's product positioning is an Amazon operations toolkit, his rich collection of operations tools can help different Amazon sellers and different positions to complete the Amazon operations work. It is also called one of the best and most comprehensive Amazon marketplace optimization software by sellers.
1. Product Research
Product research is one of Helium 10's main strengths. One of its standout features is its black-box tool, which is highly regarded for its ability to find products based on user-defined custom filters. With Helium 10, you can easily identify the most profitable and least competitive products in a given niche with just a few clicks. From a market analysis perspective, you can choose a combination of different dimensions such as sales/volume (market volume), number of items/brands (market competition), BSR data (market share), price range (profit margin), etc. to complete your product selection research.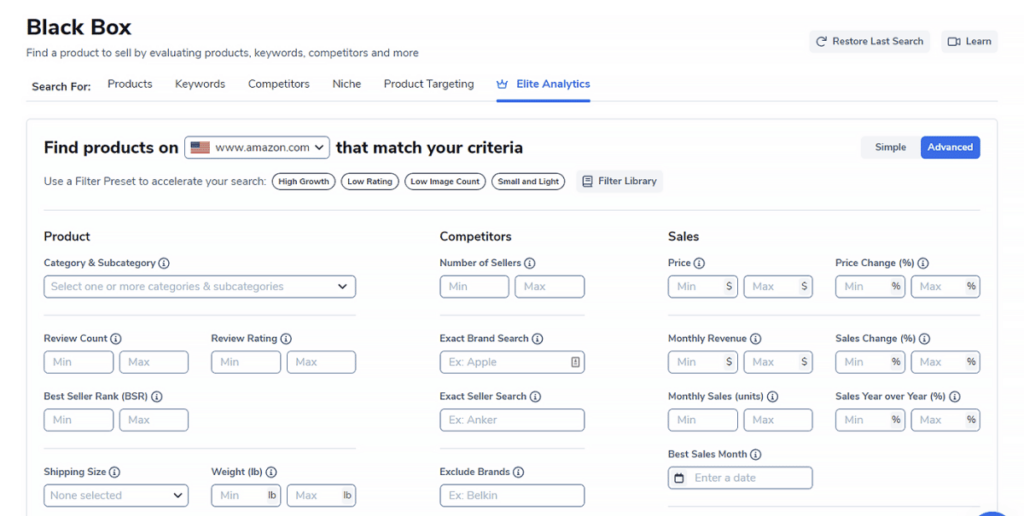 2. Listing Optimization
Listing optimization is crucial to get high rankings for your product detail pages in Amazon's search results. By optimizing your listings with relevant keywords used by your target audience, you can increase the visibility of your products in the search results. This in turn leads to more traffic and ultimately increased sales. Helium 10 can provide valuable assistance in this regard, helping you discover the most effective keywords to target for your listing optimization efforts!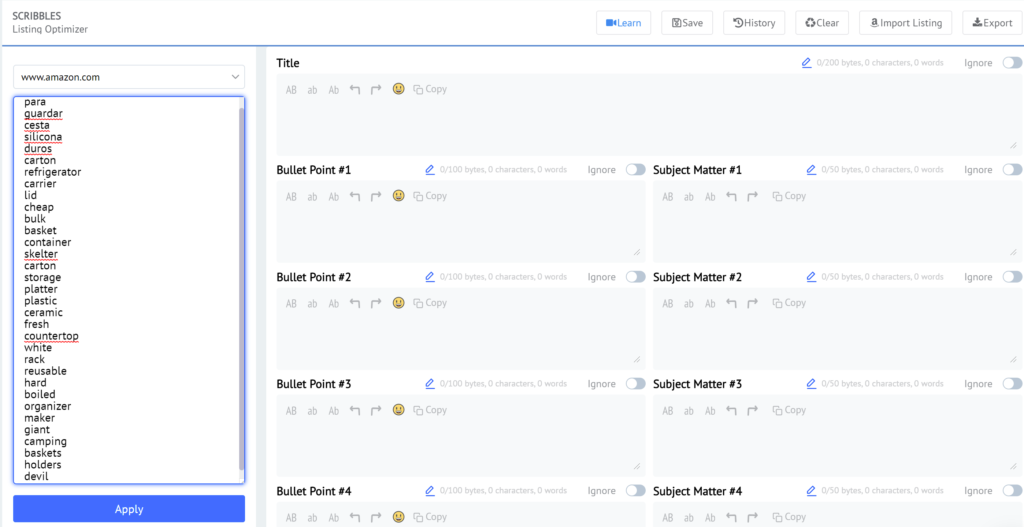 3. Keyword Research
If you are looking for the best keywords for your product ideas, then Helium 10 is for you. This comprehensive toolkit provides the perfect solution. With Helium 10's magnet tool, discovering low competition, profitable keywords has never been easier. Not only can you use the tool to find the most relevant keywords to optimize your listings, but you can also use the tool to increase the effectiveness of your pay-per-click campaigns. Additionally, Helium 10's Cerebro tool allows you to perform reverse ASIN searches, giving you detailed insight into the keywords used by your #1 ranked competitors. By utilizing these same keywords, you can increase your listings keyword rankings and improve organic search performance over time. Want to find the best keywords for your product ideas? Helium 10 has the right tool for that.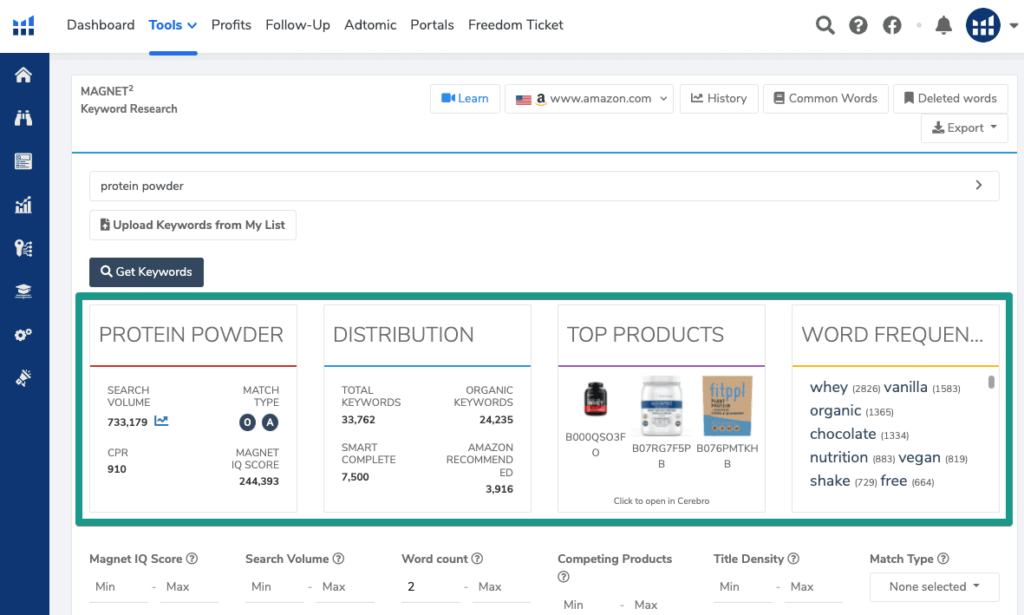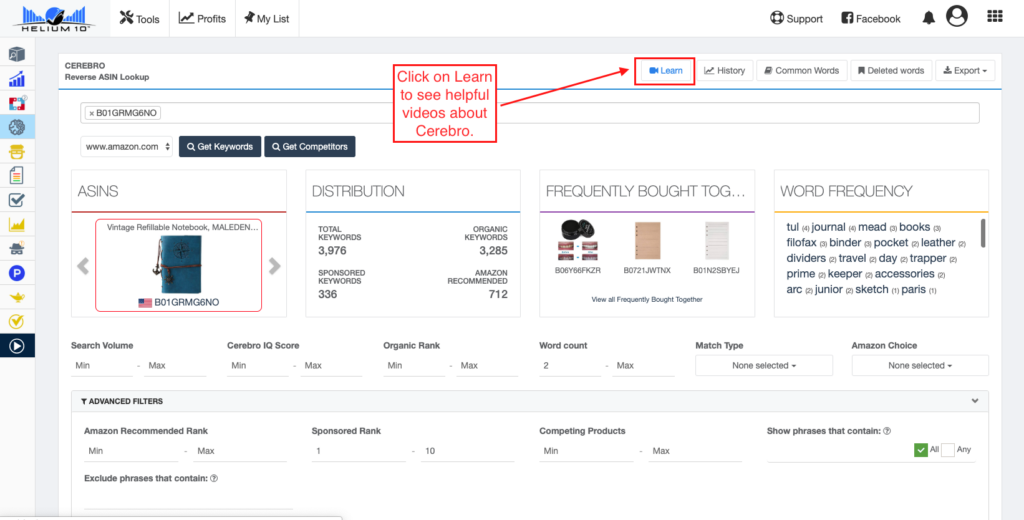 4. Built-In Financial Analysis
Managing the financial side of your store can be overwhelming at times. It is important to remember that generating sales does not necessarily equate to making a profit. Various factors need to be considered, such as the cost of goods, selling prices, Amazon advertising and promotion costs, taxes, employee salaries, and other operating expenses associated with running your business. Fortunately, Helium 10 provides a comprehensive financial analysis tool that gives you a clear picture of your business's overall financial situation. This data analysis tool simplifies the process of tracking sales, profits, revenue, margins, and ROI. With Helium 10's profit tool, you can make informed business decisions without compromising your financials, all from a single, intuitive profit dashboard.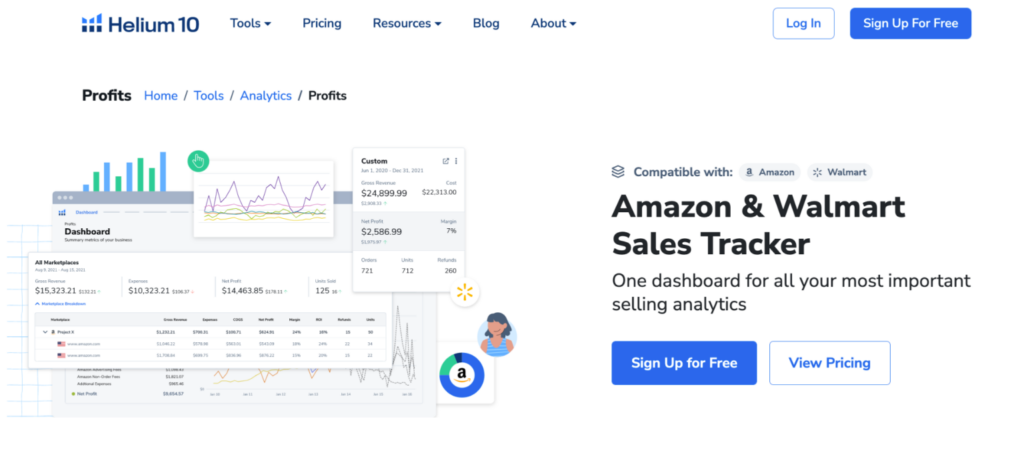 Cons
Of all the Amazon tools currently on the market, Helium 10 certainly tops the list. However, some Amazon sellers may choose not to use this software suite for their Amazon business for several reasons.
1. Overpricing:
Helium 10 comes with different pricing plans. the $29/month starter plan is suitable for beginners. Once you get your business off the ground, you will need more features and more advanced features like advanced product selection and keyword lookups. Then it's time to upgrade to the Platinum Plan ($84/month) or Diamond Plan ($209/month). If you're a seller of small items within $2 per unit, that equates to you needing to sell at least 100 more items per month.
2. High learning costs:
Helium 10 is a versatile software suite, and to take full advantage of Helium 10, you'll need to familiarize yourself with each feature.
Nevertheless, Helium 10 is not complicated to use. Once you get used to it, it becomes easier to maneuver. It does, however, require an investment of time to learn.Helium 10 provides a knowledge base that can answer any questions you may have.
Helium 10 VS Shulex
1. Database
Helium 10 is a product database with keyword data, ranking data, and BSR data to infer sales. From the knowledge of data analysis, these are MI data. Shulex is a combination of consumer voice (i.e. review, FAQ), sales data, and product parameters. In terms of data analytics, these are CI data. Usually we look at whether the category is selling or not is the first prerequisite, i.e. MI data. Then to determine whether we can manufacture and sell the best-selling products, to conclude the consumer demand, and to design the specific details of the product need to use CI data.
2. Principle of analysis
Helium 10 explores and deduces on Amazon A5 algorithm, while Shulex uses VOC principle, which is a kind of testing method in quality inspection, but the value of the data is not only that, but also can be used in brand research, product research, product improvement, operation improvement and service improvement.
In addition, Shulex utilizes GPT-4 technology to help sellers complete VOC consumer insights. With the help of GPT-4, sellers do not need to define analysis tags, do not need to build analysis models, and directly select products to produce analysis conclusions.
3. Core value
Helium 10, as an operation assistant software, uses tools to help sellers with product selection, operation optimization, advertisement optimization and financial monitoring, and its ultimate goal is to improve Amazon sales conversion rate. Shulex, as an intelligent assistant software, uses AI to help sellers with product research, consumer insights, operation optimization, product optimization, keyword optimization, and its ultimate goal is to improve Amazon consumer conversion improvement and brand reputation improvement at the same time, using AI to replace manual labor to reduce costs. For example, free Shulex Copilot simulates various roles of Amazon sellers and uses robots to get the job done.
4. Cost plan
Helium 10 is divided into three different versions, with different versions extending different functions, and the core product of Shulex, VOC Consumer Insights, is divided into individual version ($99/month) and team version ($299/month 4 account). In addition for VOC output a series of tools: GPT Amazon tools, GPT Shopify tool, GPT for customer service, AI word cloud tool, Social Hashtag Genterator, Shulex Copilot tool are free to try.
Top 8 Helium 10 Alternatives 2023
#1. Jungle Scout
Jungle Scout is widely regarded as the top alternative to Helium 10, and upon comparison, we have found that Jungle Scout outperforms Helium 10 in certain aspects. While both tools share similarities, Jungle Scout offers some distinct advantages.
One major advantage of Jungle Scout is its strong focus on data analysis, which provides more precise insights into specific products. In our evaluation, Jungle Scout demonstrated accurate data in six out of ten searches, surpassing Helium 10's accuracy rate of four out of ten searches. This level of data accuracy enhances the decision-making process for Amazon sellers.
Furthermore, Jungle Scout boasts a more comprehensive product database. This expansive database enables users to filter and discover the best-rated and most profitable products. Additionally, Jungle Scout offers superior list management features and more powerful price comparison tools, enhancing the overall efficiency and effectiveness of product research and analysis.
Taking these factors into consideration, it becomes evident that Jungle Scout offers a compelling alternative to Helium 10, particularly for those seeking more accurate product insights and a robust feature set.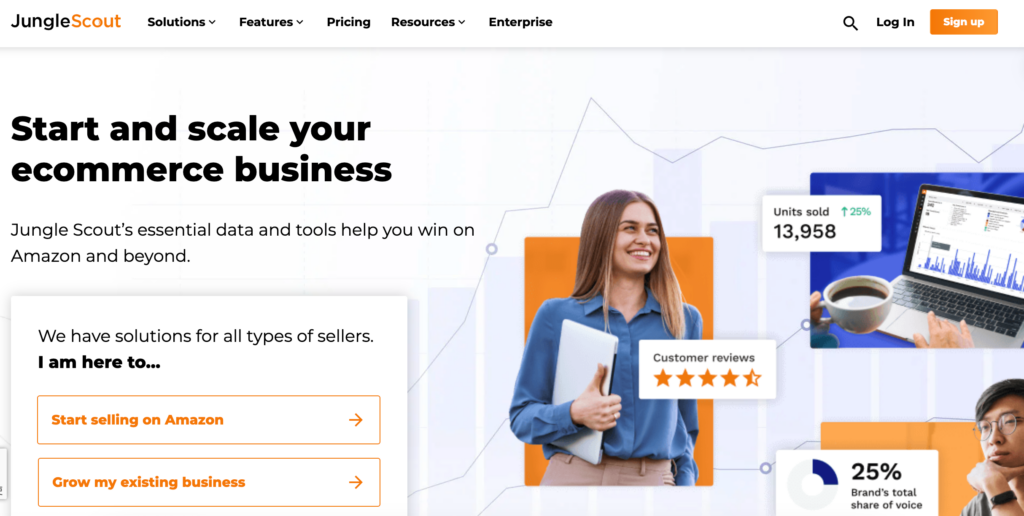 #2: Viral Launch
After Jungle Scout, Viral Launch stands out as another excellent alternative to Helium 10. Like Helium 10, Viral Launch offers a comprehensive solution for Amazon sellers, making it a one-stop platform. One notable feature is its free PPC tool, which is available with any subscription plan. This tool assists sellers in managing their pay-per-click advertising campaigns effectively.
Viral Launch also provides detailed data on keywords and products, empowering users to make informed decisions and drive business growth. Whether you are a beginner or an experienced seller, Viral Launch caters to your needs. It offers a user-friendly interface, making it suitable for newcomers, while also providing advanced features that intermediate and expert sellers require to elevate their business to new heights.
Overall, Viral Launch emerges as a robust alternative to Helium 10, offering a range of features to support Amazon sellers at various stages of their entrepreneurial journey.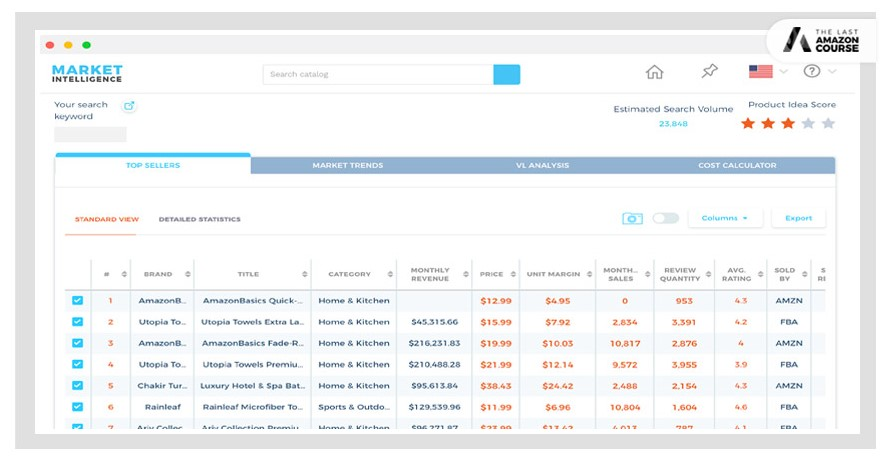 #3. Sellics (Perpetua)
Sellics is a user-friendly and beginner-oriented alternative to Helium 10. It stands out as an all-in-one solution for Amazon sellers, encompassing various aspects of running an eCommerce business. In addition to assisting sellers in building their online businesses, Sellics equips them with the necessary tools to enhance their online visibility and outperform competitors.
One key advantage of Sellics is its focus on providing a comprehensive suite of features. Utilizing techniques such as keyword clustering, revenue forecasting, and other vital metrics, Sellics offers a holistic view of product viability, sales performance, and profit potential. This wealth of information allows sellers to make informed decisions and optimize their strategies for success.
Furthermore, Sellics excels in making its platform accessible and easy to navigate for users of all levels of experience. This user-friendly approach ensures that even newcomers to the Amazon selling world can quickly grasp and utilize the various features and functionalities offered by Sellics.
In summary, Sellics offers a compelling alternative to Helium 10 with its user-friendly interface and emphasis on supporting beginners. As an all-in-one solution, it provides the necessary tools and insights to empower sellers in building and growing their eCommerce businesses while gaining a competitive edge in the market.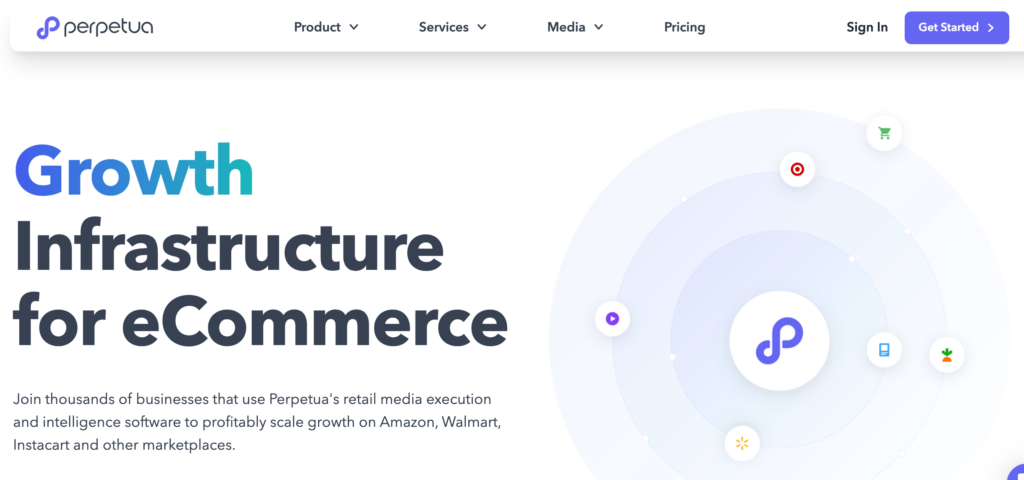 #4. Billbee
Billbee leverages cloud technology to enhance operational speed and accuracy. What sets Billbee apart is its exceptional support for multi-channel retailers, including Amazon FBA. It offers a comprehensive post-sales solution that streamlines the selling process on Amazon and other online marketplaces, ensuring a seamless and hassle-free experience.
Although Billbee may not offer the same extensive range of features as Helium 10, it provides sufficient functionality to effectively manage sales operations. From order management to inventory tracking, Billbee equips sellers with the essential tools needed to efficiently run their businesses.
By harnessing the power of the cloud, Billbee delivers faster and more accurate results. Its focus on multi-channel support enables sellers to expand their reach and diversify their revenue streams. While not as feature-rich as Helium 10, Billbee still offers valuable functionality for sellers looking to streamline their sales operations and successfully navigate the world of online marketplaces.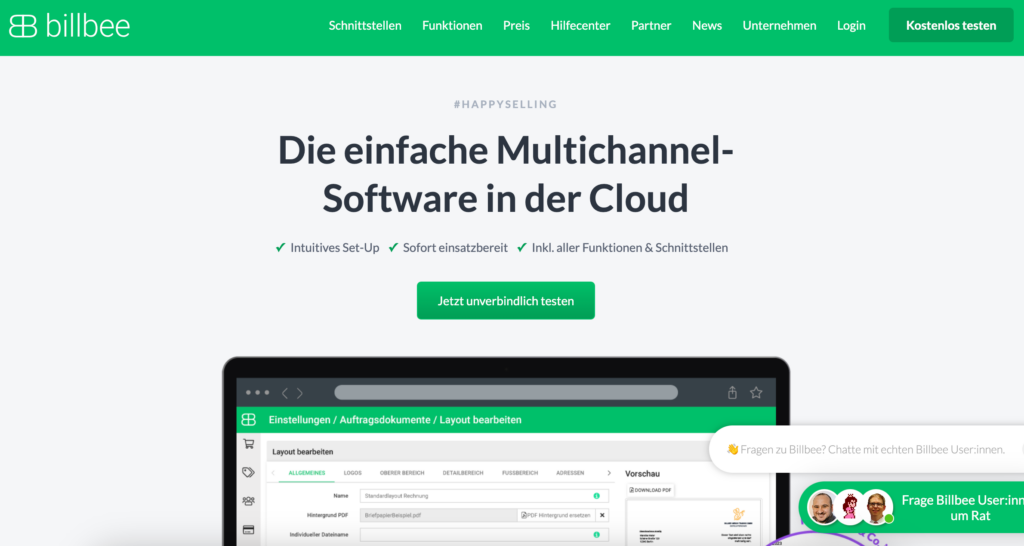 #5. AMALYZE
If you're searching for Amazon seller software that rivals or surpasses the feature set of Helium 10, AMALYZE is a top contender to consider. It provides an abundance of analytics tools designed to simplify the work of Amazon sellers. One standout feature is its robust keyword analysis tool, which helps sellers optimize their product listings effectively. Additionally, AMALYZE offers ad reporting and evaluation tools to enhance advertising performance.
What sets AMALYZE apart is how it presents its vast array of features in a sleek and user-friendly dashboard. Unlike Helium 10, AMALYZE's interface is easy to navigate, making it beginner-friendly while remaining intuitive for experienced users. This cohesive and accessible design ensures that sellers can quickly access and utilize the various tools and analytics provided by AMALYZE.
In summary, if you're in search of feature-rich Amazon seller software that can match or exceed Helium 10's capabilities, consider AMALYZE. With its wide range of analytics tools, including a powerful keyword analysis feature, and a user-friendly dashboard, AMALYZE simplifies the work of Amazon sellers and helps them drive success in their online businesses.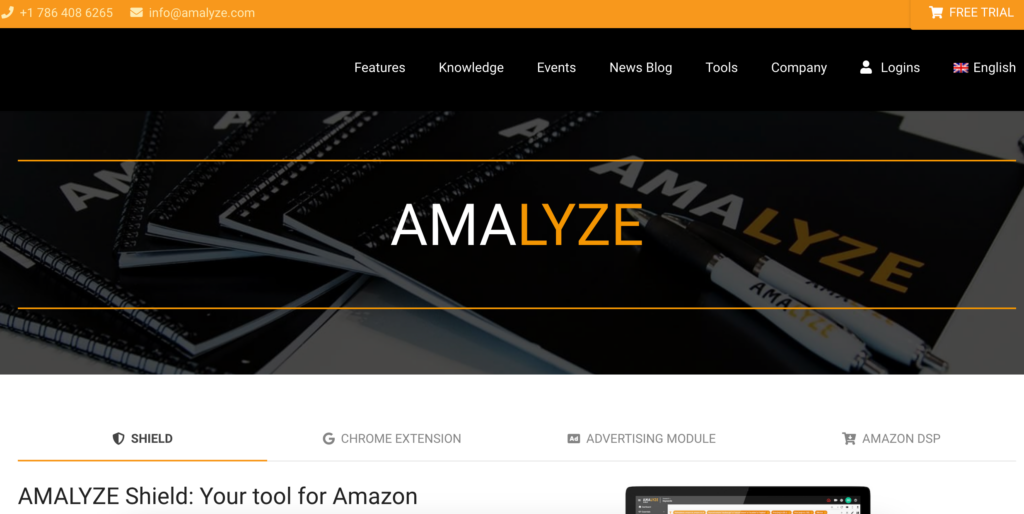 #6. Teikametrics
Teikametrics is an alternative Amazon seller tool that offers a comprehensive solution for effectively managing the selling process on Amazon. With its extensive ASIN database and feature set comparable to Helium 10, Teikametrics provides a robust platform for sellers.
One notable aspect of Teikametrics is its wide range of analytics tools. These tools allow sellers to conduct product research, track key performance indicators, and efficiently manage their sales operations. Additionally, Teikametrics offers features such as profit estimation, trend analysis, and list creation, among others.
Similar to users who prefer Teikametrics over Helium 10, many find it easy to use and navigate. Its user-friendly interface and intuitive management system make it accessible for sellers of all experience levels.
In summary, Teikametrics serves as a one-stop solution for Amazon sellers, offering a vast ASIN database and feature set comparable to Helium 10. With its range of analytics tools, including profit estimation and trend analysis, Teikametrics provides sellers with the resources they need to effectively manage their Amazon businesses. Its user-friendly design further enhances its appeal to users seeking a comprehensive and manageable platform.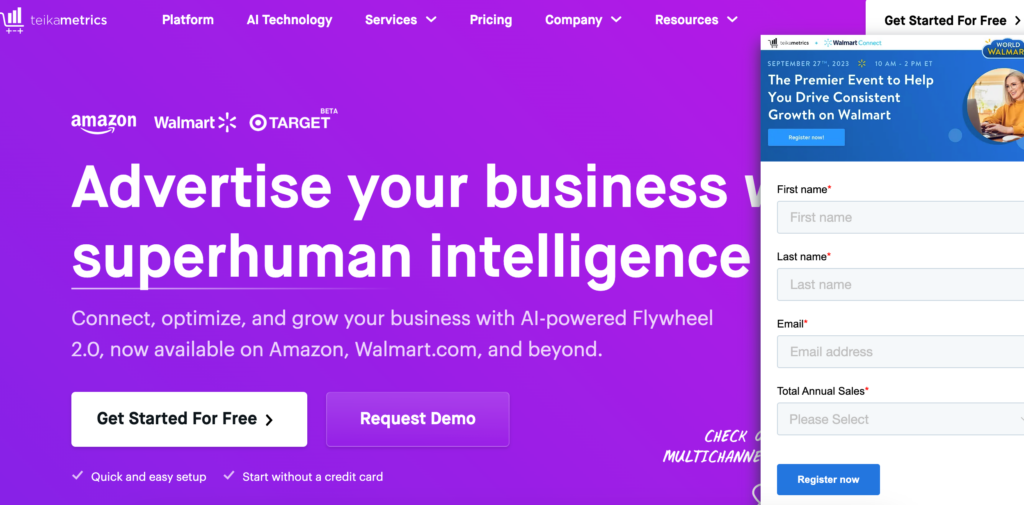 #7. SellerApp
If you're looking for an Amazon seller tool that can rival both Helium 10 and Jungle Scout, then SellerApp is the perfect solution for you. SellerApp stands out with its ability to uncover hidden opportunities within the vast sea of products on Amazon. Its powerful keyword and product research tools enable users to conduct in-depth analysis and identify potential goldmines.
One notable feature that sets SellerApp apart from Helium 10 is its PPC (Pay-Per-Click) automation capabilities. With SellerApp's PPC Custom Rules Bidding, you have complete control over your PPC campaigns at the keyword level. This functionality allows for precise optimization and management of your advertising efforts.
Besides its powerful research and PPC automation features, SellerApp offers additional functionalities that differentiate it from Helium 10. While there are several features to explore, the emphasis on PPC automation stands out as a key advantage.
In summary, if you're seeking an Amazon seller tool that can rival both Helium 10 and Jungle Scout, look no further than SellerApp. With its focus on uncovering hidden opportunities, powerful keyword and product research tools, and notable PPC automation capabilities, SellerApp provides a comprehensive solution for maximizing your success on Amazon.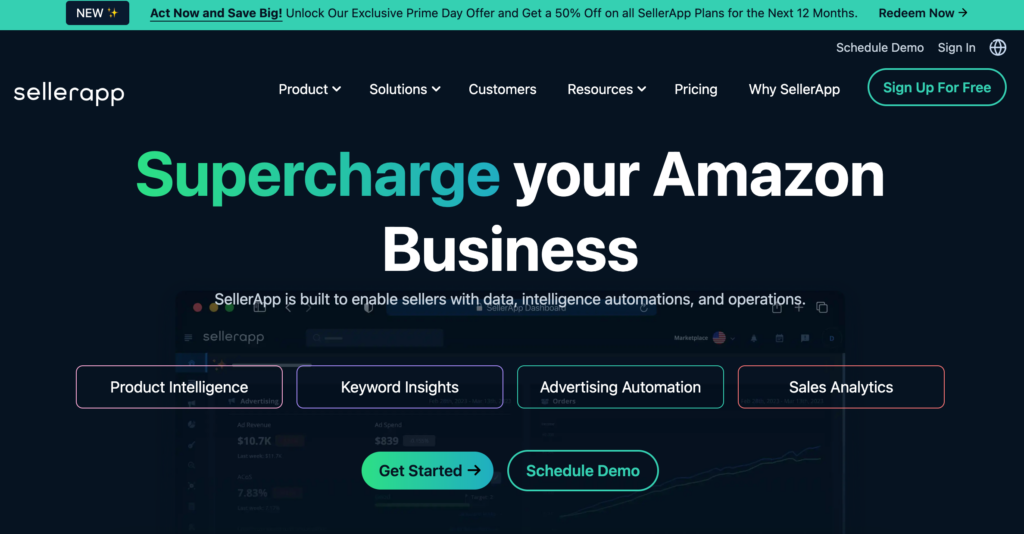 #8. ZonGuru
ZonGuru is an excellent alternative to Helium 10, offering a range of data-centric tools to help you effectively grow your Amazon FBA business. With ZonGuru, you can access 17 different tools that cater to various aspects of your Amazon selling journey, allowing you to scale your business effortlessly.
The tools provided by ZonGuru are categorized into four main categories: listings optimization, product research, customer engagement, and business metrics, as well as monitoring and alerts. These categories cover a wide range of essential areas for successful Amazon selling.
Whether you're just starting out or looking to take your business to the next level, ZonGuru equips you with the necessary tools to optimize your product listings, conduct thorough product research, engage with customers effectively, and monitor key business metrics. This comprehensive suite of tools enables you to make informed decisions and drive success on the Amazon platform.
In summary, ZonGuru offers a powerful alternative to Helium 10, providing a collection of data-centric tools designed to help you scale your Amazon FBA business. With its 17 tools spanning categories such as listings optimization, product research, customer engagement, and business metrics, ZonGuru equips you with the resources needed to achieve growth and success in your Amazon selling endeavors.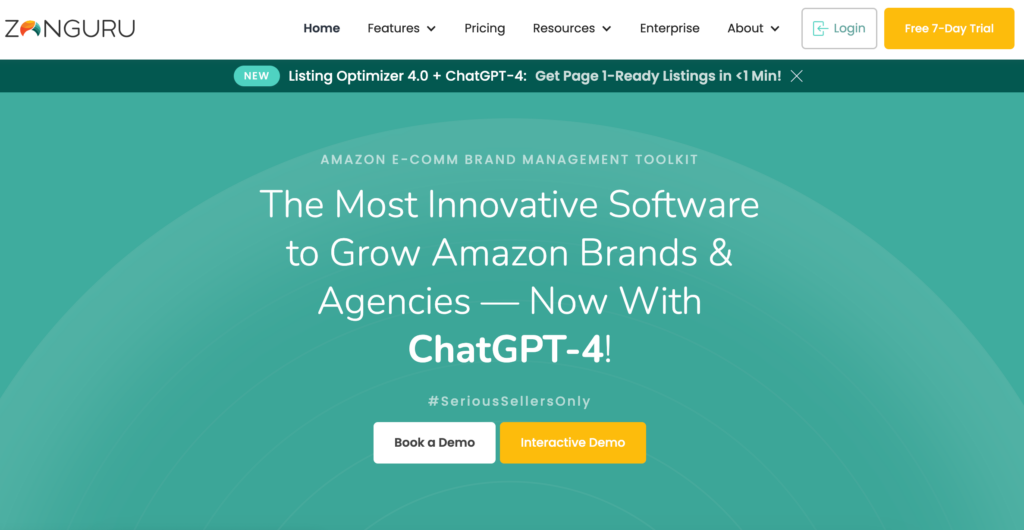 Conclusion: Best Helium 10 Alternatives (2023)
All the Helium 10 alternatives presented here are viable options. However, when choosing one for yourself, you must base your decision on your requirements, your level of expertise in selling on Amazon, and your current level of business. And for brand sellers and private label sellers, or for the future of e-commerce, connecting with consumers and ensuring brand reputation is the key. Shulex, which utilizes AI VOC for full consumer insights and uses AI to continuously reduce costs and increase efficiency, is the best choice
- End -