So, you got your hands on a Visa gift card as a dedicated Amazon shopper and are grinning from ear to ear. After all, who doesn't like receiving incentives?
But here's the twist. Many shoppers aren't sure how to use it on Amazon. If you are in the same boat, this guide contains everything you need.
This guide will address how to add Visa gift card to Amazon, share its limitations, and everything in between. So, let's get started to make your shopping spree even sweeter.
What is a Visa Gift Card on Amazon?
A Visa gift card is a prepaid card with a specific amount loaded. It is pretty much like a regular gift card you might receive from a specific store but slightly more versatile.
It allows you to make purchases on Amazon just like you would with any other payment method. However, the total amount spent should not exceed the card's balance. Many online and some physical stores accept this Visa card besides Amazon, which is a plus.
Also, the Visa gift card works differently from debit and credit cards because you do not need to link it to your bank account or provide personal information.
Visa Gift Card vs. Amazon Gift Card: What's the Difference?
As the name implies, Amazon gift cards are specific to Amazon. In other words, when you receive an Amazon gift card, you can only use it to buy products/services from Amazon. They're perfect for regular Amazon shoppers.
Besides, they do not come with any overhead costs. For instance, if you spend $150 on an Amazon gift card, the receipt can utilize the entire $150.
On the flip side, a Visa gift card offers greater versatility. It is not tied solely to Amazon. Instead, you can use it in various online and physical stores. As such, it offers more freedom than the former.
However, all that glitters is not gold. These cards come with overhead charges. For instance, someone buying a $100 gift card must pay around $5 additional cost. So, although the sender would pay additional costs, the receiver will get the value of $100.
Overall, both cards have their merits and demerits, and you can consider their features to track down your ideal choice.
How to Add Visa Gift Card to Amazon?
One of the most common questions among Amazon shoppers after receiving a Visa gift card is, "How to add Visa gift card to Amazon"?
Thankfully, the steps are fairly straightforward. Here's how to do that:
1. Visit the official Amazon website and log in.
2. Navigate the Accounts & Lists at the top of the page.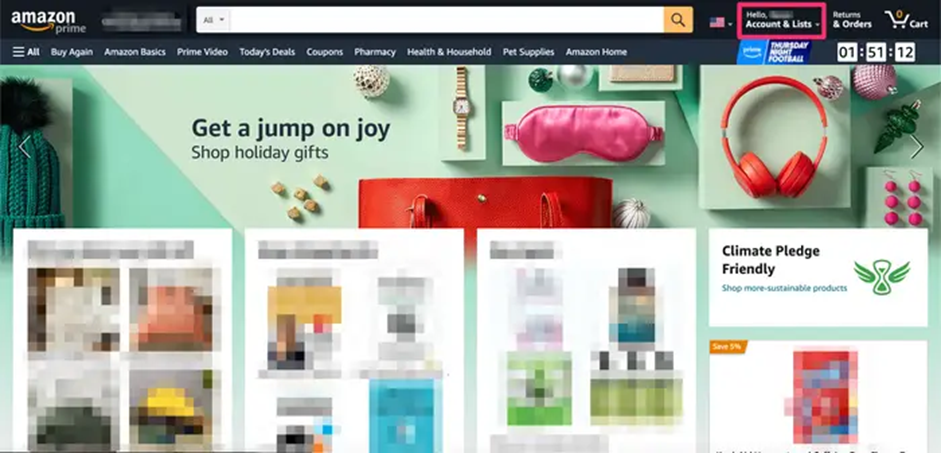 3. From the drop-down menu, select Your Account > Your Payments.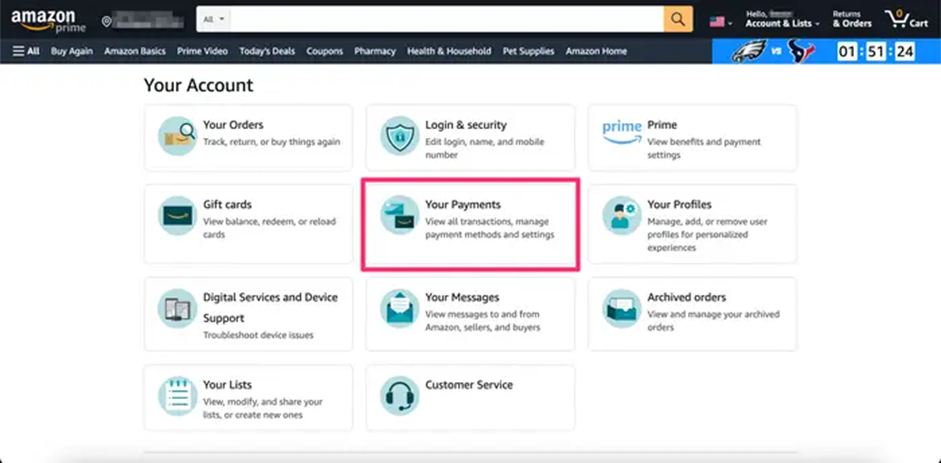 4. Now choose Add a payment method > Credit or debit card.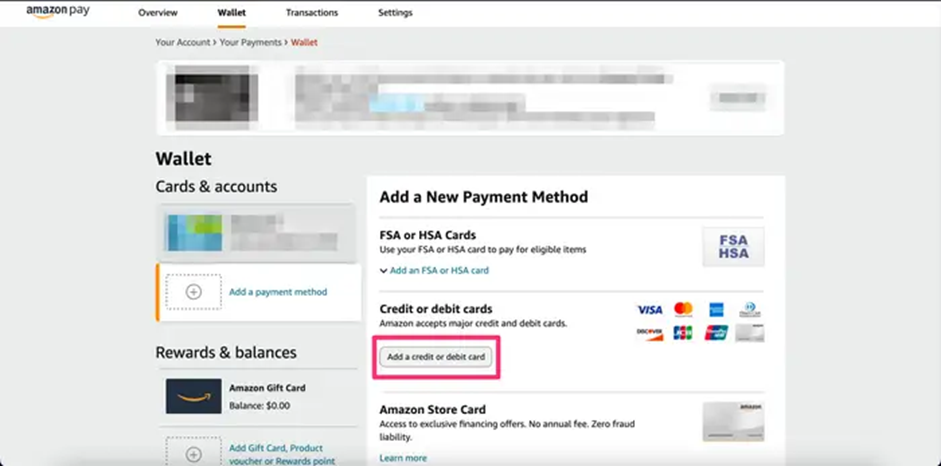 5. Now, enter the gift card information (expiration date, card number, and name).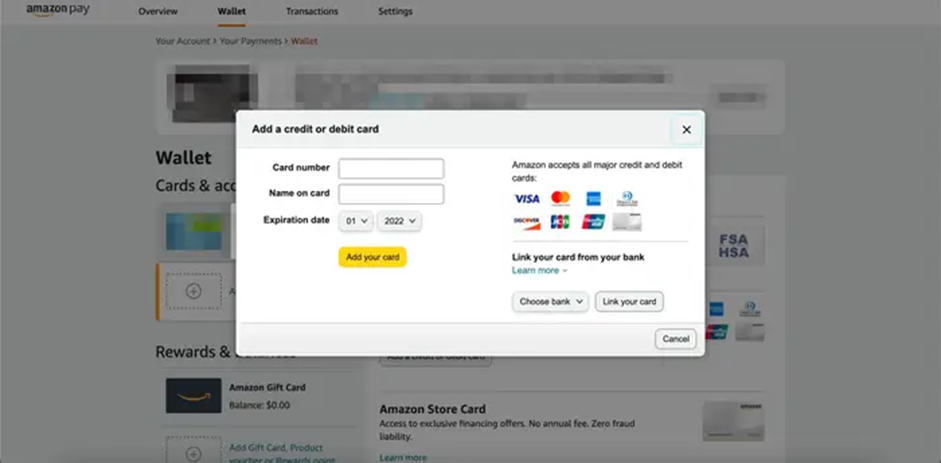 6. Select Continue to type your billing address.
7. Choose Add your card, and you are good to go.
If you are using the Amazon app, you can follow these steps to get started:
Navigate the horizontal lines at the bottom of the screen, and you will be reverted to a new page.
Choose Your Shortcuts from the page's bottom section.
Select Account and follow the on-screen instructions.
Now that you know how to add Visa gift card to Amazon, here are a few steps to use it:
Select the products you want to buy and add them to your shopping cart.
Choose your Visa gift card from the Payment method when checking out.
Place your order.
Tips & Tricks for Amazon Visa Gift Card Usage
An Amazon Visa gift card offers a great way to treat yourself without spending a penny from your pocket. Here are a few friendly tips to make the most out of it:
Make sure you activate your gift card before using it. This will ensure a seamless buying experience.
Check your remaining balance before selecting the items. It's like knowing how much money you have before heading to a store (more on this below)
Your Amazon gift card is like cash - make sure you treat it like one. Keep it in a safe place, and avoid sharing the card details with anyone.
You can reload your Amazon pay balance through your Visa gift card. This way, you can buy products from the platform even if the vendor doesn't accept Visa cards. To reload one, click Reload your Balance button from Accounts and Lists.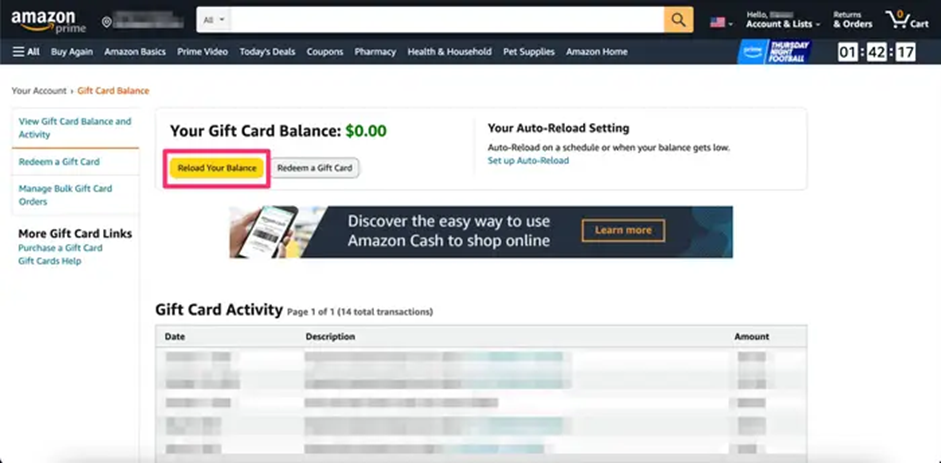 Your Amazon gift card isn't restricted to Amazon. You can use it at any place that accepts a Visa card.
If you seek to use an Amazon gift card with other payment options, consider buying one yourself. Then, you may combine it with another payment option of your choice.
The Limitations & Restrictions of Visa Gift Card
Now that we know about the tips and how to add Visa gift card to Amazon, let's also highlight its limitations and restrictions. Below, we have curated a list of its limitations you should keep in mind while using it:
If your product price slightly exceeds the Visa gift card's balance, you won't be able to purchase it, and Amazon will automatically revert you to other payment options.
You cannot buy digital content (like music, ebooks, and movies) through a Visa gift card.
You cannot use it to buy Amazon Prime Membership.
You cannot use it to purchase another gift card.
The platform might hold your Visa gift card balance to ensure its validity. This will naturally delay your purchase, and you might need to consider other payment options. Although the hold amount is only $1, you won't be able to proceed if your remaining balance is less than that.
There is also an inactivity fee and an expiration date, which diminishes the card's value. Therefore, it is best to keep an eye on the remaining balance to continue to enjoy the perks of a gift card.
How to Remove a Visa Gift Card From Your Account
Besides knowing how to add a Visa gift card to Amazon, you must also understand how to remove it. It will come in handy if, for some reason, you choose to discontinue using an Amazon Visa gift card.
Follow the steps below to remove Visa gift card on Amazon:
Choose Your Account at the top of the page after logging in.
Click the Payment Options > Payment Method and select the Visa Gift Card.
Tap Remove this Payment Method and confirm by clicking Remove.
You won't be able to use the Visa gift card once you remove it. However, if you have a remaining balance on the card, you can always contact the card issuer and ask for a refund.
How Can I Check the Remaining Visa Gift Card Balance?
Checking the Visa gift card balance is a smart move. It will keep you from adding products to your cart only to find out you are out of balance.
You can do so by dialing the toll-free number on the back of the card. Alternatively, consider visiting the card issuer's website and typing the security code and 16-digit number to inquire.
FAQs about Amazon Visa Gift Card
Q1. Does Amazon Accept Visa Gift Cards?
Yes, Amazon accepts Visa gift cards as a payment method. However, make sure your Visa gift card is activated for online or international transactions before using it.
Q2. Why Did Amazon Decline My Visa Gift Card?
Incorrect card information, an expired card, or lack of funds are a few common reasons Amazon might decline your Visa gift card. Another possible reason could be that your card isn't activated for online transactions. Make sure you check its activation status, balance, and expiry date before proceeding.
Q3. Can I Use a Target Visa Gift Card On Amazon?
No, you cannot use the Target Visa gift card on Amazon. It is specific to Target stores and cannot be used on other platforms, including Amazon.
Wrapping Up
Amazon Visa gift card is an absolute treat for regular Amazon shoppers. It allows you to purchase your favorite products without digging into your wallet.
This guide addressed common queries about how to add Visa gift card to Amazon. So, follow the steps discussed in this guide, keep the tips and limitations in mind, and start utilizing Visa gift cards on Amazon smartly.
Happy shopping!
- End -