If you want to sell products on Amazon, getting product reviews is crucial. Consumers typically look at product reviews to understand the quality and performance of a product. Therefore, having good product reviews can help you increase sales and revenue. So, how do you get Amazon product reviews?
First, you can join Amazon's invitation-only Vine program to exchange free products for feedback. This program is only open to selected reviewers, but if you can become one of them, you will have the opportunity to get free products and improve your reputation while exchanging feedback. To increase your chances of being invited as an Amazon Vine reviewer, you can leave useful product reviews regularly, which will help improve your reputation and credibility.
Second, you can become an Amazon affiliate marketer. This means you can use cookie technology to track sales generated through your referral link and earn commissions from them. To increase your sales and get more product reviews, you can create short videos on social media platforms like TikTok, showcasing your experience using and reviewing products. This will help improve your reputation and attract more consumers.
Finally, you can encourage consumers to leave product reviews by providing high-quality customer service and product quality. If your product quality and customer service are recognized by consumers, they are likely to leave positive product reviews, which will help increase your sales and reputation.
In conclusion, getting Amazon product reviews is an important step in increasing sales and revenue. Joining the Amazon Vine program, becoming an affiliate marketer, creating short videos, and providing high-quality customer service and product quality are all effective ways to get product reviews. Start this side hustle today, and you will see results sooner rather than later!
Get Paid To Write Amazon Reviews In 2023 ( BONUS: Get FREE Items )
Video By @newmrmoney
You can earn money by reviewing products on Amazon.
Leaving reviews is helpful for other users and can lead to monetization opportunities.
Amazon Vine is an invitation-only program where reviewers receive free products in exchange for their feedback.
Becoming an Amazon affiliate marketer allows you to promote products and earn commissions from sales generated through your referral link.
Affiliate marketing works through cookie technology that tracks activity on the website for 24 hours after clicking a referral link.
Short product review videos are popular on social media platforms like TikTok and can generate traffic and sales through affiliate links.
Simply Sell Fines is an example of a content creator who combines short product reviews with affiliate marketing to earn commissions from his followers' purchases on Amazon.
Leaving reviews increases the chance of being invited as an Amazon Vine reviewer, which provides additional opportunities for receiving free products in exchange for feedback.
Starting this side hustle takes time but posting regularly will lead to results sooner rather than later.
What's More - For Amazon business, consumer insights are also very important
VOICE OF CUSTOMER lets consumers tell you what they need, what they expect, and why they buy. Multi-channel integration + AI intelligent insights + scientific business models, from data to action in a single step, using the voice of consumers to guide business decisions. consumer voice to guide business decisions. VOC can help you solve the following problems to improve product quality and drive brand growth.
A variety of feedback channels: Various feedback channels such as Amazon/ebay, social media, email/chat, etc.
Insufficient number of manual spot checks, resulting in wrong conclusions: Wrong insights, resulting in serious wrong business decisions
Time lag of insights conclusion: Organizational manpower spends a lot of time reviewing partial feedback, not able to identify problems in time
Inability to identify new opportunities in a timely manner: New opportunities are a few voices hidden in a large amount of feedback, which is difficult to find manually
Inability to develop quantifiable action points: Problems can't be optimized if they can't be measured
Which aspect of the competitor's product do consumers like and why? Everyone knows this product sells well, but few people know why?
In which aspect does the competitor surpass my brand and why? In which aspect of installation/use scenario/quality/packaging/logistics, the reputation is better than mine
Which attribute of the competitor has the best reputation and why? Which factor impresses consumers the most, capacity, color, material?
What are the reasons for my consumer churn? What consumers dislike most about the products/services I provide
About Shulex VOC & GPT
Shulex is a global business data insights company and an AI-powered applications company. We capture multimodal consumer voices from across the web and leverage GPT AI's powerful analytics to provide our global clients with intelligent, scientific, and efficient consumer insights. We also provide a free Amazon ChatGPT browser extension, a custom VOC consumer insights platform, an Amazon category analysis report, and a one-stop e-commerce customer experience workbench. From AI data analysis to AI business application, we provide a full range of services to effectively help global sellers achieve business strategic planning, product planning and solutions, e-commerce operation optimization, and customer experience improvement.
If you want to experience the power of AI,try our free tools at Shulex ChatGPT for Amazon
How to Shulex ChatGPT for Amazon?
Step 1: Install ChatGPT Tool for Amazon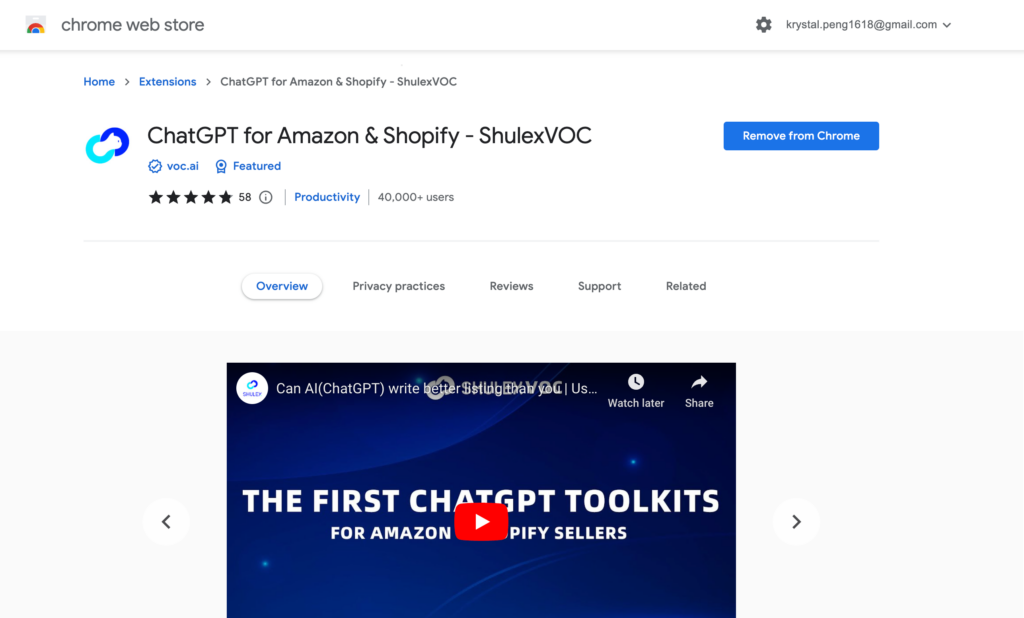 Step 2: Open Amazon and Use ChatGPT Tool for Amazon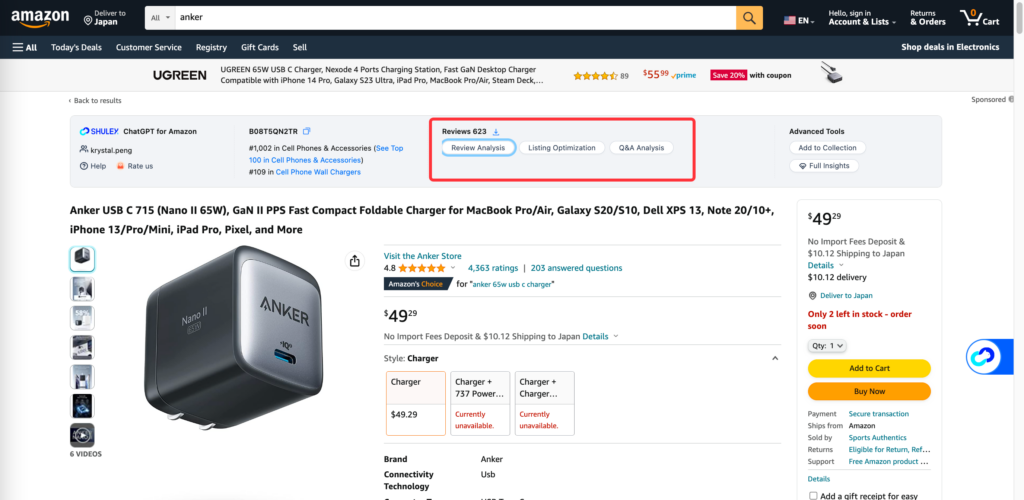 Step 3: Product and Consumer Research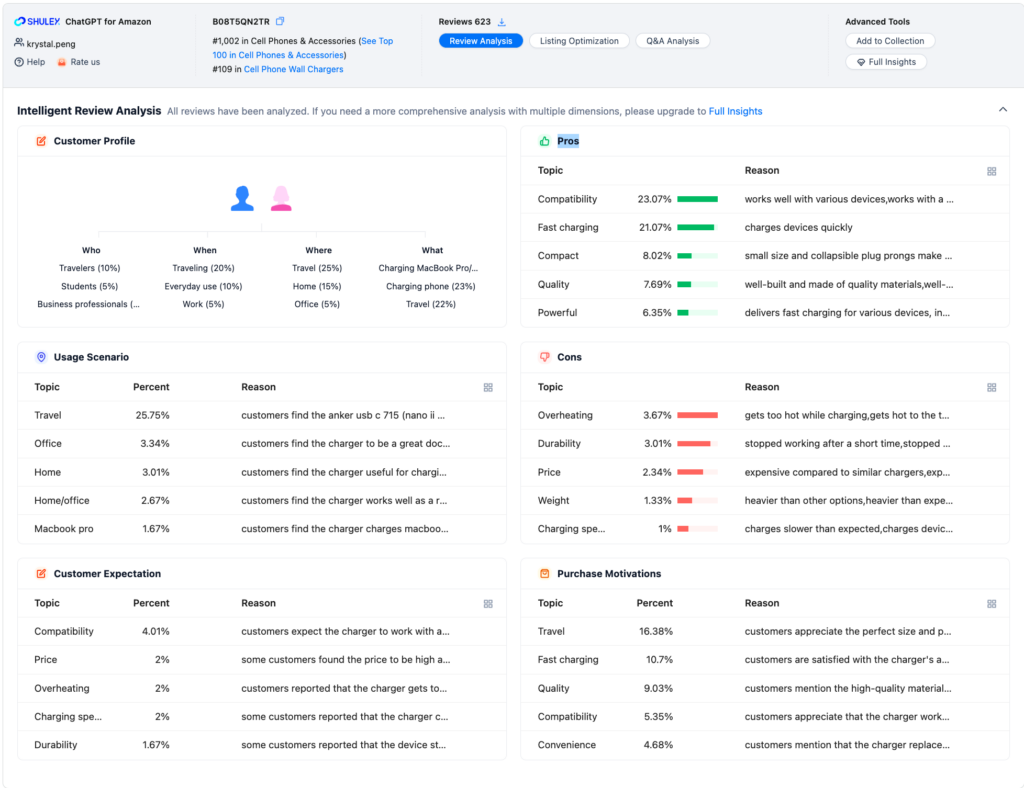 Step 4: Amazon listing Optimization

Step 5: Enjoy full version of ChatGPT Tool for Amazon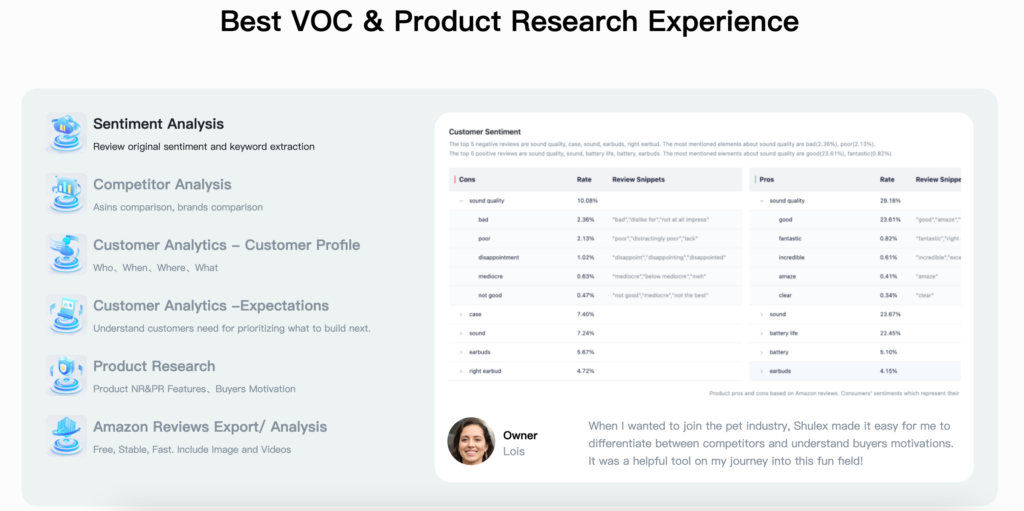 - End -