It is no surprise that travel enthusiasts seek discounts to make their trips more affordable, visit more destinations, and make their travel experience fulfilling.
As such, they look up to websites offering reliable deals and exclusive experiences. Trip.com is another platform that promises jaw-dropping deals that sound too good to be true. No wonder it leaves travelers buzzing with curiosity, "Is trip.com legit?"
In this guide, we'll uncover the secrets of this website, explore its offerings, and delve into customer reviews that address the burning question of its legitimacy.
What is Trip.com?
Trip.com, originally referred to as Ctrip in 1999, is a leading online travel agency based in Singapore. However, the website is owned by Trip.com Group, the largest global travel agency online, headquartered in Shanghai, China.
Trip.com initially started as a flight booking website but gradually expanded to cover numerous other travel services. Today, it serves customers in a whopping 200 countries and offers cost-effective rates on over 1.2 million hotels.
Trip.com flight booking services connect 5,000 cities globally through 2 million separate routes. Here are quick highlights of its services.
Vacation packages that bundle hotels, flights, and other travel components
Ticket booking
Hotel booking for hundreds of destinations
Cruise booking services
A loyalty program called "Trip Coins" that lets you earn discounts and rewards for future bookings
In short, Trip.com offers a one-stop place to plan everything you need for your next trip.
How to Use Trip.com?
Thankfully, Trip.com has built a navigable and user-friendly website that lets you easily track the deals and book hotels, flights, and activities. Here are a few simple steps to get started:
Download the app or visit the website: Download the Trip.com app on your mobile phone or visit the official Trip.com website.
Create an account: Provide your email, create a password, and enter the required credentials to create an account and sign up.
Look for your travel needs: You will see a search bar on the homepage where you can enter your travel details.

Hotels: You can enter your destination with check-in and check-out dates and the number of guests.
Flights: Enter your departure and arrival destination and travel dates to check the available flights.
Other Services: Navigate to car rentals and vacation packages for other services.
Browse Search Results: You can review the search results that fit your criteria. For instance, you can sort and filter options based on your preferences, like star rating or price.
Review the Details: As a rule of thumb, always review booking details, including cancellation policy, price, and more, to ensure precision.
Add the Travel Information and Pay to Confirm: Enter the required travel information, including your name, ID details or passport, and contact information. Afterward, make the payment through your preferred payment method (debit card, credit card, or others). Make sure you review the total cost before confirming the booking.
That's it! So, the intuitive approach of Trip.com makes it easy to access all its services and find valuable deals effortlessly.
Is Trip.com Legit?
The enticing offers of Trip.com often leave travelers pondering its authenticity, hence the question - Is Trip.com legit? But that isn't the primary reason behind people questioning its legitimacy.
A few users think it's challenging to cancel reservations or obtain funds when booking through Trip.com. Secondly, since Trip.com acts as an intermediary between users and airlines/hotels/rental services, people become skeptical about its services. Here are our two cents concerning the topic.
An Established Company: First things first, Trip.com has been operational since 1999. Its longevity in the industry speaks volumes concerning its credibility.
User Reviews: You will find numerous user reviews and testimonials online from people who have successfully booked and enjoyed their trips through Trip.com (more on this below).
Compensations: The official customer services page mentions that Trip.com offers compensation when there are no rooms available on arrival.
Transparency: The platform provides transparent booking, cancellation, and refund policies. This implies travelers can review these policies before making a booking and ensures a fair experience.
In short, Trip.com's decades of market expertise and testimonials from users provide some solid points to consider that it is legitimate.
How Trip.com Manages to Offer Cheaper Rates?
Amidst questions like "Is Trip.com legit for flights" another query that often arises in the minds of travelers is how this travel agency manages to offer attractive pricing.
Although it's a bit up in the air how the company offers cheaper rates since they do not disclose their behind the scene operations, a few possible reasons might include:
It may negotiate partnerships and contracts with suppliers, which results in cost-effective rates.
It leverages dynamic pricing algorithms. In other words, since prices fluctuate based on availability, demand, and booking patterns, they reduce the costs during off-peak times or when hotels and airlines try to fill empty rooms and seats.
It offers special deals and discounts to reduce the overall cost of travel services. Their Loyalty Program "Trip Coins" is an example.
It offers bundled packages that combine hotels, flights, and additional travel services. Merging the services naturally saves the costs compared to booking each service individually.
User Reviews About Trip.com
We explored the most popular review website, TrustPilot, to dig into honest customer reviews. Overall, Trip.com has received a satisfactory rating of 4.1/5 with numerous positive customer reviews.
People have found it "extremely helpful, professional, and efficient". Another user pointed out regarding their ambiance, "Very friendly staff. Clean room. Great meals and good atmosphere".
However, there's no rose without a thorn, and a few users have shown dissatisfaction concerning the services. A user, for instance, reported an error while booking the flight.
The good news is that Trip.com staff has mostly tried to address each customer's concern and directed them to take specific action to resolve their issue.
Is Trip.com Reliable?
Trip.com is generally considered reliable globally. Its long-standing history, global presence, and positive customer reviews add to its reputation as a trustworthy online travel agency.
Yes, individual experiences may vary, but most customers seem to speak positively about the agency. From the general viewpoint, Trip.com seems reliable. However, it is recommended that travelers read the terms and conditions and keep records of transactions to ensure a seamless and hassle-free booking process.
Tips & Tricks to Get the Most From Trip.com
Although Trip.com offers excellent deals, there's always something you can do as a customer to leverage its services effectively. Here are a few handy tips to consider:
Get Enrolled in the Loyalty Program: There isn't a reason not to enroll in Trip.com's Loyalty Program "Trip Coins". It lets you earn discounts and rewards for your future bookings.
Set Push Notifications for Price Alerts: This will let you keep an eye on price drops on your desired accommodations and flights.
Bundle and Save: Bundling hotels and flights is always an ideal practice to save some extra cash.
Compare the Prices and Dates: You can always explore other websites to ensure you are getting the best deal via Trip.com. Besides that, consider comparing prices across different travel dates. For instance, adjusting your trip by a day or two can lead to decent savings sometimes.
Use Filters: Narrow down your search by using filters. This will allow you to find the best-suited hotels, flights, and vacation packages.
Stay Updated: Keep track of the official website for holiday sales, seasonal promotions, and limited-time offers.
Trip.com Alternatives
If you also want to know about other websites like Trip.com, we have compiled a list of four helpful alternatives. Make sure you visit each site for an in-depth overview of its services:
1. Booking.com
Operating since 1996, Booking.com is another reputable digital travel company. It offers rental cars, flights, and vacation deals. It's popular among customers for its flexible booking options and vast hotel inventory.
2. Expedia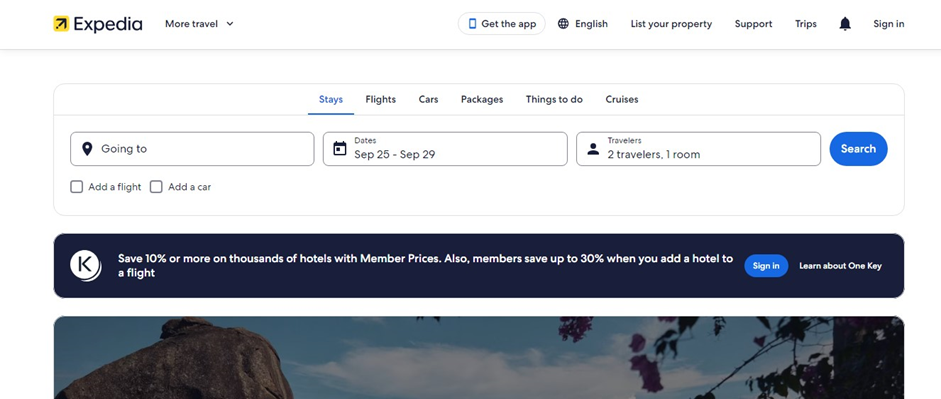 ExpediaExeExpediaExpedia has been operational since 1996. It is a well-established travel agency that offers various travel services, including hotels, flights, car rentals, and more. Overall, it's known for its extensive selection of options and user-friendly interface.
3. Kayak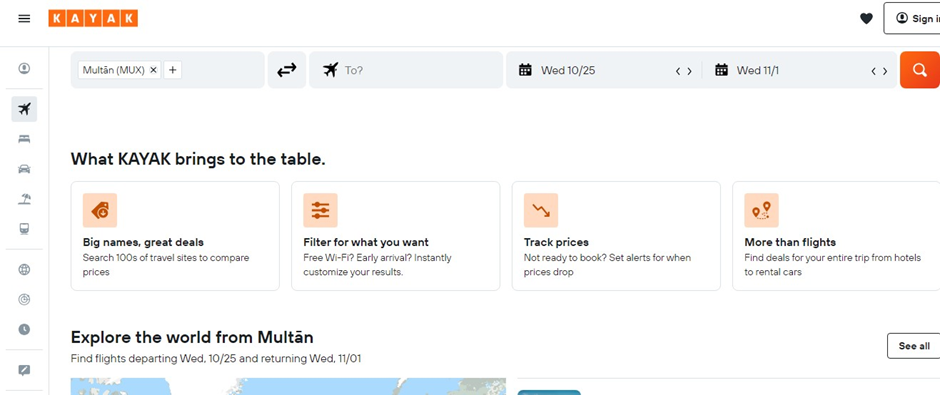 Kayak is akin to a travel search engine that compiles deals from multiple websites. This website, launched in 2005, lets you compare prices across numerous hotel, flight, and rental car platforms. As a result, you can find the best possible deal for your budget.
4. Priceline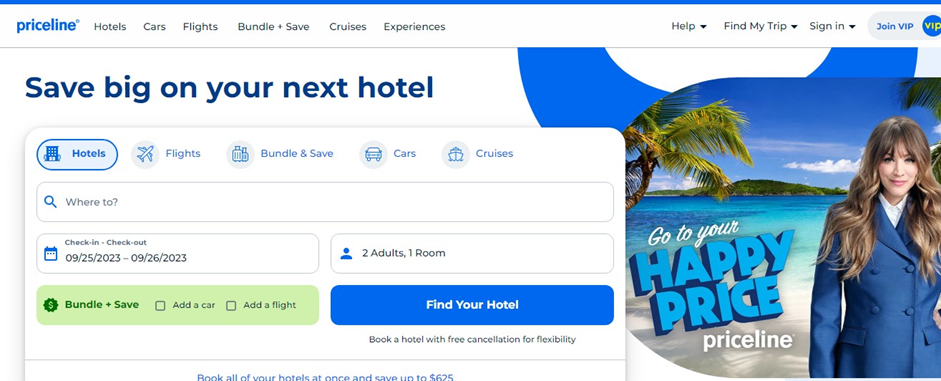 Founded in 1997, Priceline, a US-based travel agency, offers various travel services. You can book flights, hotels, vacation packages, and even cruises on the go. Like any other reliable travel website, it offers regular deals and discounts for its users.
Wrapping Up - Final Views About Trip.com
Travel freaks on the hunt for handsome travel discounts often question, "Is Trip.com legit?"
Through our research, we figured out that Trip.com stands as a legitimate and reputable online travel agency globally. Its secure payment options, seamless customer service, and adherence to industry standards reinforce its reliability. Besides that, Trip.com reviews from millions of satisfied customers speak about its authenticity.
It is, however, essential to research diligently and show prudence when booking to avoid unwanted hassles. Overall, the agency is a valuable resource for those seeking to explore the world confidently.
- End -