Are you looking to make a significant income with Amazon FBA in 2023? Then you need to learn the art of Amazon product research. With the right strategy, you can make over $100,000 in just 30 days!
The first step is to avoid low-quality products that won't sell. Instead, focus on finding profitable products with at least a 30% profit margin. You should also steer clear of competitive, seasonal, patented, or restricted items that could limit your sales potential.
To truly succeed, you need to find premium products that solve problems and have low brand dominance. These products will have a higher perceived value and will be more likely to sell at a higher price point.
Another important factor to consider is the giftability of your products. Choosing items that are giftable and have multiple keywords will help you rank better on Amazon SERPs. This will reduce your reliance on price point alone for sales and increase your chances of success.
Remember, proper product research is key to avoiding failure in launching an Amazon FBA business. By following these tips, you can set yourself up for success in 2023 and beyond. Start your research today and watch your profits soar!
COMPLETE Amazon FBA Product Research Masterclass in 2023!!
Video By @TrevinPeterson
The speaker's Amazon FBA business made over $100,000 in the last 30 days.
The video will show a step-by-step strategy for finding winning products and what not to sell on Amazon.
Cheap products lead to bad reviews, low profit margins, and high competition.
Competitive, seasonal, patented or restricted products should be avoided.
Premium products with at least 30% profit margin are ideal.
Products that solve a problem and have low brand dominance are good choices.
Products with multiple keywords that describe them rank better on Amazon search results pages (SERPs).
A price disparity between similar products is desirable as it reduces reliance on price point alone for sales.
Giftable items make good product choices as they can be given as gifts for various occasions like Christmas or birthdays
10.The speaker emphasizes the importance of proper product research before launching an Amazon FBA business to avoid failure
What's More - For Amazon business, consumer insights are also very important
VOICE OF CUSTOMER lets consumers tell you what they need, what they expect, and why they buy. Multi-channel integration + AI intelligent insights + scientific business models, from data to  action in  a single  step, using the voice of consumers to guide business decisions. consumer voice to guide business decisions. VOC can help you solve the following problems to improve product quality and drive brand growth. 
A variety of feedback channels: Various feedback channels such as Amazon/ebay, social media, email/chat, etc.
Insufficient number of manual spot checks, resulting in wrong conclusions: Wrong insights, resulting in serious wrong business decisions
Time lag of insights conclusion: Organizational manpower spends a lot of time reviewing partial feedback, not able to identify problems in time
Inability to identify new opportunities in a timely manner: New opportunities are a few voices hidden in a large amount of feedback, which is difficult to find manually
Inability to develop quantifiable action points: Problems can't be optimized if they can't be measured
Which aspect of the competitor's product do consumers like and why? Everyone knows this product sells well, but few people know why?
In which aspect does the competitor surpass my brand and why? In which aspect of installation/use scenario/quality/packaging/logistics, the reputation is better than mine
Which attribute of the competitor has the best reputation and why? Which factor impresses consumers the most, capacity, color, material?
What are the reasons for my consumer churn? What consumers dislike most about the products/services I provide
About Shulex VOC & GPT
Shulex is a global business data insights company and an AI-powered applications company. We capture multimodal consumer voices from across the web and leverage GPT AI's powerful analytics to provide our global clients with intelligent, scientific, and efficient consumer insights. We also provide a free Amazon ChatGPT browser extension, a custom VOC consumer insights platform, an Amazon category analysis report, and a one-stop e-commerce customer experience workbench. From AI data analysis to AI business application, we provide a full range of services to effectively help global sellers achieve business strategic planning, product planning and solutions, e-commerce operation optimization, and customer experience improvement.
If you want to experience the power of AI,try our free tools at Shulex ChatGPT for Amazon
How to Shulex ChatGPT for Amazon?
Step 1: Install ChatGPT Tool for Amazon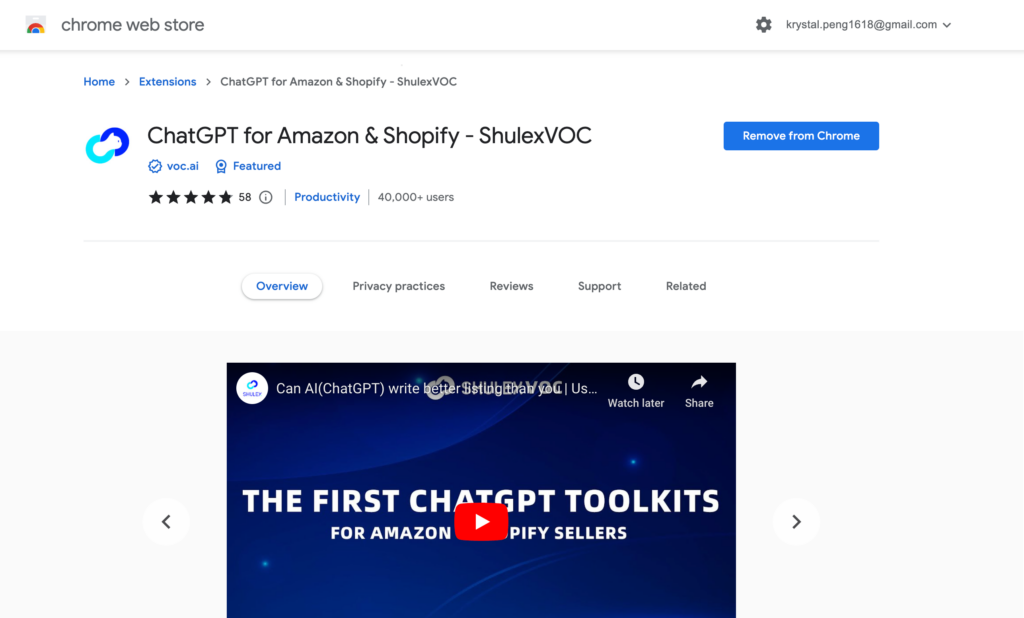 Step 2: Open Amazon and Use ChatGPT Tool for Amazon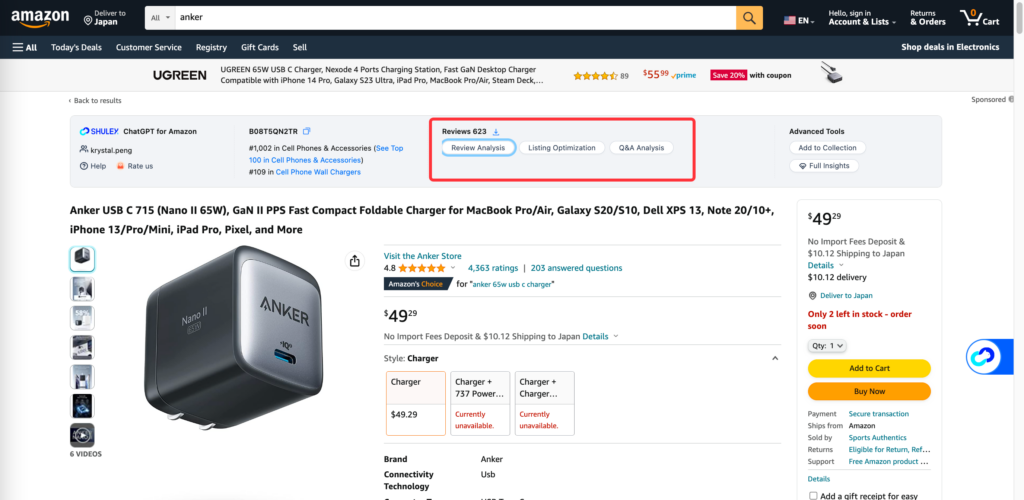 Step 3: Product and Consumer Research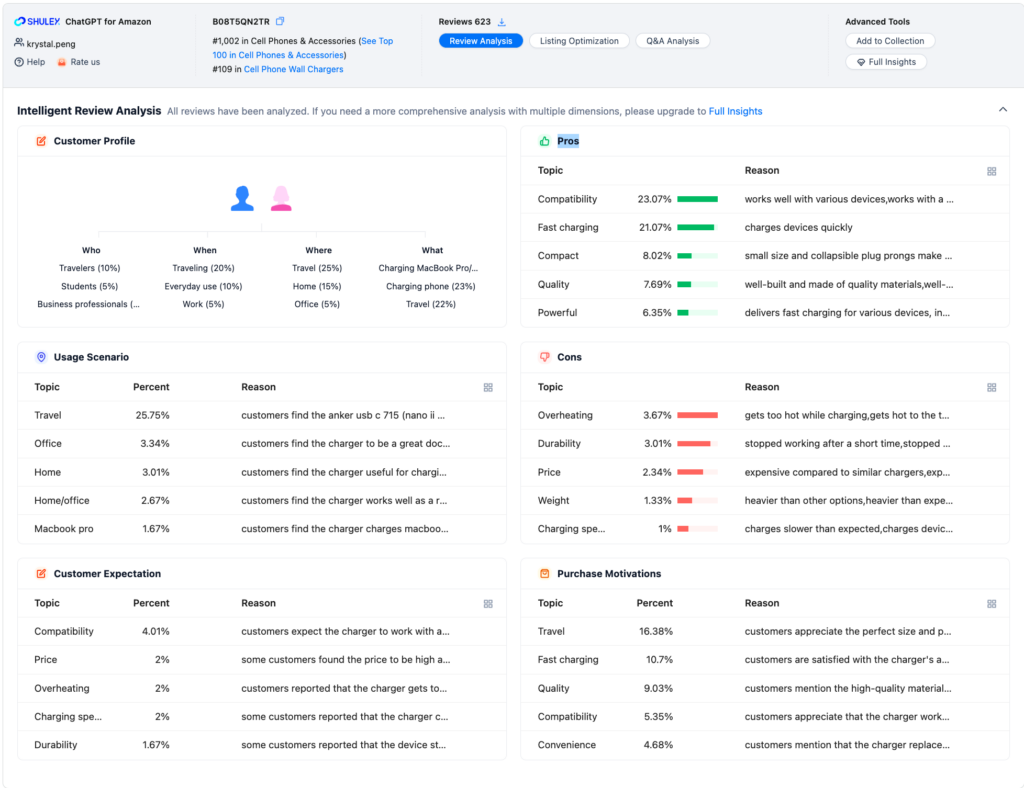 Step 4: Amazon listing Optimization

Step 5: Enjoy full version of ChatGPT Tool for Amazon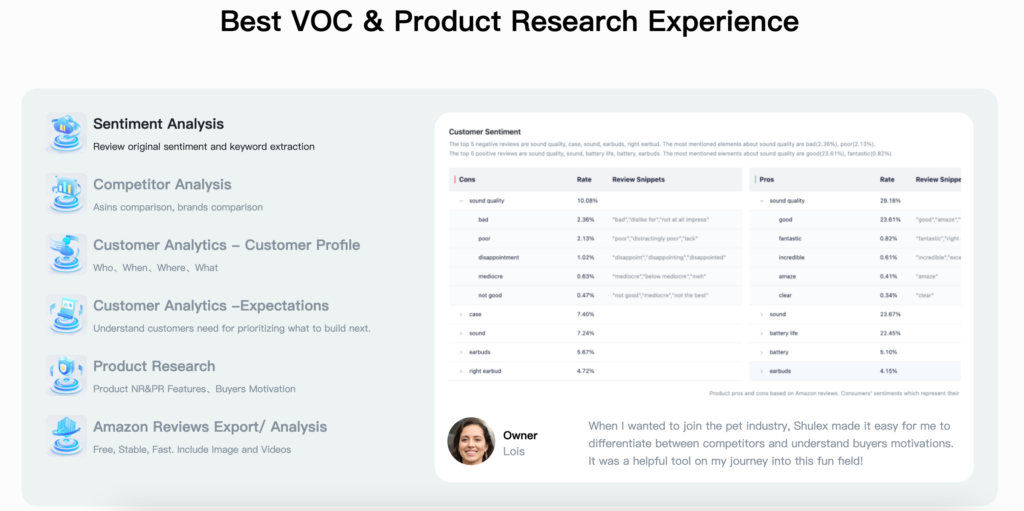 - End -