Are you an Amazon reseller looking for a way to find a winning product? Look no further than Chat GPT, an AI bot that can help you discover profitable products with ease. In a recent video, Sam, an experienced e-commerce seller, shares his process of using Chat GPT to get 10 product ideas and verifying their worthiness with Helium 10.
Chat GPT is a powerful tool that uses artificial intelligence to analyze data and provide product recommendations based on market trends and customer demand. By using this tool, you can save time and effort in finding profitable products to sell on Amazon.
Once you have a list of potential products, the next step is to find reliable suppliers. Sam recommends using Alibaba.com, a popular online marketplace that connects buyers with suppliers in China. He also provides tips on how to contact suppliers and negotiate prices to ensure you get the best deal possible.
Selling on Amazon can be a lucrative business, but it's important to understand the basics before diving in. Sam's video covers the essentials of selling on Amazon and encourages viewers to subscribe for more detailed tutorials.
In conclusion, if you're an Amazon reseller looking for a way to find a winning product, consider using Chat GPT. With its powerful AI capabilities, you can discover profitable products with ease and take your business to the next level. And with Sam's tips on finding reliable suppliers and selling on Amazon, you'll be well on your way to success in no time. So, what are you waiting for? Give Chat GPT a try and start your journey to success on Amazon today!
HOW TO SELL ON AMAZON USING ChatGPT AI BOT (2023 Beginners Guide)
Video By @SuccessWithSam
The video is about using an AI bot called Chat GPT to find a winning product to sell on Amazon.
The speaker, Sam, has been selling on Amazon and running e-commerce stores for 6-7 years.
Chat GPT is a website where you can have a conversation with an AI tool that helps with various online businesses.
Sam asked Chat GPT for 10 product ideas that sell well on Amazon and got suggestions like wireless earbuds, fitness trackers, phone cases, travel accessories etc.
He used Helium 10 as his preferred Amazon product research tool to check if the suggested products are worth selling by looking at data such as total revenue and review count of listings.
Alibaba.com was recommended as the website to find suppliers based in China who offer good prices but it's important to choose verified suppliers who have been on the site for more than five years.
Sam used Chat GPT again to get an email template he could use when contacting suppliers overseas in China regarding pricing and delivery time of products he wants to import from them.
He advised going through all potential suppliers one by one and sending queries before choosing which supplier(s) to work with based on their responses and other factors like minimum order quantity etc.
There's more involved in selling on Amazon but this video covers some basic things needed when finding a winning product worth selling and finding a reliable supplier worth using
Viewers were encouraged to like the video, subscribe for future videos where Sam will go into more detail about listing products step-by-step or break down other important things beginners need to know when selling on Amazon
What's More - For Amazon business, consumer insights are also very important
VOICE OF CUSTOMER lets consumers tell you what they need, what they expect, and why they buy. Multi-channel integration + AI intelligent insights + scientific business models, from data to action in a single step, using the voice of consumers to guide business decisions. consumer voice to guide business decisions. VOC can help you solve the following problems to improve product quality and drive brand growth.
A variety of feedback channels: Various feedback channels such as Amazon/ebay, social media, email/chat, etc.
Insufficient number of manual spot checks, resulting in wrong conclusions: Wrong insights, resulting in serious wrong business decisions
Time lag of insights conclusion: Organizational manpower spends a lot of time reviewing partial feedback, not able to identify problems in time
Inability to identify new opportunities in a timely manner: New opportunities are a few voices hidden in a large amount of feedback, which is difficult to find manually
Inability to develop quantifiable action points: Problems can't be optimized if they can't be measured
Which aspect of the competitor's product do consumers like and why? Everyone knows this product sells well, but few people know why?
In which aspect does the competitor surpass my brand and why? In which aspect of installation/use scenario/quality/packaging/logistics, the reputation is better than mine
Which attribute of the competitor has the best reputation and why? Which factor impresses consumers the most, capacity, color, material?
What are the reasons for my consumer churn? What consumers dislike most about the products/services I provide
About Shulex VOC & GPT
Shulex is a global business data insights company and an AI-powered applications company. We capture multimodal consumer voices from across the web and leverage GPT AI's powerful analytics to provide our global clients with intelligent, scientific, and efficient consumer insights. We also provide a free Amazon ChatGPT browser extension, a custom VOC consumer insights platform, an Amazon category analysis report, and a one-stop e-commerce customer experience workbench. From AI data analysis to AI business application, we provide a full range of services to effectively help global sellers achieve business strategic planning, product planning and solutions, e-commerce operation optimization, and customer experience improvement.
If you want to experience the power of AI,try our free tools at Shulex ChatGPT for Amazon
How to Shulex ChatGPT for Amazon?
Step 1: Install ChatGPT Tool for Amazon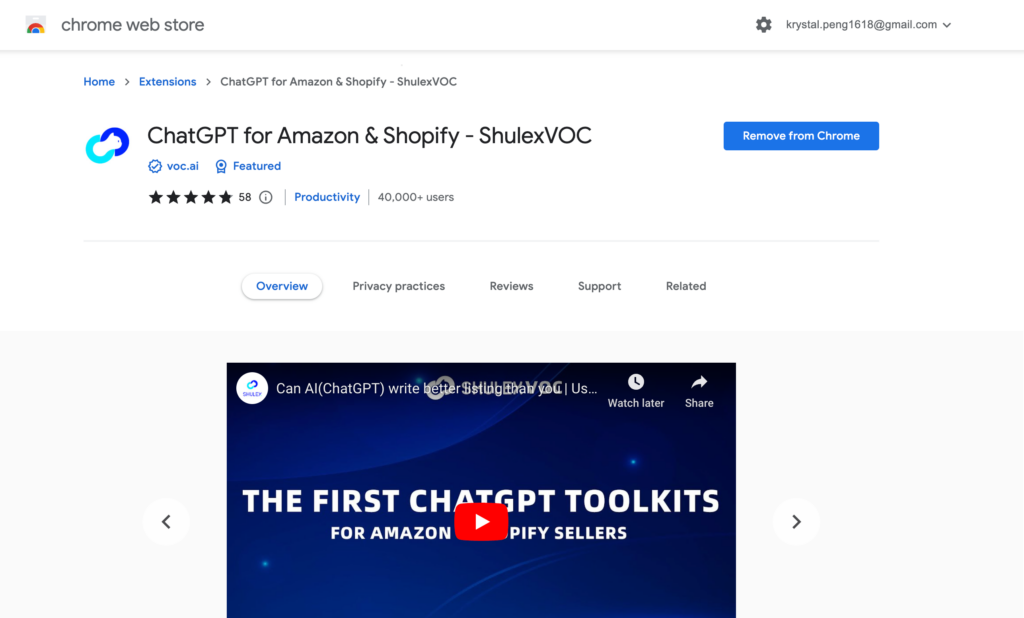 Step 2: Open Amazon and Use ChatGPT Tool for Amazon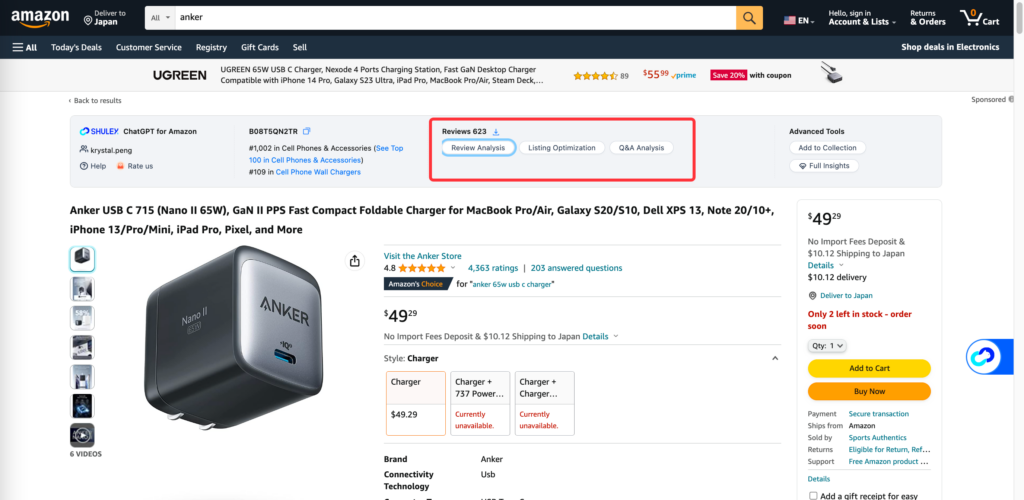 Step 3: Product and Consumer Research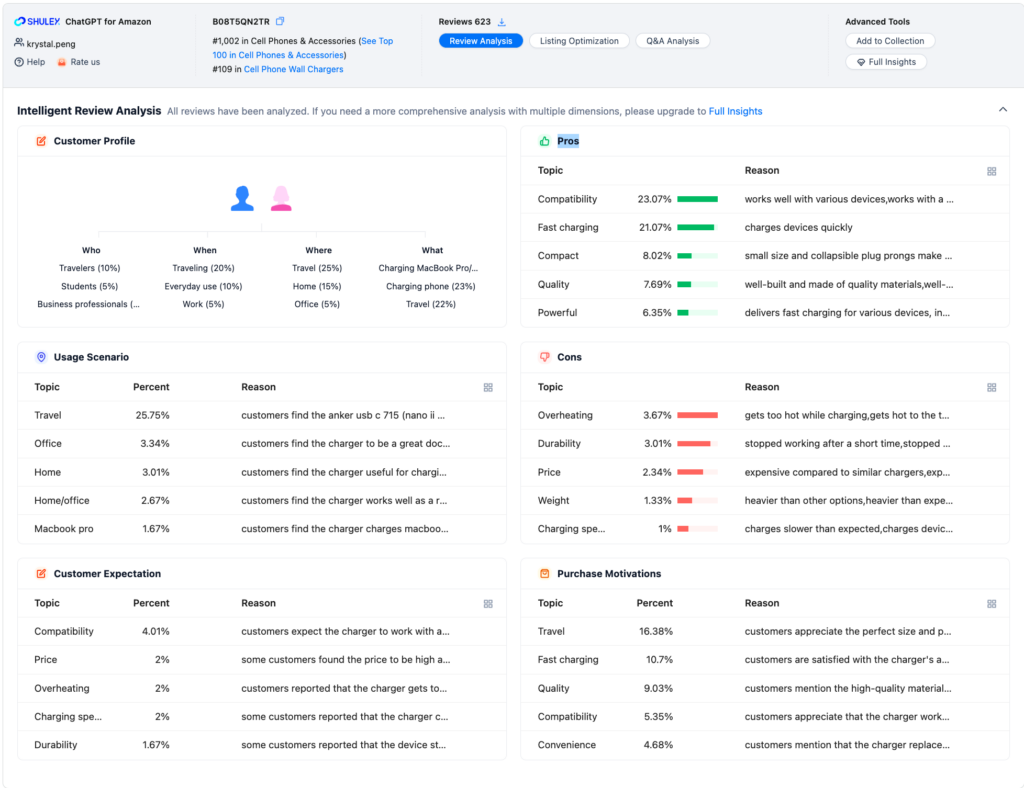 Step 4: Amazon listing Optimization

Step 5: Enjoy full version of ChatGPT Tool for Amazon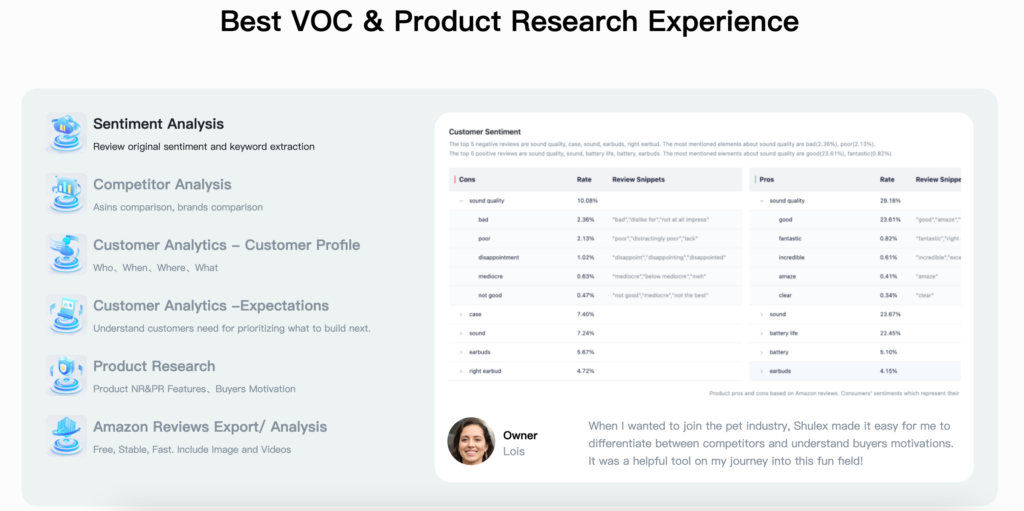 - End -