What is Amazon Flywheel?
At the core of Amazon lies the flywheel theory. The flywheel theory is a business concept initially devised by Amazon's founder, Bezos. It revolves around prioritizing the customer experience and creating a virtuous cycle of continuous improvement driven by various factors.
When a company consistently focuses on improving the user experience, positive word-of-mouth spreads, resulting in increased traffic and attracting more sellers to collaborate with the company. This, in turn, provides consumers with more choices and convenient services, further enhancing their user experience. As this cycle continues to evolve, the high fixed costs associated with e-commerce companies are gradually distributed, allowing them to offer goods and services at lower prices. Affordable prices are a key factor in enhancing the user experience.
To help you better understand, let me provide a visual example. Suppose there is a specific type of product available on Amazon, and within a certain time frame, there are a total of 10,000 products of this type. These 10,000 products were uploaded at different times and are currently in various stages of their life cycles. Amazon analyzes the performance of these products at different stages and periods to establish criteria for distinguishing between good and poor performing products.
When a new product is introduced, if it demonstrates excellent initial performance, it is identified as a good product and promoted to the next level of visibility. Conversely, if it shows poor performance, it remains limited to its current level of visibility, resulting in stagnant traffic for that product. Products that enter the next level of visibility undergo another round of evaluation. If a product continues to outperform most others at this stage, it earns an opportunity to move up to a higher level of visibility. This process continues, with each round increasing the speed at which the flywheel spins.
7 Factors about Amazon Flywheel
The flywheel theory proposed by Jeff Bezos, the founder of Amazon, contains seven key factors: "growth", "sellers", "selection", "customer experience", "traffic", "lower cost" and "lower price". ", "traffic", "lower cost" and "lower price" 7 key factors. These factors interact with each other to form a virtuous cycle.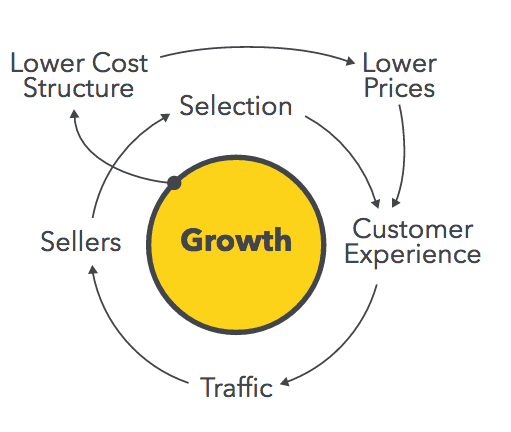 As depicted above, Amazon operates on a perpetual closed-loop cycle driven by ongoing consumer demand. This cycle does not have an endpoint as long as the demand exists. The flywheel theory consists of seven key elements: platform growth, sellers/suppliers, product selection and convenience, buyer experience, traffic, low-cost structure, and low prices. However, three elements—buyers, sellers, and the platform—play crucial roles in driving the flywheel's growth. Buyers are the driving force behind the flywheel, the platform forms the foundation of the flywheel, and sellers provide the necessary support and cooperation to keep the flywheel spinning rapidly.
The Amazon cycle can be understood simply as follows: the platform offers consumers convenient and affordable high-quality services, leading to the expansion of the buyer base. As the buyer base grows, it generates increased traffic on the platform, which naturally attracts more high-quality suppliers to join. This not only diversifies the range of products available but also fosters healthy competition, resulting in better service quality and consumer satisfaction. This positive feedback loop continues indefinitely, driving continuous development of the entire Amazon platform along the flywheel cycle.
3 Key Factors to Enhance User Experience
Abundant choices: Amazon constantly enhances the customer experience by expanding its product selection. In the highly competitive e-commerce landscape, sellers must continuously diversify their offerings to meet the diverse demands of consumers.
Convenience: The key advantage of online shopping over traditional brick-and-mortar stores lies in its ability to help customers quickly find desired products and ensure swift and timely delivery. Delivering a seamless and convenient shopping experience is a critical aspect of enhancing customer satisfaction. Sellers should optimize product titles and page designs to facilitate easy access to comprehensive product information, including core specifications and images, thus enhancing the overall comfort and convenience of the shopping process.
Low prices: Price is a central consideration when consumers compare products. On Amazon, users often employ the app to compare prices and discover more affordable options. Eliminating inefficiencies, boosting operational effectiveness, and reducing costs are long-term strategies pursued by Amazon to offer customers competitive pricing. Sellers can engage in price competition to enhance the user experience.
Business Growth Strategy 2023
Developing high quality products
In today's highly competitive market, no amount of marketing prowess or exceptional customer service can compensate for a subpar product. Building high-quality products that genuinely satisfy your customers is the foundation of success. In this blog, we will explore key steps to guide you in developing such products that stand out from the crowd.
Choose a Market Segment You Know: To start off, it is crucial to select a market segment that you are familiar with or have expertise in. Understanding the needs, preferences, and pain points of your target audience will enable you to tailor your product to their specific requirements.
Research Profitable Opportunities: While considering market segments, delve deeper into factors such as keyword searches and the level of competition. Thorough research will help identify niches where there is potential for profitability and room for your product to thrive. Analyze market gaps and trends to ensure your product meets both current and future demands.
Uniqueness is the Key: In a saturated market, differentiation is essential. Make your product unique by incorporating features, designs, or functionalities that set it apart from competitors. This distinctiveness will capture the attention of consumers and give them a compelling reason to choose your product over others.
Partner with the Right Supplier or Manufacturer: The quality of your product heavily relies on the capabilities and reliability of your supplier or manufacturer. Take the time to find a trusted partner who can meet your quality standards. Look for suppliers with a track record of delivering consistent, high-quality products and ensure they have efficient production processes in place.
Attracting traffic to listing pages
When it comes to maximizing sales and generating a buzz around your products, attracting traffic to your product pages is crucial. In this blog, we will explore key strategies to drive traffic effectively, increase customer engagement, and ultimately boost your sales.
Drive Traffic with Precisely Placed PPC Ads: Pay-per-click (PPC) advertising is an effective way to bring targeted traffic to your product pages. Create compelling ad campaigns on platforms like Google Ads or social media platforms, targeting relevant keywords and demographics. By optimizing your ads, you can ensure they reach the right audience at the right time, driving high-quality traffic to your product pages.
Harness the Power of Customer Reviews: Customer reviews play a vital role in influencing purchasing decisions. Encourage customers to leave reviews by providing exceptional products and experiences. Positive reviews not only build trust and credibility but also act as social proof, enticing potential customers to explore your product further. Implement review request emails, offer incentives, and engage with customers to maximize the number of genuine and positive reviews.
Leverage Giveaways and Early Launch Discounts: To generate excitement and attract initial attention, consider offering giveaways or discounts during the early stages of your product launch. This strategy creates a sense of urgency among consumers and encourages them to try out your product. Additionally, offering exclusive promotions to early adopters can help create a loyal customer base and generate positive word-of-mouth marketing.
Consistent and Quality Customer Service: Providing exceptional customer service is pivotal in building trust and loyalty. Ensure that your customer service team is well-trained, responsive, and knowledgeable about your products. Promptly address customer inquiries, complaints, and concerns to create a positive buying experience. Satisfied customers are more likely to leave positive reviews and recommend your products to others, further amplifying your brand's reputation.
Utilizing "VOC" to leverage dialysis consumers
Locating the target group to understanding our audience.
The primary focus of our product lies in effectively positioning ourselves within these target groups. Through the implementation of intelligent AI parsing, we gain clear insights into the identity of our customers and how, when, and where they utilize our products. By further aggregating keywords, we can delve deeper into different customer groups, uncovering their purchase motivations, product concerns, and preferred sources of information. This allows us to deduce a comprehensive matrix for product positioning and consumer groups. By obtaining a clear portrait of these consumer groups, we can obtain valuable insights to drive product design, develop effective marketing plans, identify optimal traffic channels, and foster engaging content creation. AI VOC tool will help automatically acquire data and analytics to accurately find customer profiles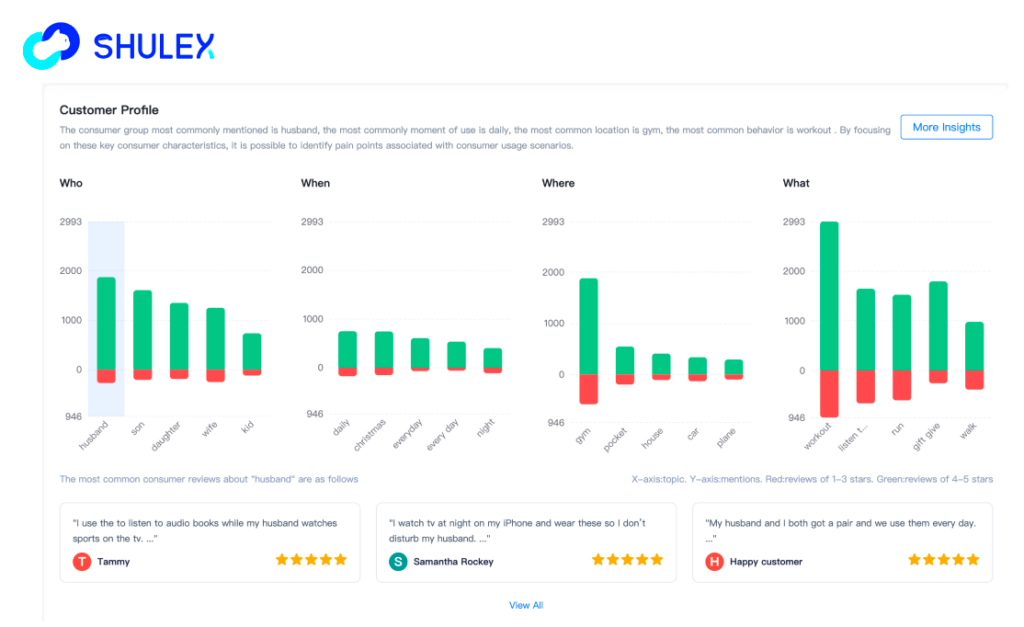 Consumer feedback is a valuable resource for identifying bestselling products.
Utilizing Voice of the Customer (VOC)data, we can integrate voice data into a streamlined category management tag library and gain insights across the entire supply chain. By constructing a user-centric tag library, we can analyze user profiles, usage processes, purchase journeys, experiences, and scenarios. This enables us to establish natural connections between products and consumption scenarios, identifying product issues, requirements, and opportunities. Understanding consumers' purchase motivations allows us to establish competitive selling points for our products. Furthermore, by identifying consumers' anticipated needs, we can uncover new product opportunities for the future. Consumer input provides invaluable guidance for product development and ensuring market success.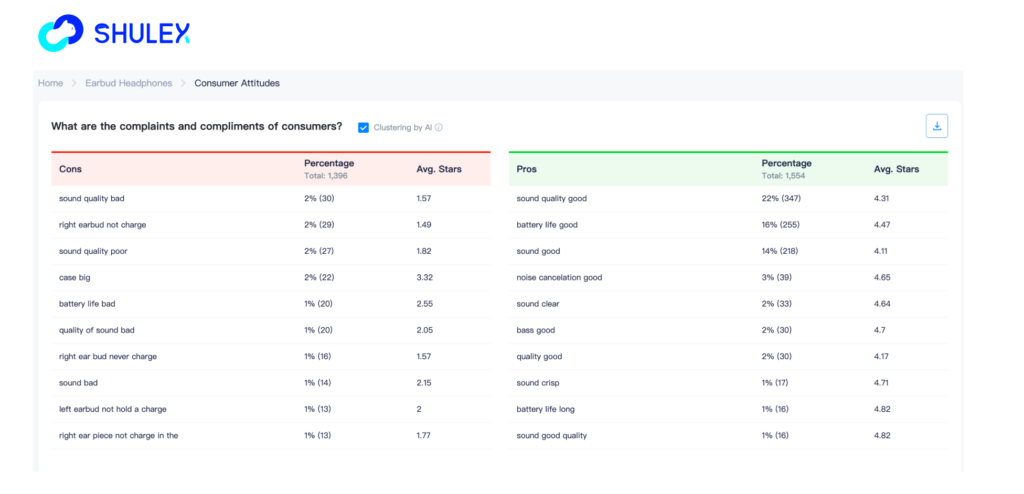 Enabling multi-channel customer experience with GPT
Immerse yourself in the future of business with ChatGPT, an intelligent chatbot-like solution. These cutting-edge AI-powered assistants provide unmatched support by automating customer interactions, optimizing operations, and increasing efficiency. ChatGPT or GPT chatbot tool seamlessly engages with clients, elevating customer satisfaction, driving sales, and delivering personalized recommendations. Embrace the transformative impact of chatbots like ChatGPT to unlock limitless possibilities for your business. Experience the power of AI and revolutionize your operations. Use AI intelligent customer service tools to save manpower on the one hand, and realize the unity of omni-channel customer experience on the other hand.
Pay attention to your customers and strive to understand their feedback on areas where improvement is needed. Respond promptly to their inquiries and handle returns generously. Instead of accepting losses, prioritize customer satisfaction to prevent churn. The Flywheel Theory permeates all aspects of a brand's operations, including adapting to Amazon's annual policy adjustments. It is this philosophy that has enabled the Amazon empire to expand and dominate major consumer markets worldwide.
The Flywheel Theory places a strong emphasis on the customer experience as the core element. Sellers must adopt a customer-centric mindset and believe that the user experience directly impacts sales volume. By focusing on three key factors: offering abundant choices, providing convenient services, and maintaining competitive prices, sellers can enhance the customer experience and promote the virtuous cycle of Amazon's flywheel theory. This model is applicable not only to Amazon but also to other e-commerce platforms, enabling companies to differentiate themselves in a competitive market and achieve sustainable long-term growth and success.
- End -