Running a profitable business on Amazon is not possible in today's competitive era without using the right tools. Jungle Scout is one such essential tool for Amazon sellers to find profitable products on Amazon, optimize product listings, analyze sales, and do a lot more. However, Jungle Scout is not the only option for Amazon sellers.
Table of Contents
There are plenty of other tools that can provide similar or even enhanced performance than Jungle Scout. Therefore, this article will present the 10 best paid and free Jungle Scout Alternatives, covering their features, pros, and cons. By the end of this article, you will be in a position to pick the best Amazon tool that aligns with your needs and budget.
10 Best Jungle Scout Alternatives
Although there are hundreds of tools for Amazon sellers to search for products, optimize listings, and do other activities, not all of them can do the job proficiently. Therefore, we have shortlisted the top 20 Jungle Scout alternatives that offer competitive offerings. Let's go through each of them one by one:
1. Helium 10
Helium 10 is the trendy Jungle Scout alternative, as you will see its name in all similar articles. The reason is its powerful suite of tools, covering everything you need to sell on Amazon, from product and keyword research to listing analysis and optimization.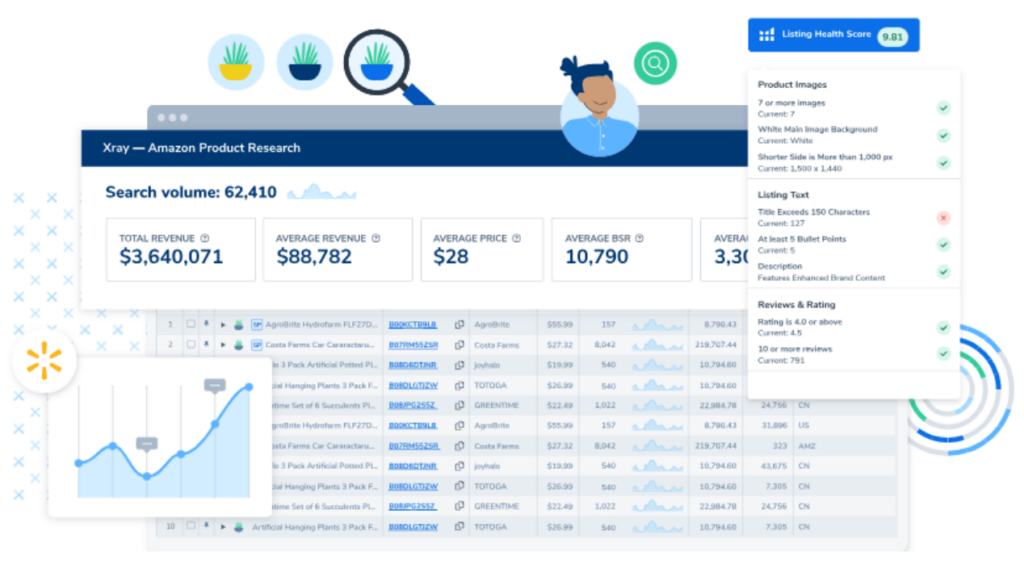 The key features of Helium 10 include:
All-in-one product finder and analysis
Comprehensive keyword research
Build/optimize the listing and analyze listing optimization
Inventory management
Automate refund management
Automate email marketing
Advanced PPC tools
In-depth sales analytics
Pros
All-in-one tool
An extensive set of tools
Trusted by many six-figure Amazon sellers
Free access to tools (limited)
Cons
Pricing
Starter: $29/month (billed annually)
Platinum: $79/month (billed annually)
Diamond: $229/month (billed annually)
Read more:
Best Helium10 Alternative-Helium10 vs Shulex
2. Shulex VOC
When every industrial sector is leveraging the advancements in AI, why should Amazon tools be left behind in it? With this goal, Shulex VOC provides a truly native ChatGPT-powered suite that provides in-depth and real data and insights to run a highly successful Amazon store.
Shulex VOC takes the product research game to a whole new level. You can select multiple products from different competitors at once and then get insights about customer profiles (who, when, where, what), customer sentiment, usage scenarios, customer expectations, buyer motivation, positive/negative feedback topics, etc. This way, you get a comprehensive look at the customers' intentions with the product and can make better decisions accordingly.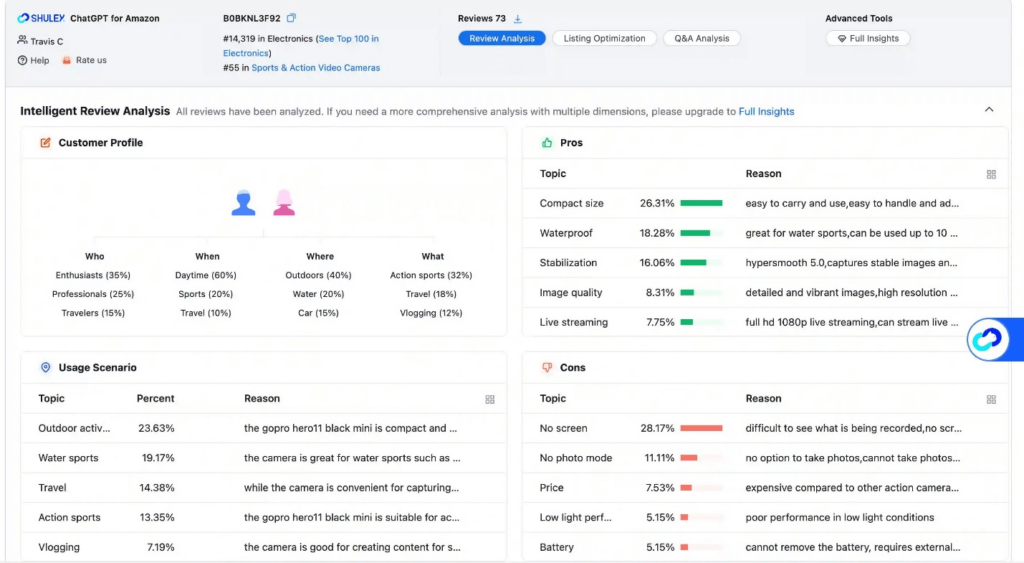 If you have an existing listing or you want to evaluate one listing of a competitor specifically, Shulex VOC provides a thorough analysis of that listing, covering the pros and cons, customer profile, etc. Moreover, its "Listing Optimization" feature provides effective suggestions on how to improve the listing, such as the use of the right keywords, etc. Besides that, you can also use its ChatGPT-powered chat box to ask more specific questions in a human-like conversation.
The key features of Shulex VOC include:
Intelligent and deep product research
AI-based competitor analysis
Amazon review analysis
Comprehensive insights about customer profile (who, when, where, what), customer sentiment, usage scenarios, customer expectations, buyers' motivation, etc.
In-depth analysis of the single listing
Effective keyword suggestions
Listing optimization suggestions
ChatGPT-powered chat box to ask specific questions about listing
Listing description generator
Suggest similar products ideas to expand listings
Pros
One-click analysis of thousands of reviews
Comprehensive insights about customers for effective decision making
Use directly on the Amazon.com
Free Google Chrome extension
No learning curve
Cons
10 queries/day about AI listing optimization in the Personal Pro plan
Pricing
For Personal: $99/month or $999/year
For Teams and Small Company: $299/month or $2999/year
For Enterprise: Customizable plan
Read more:
Helium 10 vs Jungle Scout: Which Amazon Tool Reigns Supreme?
Top 6 Powerful Helium 10 Alternatives in 2023 | Free& Paid
3. Viral Launch
Viral Launch is another resourceful Jungle Scout alternative that provides everything you need to discover products, research keywords, optimize listings, and get top-notch market intelligence. Its "Kinetic PPC" feature serves as a complete Amazon PPC automated campaign manager.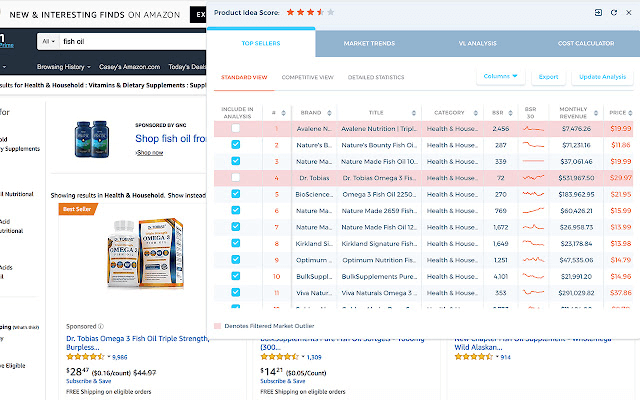 The key features of Viral Launch include:
Validate product ideas
Automated keyword research
Track top-selling products
Listing optimization
Fully-automated PPC campaign management
A/B testing (split testing)
Pros
Complete set of tools
Intuitive interface
Automated functionalities
AI-driven listing optimization tools
Cons
Pricing
Essentials: $58/month (billed annually)
Pro: $83/month (billed annually)
Pro Plus Ads: $166/month (billed annually)
4. CashCowPro
CashCowPro is a fast Amazon seller's tool that can scan millions of products in seconds and provide the best product suggestions. Besides product research, it incorporates all the core features you expect from a paid or free Jungle Scout alternative, such as comprehensive keyword research, inventory monitoring, real-time sales analytics, automated A/B testing, etc.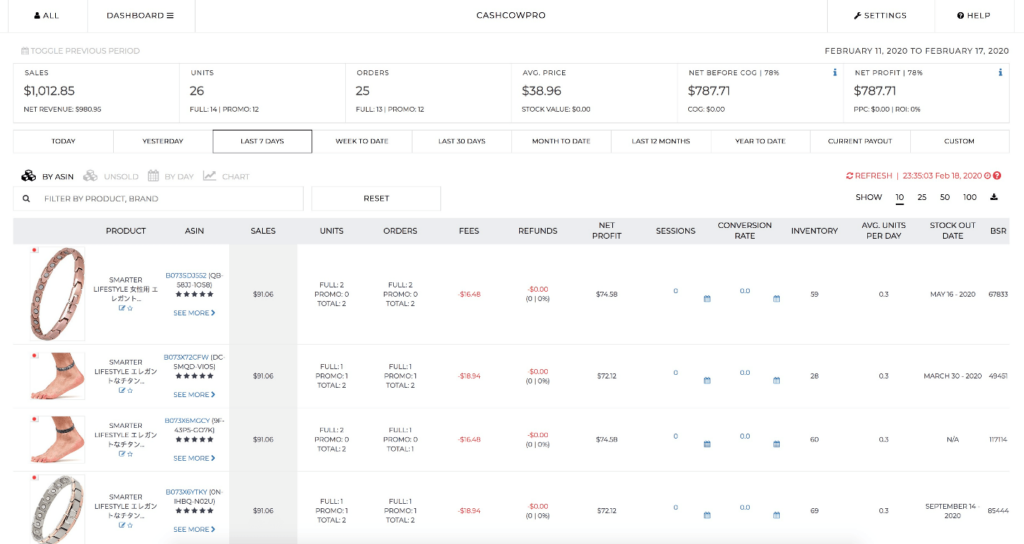 The key features of CashCowPro include:
Fast and comprehensive product research
Real-time analytics
Advanced keyword searching and tracking
Unlimited emails
Inventory monitoring
Page views and conversion %
Pros
Up to 100 keywords tracking per product
Automated feedback collection
Automated A/B split testing
Cons
Less intuitive interface
Costly
Pricing
Monthly Pro: $49.97/month
Annual Pro: $497/year
5. AMZScout
AMZScout is the best Jungle Scout alternative for beginners who need to emphasize more on product and keyword research and want to get seller-related education. It is a powerful tool to search for the right products and keywords. Furthermore, it provides an extensive set of training videos and other resourceful information for selling on Amazon.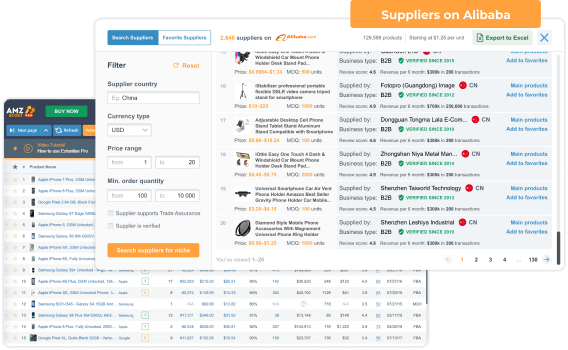 The key features of AMZScout include:
Product research tools
Keyword research tools
Trends and product ideas
Learning resources
Competitor data analysis
Pros
Easy to use
Weekly suggestions of 19 high-demand products with low competition
Resourceful trendy products and Amazon trend reports
Best for beginners
Cons
Lack of many advanced Amazon selling tools, such as listing optimization, A/B testing, etc.
Not a complete Amazon seller tool
Pricing
Pro Extension: $259.9/year
Seller Bundle for Amazon: $379.9/year
6. AmazeOwl
AmazeOwl is another great Jungle Scout alternative to finding profitable products on Amazon. Based on your request, it can search for millions of products and then provides a list of high-potential products. Moreover, it includes extensive tools related to competitor analysis, keyword research, product growth, etc. It should also be your choice if you are looking for a Jungle Scout free alternative, as it includes a completely free plan with limited access to its core features.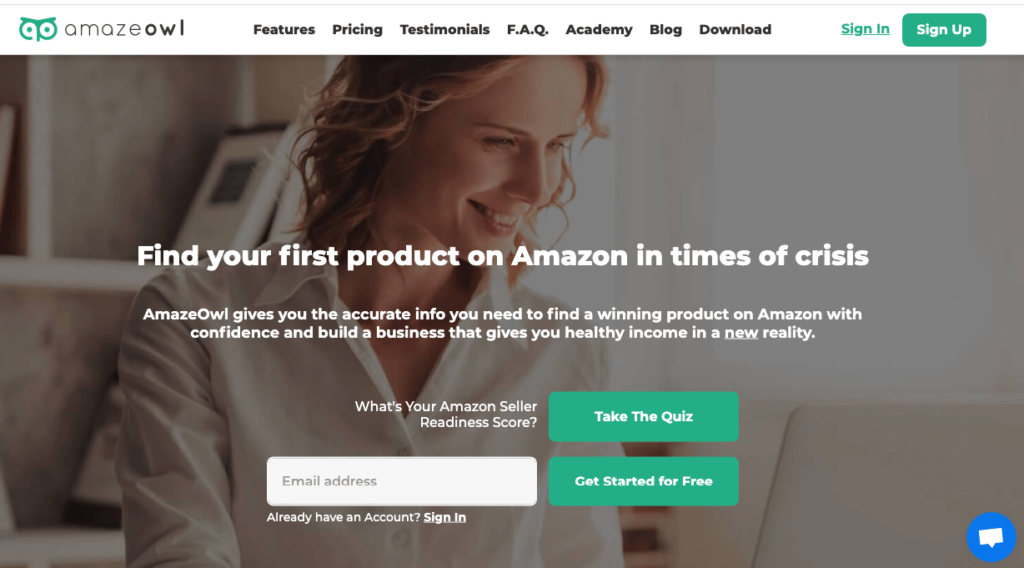 The key features of AmazeOwl include:
Fast product research
Keyword research and monitoring
Deep market analysis
Pros
Products ranked based on a 5-star system to reflect demand, ease of entry, and potential profit
Insights about best images, pricing strategy, etc.
10 days of product training
Cons
Lack of extensive features compared to other Jungle Scout alternatives
Lack A/B testing
Pricing
Growth: $12.99/month (billed annually)
Established: $19.99/month (billed annually)
7. ZonBase
ZonBase is a one-stop online suite offering a different range of tools for product research, keyword research, PPC advertising, listing optimization, sales estimation, reverse keywords, etc. The unique aspect of ZonBase is its one-to-one training with Amazon experts. Besides that, it also provides an Amazon FBD master class course.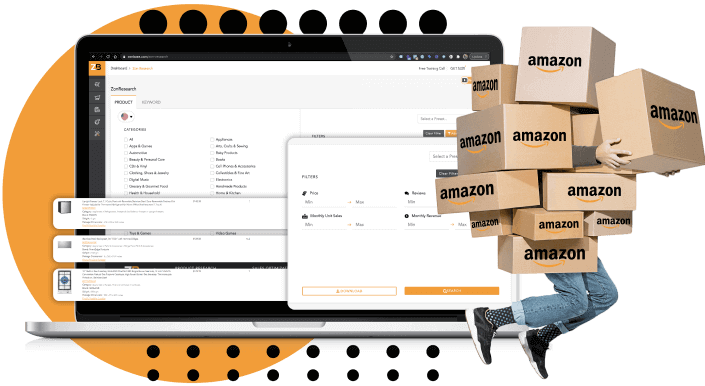 The key features of ZonBase include:
Product research from its extensive 20 million products proprietary database
Lists trending products every day
20 tools for managing all Amazon activities
One-to-one mentorship
Pros
Massive 20 million products proprietary database
Weekly Q&A session with Amazon expert
Amazon FBA master class course
Cons
Less deep features compared to other Jungle Scout alternatives
Lack A/B testing
Pricing
Standard: $30/month (billed annually)
Legendary: $67/month (billed annually)
Diamond: $200/month (billed annually)
8. ZonGuru
ZonGuru is another ChatGPT-powered online tool that is meant to drive Amazon businesses to success. It includes advanced product research tools to easily and quickly find best-selling products. It also provides intelligent suggestions on where to put keywords and images to increase sales.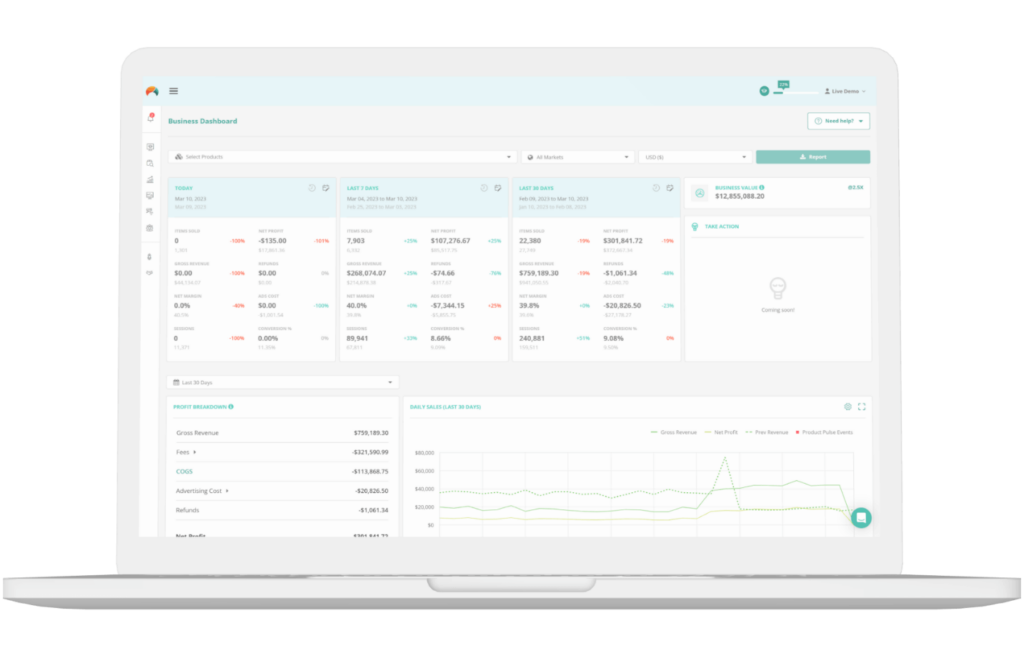 The key features of ZonGuru include:
Easy and quick product and keywords research
ChatGPT-powered listing optimization
Ebook about the hottest Amazon products
Streamline communication with customers
Intelligent listing optimization
Real-time monitoring and alerts
Pros
Simple user interface
ChatGPT-powered suite
Comprehensive products and keyword research tools
Automated review requests
Cons
Pricing
Researcher: $29/month (billed annually)
Seller: $49/month (billed annually)
9. Sellers Lab PRO
Sellers Lab PRO is a much older platform than Jungle Scout, mainly known to facilitate existing Amazon sellers in growing their stores. Seller Labs Product Revenue Optimization (or PRO) provides detailed reports and insights about the sales to make actionable decisions accordingly. It also assists in growing feedback and the average rating score. It also provides a 30-day free trial, making it an effective Jungle Scout free alternative for a limited duration.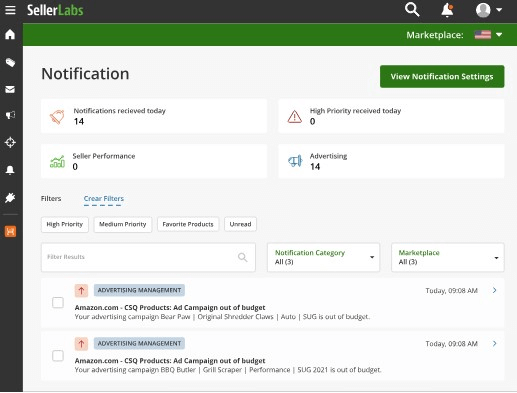 The key features of Sellers Lab PRO include:
Daily 360° snapshot of sales in a single dashboard
Product revenue optimization insights
Set and monitor goal progress
AI-powered advertising
Monitor daily ad performance
Understand and control sales trends
Feedback growth insights
Pros
Easy to use
Detailed dashboard
Comprehensive sales analytics
Analytics-based decision-making
Cons
Lack of product research feature
Not meant for beginners
Pricing
$50K Annual Sales: $39/month (billed annually)
$50K-250K Annual Sales: $79/month (billed annually)
$250K-1M Annual Sales: $119/month (billed annually)
$1M+ Annual Sales: $239/month (billed annually)
10. SmartScout
SmartScout is the recommended Jungle Scout alternative if you want to focus specifically on finding products on Amazon with deep analysis. SmartScout provides a comprehensive set of features for a deeper look into the products and to make a profitable decision. It divides Amazon products into 42k subcategories and includes specific filters to research specific products thoroughly.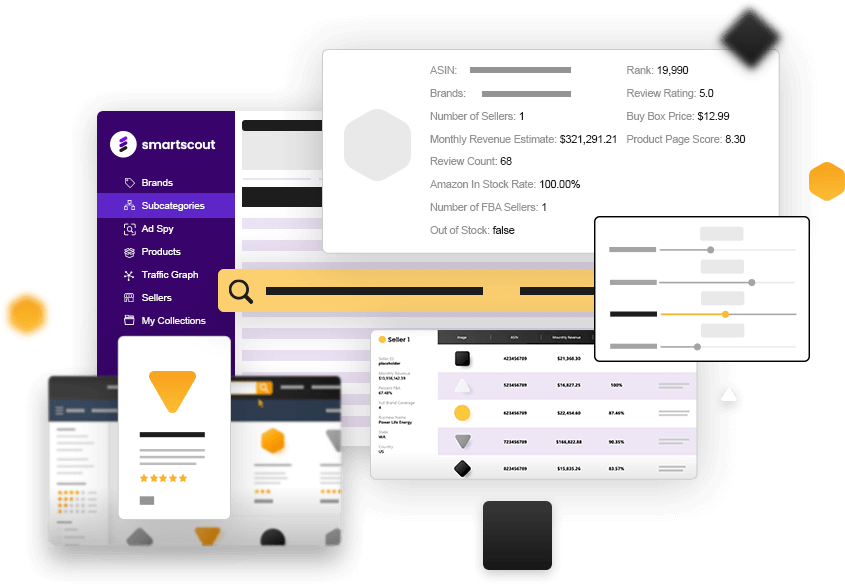 The key features of SmartScout include:
A single-page interface to look into all products of the competitor brand, including details about their estimated revenue, products they sell, etc.
42k subcategories on Amazon
Multiple filters to search for specific products, such as budget limit, high-selling products, etc.
FBA calculator
Keyword rank tracking
Pros
Massive subcategories
Advanced product filters
In-depth analysis of competitors' brands
Cons
Lack of thorough keyword research
Limited functionalities compared to Jungle Scout
Lack A/B testing
Costly in terms of its features
Pricing
Basic: $25/month (billed annually)
Essentials: $75/month (billed annually)
Business: $158/month (billed annually)
Wrapping Up
Considering the massive competition in Amazon, having a powerful Amazon seller tool is a must. Jungle Scout is one effective tool to fulfill most of the needs, but it might not suit many sellers. Therefore, you can pick any of the above ten paid or free Jungle Scout alternatives that align with your needs. However, if you want to go with our choice, then Shulex VOC seems the best choice. Whether it is its AI-powered product research, competitive analysis, listing optimization, review analysis, or human-like Q&A, every aspect makes Shulex VOC the most advanced, powerful, and all-in-one tool for any level of Amazon seller.
- End -