In 2023, Amazon sellers must comprehensively understand the Amazon A-Z guarantee. This program serves to protect buyer satisfaction and secure their purchases. Sellers must prioritize accurate product descriptions, provide top-notch products and packaging, adhere to shipping commitments, offer responsive customer service, proactively resolve issues, maintain meticulous documentation, and monitor their seller account closely. Effectively navigating the A-Z Guarantee can help sellers maintain a positive reputation, minimize financial risks, and cultivate favorable customer feedback. Stay informed and take proactive measures to ensure a successful selling experience on Amazon.
Look closely at what is Amazon's A-to-Z guarantee, thereby protecting reputation and minimizing financial risks for Amazon sellers.
Part 1: Detailed Explanation of Amazon A-Z Guarantee
The Amazon A-Z guarantee safeguards Amazon platform buyers and sellers. It is a form of consumer protection, ensuring that clients enjoy the purchasing process and get the goods they anticipate.
The A-Z guarantee offers buyers a safety net by enabling them to ask for a refund or submit a claim if they run into problems with their purchase. This covers incidents like obtaining faulty or damaged items, not receiving the product, or getting a different product than the advertisement. Customers can start the process by getting in touch with Amazon customer support and explaining the issue they had. Amazon then looks into the claim and takes steps to fix the problem, which may include refunding the customer.
So, what is Amazon's A-Z guarantee?
The A-Z Guarantee mainly helps consumers but also provides some security for sellers. Before it becomes an A-Z claim, sellers can settle the conflict amicably with the buyer. To lessen the possibility of A-Z claims being made against them, the program also encourages merchants to uphold high standards for product quality, accurate product descriptions, and dependable shipping processes.
Overall, the Amazon A-Z guarantee encourages sellers to maintain high customer satisfaction standards while giving consumers a means of recourse to build trust and confidence in the marketplace.
Part 2: How Does A-Z Claim Work?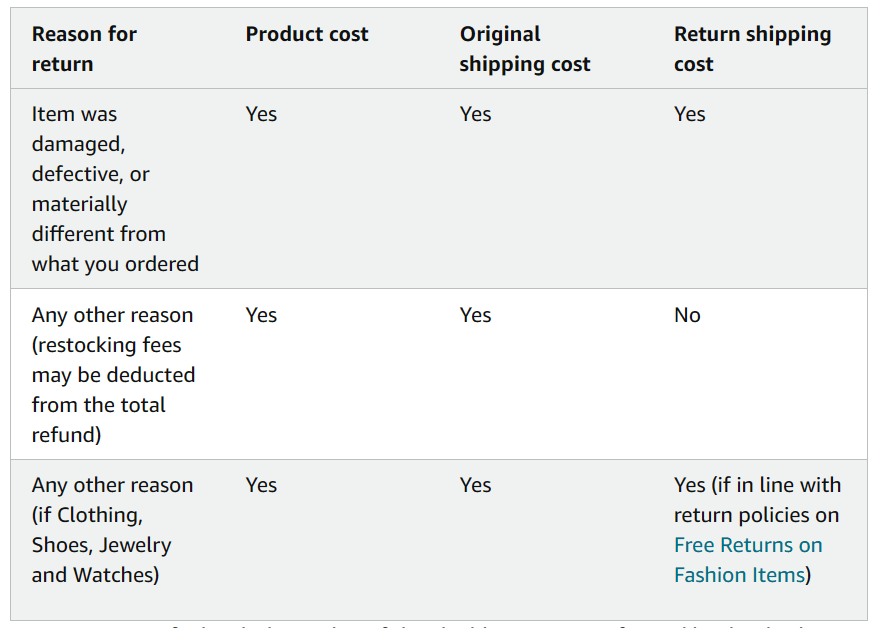 The Amazon A-Z guarantee process involves several steps to address buyer issues and ensure resolution. Here is an overview of the detailed procedures:
Contact Seller: Buyers first contact the seller directly through Amazon, explaining the problem and desired resolution.
Seller Response: Sellers should respond promptly, offering a resolution and working towards a satisfactory outcome.
Unsatisfactory Resolution: If the seller doesn't respond or fails to provide a satisfactory solution within a specified time, the buyer can file an A-Z claim.
Claim Submission: Buyers log into their Amazon account, navigate to the order, and file the claim, providing detailed information and supporting evidence.
Amazon Investigation: The A-Z Guarantee team investigates the claim, reviewing buyer and seller information, including communications between both parties.
Resolution and Refund: Based on the investigation, Amazon determines the outcome. If the claim favors the buyer, Amazon may issue a refund from the seller's account, potentially including item cost, shipping charges, and taxes.
Seller Performance Impact: Frequent or unresolved A-Z claims can negatively impact seller performance metrics and account health. Sellers should prioritize exceptional customer service and proactive issue resolution.
Amazon's specific policies and procedures may vary, but the outlined steps provide a general understanding of how the A-Z claim process works to address buyer concerns effectively.
Part 3: Practical Ways to Avoid A-Z Claims
Here are some effective tips for sellers who know what is A-Z guarantee:
Precise and Accurate Descriptions: Provide detailed and accurate product descriptions to set realistic expectations for buyers, reducing the likelihood of dissatisfaction.
High-Quality Product Images: Use high-resolution images that accurately represent the product's appearance, ensuring customers clearly understand what they are purchasing.
Rigorous Quality Control: Implement stringent measures to ensure your products meet high standards, minimizing the chances of shipping damaged or defective items.
Secure Packaging: Utilize appropriate packaging materials to safeguard products during transit, preventing damage and subsequent buyer complaints.
Accurate Inventory Management: Maintain correct inventory records and promptly update stock levels to avoid overselling or listing out-of-stock items that can lead to fulfillment issues.
Timely Shipping: Ship orders promptly and within the promised timeframe, providing buyers with tracking information to track their shipments.
Proactive Communication: Keep buyers informed about their orders with order confirmation emails, shipping notifications, and proactive updates in case of delays or issues.
Responsive Customer Service: Respond promptly and professionally to buyer inquiries and concerns, addressing issues promptly to prevent escalations. Automated responses can acknowledge messages and set expectations.
Easy Returns and Clear Policies: Communicate your return policy, making it easy for buyers to initiate returns or exchanges. A customer-friendly return process can help resolve issues before they escalate to A-Z claims.
Adhere to Amazon Policies: Familiarize yourself with and strictly follow Amazon's seller policies and guidelines to avoid violations that may result in A-Z claims.
Continuous Improvement: Actively gather and learn from customer feedback to make necessary improvements to your products and services, preventing similar issues in the future.
These best practices assist sellers in significantly reducing the risk of A-Z claims, maintaining customer satisfaction, and building a positive reputation on the Amazon platform.
Top of Form
Part 4: Summary and FAQs
Hence, sellers can enhance their reputation by understanding and proactively addressing the Amazon A-Z guarantee, maintaining positive customer feedback, and minimizing the risk of financial losses or account suspensions.
Plus, with the help of a platform with data-driven insights and performance monitoring tools, sellers can efficiently maintain a high level of customer satisfaction and successfully navigate Amazon's A-Z Guarantee program.
Shulex is a powerful tool to assist sellers in reducing A-Z claims and effectively navigating Amazon's A-Z Guarantee. Through advanced data analytics and insights, Shulex helps sellers identify potential areas of concern and proactively mitigate customer issues. The platform enables sellers to monitor customer feedback, analyze product reviews, and identify patterns or trends that may lead to A-Z claims. 
Shulex provides sellers with the necessary tools and information to uphold the A-Z Guarantee and maintain a positive selling reputation on Amazon.
Features:
Monitor Customer Feedback
Product Performance Analysis
Competitive Pricing Analysis
Inventory Management
Seller Performance Monitoring
Data-Driven Insights
FAQs
Q1: How to Win Item Not Received Claims For Amazon FBM | Win INR A-Z Claims in 2023
A: To increase the chances of winning "Item Not Received" (INR) claims for Amazon Fulfilled by Merchant (FBM) sellers in 2023, follow these steps.
Step 1: Ship orders promptly with reliable tracking, communicate shipping updates to buyers, and use delivery confirmation for high-value items.
Step 2: Package products securely to prevent damage and retain postage receipts as evidence of shipment.
Step 3: Provide responsive customer service and investigate claims promptly, offering the buyer tracking information.
Step 4: Submit relevant evidence, such as tracking details, delivery confirmation, and communication with the buyer.
Lastly, appeal or escalate cases if necessary.
By taking these measures, FBM sellers can improve their success rate in winning INR A-Z claims in 2023.
Q2: Amazon A – Z Claims: What Sellers Should Know in 2023?
A: A-Z claims are initiated by dissatisfied buyers and can result in refunds for the buyer and potential financial losses for the seller. To navigate A-Z claims successfully, prioritize accurate product descriptions, high-quality products, timely shipping, responsive customer service, and adherence to Amazon policies. Proactively addressing customer concerns, resolving issues promptly, and maintaining a positive seller reputation can minimize the risk of A-Z claims and foster a positive selling experience on Amazon in 2023.
- End -