Online purchasing has become a new norm today, and every other person is using digital marketplaces to purchase anything they want. Although online selling has helped sellers engage with a large customer base, it also brings in the crucial factor of returns.
According to the National Retail Foundation report, around 21% of online orders were returned by customers in 2021. Moreover, 67% of shoppers mostly check the return policy before purchasing.
Amazon, the world's leading digital marketplace, also has a 30-day return policy. Therefore, the massive customer base of Amazon has also led to explosive return rates. However, Amazon prefers not to restock most of the returns even though many products are still unopened. Alternatively, Amazon looks for other ways to handle returned items. One such way is Amazon pallet sale.
Amazon pallet sale is an initiative launched by Amazon for reselling returned goods at reduced prices. These products are packed in wooden crates and sold to individual customers or liquidation companies in bulk.
If you are interested in Amazon return pallet sale, then stick with this guide. Here, we will cover everything you need to know about Amazon pallets and how to buy them online.
What Happens With the Returned Items?
Amazon now follows a zero-product disposal approach after being criticized for wasting millions of products. Amazon has introduced different programs to stop destroying returned items and resell them.
For products that can't be sold as new, Amazon allows Disposal, Return to Seller, Liquidation, and Grade and Resell options. Under the "Return to Seller" option, Amazon sends returned products to sellers. If it is a non-electronic product that is never opened, it is simply relisted for sale. However, if the item has been opened, the seller either repairs, cleans, and tests it for sale or keeps it to use.
In the case of electronics, many returned items are inspected and then repaired if required. If the product is in good working condition, it is listed in the Amazon Renewed section. However, it is hard to include refurbished items in the Amazon renewed bar due to strict rules.
The "Grade and Resell" option is eligible for sellers who use Fulfillment by Amazon (FBA). Any returned products under this program are categorized by the fulfillment centers. Based on the condition, the product is labeled sellable, defective, customer damaged, carrier damaged, or expired by Amazon centers.
If the product has been damaged by courier service or Amazon staff, the seller is compensated, and the product is given to Amazon. These items are sold by Amazon using the truckload service.
Some returned items are purchased by different liquidation companies who list them on their websites. Sellers can even put these products on auction under the liquidation program to make space for new items in their warehouses.
How Can You Buy Amazon Return Pallets
You can buy Amazon return pallets through its liquidation program, which lets sellers put the returned products in an auction, or you can buy from third-party liquidation companies.
Here's a list of reputed Amazon liquidation stores that offer a seamless way to buy Amazon return pallets in 2023:
1. Amazon Liquidation Auctions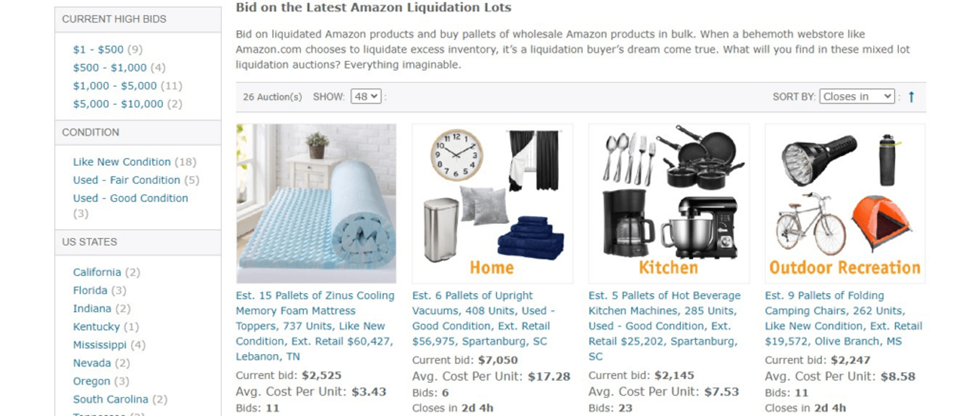 Amazon Liquidation Auctions was introduced after Amazon's collaboration with B-stock to let sellers in the US bid on return pallets. You can find items like home appliances, clothing, footwear, electronics, and books in these auctions. Sellers can participate in these auctions only after registering with B-stock and submitting a resale certificate.
Pros
Cost-effective
Good condition products
Bulk purchase allowed
Cons
Time-consuming process
Risk of receiving defective items
Unpredictable outcome
2. Direct Liquidation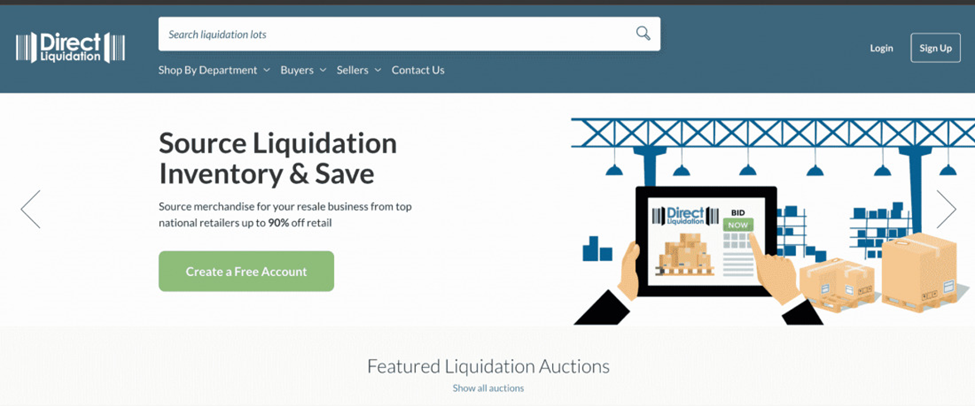 Direct Liquidation is a platform that has partnered with popular retailers for selling return pallets in auctions online, such as Amazon, Walmart, Target, etc. You can easily filter through the search based on brand and store.
Pros
Wide range of products
Items from all trustworthy marketplaces
Best customer service
Cons
Quantity restrictions on some pallet categories
Restricted or non-existent product warranty
3. Liquidation.com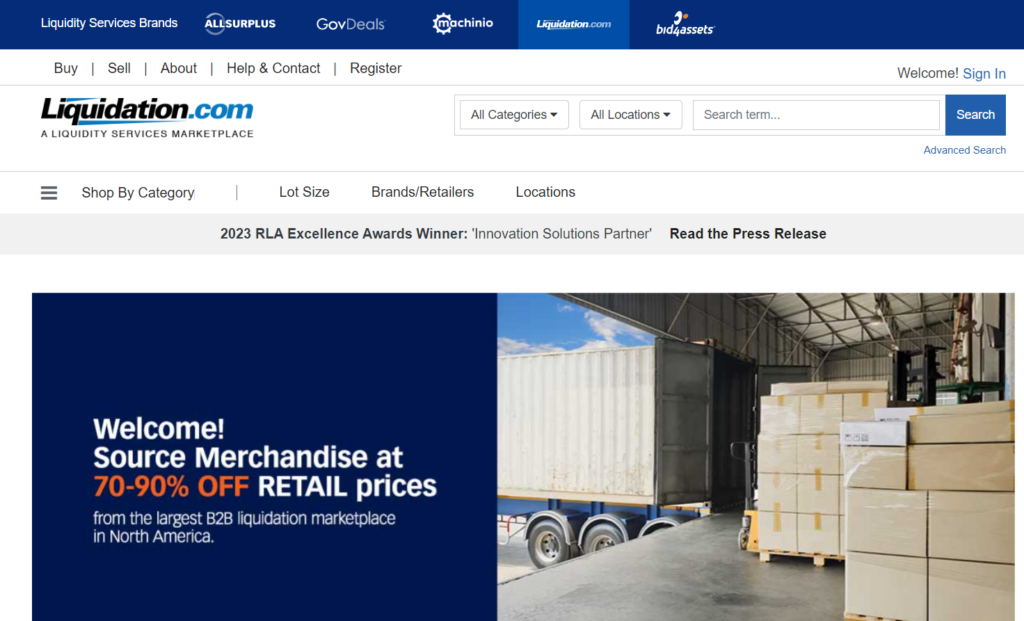 Liquidation.com also deals with return pallet sales from Amazon and other big e-commerce stores. You can find home appliances, electronics, computers, vehicles and industrial spare parts. Non-US customers have to make payments through Wire on this Amazon liquidation store. For purchases above $5000, both US and non-US customers need Wire transfers.
Pros
Great discounts
Valuable items
Cons
High competition in auctions
Limited or non-existent warranty
How Much Does an Amazon Return Pallet Cost?
Amazon return pallet costs vary and primarily depend on the liquidation company. The Amazon return pallet costs between $300 to $400 typically. However, a large pallet of electronics may cost above $1000 but any regular items full pallet costs between $100 to $500.
Other than the base price, you may have to pay for shipping costs which vary with the weight and size of the pallet along with its distance from the warehouse. The shipping rates are usually in the range of $50-$100 per pallet. Some companies even offer free shipping services.
Benefits of Amazon Pallet Sale
Amazon pallet sale offers many benefits, as follows:
Reduced Cost: Amazon return pallets offer different categories of products at discounted rates, saving money on inventory.
Sustainability: Instead of throwing or destroying products, these items get a new place promoting environmental sustainability.
Wide Variety: Amazon return pallets can contain a huge variety of products from electronics and books to clothing and spare parts.
Higher Profit Margins: Amazon return pallets can be purchased at reduced prices, which increases the margin of profits with strategic selling.
No Skills Required: Amazon pallet sale is a good way for beginners to kickstart a business without any technical expertise.
Limitations of Amazon Pallet Sale
If you are considering experiencing the Amazon pallet sale, it is necessary to learn about its limitations as well:
Missing Description: Some liquidation firms don't give any details of the products packed in the return pallet, which may lead to purchasing defective boxes.
Broken or Unsellable Products: If you occasionally get a pallet with broken or defective items, you cannot return them and have to bear the loss.
Limited Growth Opportunities: Receiving different types of products in non-guaranteed conditions may not help you grow your business in the long run.
Tips & Tricks for Buying and Selling Amazon Return Pallets
If your intentions are to resell the items from Amazon pallet sale, then you need to be smart in buying and reselling return pallets. Here are some useful tips and tricks for buying and selling Amazon return pallets:
1. Avoid Mystery Pallets
Amazon mystery pallets have low prices, as you don't know what is packed inside the pallet. It poses a higher risk than manifested pallets, where the company provides information on products beforehand. Therefore, to secure a high-quality pallet, always pick manifested pallets.
2. Be Vigilant With Electronics
If you are purchasing Amazon liquidation pallets as a beginner, avoid buying electronics initially. This is because there are likely chances of defects in electronics, which might not be repaired or require significant repair costs. So, avoid electronics during the beginning stage.
3. Begin With a Small Purchase
Before signing up for a big deal, start with a small purchase initially. It can help you understand the credibility of the Amazon liquidation store and items quality.
4. Organize and Categorize Products
After you get the pallet, sort the items to check what you have received. Divide the items into different categories and separate those that can be resold right away. Look for items that need repairing. Also, assess the packaging and warranty of the product.
5. Repair and Refurbish Products
One of the major reasons why customers return products is that they are either faulty or not working. It happens mostly with faulty electronics that aren't repaired. If the fault is minor, you can fix it yourself or get it done by a third party. Make sure to limit the costs of refurbishment.
6. Inspect and Grade Items
Inspect the items thoroughly before reselling them and advertise by grading them properly for buyers. You can label them as "new factory sealed", "new open box", "refurbished", and "used" based on the condition to give a clear idea to the buyer.
7. Set Optimal Prices
After sorting and repairing products, browse different online platforms to check the current price of similar products. It is important to keep your price lower than the others in the market to attract buyers. To help ease this hassle, you can get instant competitive analysis with ChatGPT-powered Shulex VOC, including proper details about customer sentiments, likes/dislikes, etc.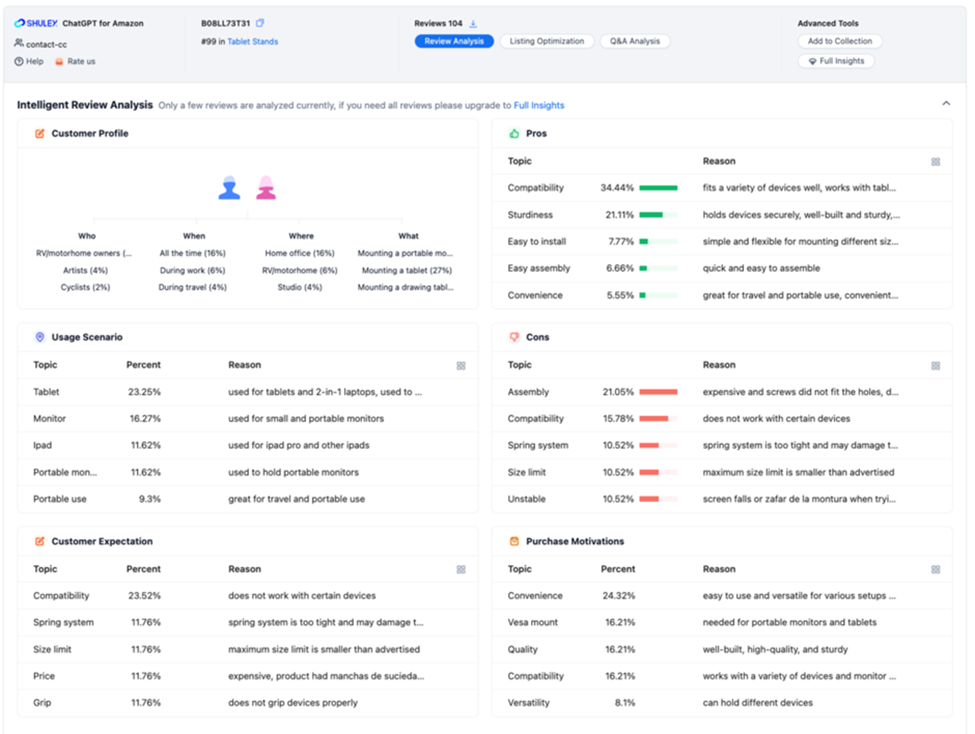 What Can You Receive in Amazon Return Truckloads?
Amazon return truckloads usually comprise items shipped under FBA for which shippers are compensated for returns. Amazon offers four main types of return truckloads:
1. Small Products (Smalls)
In the Smalls truckloads, there can be several small products. The pallet will have as many little items as it can fit. So, you can get a large number of items on average. Some of these small-sized items can be highly valuable, such as designer watches, sunglasses, branded accessories, or gadgets. However, processing and listing these different items can be time-consuming.
2. Large Products (Bigs)
The Bigs truckloads usually contain 26 tall pallets to accommodate large-sized products. It can consist of heavy furniture, huge home appliances, big televisions, and other similar products. Spacious retail stores can book this truckload to showcase these products and sell them locally.
3. Clothing
Amazon has a huge clothing range with high regular sales. The rate of clothing returns is also high in this sector, so you can easily find ready-to-resell items. Each of the 26 clothing pallets can offer 1200 or more clothing products, including designer dresses, scarves, handbags, belts, etc. In short, these pallets may contain a variety of clothing for kids and adults.
4. High Retail
The high retail truckloads contain the high-demanded products for resale but in smaller quantities. They include 26 pallets containing fewer items than the smalls truckloads but much higher in value. With these pallets, you can secure the best-selling stock from Amazon.
Wrapping Up
Amazon pallet sale is an excellent opportunity to resell the returned goods and generate profits. However, it requires a strategic approach to buy the right pallets and then resell them at a higher price. This guide has covered every basic you need to know about Amazon return pallets. So, keep it as a reference, explore the Amazon pallet sale opportunities, and find valuable deals.
- End -