The e-commerce giant Amazon has a stringent 30-day return policy, allowing consumers to return products without any questions asked. While hassle-free returns are good business, highlights CNBC, it leads to a notable return rate for items sold on Amazon. 
Sellers, for instance, encountered a 32% increase in return rates the previous year. Typically, these products are sent back to the seller for a fee. But since paying doesn't make financial sense from a seller's standpoint, these items are returned to the Amazon warehouse, where the concept of Amazon returns emerges.
So, you can buy Amazon return pallets and resell them for a profit as a seller. Therefore, this guide will uncover how you can tap into this potentially lucrative opportunity and make revenue by playing smart.
Amazon Return Pallets & Their Cost
Amazon return pallets, also called liquidation pallets, are bulk assortments of items returned to Amazon by customers.
The e-commerce platform uses large wooden crates to resell these products. They are sold to liquidation companies or individual buyers at a significantly reduced rate through different channels.
The return pallets include various items, from household goods and toys to electronics and apparel. How buyers choose to reuse these products depends on their preferences. For instance, they can either keep the items they find helpful or refurbish and resell them to generate a profit.
It is worth noting that the costs of these items vary depending on the type of products, their condition, your location, and the quantity of items within each pallet.
As a ballpark figure, you should expect prices between $300-$400. However, pallets containing electronic items may exceed $1000 or more.
Where to Buy Amazon Returns Pallets?
Amazon keeps track of the returned products from customers. It offers a liquidation program allowing sellers to auction off these items and clear the space for new inventory.
You can acquire these pallets directly through this program or from independent liquidation companies. We have enlisted a few companies below to make the search more manageable for you.
1. Amazon Liquidation Auctions (US)
Amazon partnered with B-Stock in 2018 to launch Amazon Liquidation Auctions. This enables third-party sellers in the US to bid on return pallets.
However, sellers are required to complete the registration process with B-Stock and provide a valid resale certification.
Pros
Purchasing from Amazon Liquidation can boost profit potential because the items are often brand-new.
Buying customer returns through Amazon is more cost-effective than acquiring new stock.
This program allows for bulk purchases, consequently reducing the overall business costs.
Cons
Auctions demand time and may take 2-3 business days.
You may receive unsellable or broken items, which can take a toll on your business.
Since auctions can be time-consuming with uncertain outcomes, you need to show patience in the whole process.
2. Liquidation.com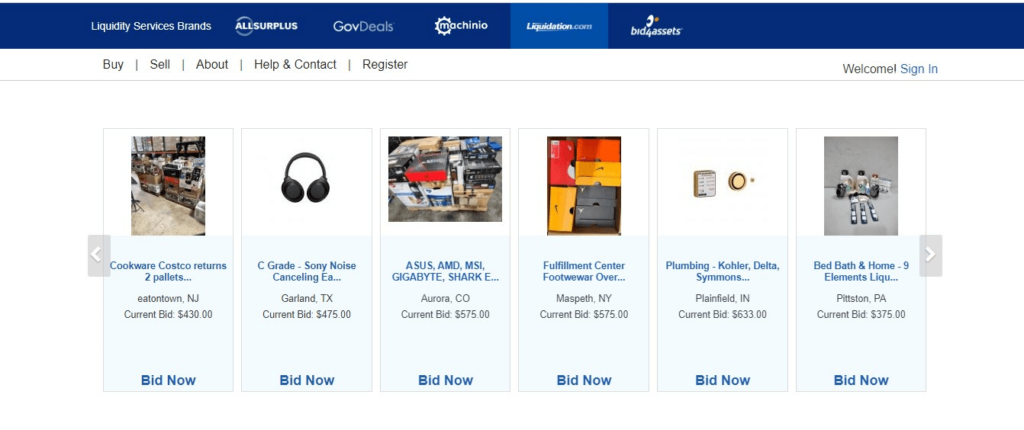 Liquidation.com is another popular company that sells return pallets from numerous marketplaces, including Amazon.
Non-US buyers are required to pay via wire transfer. However, if the purchase value of the products exceeds $5,000, a wire transfer becomes a requisite for US and non-US customers.
Pros
You might be able to generate a substantial profit by discovering valuable resalable items within the pallets.
Excellent platform to get great deals on return pallets for acquiring products at a reduced price.
Cons
Sellers might not offer a warranty for the products' conditions.
You may encounter fierce competition with millions of buyers from around 200 countries.
3. Direct Liquidation (US & Canada)

Collaborating with platforms like Target, Amazon, and Walmart, Direct Liquidation is another marketplace to access returned pallets.
It allows you to filter your search by brand and store, which is a plus. However, it is worth noting that the platform only sells pallets based on auction. So, you'd need to actively bid to purchase a pallet you intend to buy.
Pros
The platform offers liquidation pallets for various categories, from home appliances to electronics.
It provides reliable customer service to address your queries on the go.
Its collaboration with major retailers adds to its credibility.
Cons
You might not get a warranty for the items bought.
A few pallets come with minimum quantity restrictions, which means a substantial investment is required to buy Amazon return pallets.
Besides the above three companies, there are many other companies from where you can buy Amazon returns, such as BlueLots, Quicklotz, Wholesale Ninjas, BULQ, etc.
5 Key Considerations When You Buy Amazon Returns
Amazon return pallets can help drive substantial profit, provided you identify valuable items and steer clear of potential challenges. Here are a few things to consider when purchasing these pallets.
1. Examine the Offerings of Different Liquidation Platforms
Since the aim is to maximize profit, take time to assess various liquidation platforms. As a rule of thumb, opt for a reliable marketplace that provides return pallets at reduced costs.
2. Conduct Market Research
A few sellers or liquidation companies may provide some level of categorization for items in the pallet. Although the possibility of encountering unexpected products remains, conduct market research to ensure the category specified by the company or seller is in demand for a successful resale. Shulex VOC, an AI-powered tool, makes product research seamless by providing valuable insights into consumer preferences and competitor data.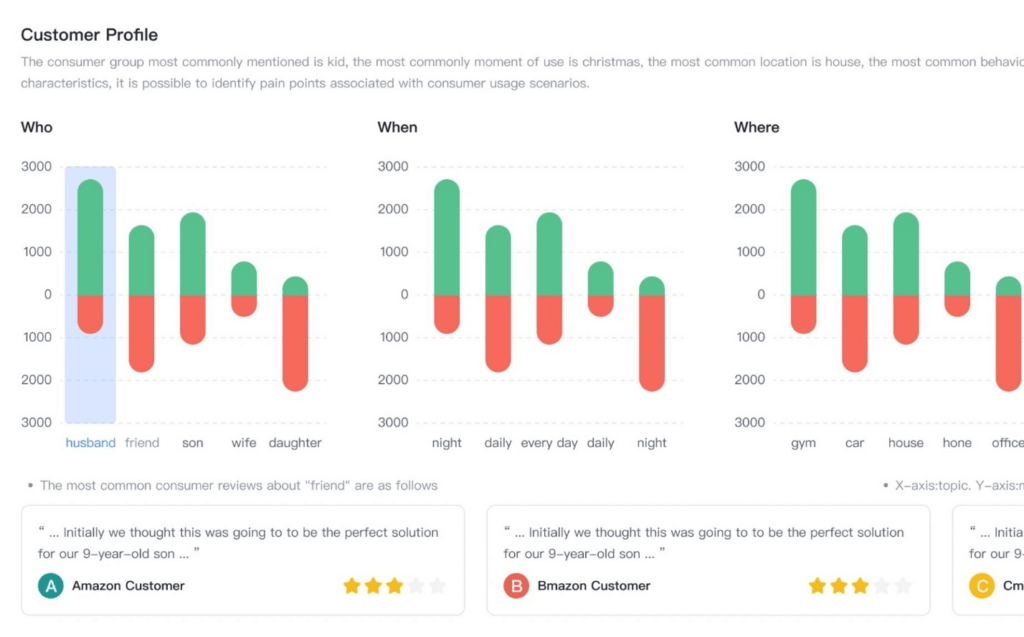 3. Show Restraint for Specific Categories
Steer clear of items with multiple components because there's a high chance of missing parts. Besides, it is best to avoid buying electronics, as they risk being faulty. It can lead to substantial loss if you lack the expertise to repair them.
4. Begin with a Limited Initial Purchase
You might feel tempted to make a substantial first purchase, but starting with a modest investment is wiser. You can always increase your investment once you gain an in-depth understanding of the process.
5. Be Mindful of the Shipping Costs
Make sure you check the shipping costs before purchasing to avoid an unpleasant surprise. A few liquidation companies incur shipping costs well beyond what you pay for the pallet.
Pros & Cons of Buying and Selling Amazon Return Pallets
If you plan to buy and sell Amazon return pallets, evaluating the pros and cons is crucial to making an informed decision.
Pros
Convenient Reselling: You have numerous methods to resell Amazon return pallets, from liquidation marketplaces to social media and more. The flexibility makes finding your potential buyer and reselling the items easier.
Substantial Profit Margins: Amazon return pallets are available at reduced rates, allowing you to start your venture with minimal investment. Buying items at a fraction of the cost will enable you to generate high-profit margins if they resell successfully.
Reduced Waste: As a reseller, you contribute to minimizing waste in the supply chain. By purchasing the discarded or unsold products that otherwise end up in landfills, you give them a second chance, promoting sustainability.
Cons
Uncertain Condition of Items: You must be prepared to handle the uncertain condition of items. You may come across brand-new and lightly used items to heavily damaged items.
No Product Information: An individual seller or liquidation company might not provide any product information. This lack of transparency can make it challenging for you to assess the potential resale value of the items accurately.
Quality Control Challenges: You may need to invest time and resources in repairing the products to bring them to a sellable standard. This can get complicated and incur unexpected costs to the process.
4 Best Practices to Follow When Selling Amazon Return Pallets
After you buy Amazon returns pallet(s), you need to smartly resell the items to make a handsome profit. Here are a few best practices to consider when reselling the acquired pallet.
1. Categorize Different Items
Categorizing different items in your return pallets allows for efficient inventory management and sales. Consider grouping similar products together, like clothing, toys, home appliances, and electronics.
This will also help you identify missing or malfunctioning products. You can repair them to boost their resale value and generate high profits.
2. Create Bundles
Creating bundles within your return pallets can be strategic. It lets you package related products, giving customers added value and maximizing your average order.
For instance, if you have multiple kitchen appliances, you can bundle them as a kit, making them appealing to potential buyers.
3. Be Smart About Pricing
You need to consider the products' condition, market value, and demand to set the right price. At this point, you can use Shulex VOC AI intelligence to conduct an in-depth competitive analysis.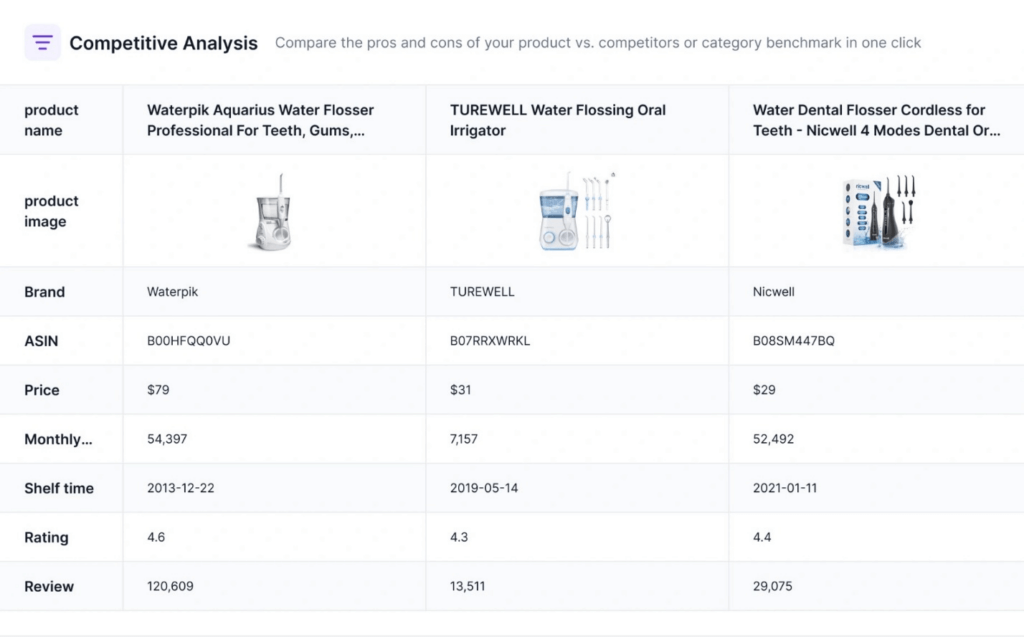 This will allow you to compare product pricing with your competitor and ensure you set a competitive price to attract more customers and increase profitability.
4. Manifested Vs. Mystery Pallets
If you seek to minimize risk, you can opt for manifested pallets. Although relatively expensive, manifested pallets enlist the products inside the pallet, their quantity, and the retail value to avoid uncertainty.
Contrarily, mystery pallets are cheaper but do not provide a description of the contents - hence the name.
Wrapping Up - Buy Your First Amazon Returns Pallet & Generate Profits Smartly
Amazon returns bring a great opportunity to buy highly valuable products at very low prices. This guide has discussed in detail everything you need to know when you buy Amazon returns pallets.
Overall, all it takes is courage, small investment, smart decisions, and resell strategies to generate substantial profits. So, use this guide as a reference and make your first Amazon pallet purchase.
- End -