Amazon is the largest digital retailer with over 353 million products on the website. According to research, an item with a positive review is 20% more likely to be sold. Therefore, sellers are always in search of people to try their products, share feedback for improvement, and advertise them.
Amazon product testers evaluate and review different products for free or discounted goods received from sellers. With their unbiased reviews, consumers get an idea of the product, while sellers benefit from their feedback.
Therefore, in this guide, we will discuss the complete process of becoming an Amazon product tester and list the benefits of this job.
What is an Amazon Product Tester?
An Amazon Product Tester is a person who reviews products sold on Amazon without any bias. These include free samples received from Amazon and products purchased at discounted prices. Also, some sellers ask these testers to test their product packaging, shipment, or customer service.
Testers write genuine and detailed reviews on the website so that other consumers know about the pros and cons of the products, while sellers can improve their products and take smart initiatives based on the feedback. Moreover, it can help vendors make informed marketing decisions.
Is Amazon Product Testing Allowed?
Amazon has no specific policy defined for product testers. However, it only allows reviewing products through Vine, which is the official Amazon testing program. This clearly indicates that sending products personally for testing outside Vine is a violation of Amazon's terms and conditions.
Amazon has suspended accounts and even heavily penalized users in the past for posting fake reviews to increase their sales and boost their ratings. However, you can openly post honest feedback on your social media accounts and personal websites without any restrictions.
How Do You Become An Amazon Product Tester?
To become an Amazon Product Tester, you can use different ways, such as joining Amazon Vine or Facebook groups, becoming an influencer, or using the reviewer websites for Amazon. Let us cover each of these methods individually below:
1. Amazon Vine

Amazon Vine is a special invite-only program where the best reviewers, called Vine Voices, are selected to test Amazon products and share feedback. Sellers mostly provide new or recently launched products for free to get tested thoroughly.
Vine Voices can also order products from Amazon without any charges and share their personal experience. However, to become a member of Vine Voices, you need to build a strong image as a reviewer on Amazon by posting high-quality and useful reviews first.
When your review gets likes, your rank will be raised. After reaching a high rank, Amazon may invite you to join the Vine program. Once you receive the invite and join, you can request various Amazon sellers to review their products.

Amazon sellers will send their products for free in exchange for honest feedback, which can be positive or negative based on your personal experience. These reviews will be posted on the same page as others but highlighted uniquely with a "Vine Customer Review of Free Products" or a "Vine Voice" badge. However, you will not be paid for testing the product under this program.
Bonus Tip: Increase Your Chances To Get An Amazon Vine Invite
You can increase your chances of receiving the invite and doing the Amazon product tester job with the following practices:
Give honest feedback
Be concise
Add more description
Be specific
Add the pros and cons
Review it for the buyers
Include images and videos
Test Amazon's fresh or top items
2. Amazon Reviewer Sites
Amazon reviewer sites offer free or discounted price products for testing to Amazon product tester members in exchange for written reviews. These independent sites work differently, as Amazon does not regulate them but are still popular for providing valuable reviews on unreleased products.
The descriptive and honest feedback on products helps sellers improve their products before release and increase sales after the launch. When you join the Amazon reviewer site, you can get free or discounted-rate products and write reviews on them.
Rebaid and Vipon are two popular reviewer sites that allow sellers to get feedback for products not officially released on Amazon yet. Besides them, there are many other different sites with different review and qualification requirements. Therefore, you should do detailed research to filter a trustworthy and reliable site and then read the site's policy before signing up.
Amazon reviewer sites provide a great avenue for Amazon product testers interested in getting free or discounted-price products. Let us briefly go through some of the popular Amazon review sites for a better understanding:
Rebaid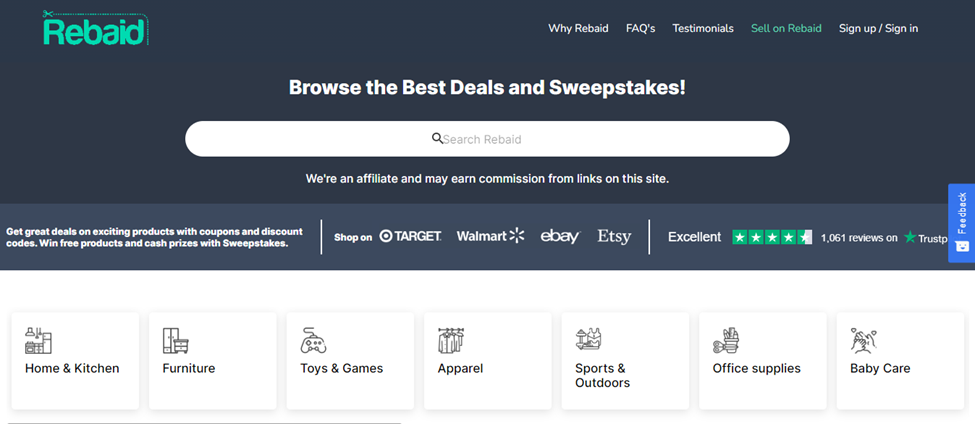 Launched in 2019, Rebaid is one of the top reputed reviewer sites. It brings great deals, such as complete cashback for Amazon and Walmart products. Buyers need to provide their Amazon order number for confirmation to use Rebaid.
The users can get their payments from Rebaid within seven to 14 days via direct deposit or mail. Moreover, it allows them ten redemptions in the first month, gradually increasing the limit with time.
Vipon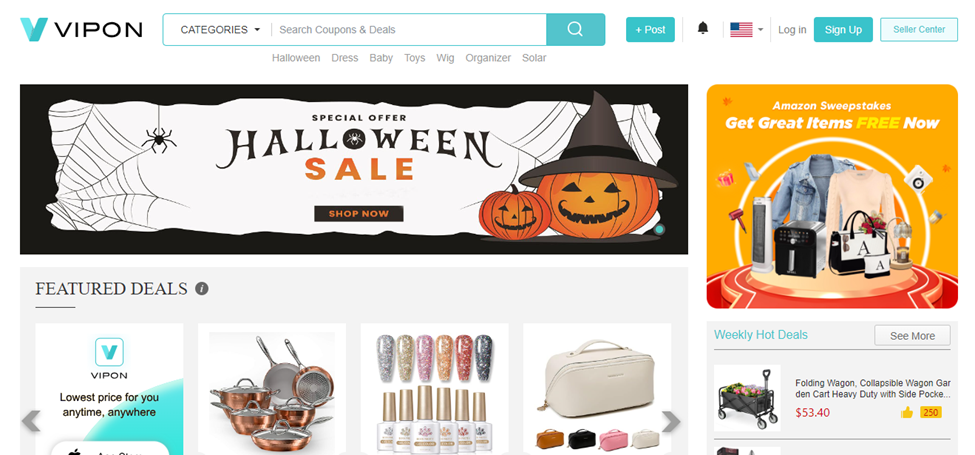 Vipon is a popular reviewer site for Amazon product testers, featuring a wide category of discounted products. In fact, it is one of the highest-traffic sites with 150 product discounts monthly ranging from 50% to 100%. Moreover, it lets buyers request up to 20 items at once, exceeding the limit of most popular sites.
Once you receive the products via Vipon, you can write and submit your feedback within two weeks. When you are done with all trial products, you can request to test more products.
Snagshout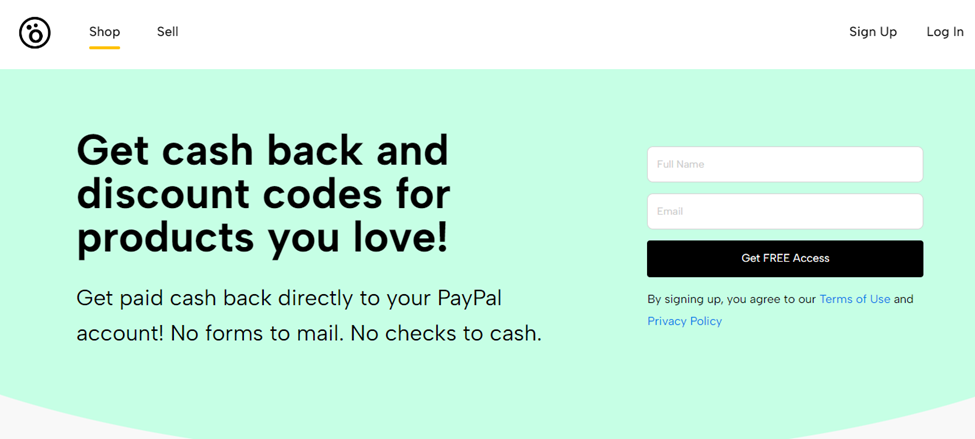 Snagshout provides a platform where product reviewers and influencers can connect with Amazon sellers. It offers amazing discounted deals and huge cashback on various products. Each item listing has a detailed description to help buyers.
Shoppers can only buy up to two products a day on Shagshout to prevent monopolization. In terms of payment, the cash-back amount gets transferred to your wallet within 35 days of order confirmation.
Jump Send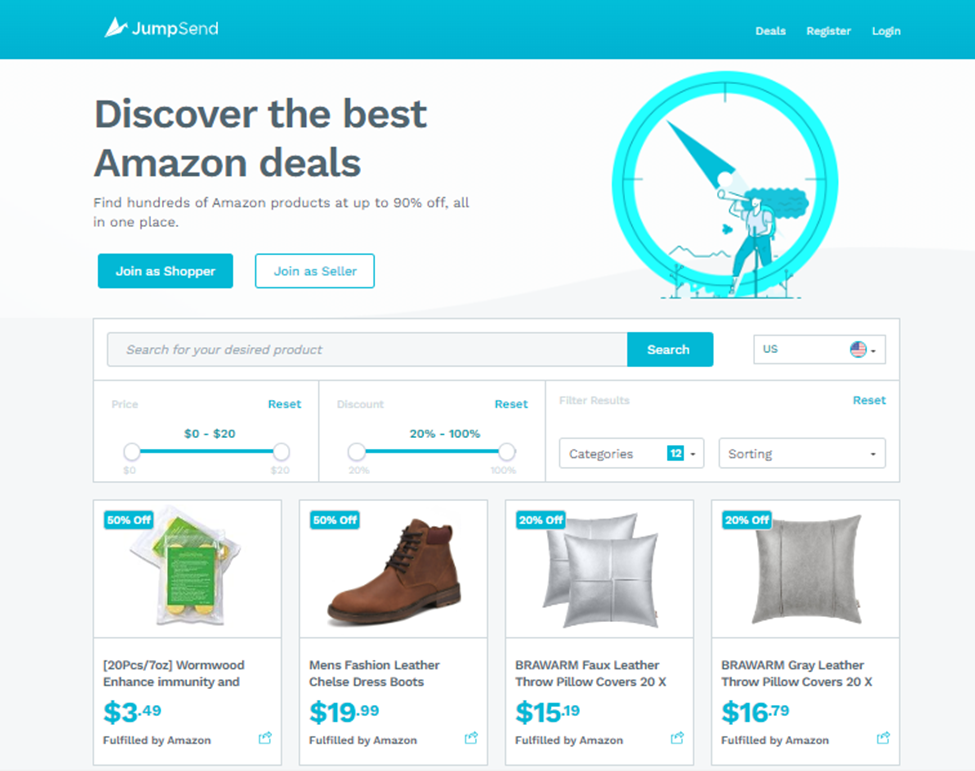 JumpSend is another website offering up to 90% discounts on products while having 100K+ active users. It provides a great avenue for sellers to promote their products and increase their sales. Similarly, it is also valuable for Amazon product testers to get products at highly discounted rates.
JumpSend also brings an email automation feature to enable follow-up emails for encouraging feedback. However, testers are not paid for posting reviews on JumpSend.
3. Amazon Associates

Amazon Associates is an affiliate program launched by Amazon where members gain commission when buyers purchase Amazon products with their reference link. It is a perfect channel for influencers, content creators, and bloggers to earn passive income.
If you have a social media account with a huge followership or an attractive website with high traffic, you can easily enter the Amazon Associates program and become an Amazon product tester. However, you need to keep up with the standards set by Amazon consistently to stay in the program.
To kickstart the Amazon Associates program, it is important to learn how it works. Here's the overview of the process:
Sign up for the Amazon Associates program and join after approval.
Receive the unique associate ID via email after confirmation.
Decide your niche and create affiliate links to add to your personal website blogs or social media account posts.
Your audience notices the link and clicks on it for purchase.
You get a commission based on the product category within 60 days.
4. Join Facebook Groups
Facebook is one of the top social media platforms with a huge community worldwide. So, it is another excellent platform to get into the Amazon product tester job. You can find several Amazon review groups on Facebook where sellers offer highly discounted items for a genuine review.
By joining such groups, you can post your feedback and share your personal experiences. You can build a strong profile online to attract more people and increase your followers. Plus, you can interact and network with other reviewers and Amazon sellers.
Facebook review groups provide amazing opportunities for you to learn about new products and connect with potential sellers in the future. Such groups run independently from Amazon, so none of its policies or regulations are applied.
5. Become an Influencer
Online influencers with a large followership are also a way to become a product tester for Amazon and earn income by testing and suggesting Amazon products to the followers. You can go about this approach in two ways:
Become an Amazon Influencer
Work as a Social Media Influencer
Let us cover how each one of these works:
Become an Amazon Influencer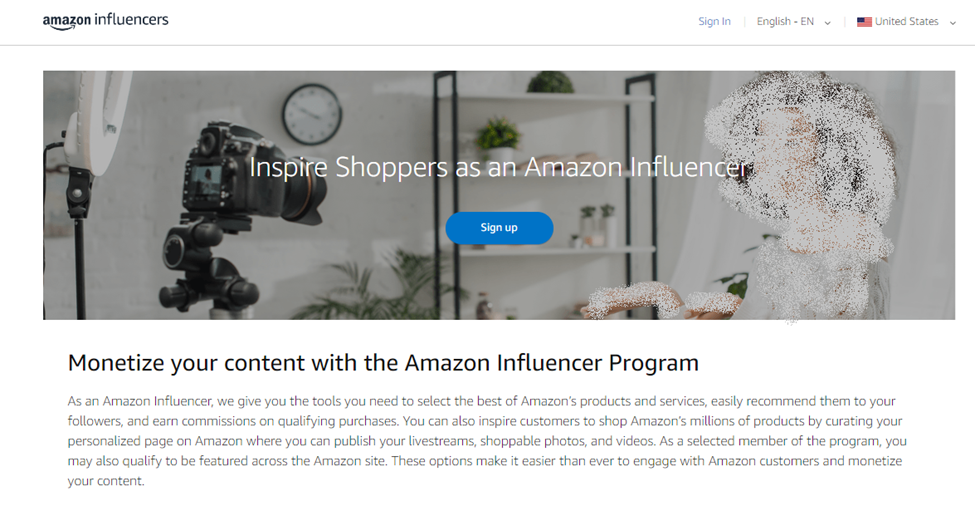 If you have a massive followership on Instagram, Facebook, Twitter, YouTube, or TikTok, you can easily get into the Amazon Influencers program.
After joining this program, you can get access to the product selection tools to find the best Amazon products and services. Afterward, you can recommend them to your followers on social media.
Additionally, you can access a personalized Amazon store where your followers can search for your product recommendation list. If they purchase from your affiliate link, you get the commission based on the product type.
Work as a Social Media Influencer
As a social media influencer, you can review Amazon products with more credibility and visibility. You can create a short video of the product on TikTok or Instagram where you test the product, give honest reviews, and make your followers buy the product through your affiliate link.
When you endorse products via these platforms, you get more testing opportunities from established brands. If you have a decent social media following, these brands will pay you for promoting and reviewing their products. Make sure to add hashtags, product images, and a personalized touch to your reviews.
The best part is that you have the freedom to experiment with your space the way you like. Plus, you can find brand campaigns by joining influencer networks, such as YouTube BrandConnect and Upfluence.
How Much Do Amazon Product Testers Make?
Amazon Product testers can easily earn from a hundred dollars monthly to a five-digit yearly income. It mainly depends on how they use their skills to turn product reviewing into a money-making activity.
You cannot get direct compensation by joining the Amazon Vine program. However, you can get free products that you can resell on various websites.
Besides that, if you have a big social media following or are a well-known product reviewer, you get approached directly by big brands who will give you the products to test and money to give honest reviews of their products. In short, it takes some time, but the right strategies can lead you to become a highly paid Amazon product tester.
How Reviews are Helpful to Amazon Sellers?
The majority of Amazon users purchase a product only after going through the reviews. Around 91% of buyers check reviews, and 84% trust their authenticity. Reviews help buyers learn more about the brand and the quality of the products.
When sellers have plenty of positive reviews, it increases their chance of getting more sales because of the confidence existing users have shown in their products.
In short, reviews are very vital for Amazon sellers. Therefore, sellers tend to send free products to Amazon product testers or offer discounted products on Amazon reviewer sites to get more reviews and increase the credibility of their products.
Is Becoming an Amazon Product Tester Worth It?
Becoming an Amazon product tester is definitely worth it for people who like earning money as a side hustle for reviewing the products of their choice or those who like getting free products without spending a penny.
Amazon Vine program is the only genuine way to post reviews for free Amazon products. However, you need to be an active reviewer to be selected for the Amazon Vine invite-only program.
Reviewing products can be fun as a product tester for Amazon if you focus on products that you genuinely want to use and tell others about. Product testing may not generate a hefty amount, but it can be a great channel for passive income generation.
Tips & Tricks as an Amazon Product Tester/Reviewer
Here are some tips for you to consider as an Amazon product tester:
Select a product that aligns with your interests and that you genuinely want to use.
Share honest feedback, as customers rely on you to learn about your experience.
Add original images and videos to help customers understand the product better.
Write product-specific details and avoid sharing generic information.
Discuss the main features and add pros and cons to help other customers in decision-making.
Write the review in a professional tone. Avoid informal phrases, slang, and abusive words.
Wrapping Up
Becoming an Amazon product tester is a fun and rewarding activity if done correctly. Once you are recognized as a trustworthy product tester for Amazon, you will get approached by many sellers to try their products for free and give honest reviews. Besides that, it also increases your chance of getting an invite to the Amazon Vine program. Therefore, follow the tips and tricks discussed in this guide and bring your passion to light.
- End -