Amazon is the largest digital retailer, with over 12 million products leading to a revenue worth $1.29 billion every day. However, Amazon even allows non-sellers to earn money from the marketplace by promoting other sellers' products.
In fact, the Amazon associates program (or affiliate program) holds a share of 35.7% of the global affiliate market, and you don't need any inventory or capital for this program.
This guide will cover everything from the structure, limitations, and link-building techniques to the complete steps of joining the Amazon affiliate program. So, let's get started!
Amazon Associates Program - An Overview
Amazon associates program, commonly known as the Amazon affiliate program, is a marketing program for bloggers, influencers, and publishers to promote Amazon products on their sites. It is a free sign-up program meant to promote Amazon sellers' products by associates.
In the Amazon associates affiliate program, the associates use link-building tools to route the traffic to their recommendations on Amazon. When visitors click through the link and purchase the product, the associates earn up to 10% commission on each sale, depending on the product category.
If you run a blog, handle a social media account, or own a YouTube channel with a heavy following, you can try this program to recommend products of your choice. Even new affiliate marketers can also start this program and generate passive income.
Under this program, sellers get increased visibility and sales, whereas the affiliates earn extra money, benefiting both parties. However, the affiliates are obliged by law and Amazon to disclose the possibility of commission collection on customer purchases.
The Working Principle of the Amazon Affiliate Program
Earning money with the Amazon affiliate marketing program is not as straightforward as it seems. Under this program, affiliates get money when their redirected visitors purchase the recommended products from Amazon.
Here is the complete breakdown of the process:
Affiliate marketers create links and add them with product details on their website.
Visitors are redirected via an affiliate link to an Amazon product page (mostly).
A redirected visitor buys the product within 24 hours from the link.
The affiliate gets a certain percentage of each sale within the 24-hour time bracket.
It is important to note that affiliates earn only when the visitors book an order within 24 hours of being redirected through the affiliate link. The 24-hour window is refreshed every time the customer revisits your redirected link.
However, affiliates will not earn any commission if the customer purchases the product through another affiliate link. Also, the commission rate depends on the type of product recommended.
Why You Should Join the Amazon Associates Program?
Who doesn't love an extra income stream? Almost everybody does, and that's a fact.
Amazon associates program is an excellent option for people interested in growing their passive revenue. You can easily earn a few hundred dollars a month to five/six figures per year with affiliate marketing.
Here are some of the many reasons why you should join the Amazon affiliate program:
1. Free and Simple to Start
The Amazon Affiliate program only requires signing up on the platform. The process is easy and completely free. You might have to wait sometime for the registration approval on Amazon. Once you are in, you can start right away by creating and sharing affiliate links.
2. Credible Platform
Amazon is one of the largest e-commerce names in the world. It is a well-recognized and trusted brand where top-notch products are sold internationally. Credibility is the foundation for all purchases made online. Therefore, when visitors will find your affiliate link, they will not hesitate to click on that button.
3. Endless Choices
Amazon is home to millions of products from different categories. You can find everything from home appliances to books on this online marketplace. This shows that you have plenty of choices when it comes to deciding the right product to advertise.
4. Building Profit
Affiliates get a profit percentage on every product customers purchase within 24 hours of clicking through their affiliate links. This covers everything customers buy on Amazon within 24 hours, no matter what.
Simply put, the Amazon associates program is a simple and effective way to set a passive income just by smartly convincing people to click and purchase through your affiliate links.
What are the Drawbacks of the Amazon Affiliate Program?
Despite the numerous opportunities for associates and advantages of the Amazon affiliate marketing program, it does have some drawbacks. It is important to understand the limitations before you jump on the platform.
Here are the two major drawbacks/challenges of the Amazon associates program:
1. Different Commission Rates
Amazon pays a different commission for various products under the affiliate program. Generally, the commission rates range from 1 to 10%, depending on the product category. Amazon offers critically low rates for certain categories.
For instance, when selling video game consoles through affiliate links, the associates can earn a 1% commission, which can be disappointing. Therefore, make sure to review the complete breakdown of the commission percentages before starting your affiliate program.
2. Traffic Building Hassle
To redirect visitors to Amazon product recommendations, you must have a massive and genuine traffic flow in the first place. You can only attract the audience who come to your blog, watch your YouTube videos, visit your social media accounts, and follow your content.
Promoting products with affiliate links on review websites or social media channels like Instagram and TikTok is trending. However, building high traffic will take time and effort if you don't have a heavy followership or a large social network.
How Can You Become an Amazon Affiliate Marketer?
Now that you know about the advantages and the dark side of the Amazon associates program, let's understand how you can become an Amazon associate/affiliate.
The registration is super simple and straightforward with the Amazon affiliate program sign up process. To register as an affiliate marketer, follow the steps below:
Navigate to the Amazon associates program website and click on the Sign Up button.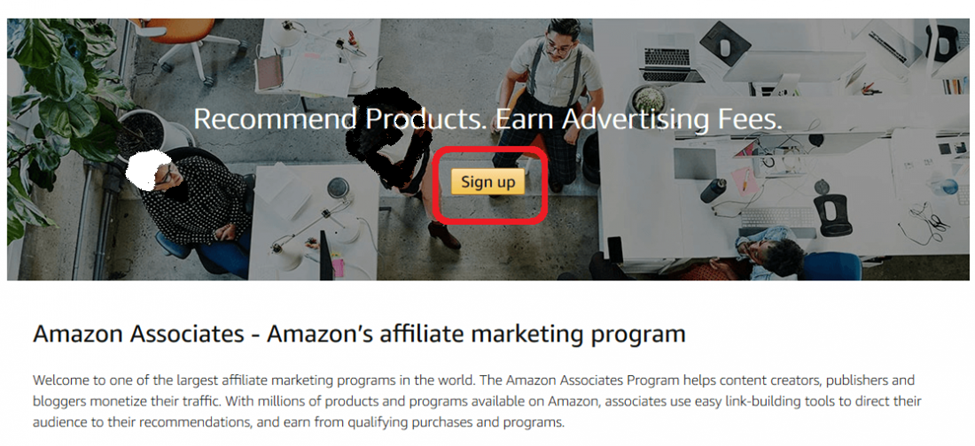 Enter account information, including your name, contact number, and address.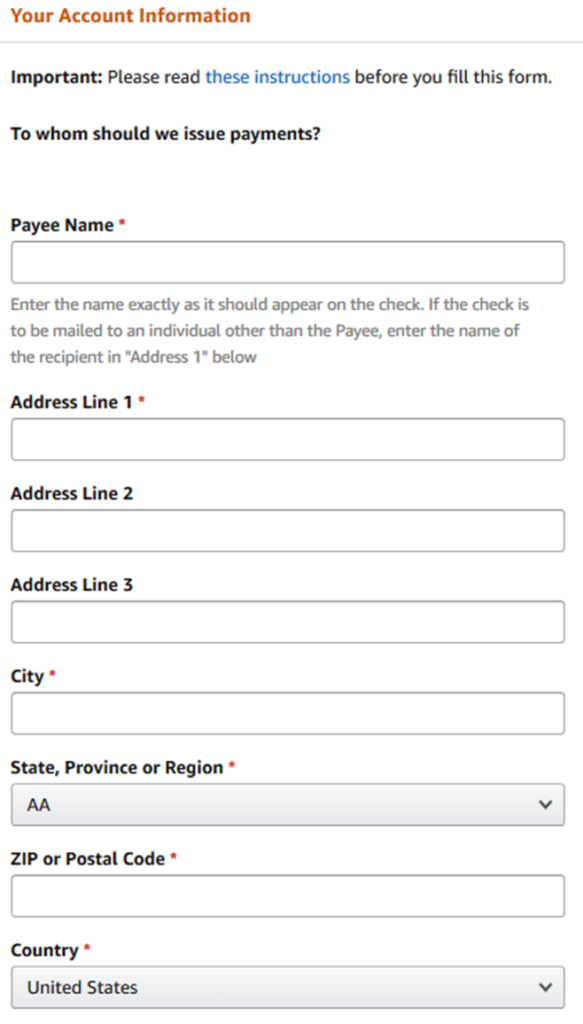 After submitting the account details, you will have to specify the websites or mobile apps where you would want to advertise or promote Amazon products. You can list a total of 50 websites or mobile apps in this section.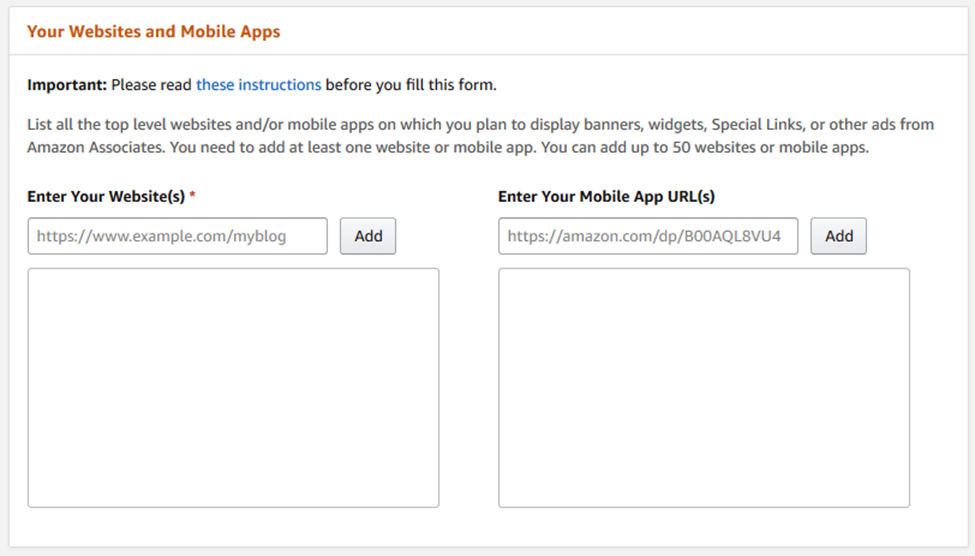 After you have listed all your potential websites and affiliate apps, you will have to add more information about them next. You will have to create an associate store ID, which is mostly the name of your website. Plus, you need to specify what type of products you will endorse or advertise.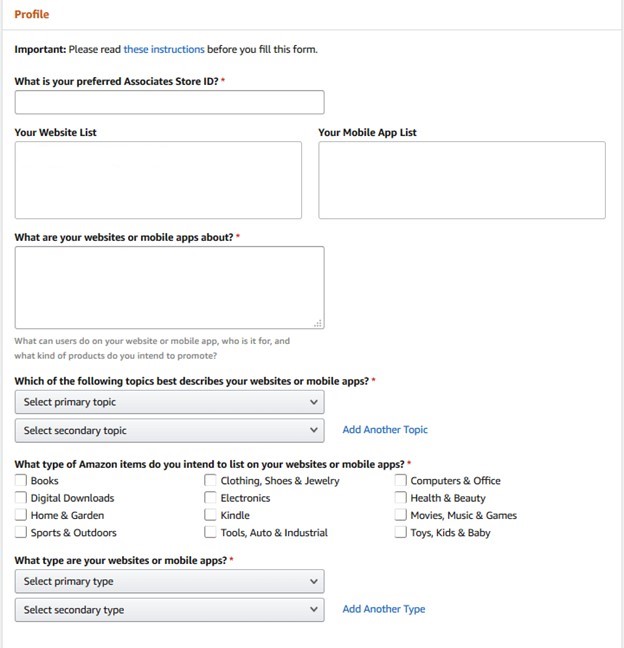 You will then have to provide details on how you will generate traffic and ensure sales. Explain how you usually drive traffic, generate revenue, and build links to convince Amazon. You will have to specify your monthly traffic as well.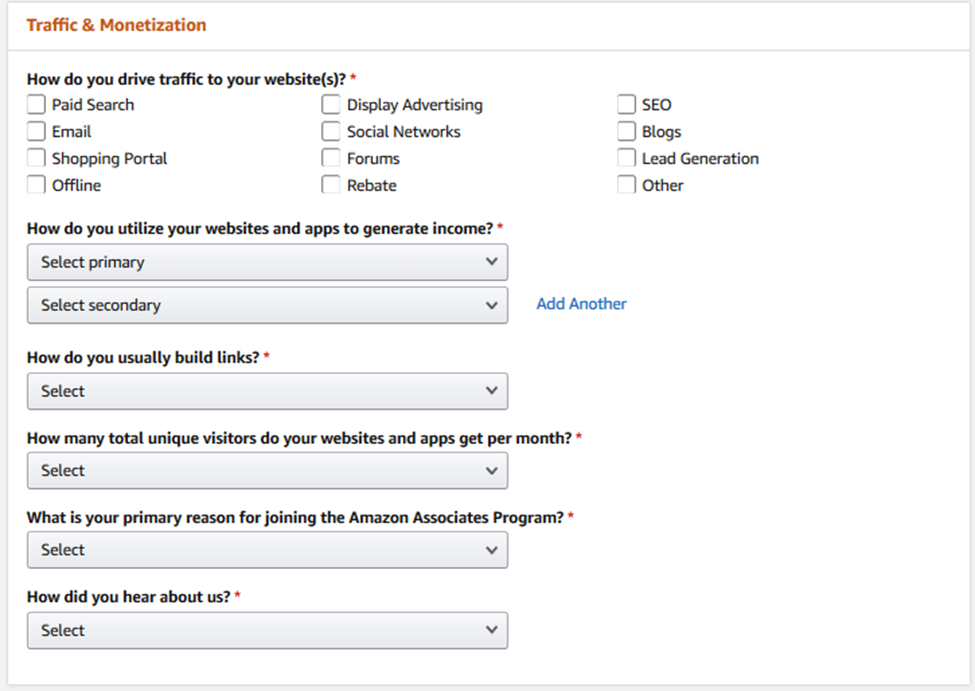 After entering all these details, you will have to wait for an automated call from Amazon to get the 4-digit PIN. Enter this PIN to verify the information you have given during the process. Finally, read the Terms and Conditions and then hit Finish.
Once you are done submitting the application, you will receive a unique Associates ID. You will have to use it for account verification, which may take 1 to 3 days from Amazon to approve you if you have qualified as an associate.
After becoming an Amazon associate, you need to make a sale within 180 days. If you fail to sell a product through your affiliate link in 180 days, Amazon will close your account. Therefore, you need to have a practical plan before becoming an Amazon associate.
Amazon Associates Program Guidelines
Amazon has strict standards and policies for websites and platforms to qualify for promotion. You can't advertise its services and products just anywhere as an Amazon affiliate. Therefore, you must learn about the features that make a site unsuitable for affiliate marketing to avoid inconvenience.
When advertising Amazon's products and services, make sure that the site does not:
Violate copyrights
Contain sexually explicit content
Promote illegal activities or violence
Support harassment or fraudulent activities
Contain hate speech, abusive, or harmful content
Involve privacy invasion or discrimination
Moreover, your content and sites must not be targeted to children. Particularly, in the U.S., it should not capture or share information about children under 13 years. Also, your websites must comply with the local laws of child protection.
Therefore, you must fulfill the Amazon associates program requirements listed above while choosing the platform to advertise the products.
How Can You Create Amazon Affiliate Links?
Once you have created your affiliate account, you can head on to make some money on the platform. Affiliate marketers generate income commonly through product links. To create affiliate links, marketers most commonly use product linking tools.
You can create your Amazon affiliate link through the following method:
Log in to your Associate Central account using your credentials.
Go to your Product Linking drop-down menu and select Product Links.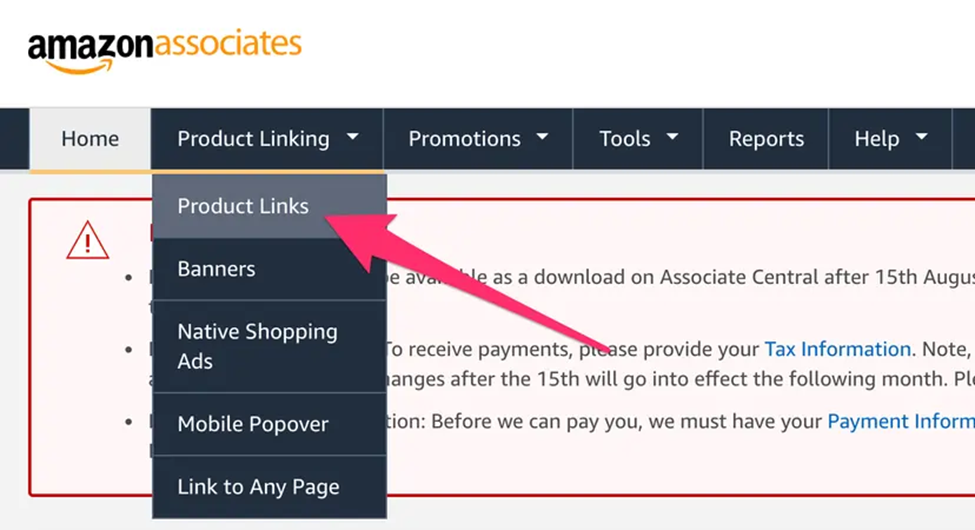 Search for your product from the search bar on Amazon. You can even enter the ASIN of the product directly to locate it.

Click on Get Link towards the right of each result to obtain the link.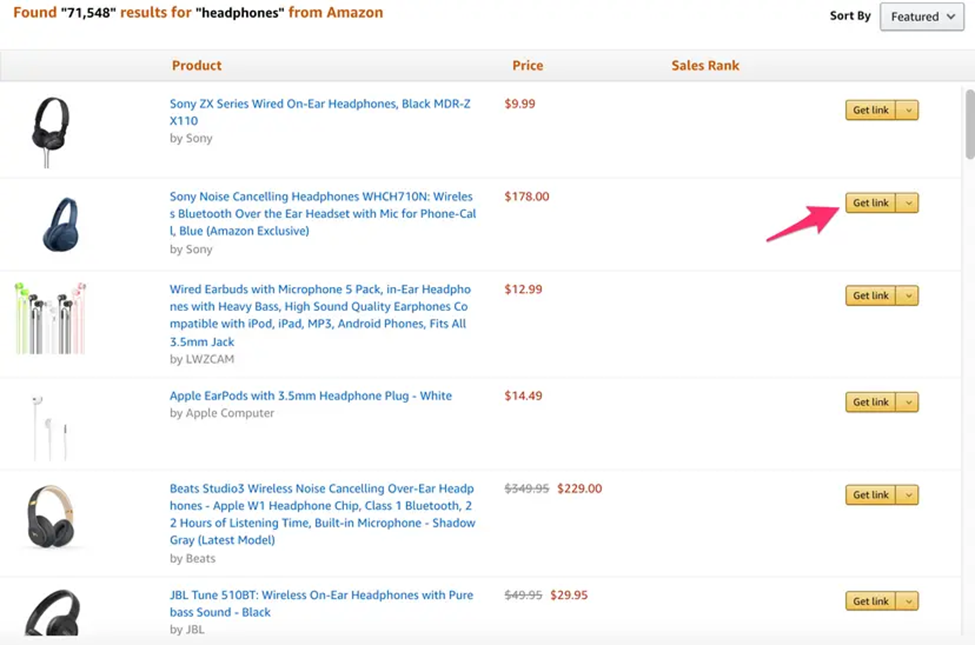 You can use this link to advertise products on your social media accounts or websites. You can customize your ad in a text or image format and even a combination of both.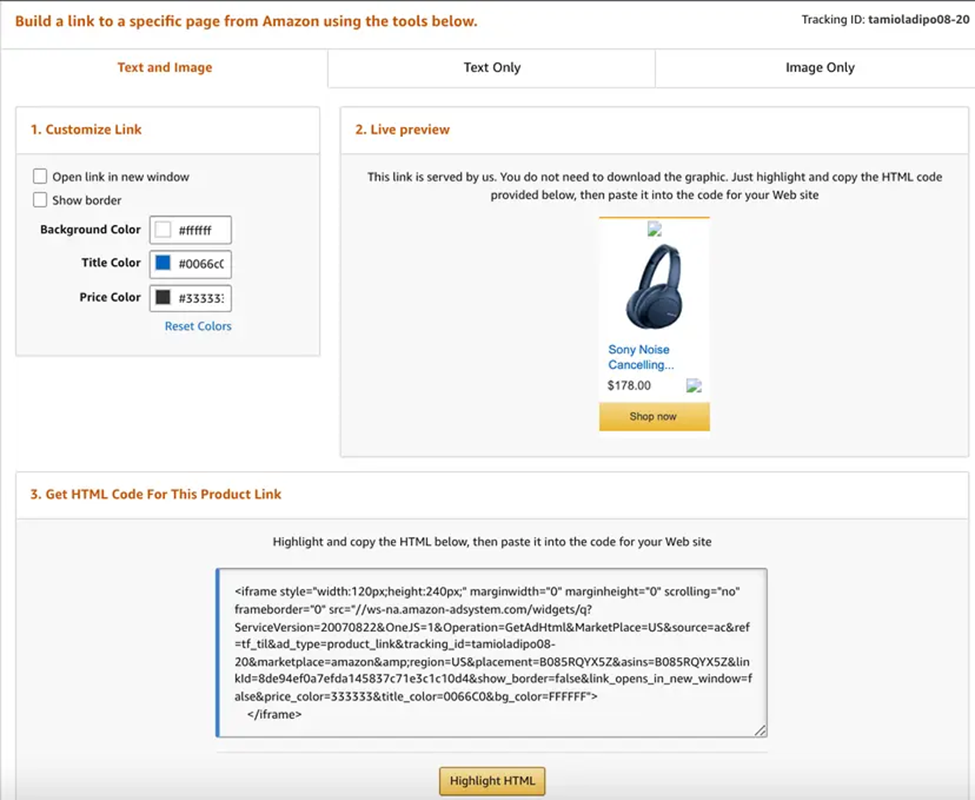 Alternatively, you can create links directly with the SiteStripe feature on Amazon. You can easily find this tool on the top of the Amazon Retail webpage.

SiteStripe lets you create affiliate links for just any product by visiting the product page. It enables the creation of different types of links, such as text, images, a combination of images and text, and customized shopping ads. However, you must have the same accounts for Associate Central and Amazon Retail to use the SiteStripe feature.
How Does Amazon Pay Commission to the Affiliate Marketers?
Under the Amazon associates affiliate program, you can get your commission via 3 different payment modes, including:
Direct Deposit: If you give your bank account information to Amazon, you can receive payments through direct deposits. However, you must earn at least $10 to use the Amazon direct deposit service.
Cheque: As an affiliate, you can provide your mailing address to receive cheques from Amazon. However, to use this service, your payment should be much larger than the direct deposit mode. Your minimum payment must be at least $100, with a $15 processing fee on each cheque.
Amazon gift card: Amazon can send you gift cards to your main email address. The minimum amount you can receive from Amazon is $10 via the gift card service.
It is important to note that your Amazon associates program income is deposited and delivered within 60 days.
Tips and Tricks to Earn Profit as an Amazon Affiliate Marketer
If you want to become a successful Amazon affiliate program marketer, you must seriously work on this partnership. Your income primarily depends on conversions and not just clicks. You need to come up with smart ideas for promoting Amazon product listings differently.
The first thing you must ensure is that the websites you select for advertisements comply with Amazon's standards and policies. Once you have your platform in line with Amazon guidelines, you can proceed to optimize your content. Below are further tips and tricks in this perspective:
1. Decide Your Niche
It is essential to select the right niche that aligns with your interests. If you end up choosing a niche you know nothing about, you will create uninteresting content, eventually leading to burnout. Therefore, choose a product on which you can create content and write easily.
Besides that, looking at the top-selling products on Amazon for various categories can also help in finding the right and rewarding niche.
2. Stay Consistent
To create a successful profile as an Amazon affiliate, you must work on driving massive traffic. You need to keep the community engaged and hooked with interesting and fresh content in your niche. Make sure to keep your posts active by putting up content regularly.
In the posts, you can highlight the customers' needs that can urge them to make a purchase. For that, you can use Shulex VOC customer sentiment analysis to understand their expectations and purchase motivations and then orient the content accordingly.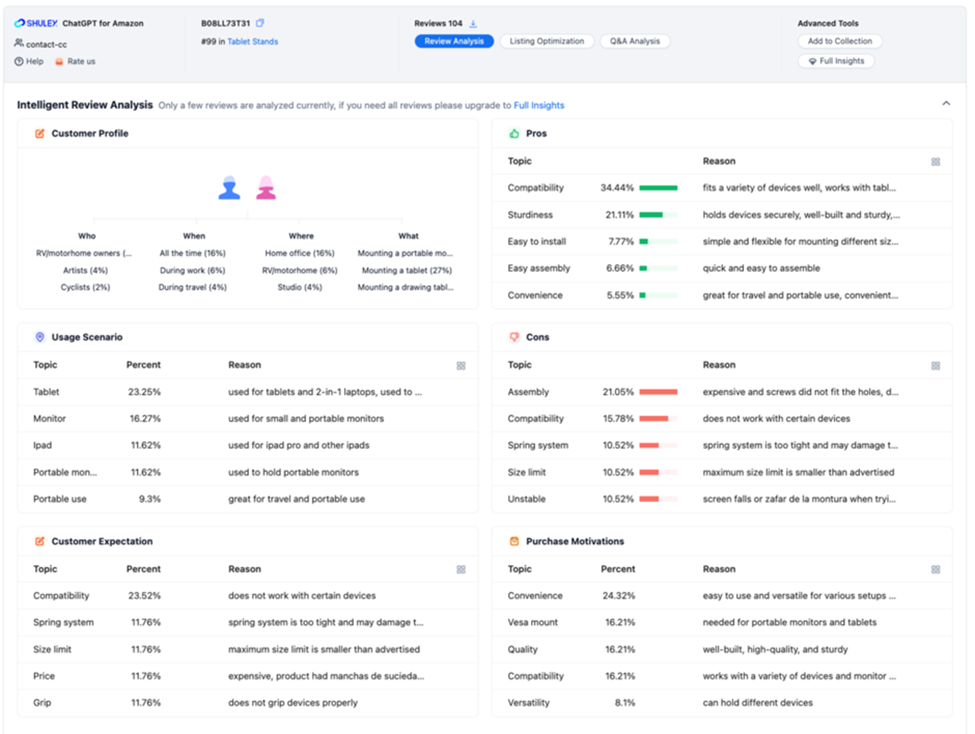 3. Explore Different Mediums
Nobody likes stale and boring content anymore, so you must not stick to the same thing forever. Remember that you are making sales even as an affiliate marketer. Therefore, keep bringing innovative ideas and exploring different types of content and mediums to attract potential audiences.
4. Research Keywords
Every search engine requires keywords to generate the most relevant results for users. After you finalize your niche and products, you need to find SEO keywords and orient your content around them. Here again, you can use the Shulex VOC AI-powered keyword research feature to search product-specific keywords, increase your visibility, and drive conversion.
Wrapping Up – The Amazon Associates Program is a Money-Making Machine
Amazon associates affiliate program is a golden opportunity to unlock your affiliate marketing career. You only need a free account and a well-suited website or social media handles to endorse your favorite products and generate passive income.
Affiliate marketing can be a great side business if you find your niche wisely and craft compelling content. So, follow the steps and tips discussed in this guide and take your first step in the Amazon affiliate marketing program.
- End -