Amazon is the largest e-commerce platform, with 1.9 million active sellers. To solve queries of all the sellers on the marketplace, Amazon has an established seller support and customer care service.
As of 2021, 100,000 Amazon employees were working for Amazon as customer service agents. So, Amazon customer service is readily available to assist Amazon sellers in resolving any issue related to inventory, listing, orders, accounts, etc.
Today, this guide will cover everything related to Amazon customer service and how sellers can contact the support team through Amazon Seller Central phone number and email.
How Does Amazon Seller Support Assist Sellers?
Around 3700 new sellers join the platform of Amazon per day. From their registration process to becoming approved sellers, Amazon seller support actively helps sellers with all their queries and issues.
For example, around 1.01 million sellers use Amazon's FBA model to sell their products. These FBA sellers face a number of issues like inventory delays, product copyright issues, shipping complications, and refunds from customers. Amazon customer service serves as a one-stop place for them to get the required assistance and find solutions rapidly.
What is Amazon Customer Service Phone Number?
Unfortunately, there is no direct way to get Amazon customer service phone number. One possible reason is that Amazon doesn't want to receive continuous calls from anyone randomly, even if they are not selling on Amazon.
The only way to speak with customer service on the phone is through Amazon Seller Central. Amazon Seller Central is a complete dashboard for Amazon sellers to manage all their Amazon-related activities.
After Amazon Seller Central login, you can use the below links to directly head to the help center:
In the next section, we will talk in detail about how to use Amazon Seller Central to contact Amazon customer service.
How to Use Amazon Seller Central to Contact Amazon Customer Service?
Now that we know that there is no direct way to access the Amazon customer service phone number, let's discuss the steps you need to follow to get the Amazon Seller Central support phone number:
Step 1. Start with Amazon Seller Central login using your credentials. Afterward, navigate to the Help section from the top left corner of the home page.
In the help section, the Amazon Customer Service team has listed some recommended support solutions. Go through these and see if they solve your problem.
If you do not find an answer in the recommended solutions, scroll down the page. You will see a tab Need more help? From this tab, click on the Get Support button.

Step 2. Now, you have to specify what kind of support you need. Choose Selling on Amazon if you need assistance related to listing/selling on Amazon. Alternatively, choose Advertising & Stores if you need assistance related to sponsored stores/brands/products.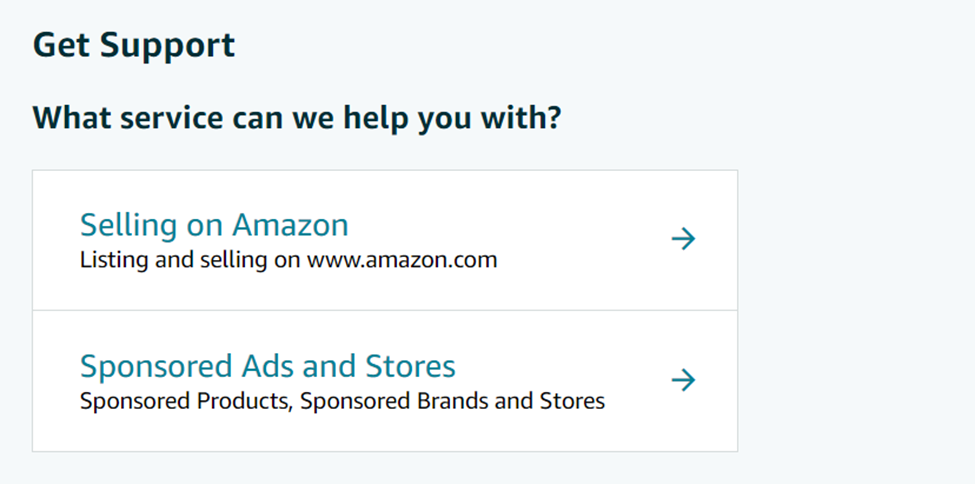 Step 3. You will now see a detailed page of common questions as hyperlinks. Once you click any of the hyperlinks, you will get a list of relevant questions as hyperlinks.
See if you could find the question similar to the issue you are currently facing. Alternatively, use the search bar to search for specific issues.
Step 4. If the list of questions doesn't match your issue, click Contact us.
Step 5. Choose the language in which you want to communicate. Afterward, you will get two options to interact with the Amazon customer service team, i.e., Email and Phone.
Step 6. If you choose the Email option, mention the reason for contacting customer support. Make sure you describe your issue in clear terms. Finally, click on the submit button. Amazon will contact you through your email address within a day or close your request.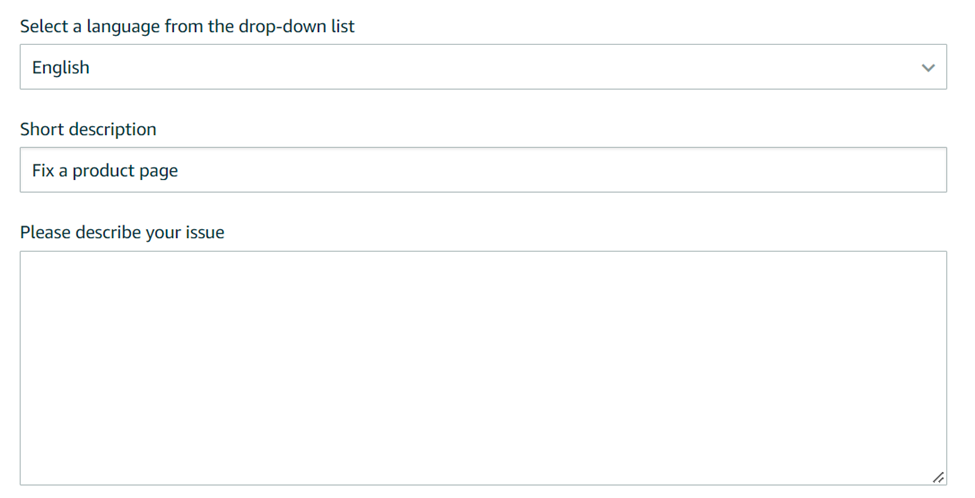 If you prefer talking over the phone, choose the Phone option. Enter your email, country, and mobile phone number. Click on the check box that asks if the issue is urgent, and then click call me now. You will receive a call from an Amazon phone number in a short time.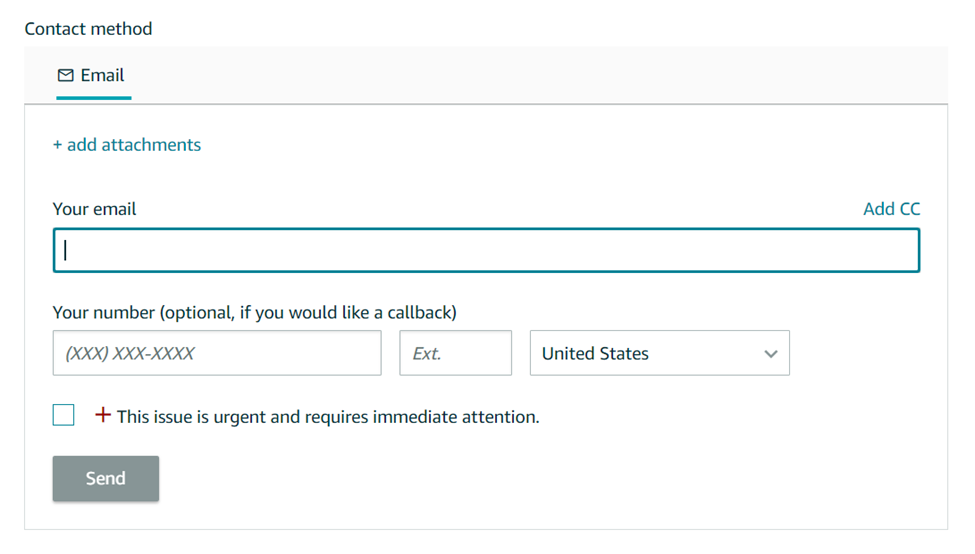 That's it! Using these simple steps, you can easily access Amazon Seller Central phone number or get a response through email. However, the time and nature of the response from Amazon depend on how well you have explained your problem. Besides that, avoid opening the same case multiple times.
Tips for Interacting with Amazon Customer Service
Although Amazon customer service is designed to resolve queries of sellers efficiently and timely, some practices can help improve the experience both for the sellers and the customer support agents. So, follow the below tips when you interact with Amazon customer service:
Tips for Dealing with Amazon Customer Service on Call
Before you decide to get a call from Amazon phone number, make sure you have a few important things ready, as follows:
Remember your Seller Central details and your billing information, as the Amazon customer service agent may require this to look into your problem.
Ensure that you have written down the main points regarding the issue you are facing so you can communicate effectively.
Do not forget to write down the details the customer service agent gives you, which will be required in the future as your case progresses.
Tips for Dealing with Amazon Customer Service on Email
If you are choosing to connect with Amazon customer service through the Amazon Seller Central email option, use these tips below to get a quick and effective response:
Your language must be clear and concise.
Include all the necessary information to make it easy for the support team to answer your query quickly.
Make sure you focus on one issue only. This will help you get a timely response from the relevant department.
If you are facing different issues related to products or your account, make separate cases for each issue.
Give a title to your case before submitting it. This will prevent you from confusion if you have opened multiple cases.
Additional Tips for Amazon Seller Support
Below are a few additional tips that can help you in a more effective Amazon seller support experience:
If your case is urgent, you should go for a call option when contacting Amazon customer service. You will be contacted shortly by an agent through Amazon's phone number to address your query. Filing a case through email can be a slow process and may take even days to resolve.
When you receive a call from an Amazon customer service phone number, do not lose your cool. You must remain calm and composed to clearly explain your issue to the agent. Do not lose your frustration on customer service, as they are only trying to help you.
You can track the progress of your complaint from Amazon Seller Central by opening the Case logs in the Help section.
Amazon prefers buyer satisfaction over anything. If you are receiving too many bad complaints or reviews on a product, you cannot expect Amazon's customer service to help you. In such cases, use the AI-powered Shulex VOC tool to carry out in-depth sentiment analysis and then take measures accordingly.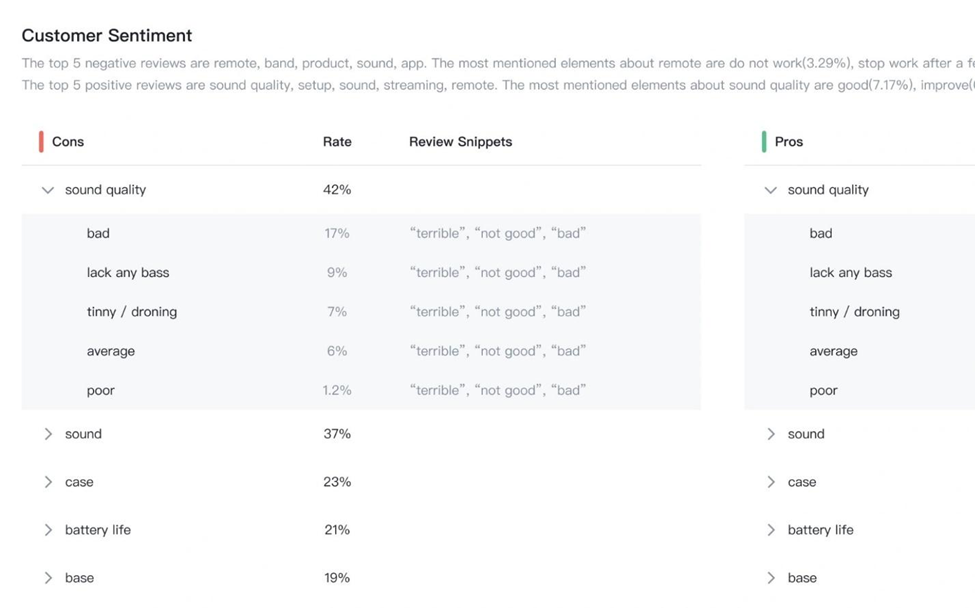 Wrapping Up - Use Amazon Customer Service Smartly and Resolve Issues Quickly
Amazon not only boasts the largest e-commerce marketplace but also maintains an extensive customer support team distributed across the globe. So, if you face issues, follow the steps discussed in this guide to easily interact with the Amazon support team through Amazon Seller Central phone number or email support. All you have to do is specify the issue properly and get a timely and effective response accordingly.
- End -