Amazon is one of the largest e-commerce websites, with more than 310 million users worldwide and over 600 million products listed online. Around 2 million active sellers are generating revenue from this digital marketplace while attracting others to join and grow their businesses.
Amazon Seller Central is a portal where sellers can access their accounts and manage their business with useful tools and analytics. However, beginners may feel intimidated or overwhelmed without any idea where and how to start.
Therefore, this guide explains Amazon Seller Central features, provides step-by-step instructions, and presents the best practices for using the platform effectively.
What You Need to Set Up an Amazon Account
Quick Overview of Amazon Seller Central
Amazon Seller Central is the online interface or dashboard for brands and retailers to add and sell their products to Amazon customers directly. Sellers can use this portal to access their accounts to manage payments, deliveries, and advertisements.
Seller Central Amazon provides a dashboard to track items, handle orders, and analyze sales with various tools and analytics. Moreover, sellers don't need to develop or maintain their personal websites to start and handle their business online.
Plus, if sellers go with Amazon FBA, they don't have to worry about picking, packing, and shipping, as Amazon manages it for them to ease the selling process.
Understanding the fundamentals of Amazon Seller Central is important to kickstart and expand your business successfully on the platform.
Features of Amazon Seller Central
Amazon Seller Central is the main hub of Amazon sellers, facilitating them with various operations. When you log in to your Amazon Seller account, it provides you access to all features at the top of the page.
You can perform the following operations with Seller Central Amazon:
Add product listings
Update product information
Monitor daily sales of your products
Access tools to boost your sales
Track inventory
Get business reports
Manage payments and refund requests
Assess your sales performance with customer metrics
View inventory and business reports
Advertise products by managing marketing campaigns
Handle shipping with Fulfillment by Amazon (FBA)
Analyze customer reviews
You can do a variety of functions using Seller Central Amazon, which will be discussed later in the article.
First, let us discuss how you set up your Amazon account.
What You Need to Set Up an Amazon Account
Before you start selling on Amazon, you need to create your Seller Central account. To complete the setup quickly, you must have some essential information available.
Here is the checklist of details that you will need:
Contact number
Bank account number
Government-issued national identity card
Credit card data
Tax information
Steps To Create an Amazon Seller Central Account
Before understanding how to sell on Amazon, you need to create your account first.
To create an Amazon Seller Central account, follow the steps below:
Visit the official Amazon Seller Central website.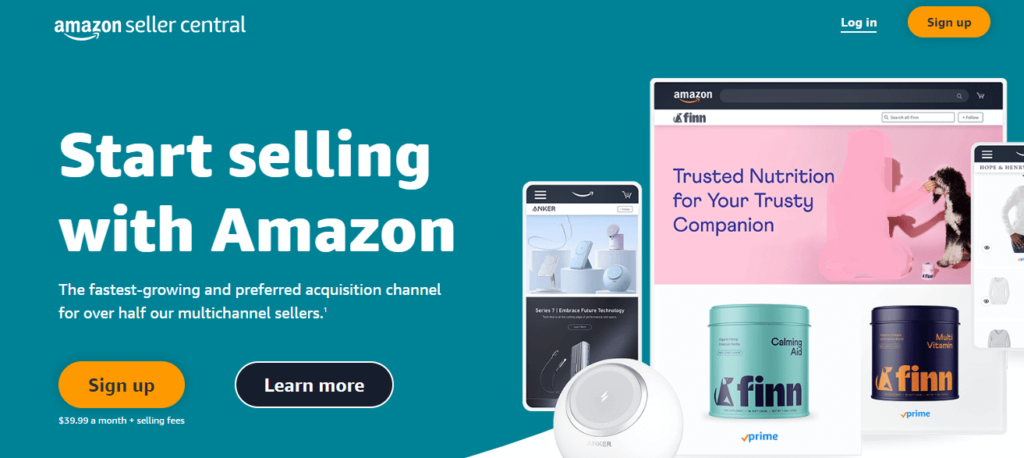 Click on Sign Up in the top-right corner.
Enter your phone number or email and password.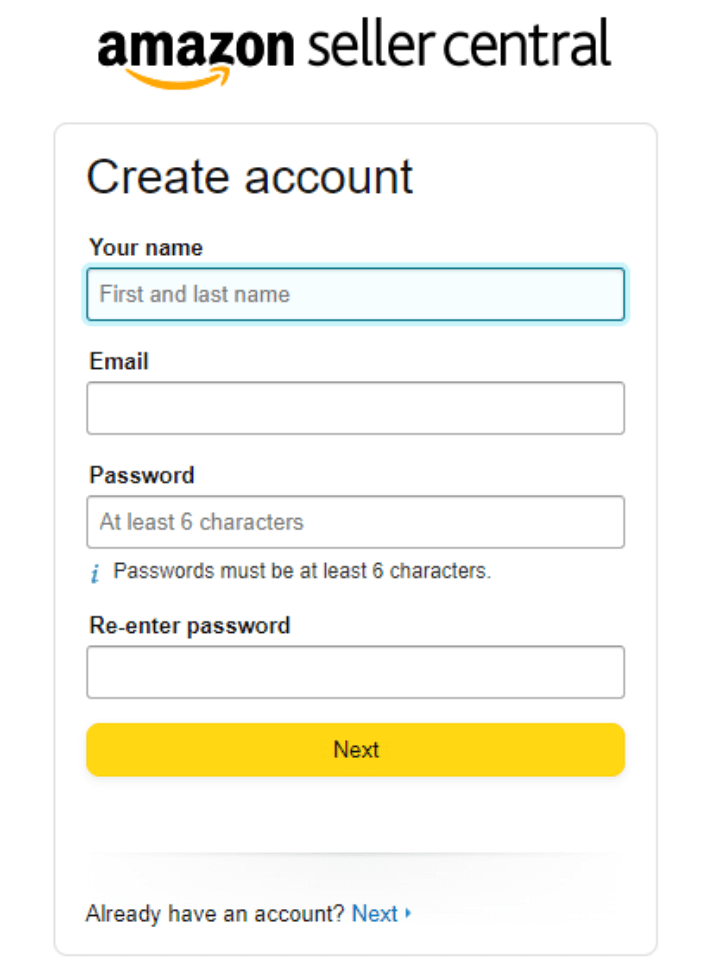 Select your region and language.
Add your phone number and address.
Pick the selling plan you prefer (Individual or Professional).
Enter your bank details and tax data.
Read and accept the privacy policy and agreement.
Hit Create Your Amazon Account.
Click on the link received by Amazon in your email shortly after submitting the details to confirm your registration.
Types of Amazon Seller Plans
Amazon Seller Central comes with two different plans, termed Individual Selling Plan and Professional Selling Plan. The two are targeted at sellers with different sales volumes.
Let us cover these plans one by one to understand their usage.
Individual Selling Plan
The Amazon Individual Selling Plan lets you advertise and sell your products easily on Amazon without signing up for a subscription plan. It is an ideal plan for beginners starting out their business or sellers with low-volume sales.
With an Individual Selling Plan, sellers don't need to pay monthly fees or additional upfront charges. Sellers just have to pay $0.99 for each product they sell on Amazon, making it a super affordable option.
Professional Selling Plan
The Professional Selling plan on Amazon Seller Central is perfect for established businesses with regular and decent sales volume. Sellers can access additional features that are unavailable in the Individual Selling Plan, like inventory control, bulk upload, reporting, advertising, and Amazon API connectivity.
Additionally, with the Professional Selling Plan, businesses can get 10 extra product categories that are not accessible in the Individual plan. Also, there is no variable fee deduction on the number of sales made by sellers. They are charged a fixed fee of $39.99 on a monthly basis for unlimited sales.
Costs of Selling on Amazon
You need to pay a couple of different fees on Amazon, no matter what products you sell. Your selling plan and product categories decide the fees you will have to pay on the platform.
Here are the types of fees you may have to pay:
Subscription fees
The primary charges you pay depend on the Selling plan you choose.
With an Individual Selling Plan, you are charged $0.99 for each product you sell.
The Professional Selling Plan charges a fixed fee of $39.99 every month without any percentage of sales.
Selling fees
A selling fee is charged for every product sold on Amazon. It includes variable closing fees applied to some particular types of media and a referral fee that varies according to the product category.
Shipment fees
After you fulfill your orders yourself, you will be charged a shipment fee. It is applied according to the product category and delivery service selected by the customer.
FBA fees
FBA or Fulfillment By Amazon fee is associated with storage services, order completion, and extra services for products fulfilled by Amazon.
Ways To Sell on Amazon - FBA or FBM
You can sell in two ways on Amazon Seller Central: FBA or FBM.
Fulfillment by Amazon (FBA) allows businesses to keep their products in Amazon fulfillment centers. In this model, Amazon takes care of customer service and shipment of these items itself.
Whereas Fulfillment by Merchant (FBM) is a service where sellers are responsible for handling fulfillment and shipment of their products themselves. It is a perfect service for sellers who have the resources and are interested in controlling their fulfillment process. Sellers can easily access different shipping options and customize these methods.
You can decide on the service for your sales according to the size and weight of your product.
If you are making high-volume sales on a product that doesn't need much manual involvement, then you must go with FBA. It will manage the product storage and take care of the shipping process for you, letting you work on other important business needs.
However, if you have a small-scale product or low-volume sales, FBM will suit you best. It will give you more control over storage and make you handle the shipping yourself.
Features of Amazon Seller Central Dashboard
Amazon Seller Central dashboard has some primary features that every seller must understand to work effectively.
Here is the list of features:
Catalog
The catalog section is an essential feature in the Amazon Seller Central dashboard. It lets you upload or create items on Amazon. You can even add existing products, save your work as drafts, and resume it later. Plus, you can update item descriptions, images, and prices.
Inventory
Inventory is one important tab on the dashboard for managing stock and ensuring the availability of the products you sell. You can also handle shipments sent to Amazon warehouses and find any issues with the listed items.
Pricing
The pricing tab on the Amazon Seller Central dashboard enables you to set and adjust the prices of the products you sell. It also enables alerts and changes the prices of your products for your competitors.
Advertising
The advertising option in the Seller Dashboard lets you create, manage, and optimize campaigns using different metrics, like conversions, sales, etc. Also, you can use deals, coupons, and promotions to position your products on Amazon. Plus, you can create different types of advertisements for your product promotion.
Orders
In the orders tab of the Amazon Seller Central dashboard, you can view all the orders received along with the fulfillment status against every order. It also lists the orders that are under process, shipped, pending, or returned.
Reports
Reports on the dashboard are helpful for tracking your business performance with orders, payments, taxes, and advertisements. Different metrics are available to make wise decisions for the future and scale your business. You can find different reports, such as inventory reports, customer reports, and advertising reports, based on your product performance.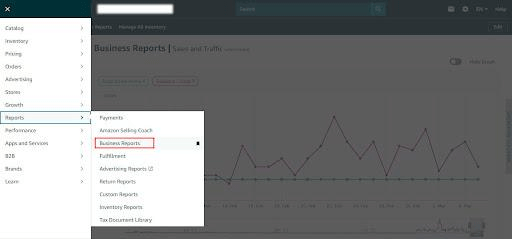 Performance
In the Performance section, you can check messages from potential customers and track buyer feedback. Moreover, it allows you to assess customer sentiments to take the right actions. Additionally, it provides information about shipping performance, customer service performance, policy adherence, etc.
How To Add Products on Amazon Seller Central
To add products on Amazon Seller Central, follow the simple steps given ahead:
Login to Seller Central Amazon using your account credentials.
Go to the Catalog tab on your Amazon Seller Central dashboard.
From the drop-down list, pick the Add a Product option.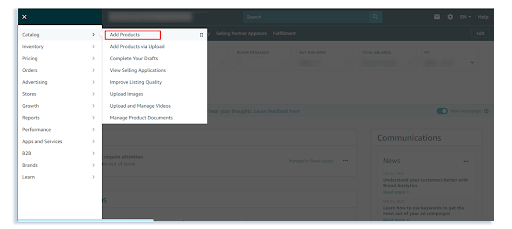 Click on I'm selling a product not sold on Amazon if you want to sell a new item.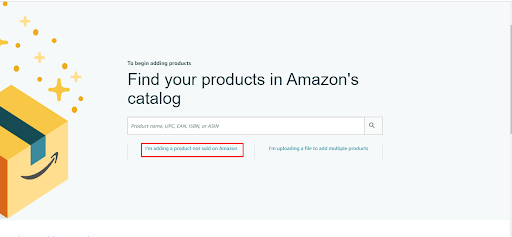 Choose your product type or category where your product will be listed.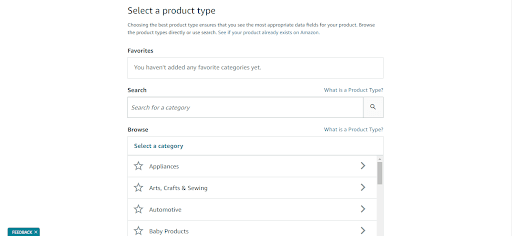 Now, search for your product type and choose the category that matches it.

Enter the product information, including brand name, titles, and images, in the fields.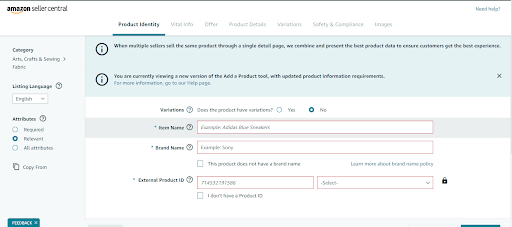 If you want to add an existing product for sale on Amazon, follow these steps:
Navigate to Add Product and type the item ASIN.
Go to the product's listing page and then the product details section to get the ASIN of the product.
If it is the right item, hit Sell this Product.
Set pricing and pick the fulfillment method to create an offer.
Boost Your Revenue With Profitable Sales on Amazon
To improve your performance and increase sales, you first need to know how your product is doing in the marketplace. You can find the high-demand products from the SellerApp's Opportunity Score.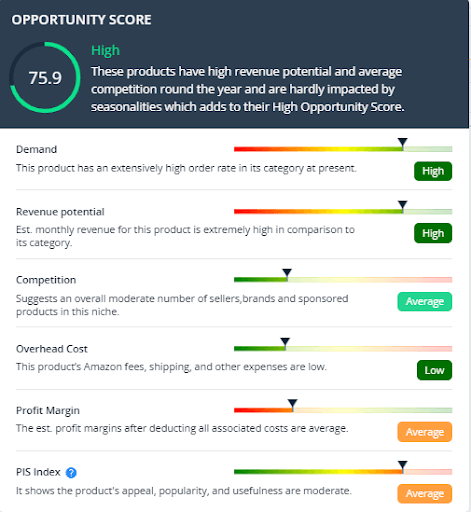 SellerApp's Opportunity Score is computed by evaluating the different metrics discussed below:
Demand: It reflects the demand for the product on Amazon. A high demand for a product indicates more order count in the category.
Revenue generation: It tells the revenue potential of a product. If the estimated revenue of a product is good enough, you can expect high profits.
Overhead cost: It shows the additional charges attached to the product affecting its profitability. If the overhead costs of a product, like shipping, Amazon fees, and other expenditures, are high, the profit will be high.
Competition: It determines the position your product holds in the overall competition.
Profit Margin: It helps you assess if you can get a decent range of profitability with a product. If the profit after all expense deduction is high, you will earn more profit from the product sales.
How To Check the Opportunity Score of Your Product
The Opportunity Score of a product determines the potential profit or loss ratio by the sales. You can check the opportunity score of your product using the following method:
Login to your Seller dashboard using your credentials.
Click on the Product Intelligence tab in the left bar.
From the table view of the products in the column, scroll right and get the opportunity score against the product.
Click on this column to view the opportunity scorecard.
Amazon Seller Central - Best Practices
Just like the other digital platforms, you should consider the following practices while using Amazon Seller Central.
1. Add Attractive Product Listing
While selling products, make sure to write high-quality and engaging product descriptions. Moreover, present them in bullets for deeper impact and conciseness. Also, try to include SEO-based keywords to rank your product on top search results.
Shulex VOC can help you optimize your listings by understanding your customers and determining what they like or dislike about your products. Plus, you can compare your products to your competitors and adjust your prices accordingly.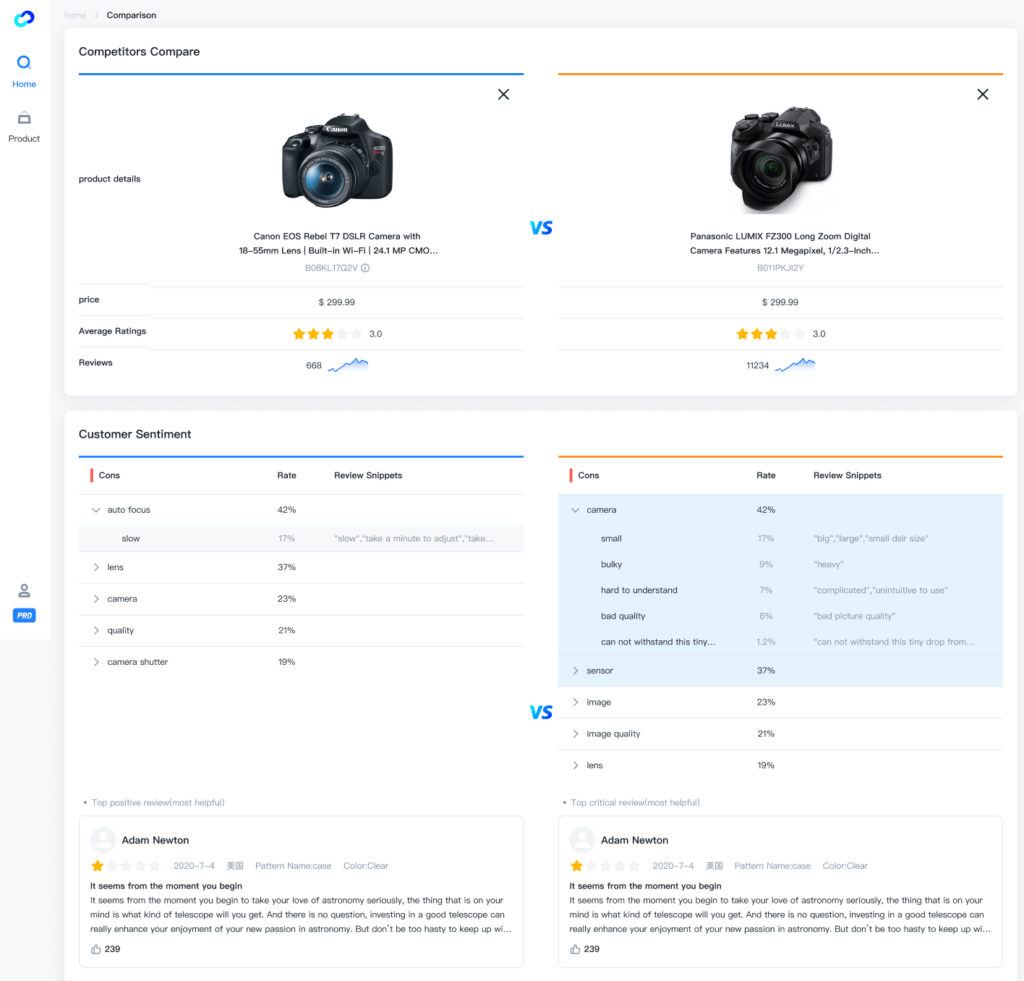 2. Monitor Your Inventory Level
Keeping a record of your Amazon inventory is essential to make sure you are well-stocked and able to fulfill customer demands. This practice ensures a smooth customer experience and maintains a strong ranking in the search results.
3. Offer High-Quality Customer Service
Providing world-class customer service is vital for sellers to build customer confidence and win their trust. Customers tend to buy from businesses that value them and deliver exceptional services to help their clients. Plus, ensure timely delivery to avoid negative feedback and reviews.
To build a deep relationship with your buyers, analyze customer expectations and identify their core needs using Shulex VOC. It also provides effective customer sentiment analysis to assess their satisfaction.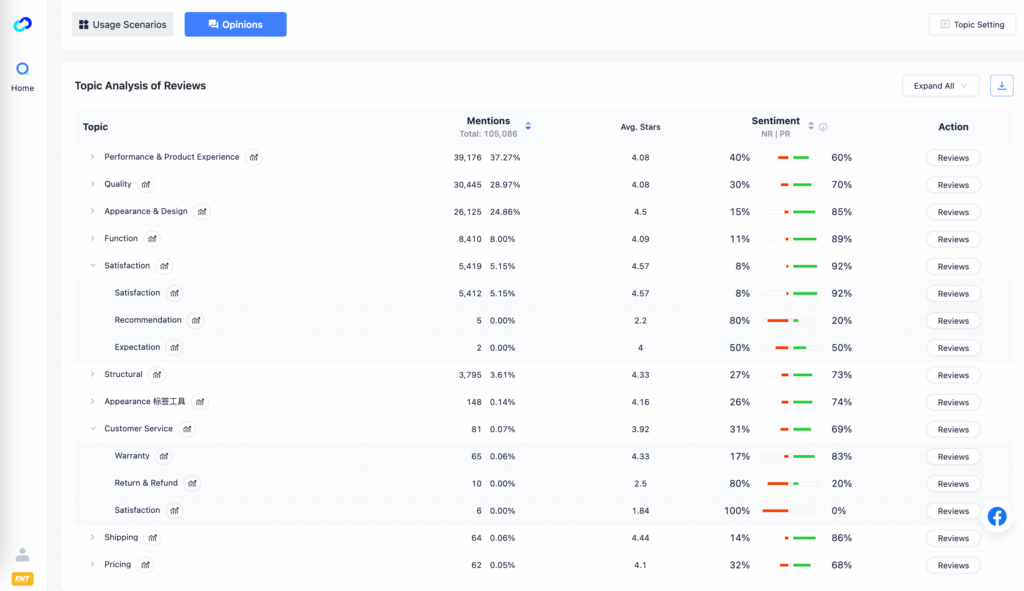 4. Find Effective Marketing Campaigns
If you design a successful marketing campaign, it leads to improved visibility and increased traffic on your page.
Therefore, it is important to properly understand your customer needs and find product opportunities on Amazon to target the right items. With Shulex Copilot, you can assess your competitors, analyze customer feedback in 10 languages, and learn the improvements your marketing model needs.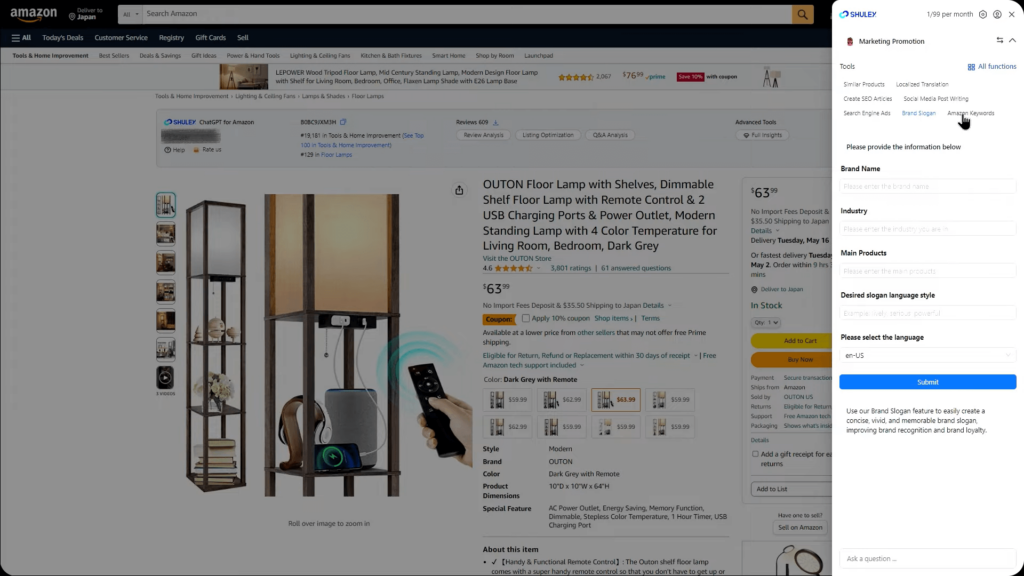 Things To Avoid on Amazon Seller Central
To scale your business on Amazon Seller Central, you need to avoid practices that can damage your repute and ruin the customer experience.
Here are the points that you must avoid on Amazon Seller Central:
Providing expensive and late shipments
Displaying fake or purchased customer reviews
No understanding of Amazon's fee structure
Making numerous Seller Accounts
How Can You Change Your Account Information in Amazon Seller Central?
To change your account information in Amazon Seller Central, follow the steps mentioned next:
Login to your account using your Amazon Seller Central sign in.
Navigate to Settings.
Click on Account Information.
Now select the particular information you want to change, such as the name of the store, business address, or contact details.
Make the required changes.
Once you are done with the changes, click on Save to apply them.
Review these changes to ensure completion.
Confirm the changes by clicking on Submit.
Is It Possible To Give Third Person Access to Your Amazon Seller Central?
Yes, it is possible to give access to your Amazon Seller Central account to a third person. This feature is useful for sellers with virtual assistants or employees who manage their sales and help their businesses.
To enable third-person access, go to Settings in the top right corner of the window. Now, press User Permissions and add the third person as a legitimate user of your account.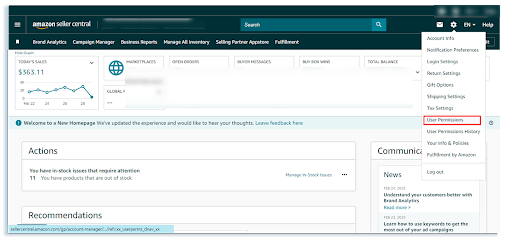 How Can You Contact the Amazon Seller Support Team?
You can contact the Amazon Seller support team in a couple of ways.
Reach out to the Amazon Seller Central customer service team through live chat or email service.
Visit the Amazon Seller Central website and navigate to the Contact Us page.
Directly call the support team.
Regardless of the method you opt for contacting the Amazon Seller Central support team, they will be available to assist and guide you.
Wrapping Up – It's All About Efficient Use of Amazon Seller Central
Becoming a successful seller on the Amazon marketplace requires applying the right tools and useful resources. Amazon Seller Central is the vital component of this fastest-growing e-commerce website.
You can boost your sales with the useful Amazon Seller Central features and analytics after you develop a deep understanding of the platform. On top of that, you can get deeper insights about customers and competitors with AI-powered Shulex VOC. So, keep this guide as your reference for Amazon Seller Central and begin using its full potential from today.
- End -