Introduction
E-commerce is on the rise, with online sales projected to make up 18-20% of all retail sales this year. With the growing popularity of buying things online, it's the perfect time to start your online business. However, choosing the right platform can be a daunting task. In this article, we will compare two popular e-commerce platforms, Amazon and Shopify, and discuss the pros and cons of each. By the end of this article, you will have a better understanding of which platform is best suited for your online business.
Table of Contents
Introduction
Pros and Cons of Amazon

2.1 Pros of Selling on Amazon
2.2 Cons of Selling on Amazon

Pros and Cons of Shopify

3.1 Pros of Selling on Shopify
3.2 Cons of Selling on Shopify

The Best e-commerce ChatGPT Tool
Conclusion
Pros and Cons of Amazon
2.1 Pros of Selling on Amazon
Massive customer base: Amazon is a 1.6 trillion dollar company and has over 112 million prime customers. This means there is already a large pool of potential buyers for your products.
Easy setup: Amazon makes it simple to start selling on their platform. All you need is some product images, a title, bullet points, and a description.
High conversion rates: Amazon's trusted reputation makes customers more likely to convert into a sale. Conversion rates on Amazon are typically 10-30%, compared to 1-3% on Shopify websites.
Fulfillment by Amazon (FBA): With FBA, Amazon takes care of the picking, packing, and shipping of your products, allowing you to focus on growing your business.
Access to third-party sellers: Two-thirds of all sales on Amazon come from third-party sellers, like you and me. This means you can tap into a large customer base without the need to build your own website.
2.2 Cons of Selling on Amazon
Saturation: Amazon has over 9 million sellers, with thousands of new sellers joining every day. While this may seem daunting, many sellers on Amazon aren't serious or don't fully understand the platform, giving you an opportunity to stand out.
Rules and restrictions: Amazon has a strict set of rules that sellers must adhere to. Violating these rules can lead to suspension or removal from the platform.
Limited customization: While it's easy to set up a product listing on Amazon, customization options are limited. You have less control over the design and layout compared to Shopify.
Pros and Cons of Shopify
3.1 Pros of Selling on Shopify
Ownership and customization: With Shopify, you have full ownership of your website. You can customize it to align with your brand and add features and functionality as needed.
Remarketing opportunities: When customers make a purchase on your Shopify website, you gain access to their email, phone number, and address. This allows you to engage in remarketing strategies and encourage repeat purchases.
Internet marketing opportunities: Shopify opens up a wide range of internet marketing techniques, such as social media marketing, paid ads, and SEO. You have more control over driving traffic to your website and can explore various marketing channels.
Easy website creation: While setting up a Shopify website may require more effort than an Amazon listing, it is still relatively easy and doesn't require approval or extensive documentation.
3.2 Cons of Selling on Shopify
Difficulty in driving traffic: Convincing customers to visit your Shopify website can be challenging, as it requires them to actively search for your brand or click on a link to an unfamiliar website.
Fulfillment logistics: Unlike Amazon's FBA program, you are responsible for your own fulfillment when selling on Shopify. This can require working with third-party logistics companies and managing your inventory.
Competition with dropshipping: Many Shopify websites rely on dropshipping, which involves selling generic products from suppliers. This approach is becoming less effective as customers prefer unique and high-quality products.
4. What's More - For E-commerce business, consumer insights are also very important
VOICE OF CUSTOMER lets consumers tell you what they need, what they expect, and why they buy. Multi-channel integration + AI intelligent insights + scientific business models, from data to action in a single step, using the voice of consumers to guide business decisions. consumer voice to guide business decisions. VOC can help you solve the following problems to improve product quality and drive brand growth.
A variety of feedback channels: Various feedback channels such as Amazon/ebay, social media, email/chat, etc.
Insufficient number of manual spot checks, resulting in wrong conclusions: Wrong insights, resulting in serious wrong business decisions
Time lag of insights conclusion: Organizational manpower spends a lot of time reviewing partial feedback, not able to identify problems in time
Inability to identify new opportunities in a timely manner: New opportunities are a few voices hidden in a large amount of feedback, which is difficult to find manually
Inability to develop quantifiable action points: Problems can't be optimized if they can't be measured
Which aspect of the competitor's product do consumers like and why? Everyone knows this product sells well, but few people know why?
In which aspect does the competitor surpass my brand and why? In which aspect of installation/use scenario/quality/packaging/logistics, the reputation is better than mine
Which attribute of the competitor has the best reputation and why? Which factor impresses consumers the most, capacity, color, material?
What are the reasons for my consumer churn? What consumers dislike most about the products/services I provide
5. The Best E-commerce ChatGPT Tool -- Shulex
Shulex is a global business data insights company and an AI-powered applications company. We capture multimodal consumer voices from across the web and leverage GPT AI's powerful analytics to provide our global clients with intelligent, scientific, and efficient consumer insights. We also provide a free Amazon ChatGPT browser extension, a custom VOC consumer insights platform, an Amazon category analysis report, and a one-stop e-commerce customer experience workbench. From AI data analysis to AI business application, we provide a full range of services to effectively help global sellers achieve business strategic planning, product planning and solutions, e-commerce operation optimization, and customer experience improvement.
If you want to experience the power of AI,try our free tools at Shulex ChatGPT for Amazon
How to Shulex ChatGPT for Amazon?
Step 1: Install ChatGPT Tool for Amazon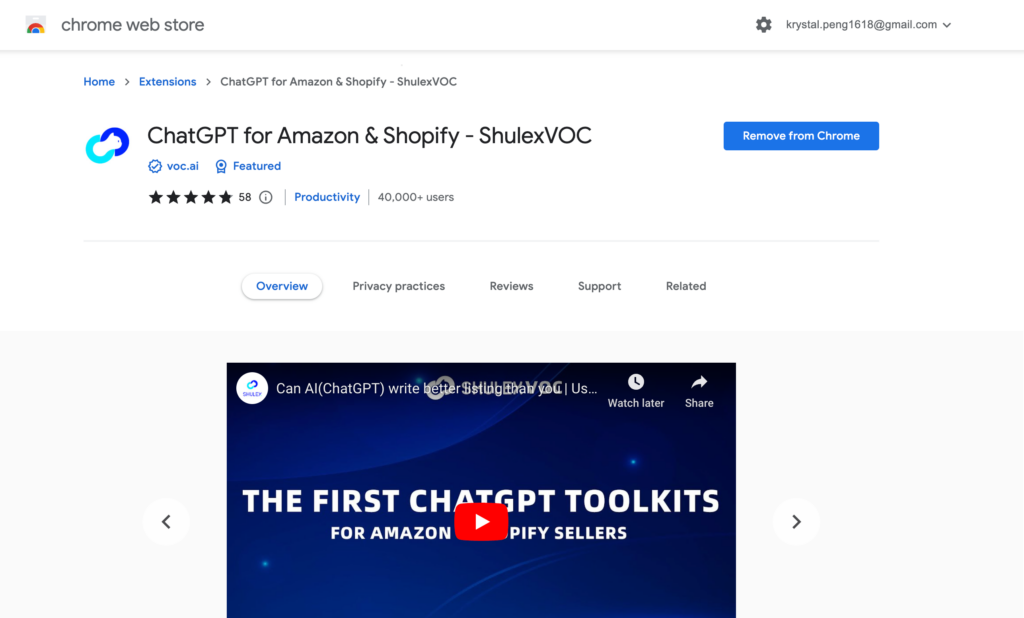 Step 2: Open Amazon and Use ChatGPT Tool for Amazon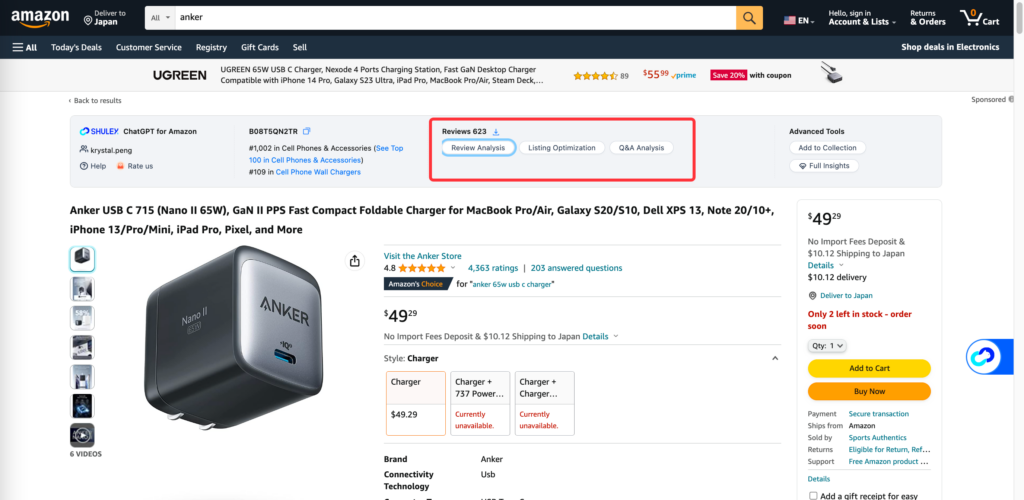 Step 3: Product and Consumer Research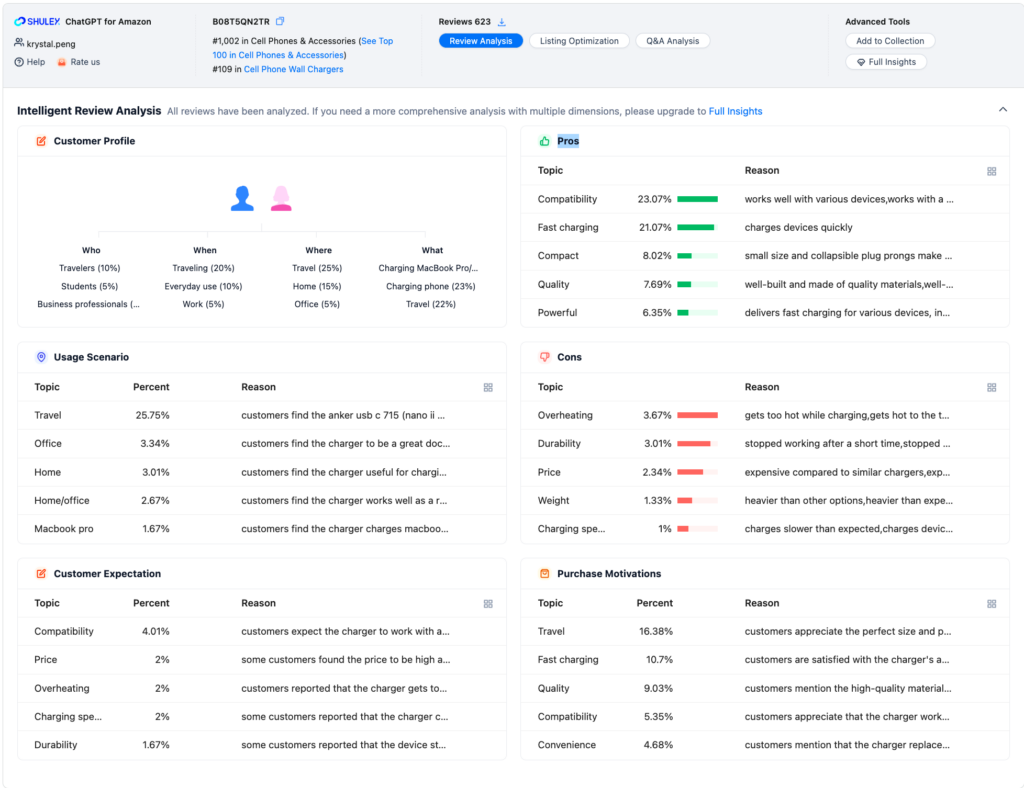 Step 4: Amazon listing Optimization

Step 5: Enjoy full version of ChatGPT Tool for Amazon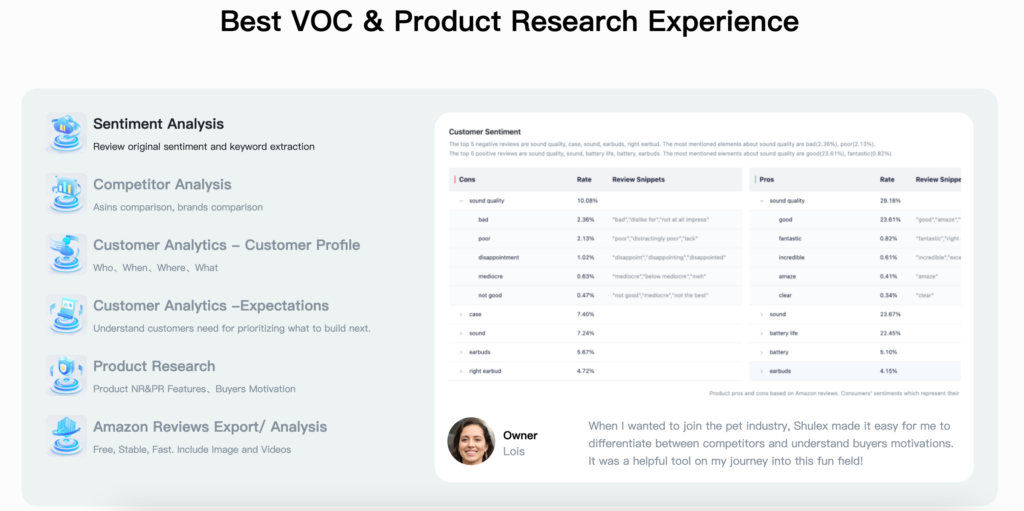 Free Try: Shulex ChatGPT tool for Amazon
Conclusion
In conclusion, both Amazon and Shopify offer unique advantages and disadvantages for online sellers. Amazon provides a massive customer base, high conversion rates, and easy setup, but it can be saturated and comes with strict rules. On the other hand, Shopify offers ownership, customization, and internet marketing opportunities, but driving traffic to your website can be challenging.
To make the most of both platforms, consider selling a unique and high-quality product that stands out from the competition. Utilize Amazon's customer base and conversion rates while also establishing your own Shopify website to build your brand, engage with customers, and explore various marketing strategies. By leveraging the strengths of both platforms, you can maximize your chances of success in the ever-growing e-commerce industry.
- End -