Table of Contents
Introduction

Importance of finding the best products to sell on Amazon
Overview of the video content

Key Considerations for Product Selection

Competitive pricing, recurring revenue, and non-obsolescence
Importance of small and easy-to-ship products
Avoiding fragile products to reduce shipping issues and returns
Not directly competing with large brands on Amazon
Avoiding products that can go obsolete or have seasonal demand
Sweet spot pricing between $20 and $200 for impulse buys
Facilitating cross-selling and selling related products
Benefits of selling consumable and personalized products

Most Profitable Categories on Amazon

Home and kitchen category

Examples of best-selling products

Sports and outdoors category

Examples of best-selling products

Toys and games category

Examples of best-selling products

Beauty and personal care category

Examples of best-selling products

Health and household category

Examples of best-selling products

Step-by-Step Method for Finding the Best Products on Amazon

Using a keyword research tool like Jungle Scout
Brainstorming product ideas and filtering through criteria
Analyzing competition on Amazon
Running the numbers to calculate potential profit
Improving the product to offer a stronger value proposition
Sourcing products from suppliers based on business model

The Best Amazon ChatGPT Tool
Conclusion

Recap of key points
Importance of continuous research and adaptation in e-commerce
Encouragement to explore further resources for success on Amazon
Introduction
Starting an e-commerce business on Amazon can be a lucrative endeavor, but finding the best products to sell is crucial for success. In this comprehensive guide, we will explore the key factors to consider when selecting products, the most profitable categories on Amazon, and a step-by-step method for finding the best products to sell. By following these strategies, you can increase your chances of building a profitable Amazon product portfolio.
Key Considerations for Product Selection
To ensure success on Amazon, it is important to carefully consider the following factors when selecting products to sell:
Competitive Pricing, Recurring Revenue, and Non-Obsolescence
The best products to sell on Amazon are competitively priced, yield recurring revenue, and never go obsolete. Competitive pricing ensures that your products remain attractive to customers while still allowing for a reasonable profit margin. Products with recurring revenue, such as consumables, offer the advantage of repeat purchases, ensuring a steady stream of income. Additionally, selecting products that are not likely to become obsolete guarantees long-term viability.
Small and Easy-to-Ship Products
Amazon's FBA (Fulfillment by Amazon) program offers several advantages, but it is essential to choose products that are small, light, and easy to ship. Products that exceed Amazon's standard size packages can result in significantly higher FBA fees, eating into your profits. By opting for compact and lightweight products, you can minimize shipping costs and maximize your profit potential.
Avoiding Fragile Products
Shipping fragile products can lead to numerous headaches, including increased return rates and negative reviews. To avoid these issues, it is advisable to steer clear of selling products that are prone to breakage during shipment, such as glass or ceramic-based goods. By focusing on non-fragile products, you can minimize the risk of damaged items and maintain positive customer experiences.
Not Directly Competing with Large Brands
When selecting products to sell on Amazon, it is important to avoid direct competition with large brands. Recognizable brands on Amazon often have a significant advantage in terms of price and visibility, making it difficult for third-party sellers to compete effectively. Unless you have a strong value proposition that sets your product apart, it is advisable to steer clear of selling products that directly compete with well-established brands.
Avoiding Obsolescence and Seasonal Demand
Starting an Amazon business on a budget requires careful consideration of product selection. It is advisable to avoid selling products that can go obsolete quickly, such as cell phone cases or computer equipment. These types of products lose value over time if they are not sold quickly, potentially leaving you with unsold inventory. Similarly, products with seasonal demand, such as Christmas or Halloween items, can lead to pressure to liquidate inventory within a limited time frame, tying up your capital for extended periods.
Sweet Spot Pricing: $20 to $200
When it comes to pricing your products on Amazon, targeting the sweet spot between $20 and $200 is ideal for generating impulse buys. Items priced below $20 may not be profitable after accounting for Amazon selling fees, while higher-priced items require a longer purchase decision process, potentially reducing sales velocity. By pricing your products within this range, you can capitalize on the impulsive nature of online shoppers and drive sales.
Facilitating Cross-Selling and Selling Related Products
Successful Amazon sellers often sell more than one product online. To maximize your profit potential, it is beneficial to sell related products that can be easily cross-sold. For example, if you sell linen dinner napkins, consider offering napkin rings or cocktail napkins as well. Amazon groups related products together, increasing the average order value and boosting your overall sales.
Benefits of Selling Consumable and Personalized Products
Selling consumable products can provide a steady stream of recurring revenue, as customers often repurchase these items regularly. Examples of consumable products include supplements, cleaners, lotions, and soaps. Amazon offers a "subscribe and save" option for consumables, ensuring that loyal customers continue to buy your products.
Personalized products, on the other hand, offer the advantage of premium pricing. By selling products that can be personalized, such as custom-embroidered handkerchiefs, you can command higher prices and achieve higher profit margins. However, note that selling personalized products precludes the use of Amazon FBA, but the added profit margins can make it worthwhile.
Most Profitable Categories on Amazon
To further narrow down your product selection, it is essential to understand the most profitable categories on Amazon. Here are the top five best-selling categories for third-party merchants who sell private label products:
Home and Kitchen Category: This category is currently the most popular on Amazon, driven by the increasing number of people staying and working from home. Examples of best-selling products in this category include sheet sets, robotic vacuum cleaners, home organizers, pillows and pillowcases, kitchen appliances, humidifiers, and air purifiers.
Sports and Outdoors Category: With more people working out at home instead of going to public gyms, the sports and outdoors category has seen significant growth. Best-selling products in this category include sports apparel, dumbbells and weights, water bottles, yoga equipment, fitness trackers, and resistance bands.
Toys and Games Category: As more people spend time at home, home entertainment spending has increased, making toys and games a popular category for private label sellers. Best-selling products in this category include fidget toys, board games, art supplies, and bath toys.
Beauty and Personal Care Category: Personal care products have gained prominence, and there is a growing trend towards sustainable and ethically sourced products in this category. Best-selling products include makeup and lotion, face masks, facial and body cleansers, and hair trimmers.
Health and Household Category: The health and household category has experienced significant growth, driven by concerns for personal safety. According to WWD, health and personal care products saw a 45% increase in sales in 2021, with Amazon holding a 32% market share. Best-selling products in this category include disinfecting wipes, vitamins and supplements, towels and wipes, and detergents and cleansers.
Understanding these profitable categories can help you narrow down your product selection and increase your chances of success on Amazon.
Step-by-Step Method for Finding the Best Products on Amazon
Now that you have an understanding of the key considerations and the most profitable categories on Amazon, here is a step-by-step method for finding the best products to sell:
Brainstorm Products: Begin by brainstorming as many product ideas as possible. Use a keyword research tool like Jungle Scout to accelerate the process. Jungle Scout is a database of every product listing on Amazon and can provide keywords and products that meet your sales criteria.
Analyze Competition: Use the keywords generated from Jungle Scout to perform product searches on Amazon and analyze the competition. Look for an even distribution of revenue among listings, low review counts (ideally in the low hundreds), an average selling price greater than $20, and a minimum of 150 sales per month.
Run the Numbers: Once you have identified potential products, run the numbers to calculate potential profit. Search for similar products on Alibaba to get an idea of the sourcing cost. Consider customs duties and shipping costs to calculate your true landed cost of goods. Aim for product margins greater than 66% for a profitable venture.
Improve the Product: To stand out from the competition, work with your factory to improve the product. Browse negative reviews on Amazon for similar products and identify areas for improvement. Collaborate with the manufacturer to address common issues and create a stronger value proposition for your product.
Source the Products: Depending on your business model, source your products from suppliers. This can involve private labeling, retail arbitrage, online arbitrage, Amazon wholesale, or Amazon drop shipping. Research and choose the sourcing method that aligns with your goals and resources.
For E-commerce business, consumer insights are also very important
VOICE OF CUSTOMER lets consumers tell you what they need, what they expect, and why they buy. Multi-channel integration + AI intelligent insights + scientific business models, from data to action in a single step, using the voice of consumers to guide business decisions. consumer voice to guide business decisions. VOC can help you solve the following problems to improve product quality and drive brand growth.
A variety of feedback channels: Various feedback channels such as Amazon/ebay, social media, email/chat, etc.
Insufficient number of manual spot checks, resulting in wrong conclusions: Wrong insights, resulting in serious wrong business decisions
Time lag of insights conclusion: Organizational manpower spends a lot of time reviewing partial feedback, not able to identify problems in time
Inability to identify new opportunities in a timely manner: New opportunities are a few voices hidden in a large amount of feedback, which is difficult to find manually
Inability to develop quantifiable action points: Problems can't be optimized if they can't be measured
Which aspect of the competitor's product do consumers like and why? Everyone knows this product sells well, but few people know why?
In which aspect does the competitor surpass my brand and why? In which aspect of installation/use scenario/quality/packaging/logistics, the reputation is better than mine
Which attribute of the competitor has the best reputation and why? Which factor impresses consumers the most, capacity, color, material?
What are the reasons for my consumer churn? What consumers dislike most about the products/services I provide
The Best Amazon ChatGPT Tool -- Shulex
Shulex is a global business data insights company and an AI-powered applications company. We capture multimodal consumer voices from across the web and leverage GPT AI's powerful analytics to provide our global clients with intelligent, scientific, and efficient consumer insights. We also provide a free Amazon ChatGPT browser extension, a custom VOC consumer insights platform, an Amazon category analysis report, and a one-stop e-commerce customer experience workbench. From AI data analysis to AI business application, we provide a full range of services to effectively help global sellers achieve business strategic planning, product planning and solutions, e-commerce operation optimization, and customer experience improvement.
If you want to experience the power of AI,try our free tools at Shulex ChatGPT for Amazon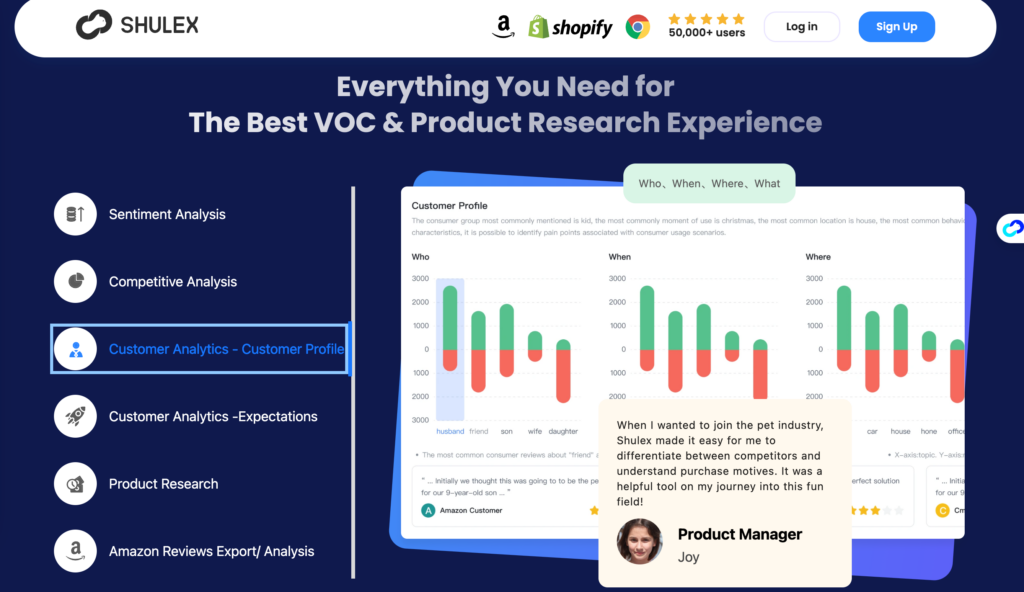 By following this step-by-step method, you can effectively find the best products to sell on Amazon and increase your chances of building a profitable
- End -