The mindset of today's customers is all about faster solutions and instant responses. Every minute your customer has to wait for a response from the support team leads them to a faster and more automated competitor.
From checking order status to asking FAQs and basic account-related queries, customers like automated solutions. With such a huge demand for conversational AI, the chatbot market is expected to hit 1.25 billion USD by 2025. That's why there is a growing buzz around automated customer service. Therefore, this guide will talk in detail about automated customer service, covering its working principle, benefits, and implementation approach. So, let's get started!
What is Customer Service Automation?
Customer service automation is a procedure that refers to automating your customer service using AI-powered tools. It eliminates the need for human agents to resolve simple and repetitive queries. With customer service automation, your support team can be active 24/7/365 to maximize efficiency.
Customer service automation tools like Shulex Service GPT are thoughtfully designed to understand the customer's intent and provide value-enriched helpful responses. They extract high-value information about the products and provide highly specific solutions to customers' queries.
These tools work best when customers ask general questions, want to check their order status, update their account info, or schedule an appointment. While the automated customer service software handles such tasks, staff members can focus on more complex issues that require a human brain.
How Does Automated Customer Service Work?
Automated customer service helps your customers get instant responses and assistance with their issues. Whenever customers get a query and visit your website, the chatbot will be at their service whether an agent is available or not.
Let's say a customer bought a washing machine from your store, and it keeps displaying an error code. The customer may be unaware of the error code. Now, what will he do?
If your website incorporates an automated customer service chatbot, the customer can instantly ask questions about the error code from the chatbot. The chatbot will compare the user request to the predefined keywords, i.e., water inlet valve. Based on these keywords, it will list the troubleshooting steps instantly. This way, the customer gets the response instantly, thanks to your automated customer service!
Examples of Automated Customer Service
While chatbots are the most popular example of conversational AI tools used in automated customer service, there are several others, too. Not every example would be suitable for your business. It depends on your work industry and your company size. So, let's have a look at each of them so you can decide the best for yourself.
Chatbots: Chatbots are conversational tools that let customers chat and discuss their queries. It creates a messenger-like interface and talks to the customer just like a human does. It answers questions and gives suggestions to the users.
IVR software: IVR (Interactive Voice Response) software automates the calling systems for customer support. So, now your support team doesn't have to be there on the call to understand their problem and direct them to the right place. They can use pre-recorded audio or text-to-speech technology to interact with customers.
Automated ticketing systems: Automated ticketing systems can be thought of as a digital help desk. They track and record customer requests to classify them and create a ticket for each category. Whenever there is a customer inquiry call, ticketing systems automatically assign the issue to the most suitable agent. It saves time and ensures a better workflow.
Automated Notifications: Automated notifications work great for sending reminders, promotional offers, announcements, collecting customer feedback, and confirmation messages. While improving your speed and productivity, automated notifications help engage with customers.
3 Reasons to Incorporate Automated Customer Service
Automated customer service is greatly beneficial for your businesses, irrespective of what industry you work in. If your basic customer support services are handled automatically, it will help you save your time and money for more valuable and complex processes. So, here are some of the reasons you need automation in your business.
1. Saves Time and Money
Needless to say, automation largely reduces operational costs and time. You can scale up your customer support by improving your services without having to hire a ton of employees. So, it saves labor costs and gives a satisfying customer experience.
Chatbots coupled with automated ticketing systems can do wonders for your business. Chatbots can handle general queries, while tickets can be assigned to the agents for technical troubleshooting. It will save your agents time as well, ensuring a smooth process without getting overworked.
2. Improves Support Team Efficiency
Automated customer service software is meant to empower your support team. While the team is away, your customer service will still be open to queries. Chatbots can give personalized customer experience that reflects your brand voice. So, your customers are happy with quick assistance, and your support team is also at ease.
Apart from that, agents can manage their tickets by prioritizing the more important issues that require specific attention. They can free up their time for problems that are beyond the scope of automation software. Conversely, for recurring queries, the chatbot will do its job.
3. Convenience For Customers
Customers love getting instant responses from the company's customer support. The more you make them wait, the more you will leave a negative impression on them. And that's the reason people prefer automated customer service unless the issue is quite serious.
Even at an odd hour, if a customer needs assistance, your automated software doesn't sleep. Good customer service will help your business with increased conversions and lower rates of returns and refunds.
How to Automate Customer Service?
To automate customer service, you should consider the following points:
Define your goals first. Analyze your current customer service experience and see where it is lacking. Where is your customer support team facing the most issues? Discuss it with your agents and shortlist the tasks you want to automate.
Some of the work requires a human touch and cannot be automated. Take a closer look and keep the customer preferences in mind.
Shortlist some customer service automation options and let your support team carry out the testing before pushing it live.
After you are done with the testing phase, you can set up the software and build up a knowledge base for it.
Make sure to keep an eye on the automation tools and implement different strategies with the need of time.
If you want to set up a chatbot seamlessly, Shulex Service GPT is the perfect solution. It will use your company's exclusive knowledge base to create a customized messenger experience for customers. With every conversation, it learns and strives to give the best customer experience.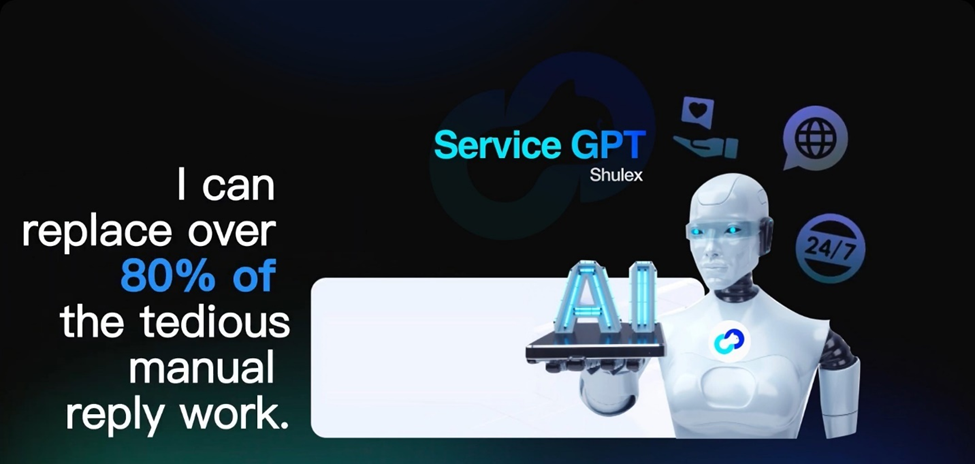 What Results to Expect from Automated Customer Service?
Over the years, business owners have observed customer's positive attitudes toward automation. Businesses that have used automated customer service have experienced growth and increased conversions.
Positive customer experience directly boosts revenue generation. Therefore, support automation is a valuable asset if used properly. Implementing the right strategies based on real-time analysis can greatly help your business optimize customer support and build a loyal customer base.
3 Situations to Avoid Using Automated Customer Service
The benefits of automation surely exceed the limitations. With automated customer service, your customers will always miss the human interaction. While automation works great in some areas, however, there are several situations where you should avoid using automation tools, as follows:
Experiential Questions: Chatbots work great when customers ask transactional questions that require a factual answer. However, with experiential questions, when customers require a detailed answer, automation tools often fail.
Complex Issues: For complex issues, you must always have your customer support team on board to guide the customer step by step. Leaving it on automation software can lead to a bad customer experience because bots are unable to understand the technical stuff.
Money-related Queries: Money is a very sensitive factor.Customers never trust automated customer service when they need a refund or want to report a theft. For such money-related queries, a real person must be there to solve the issue.
Wrapping Up – Ready to Automate Customer Service?
Automated customer service has helped countless businesses empower their customer support teams, and the count is increasing every day. Considering the competitive era and technological advancements, automated customer service is becoming a necessity to provide fast, personalized, and efficient customer service. Therefore, we will wrap up by recommending you plan and implement automated customer service before it's too late!
- End -