Amazon has over 353 million listed products and over 2 million active sellers worldwide. Amazon's massive marketplace provides an opportunity for consumers to buy quality products at cost-effective rates and for sellers to sell their products to a large consumer base. However, one thing that both consumers and sellers demand is Amazon price history tracking.
Consumers want to track prices to make a purchase when the product price drops, while sellers need a comprehensive Amazon price history to find potential products to sell. However, regularly checking and comparing prices is not feasible for users. Therefore, this guide has shortlisted the five best Amazon price tracker tools that can provide you with comprehensive price tracking. So, let's review these tools, covering their features, pros and cons, and pricing.
What is an Amazon Price History Tracker?
Amazon price history tracker is a software solution that keeps track of the prices of millions of Amazon products. It can help you find the best prices on this marketplace by receiving price alerts frequently.
Some price trackers allow you to specify the products you want to track and then provide alerts when the price goes up or down. Furthermore, these trackers can report the availability of the high-demand products that go out of stock quickly.
For sellers, the price tracker provides an opportunity to compare the prices of different products and analyze the price history charts, leading to better decision-making. As a seller, you should look for an Amazon price history tracker that can:
Provide a complete report of your competitors' price fluctuations.
Allow tracking of any product you choose on Amazon without any restrictions.
Offer mobile apps or a Chrome extension.
Let's now highlight some of the best Amazon price history trackers worth trying.
5 Best Amazon Price History Trackers
We have shortlisted five Amazon price history trackers worth trying. Check out these trackers to learn how to see price history on Amazon without any hassle.
1. Camelcamelcamel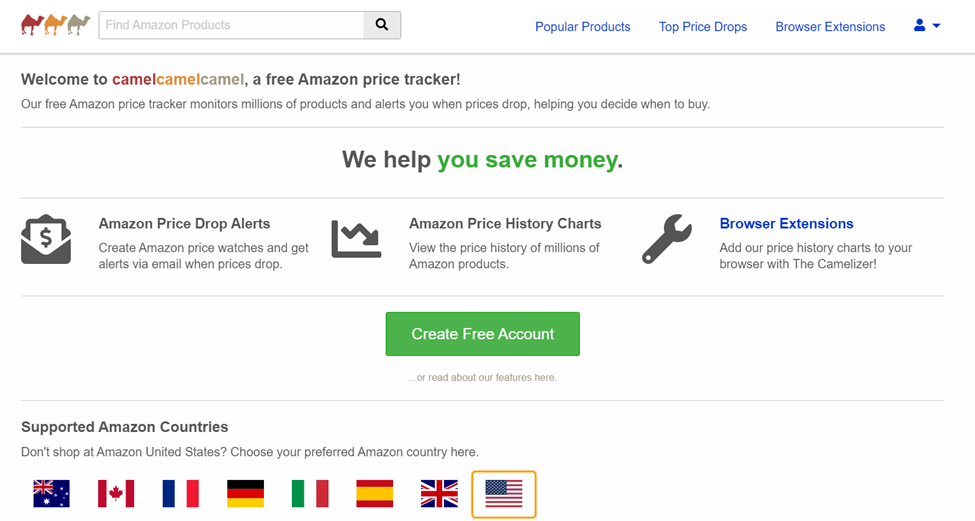 Camelcamelcamel is amongst the best Amazon price history trackers that can seamlessly monitor millions of Amazon products. It allows users to create Amazon price watches and get notified when prices drop.
This tool comes with several handy features, such as price history charts and a wide range of statistics against different pricing parameters. Moreover, it is convenient to use with its user-friendly interface. It offers browser extensions for Chrome, Firefox, and Safari.
The best thing is that you can access all the features free of cost. Plus, it supports the marketplaces running in the US, Germany, Australia, France, Italy, and Canada.
Pros
User-friendly
Price drop alerts
Completely free
Browser extensions
Unlimited reports
Mobile responsive
Anonymous mode
Cons
Pricing
2. Keepa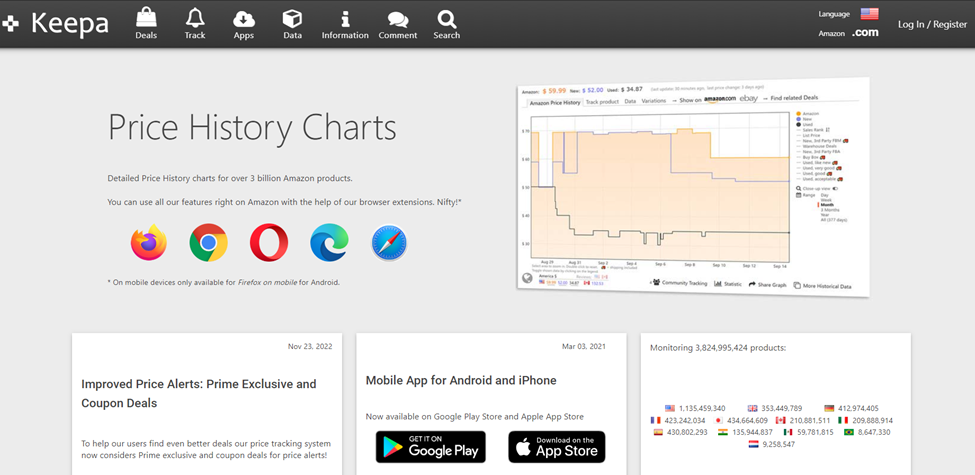 Keepa is another best Amazon price tracker with a comprehensive set of features. It provides detailed Amazon price history charts for millions of listed products. It can even compare local and international Amazon prices.
Keepa allows you to set a price watch directly from the product page to get an alert when the price drops or the product becomes available. Besides that, it provides daily deal reports of recent price drops along with best-seller and top-seller lists.
For Amazon sellers, Keepa provides a "Product Finder" feature to search any product for specified criteria from its massive database. Furthermore, it allows sellers to import/export large product lists to view prices and other details instantly. On top of that, sellers can access its premium data about Amazon products.
Keepa offers browser extensions for Chrome, Opera, Edge, and Firefox. It is also accessible through the Android and iOS mobile apps. It comes with a clean interface and can be used in countries like Australia, Brazil, India, Canada, Japan, Mexico, Spain, the US, the UK, Italy, France, and Germany.
Pros
Comprehensive price history charts
Price drop and availability alerts
Browser extensions
Mobile app
Product finder feature
Import/export large product lists
Cons
Locked premium features
Limited data on a free trial
Pricing
Free trial
Premium package: 19 € / month
3. Honey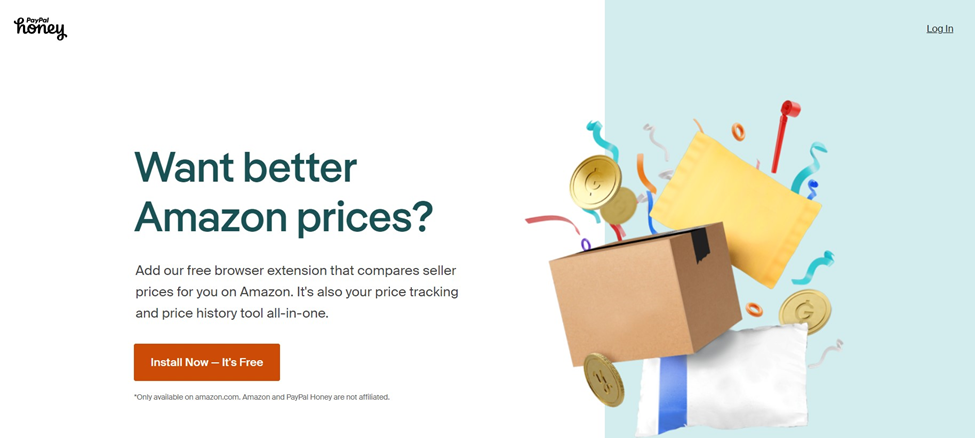 Honey is an all-in-one tool for Amazon price history and price tracking. Compared to other Amazon price tracker tools, this tool is entirely driven through a free browser extension.
Once you have installed the browser extension, Honey will be your companion in finding the lowest prices for the products. For the selected product, it will compare the prices of different sellers, even include the factor of shipping costs, and then provide the best deal with the most savings. It even finds the best promo codes for your preferred products.
Honey offers an incredible "Droplist" feature that lets you save items from different Amazon stores and get notifications for price drops. Interestingly, you can collect Honey gold points when you shop from supporting stores and earn a gift card after a sufficient balance.
Honey also provides a complete Amazon price history chart to easily track selected products' prices. It is available for Chrome, Edge, Opera, Safari, and Firefox.
Pros
Easy to use
Price alerts
Price history
Find best promo codes
Free browser extension
Special reward programs
Free to use
Cons
Pricing
4. Earny

Earny is an excellent Amazon price history tracker tool that works differently from the other standard tools. In addition to tracking prices and sending alerts 24/7, it predicts if a price drop is possible on the item you want.
Earny also lets you know when the price of the item you purchased drops by tracking your purchase history and scanning your emails. Moreover, it informs you when your Amazon delivery gets delayed to request compensation.
Earny offers a free Chrome extension, which makes it easy to instantly analyze the price history for informed decisions. You can even win cash prizes and Amazon gift cards with Earny.
Pros
24/7 price tracking and alerts
Price drop prediction
Late delivery notification
Win prizes
Cons
Requires access to your email
Costly
Pricing
Free trial
Basic: $4.99/month
Annual: $39.96/year
5. Glass It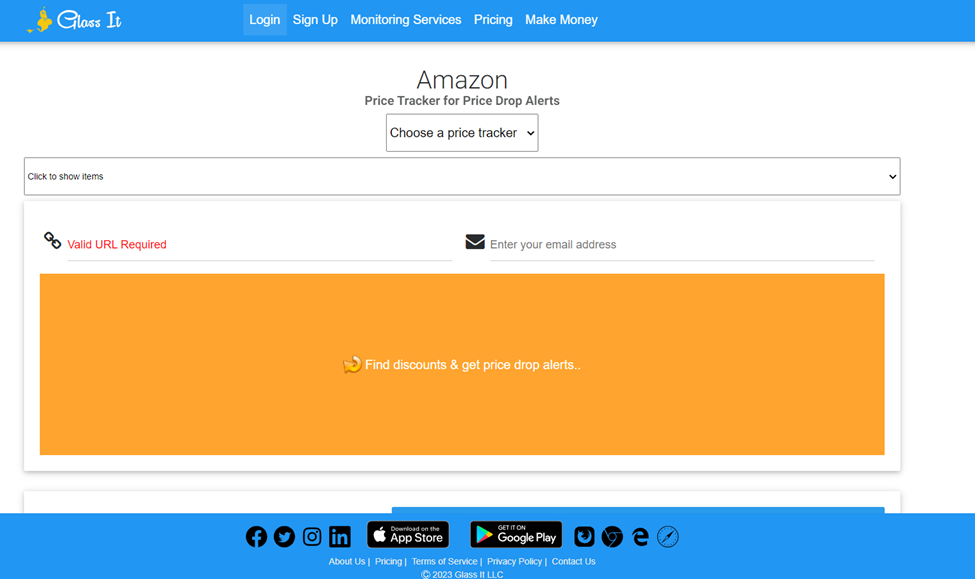 Glass It is another interesting Amazon price tracker that can import your Amazon wishlist, check price history, and track daily price rates. It also notifies about price drops and the best price deals.
Other than basic price tracking features, Glass It can also track your competitor's products after you provide the URL and inform you when their products rise in demand or go out of stock. It even lets you export tracking data to Excel sheets.
Glass It offers browser extensions for Edge, Chrome, and Firefox. You can even use its website to instantly track the price history of Amazon products by providing the product's webpage URL. Besides Amazon, you can also use it to track prices for other marketplaces, such as Best Buy, Flipkart, Costco, etc.
Pros
Price history
Price drop alerts
Customer support chat/email
Competitor tracking
Analytics report
Cons
Pricing
Free trial: 1 month
Essential: $1.9/month (10 items)
Advanced: $18/month (100 items)
Enterprise: $90/month (500 items)
Bonus Tip for Amazon Sellers: Do Product Price Tracking with Customer Sentiment Analysis & Buyer Motivation Insights
For Amazon sellers using Amazon price history trackers for product hunting and analyzing competitors, they should also emphasize customer sentiment analysis and buyer motivation insights.
Customer sentiment analysis provides a glimpse of the pros and cons of the product that the customers have experienced, while buyer motivation insights reflect the reasons behind the purchase. This way, you can analyze deeper and find more valuable products that show more promising sales potential. But the question is: How do we get customer sentiment analysis and buyer motivation data? This is where Shulex VOC comes into action.
Shulex VOC is a ChatGPT-powered AI assistant for Amazon sellers that provides a whole new experience for product hunting and optimizing. With Shulex VOC, you can get:
Comprehensive customer sentiment analysis
Detailed buyer motivation insights
Competitive analysis
Amazon reviews analysis
AI-driven product and keyword research
Recommendations for listing optimization
And many more.
In short, Shulex VOC is a one-stop AI tool to get deeper and customer-centric insights about potential products and optimize the existing ones with AI intelligence.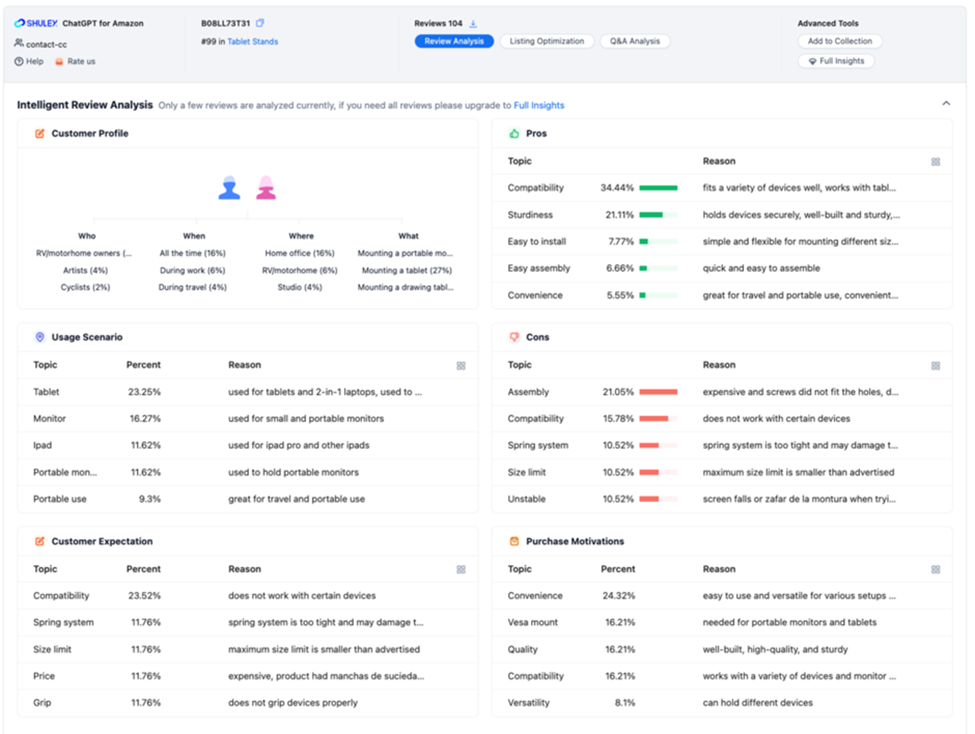 Wrapping Up
Cramming through millions of products manually to find a profitable deal on Amazon can be a huge struggle. That's why Amazon price history tracker tools are highly beneficial. Not only do they help find valuable deals on Amazon, but they also help Amazon sellers get deeper insights about prices and make better decisions.
So, pick any of the Amazon price trackers listed above and start using them to purchase or sell products on the world's largest e-commerce marketplace.
- End -