Amazon is the largest e-commerce marketplace in the world, where consumers place 66,000 orders per hour, making it a total of 1.58 million orders per day. This massive consumer base attracts sellers both with and without investment.
For sellers without investment, dropshipping on Amazon is an excellent way to sell products without getting concerned about purchasing/managing inventory, packaging, shipment, and other matters. Dropshippers can even make six-figure annual revenue if they utilize the opportunity smartly.
Whether you are beginning to dropship on Amazon or have stepped foot already, this guide is very resourceful for you. Here, we will talk about eight valuable tips and tricks for dropshipping on Amazon to make this journey successful and profitable.
Dropshipping on Amazon – A Quick Overview
Dropshipping on Amazon is one of the sales models on Amazon where the seller doesn't need an inventory to sell products on Amazon. Sellers list the products on Amazon and use third-party suppliers to handle the packaging and shipment to the customer.
A typical Amazon dropshipping business involves the following steps:
Sellers select the products to list on Amazon by finding potential products and then contacting the supplier or manufacturer to set up a partnership for sourcing and fulfilling customer orders.
Sellers list the products on their Amazon seller account.
When a customer places an order on Amazon, sellers place the same order with the supplier and provide the customer's shipping details.
The supplier packs the order and ships it to the customer directly.
That's it! This way, dropshippers on Amazon can make sales on Amazon without purchasing or handling the inventory. All they need is potential products to sell and trustworthy suppliers who can deliver high-quality products to customers in a timely manner.
8 Tips & Tricks for Successful Dropshipping on Amazon
Now that we are clear with the basic concepts of Amazon dropshipping and how to start dropshipping on Amazon, let's emphasize some effective tips and tricks for successful dropshipping on Amazon.
1. Don't Violate Amazon's Dropshipping Policy
The first and most important tip we want to highlight is Amazon's dropshipping policy. It is legal to dropship on Amazon, but you must adhere to certain requirements to avoid account suspension. Some of the important elements of Amazon's dropshipping policy include:
There should be nothing about the supplier in all the invoices, slips, or packaging. Every slip should present you as the seller.
All the slips mentioning supplier details should be removed before shipping the order.
Adhere to all of Amazon's Terms of Service.
Handle returns.
Don't use other online retailers to ship products, such as shipping the same product at a cheaper rate from Walmart with customer shipping details. In that case, the order will come in Walmart packaging, leading to customer suspiciousness and account suspension.
Simply put, Amazon wants you to ensure that you represent yourself as the shipper without giving a hint to consumers that it's a dropshipping product.
2. Use the Right Tools for Product Research
One of the crucial processes before starting a dropshipping Amazon business is product hunting. You should do comprehensive research to find potential products that are in high demand and low competition.
The best way to search for potential products for Amazon dropshipping is by utilizing the right tools. One such powerful tool is Shulex VOC. It is an AI-powered tool for Amazon sellers that provides them with deeper product research and competitive analysis with ChatGPT intelligence.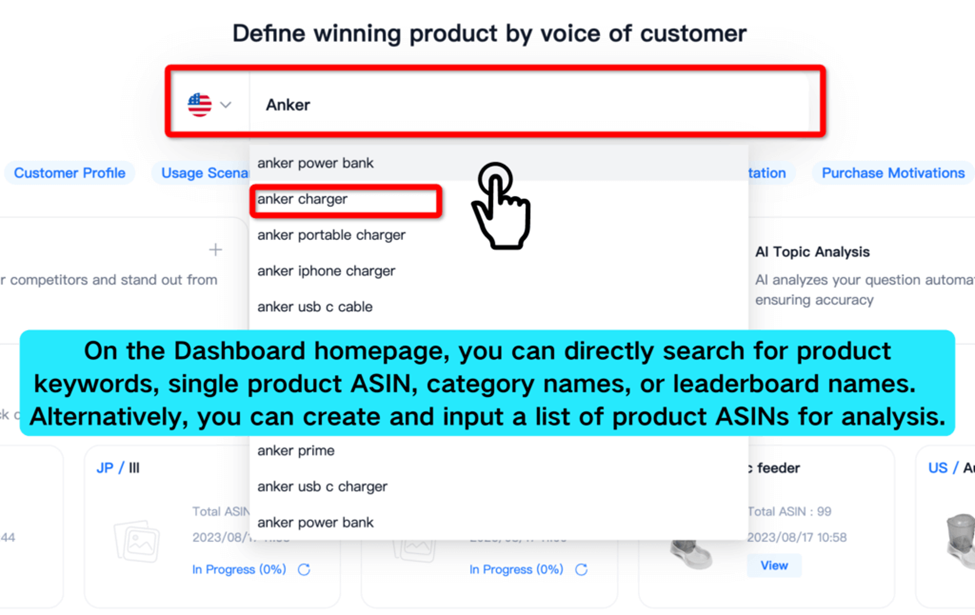 With Shulex VOC, you can explore potential products, get a view of customers' sentiments and buyer motivation, and then finalize the products effectively. This way, you can make data-driven decisions and eventually find profitable products to dropship.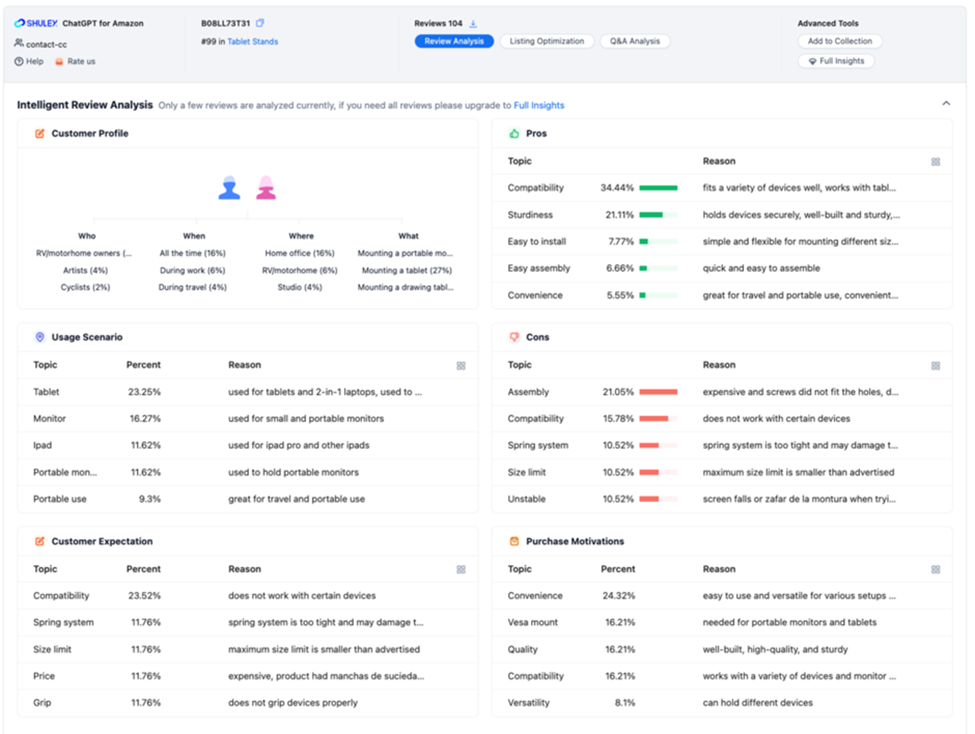 3. Be Smart with Suppliers
After product hunting, looking for suppliers is another crucial stage in dropshipping Amazon. You should shortlist a few suppliers that can dropship the product. Afterward, you should interact with them to clarify terms and conditions, especially related to Amazon's dropshipping policy. Eventually, you will be able to pick the right supplier.
Once the supplier is finalized, it is recommended to place a sample order without letting the supplier know that this order is for you. Once you receive the package, evaluate the product quality and ensure no supplier details are in the package. This way, you can evaluate what quality products customers will receive and have peace of mind that the supplier is following Amazon's dropshipping policy.
Another recommended tip is to arrange a backup supplier. Sometimes, your supplier delays the shipment due to some reason. Therefore, having a backup supplier can help fulfill customers' orders on time if your main supplier is facing trouble.
4. Optimize Product Listings
Product description is directly linked with the customer's willingness to make a purchase. Your product description should efficiently pinpoint the customer's needs and the unique value your product offers.
To help ease this hassle, Shulex VOC provides AI-driven listing optimization support, leveraging ChatGPT-intelligence to provide the needed measures to optimize the listing. You can get relevant suggestions for listing title, description, and keyword use. This way, you can craft a well-polished product listing.

5. Emphasize the Strategic Marketing Campaign
When dropshipping on Amazon, you sell products that other Amazon sellers already sell. This means that you have to compete against them and get customers' attention. Besides optimizing the product listing, strategic marketing campaigns can make a big difference.
In today's digitalized era, there are many ways to market your products, including Amazon Pay-Per-Click advertising, influencer marketing, social media marketing, etc. So, explore these marketing options and utilize the one that aligns with your needs and budget. Besides that, you can take Shulex VOC virtual AI-assistant help in product copywriting, keyword ideas, creative image design, SEO article generation, and more.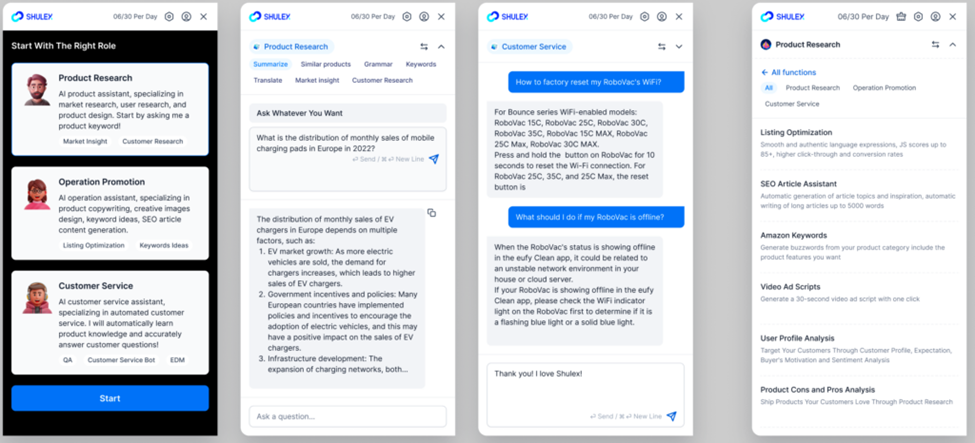 6. Top-Notch Customer Service
Today's customers are very concerned about the overall shopping experience. They have plenty of choices to choose from, so they will easily switch to other sellers if they don't feel appreciated. Therefore, you have to ensure top-notch customer service throughout their journey, from asking product-related questions to addressing issues after purchase. Make sure your responses are fast and satisfactory. Here again, you can use Shulex VOC AI customer service assistant to get accurate answers to customer questions.
Moreover, you should efficiently deal with returns and refunds and manage reviews and feedback effectively. In short, excellent customer support is the key to retaining customers and getting more through referrals.
7. Don't Compromise Buyers' Expectations
Amazon buyers are greatly concerned with the product's quality. They want the product quality to match the features you have mentioned in the listings. Therefore, it is important that you only list those features that are actually present in the product. Otherwise, buyers will leave a negative review or ask for returns if they find a mismatch between the listed and actual features.
Furthermore, you should make it clear to the supplier to make you aware before changing the inventory. Let them know that you don't want them to deliver products with different features from the ones mentioned in the Amazon product listing.
8. List Multiple Products from Different Niches
Dropshipping is a lot of hard work, and then comes luck. Even after listing optimization and marketing, you may not get the sales you target. Therefore, the recommended strategy is to list multiple products from different niches instead of emphasizing a few products.
This is beneficial because if 1-2 products fail to bring sales, a few other products will have significant sales. So, the extra profits from high-selling products will compensate for the loss in low-selling products. This way, you can keep your business operating instead of getting stressed out with low sales.
Wrapping Up – Dropshipping on Amazon: Be Smart and Focused
Dropshipping on Amazon is an excellent sales model on Amazon for sellers who want to get into the Amazon marketplace with minimal investment. However, dropshipping requires more focus and dedication, from product hunting and supplier search to marketing and customer service.
If you are going to start an Amazon dropshipping business, keep these tips and tricks as your reference and head for your journey with smart thinking and determination. On top of that, use tools like Shulex VOC to have a virtual AI assistant with you during the whole journey.
- End -