In the era of e-commerce dominance, online retailers thrive by reaching many customers through platforms like Amazon. However, great opportunities come with bigger risks. Thus, as an online business owner, you must understand the importance of business insurance for online retailers is crucial. Protecting your online retail business with the right coverage ensures peace of mind and safeguards your venture against potential risks. Learn why having proper online retail business insurance is a must, how much it costs to get insurance, and the best e-commerce business insurance.
Part 1: What is e-commerce business insurance?
Part 2: How much does e-commerce insurance cost?
Part 3: What's the best e-commerce business insurance for Amazon sellers
Part 4: Summary and FAQs
Part 1: What is e-commerce business insurance?
Online retailers face many potential threats, from product-related lawsuits to weather-related damages. That's where business insurance for online retailers comes in, providing crucial protection for e-commerce ventures. Small business insurance is essential for safeguarding your financial and legal interests, mitigating risks, and securing your inventory and employees against unforeseen events.
So, why do online retailers need small business insurance? Firstly, it lowers risk and shields your business from worst-case scenarios like supply chain disruptions or workplace injuries. Personal insurance policies may not cover all business-related dangers, such as protecting your inventory stored outside your home or office. Business insurance also serves as a tax deduction, reducing your tax liability.
Moreover, it safeguards your customers and employees in case of product-related injuries, shields against cyberattacks and data breaches, and covers lawsuits resulting from contract breaches. Also, it provides peace of mind when dealing with supply chain challenges and protects against stolen or damaged inventory.
As your business grows, contractual obligations may require you to have commercial insurance. Working with fulfillment centers or major retailers like Amazon might require specific liability or property insurance.
A proper online retail business insurance ensures your e-commerce venture is well-protected, allowing you to focus on growth and success in the dynamic world of e-commerce.
Part 2: How much does e-commerce insurance cost?
Business insurance often costs between $600 and $1,200 per month. The price of business insurance might vary greatly. For instance, customers who purchase a business owner's insurance from Progressive typically pay $101 monthly, whereas customers who choose The Hartford pay $261.
Online retailers need to protect themselves from various potential risks and legal liabilities. Understanding the different types of insurance can help e-commerce businesses make informed decisions to safeguard their financial and operational interests.
Here are seven main types of insurance to consider:
General Liability: Covers customer injuries, property damage, and claims of slander or copyright infringement.
Product Liability: Provides compensation for injuries caused by faulty products your business designs or manufactures.
Business Property Insurance: Insures physical products and covers theft, damage, or loss of business inventory and property.
Workers' Compensation: Give wage and medical benefits to employees injured on the job, complying with state requirements.
Transit Insurance (Inland Marine Insurance): Protects high-value inventory during shipping, covering damage caused by various factors.
Cybersecurity Insurance: Guards against lawsuits, penalties, and expenses related to data breaches or cyberattacks.
Business Interruption Insurance: Replaces lost income due to physical damage, covering rebuilding costs.
Professional Liability Insurance (Errors and Omissions): Safeguards against claims of work performance errors or misconduct, vital for online professional services.
Online retail business insurance costs vary based on factors such as business location, risk profile, claim history, and the type and amount of coverage needed. Protecting your online retail venture with the appropriate business insurance is a proactive step toward long-term success and peace of mind.
Part 3: What's the best e-commerce business insurance for Amazon sellers
The right insurance is a must to protect your e-commerce business on platforms like Amazon.
Here are three top options to consider: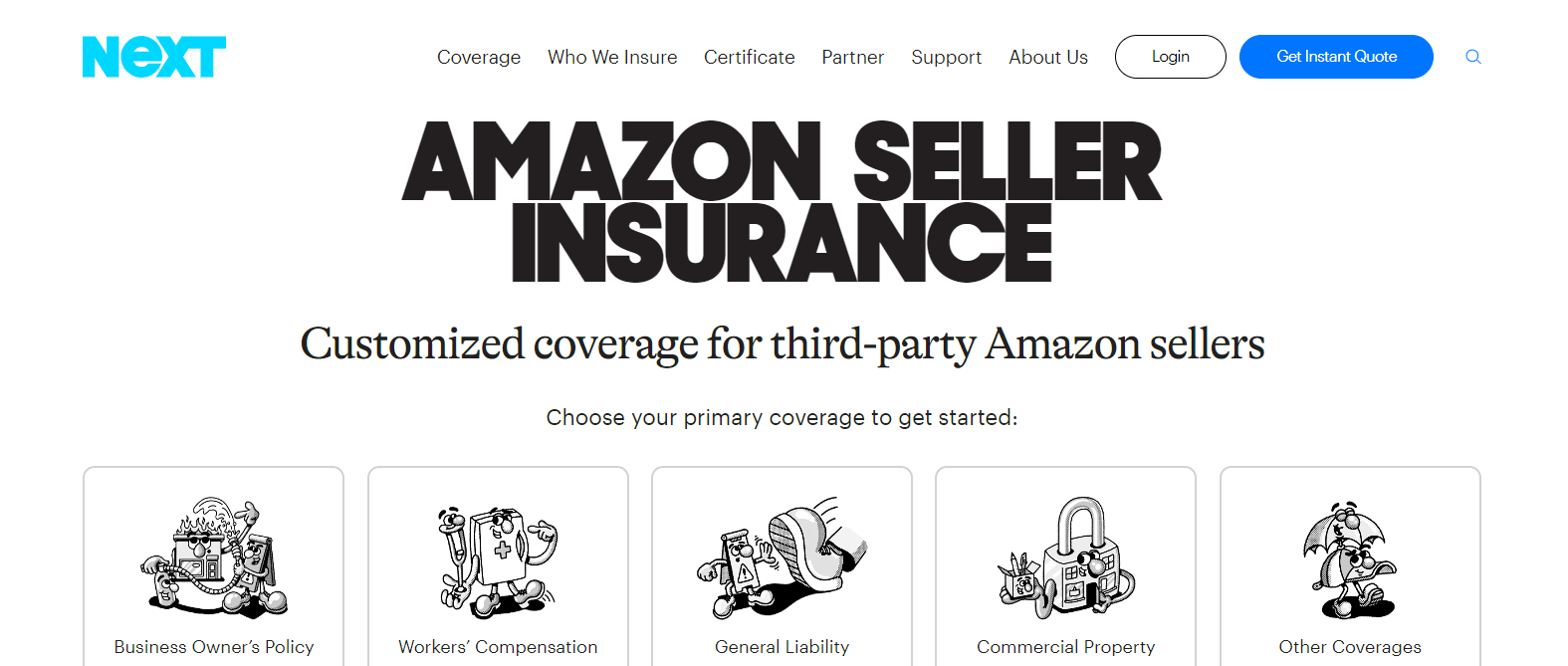 As a trusted business insurance for online retailers and small businesses, Next Insurance offers various core coverages, including general liability, professional liability, business owner's policy, and workers' comp insurance. With more than 1,300 types of businesses covered, Next Insurance provides flexibility and convenience for Amazon sellers. You can quickly obtain a custom quote or purchase a prepackaged policy online without speaking to anyone. With over 400,000 small business owners relying on Next, it's a reliable choice.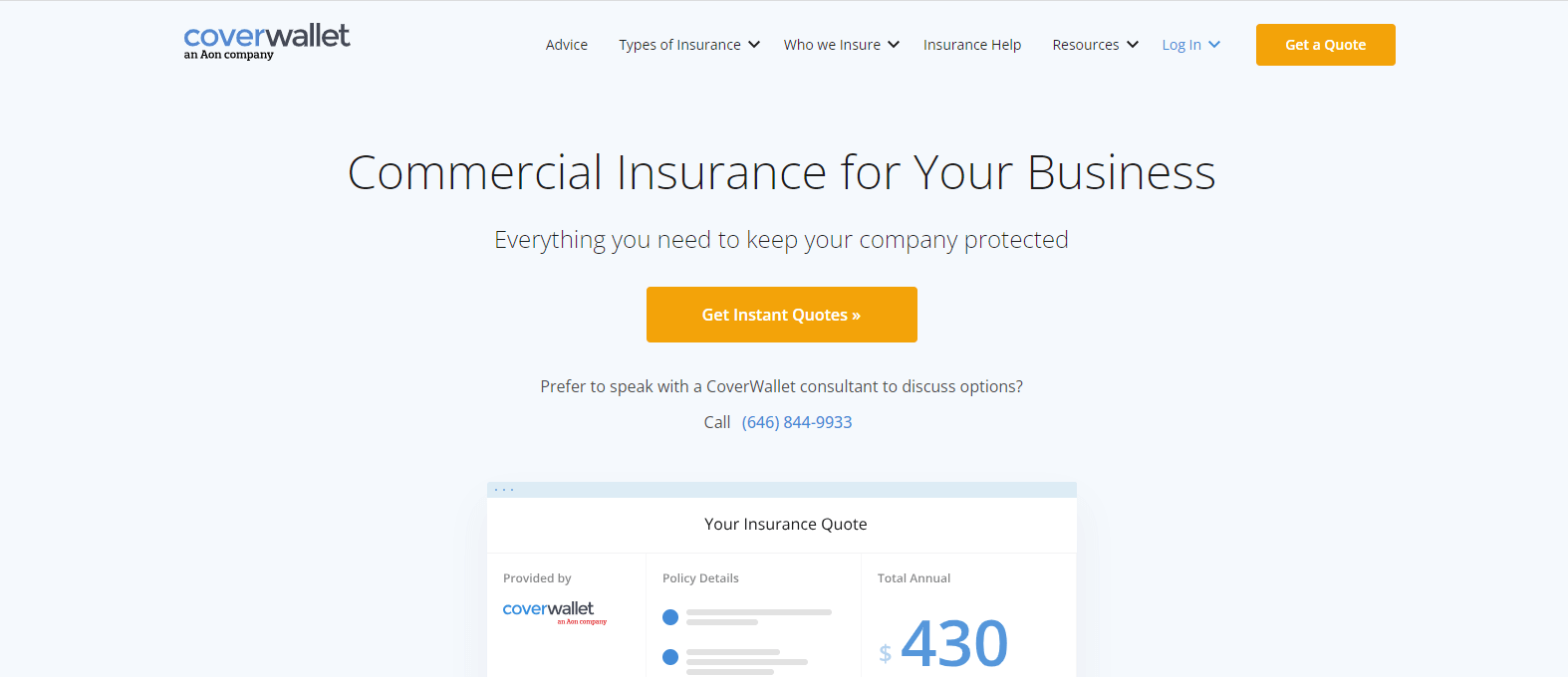 CoverWallet is a leading business insurance for online retailers, connecting small businesses with over ten top-rated carriers and multiple insurance options. It is an excellent choice for e-commerce businesses seeking fast and affordable coverage. Their online platform allows you to adjust the scope to fit your business needs. Additionally, CoverWallet offers event-based coverage, catering to freelancers, seasonal business owners, and independent contractors. The flexibility and tailored options make it appealing for Amazon sellers seeking comprehensive insurance coverage.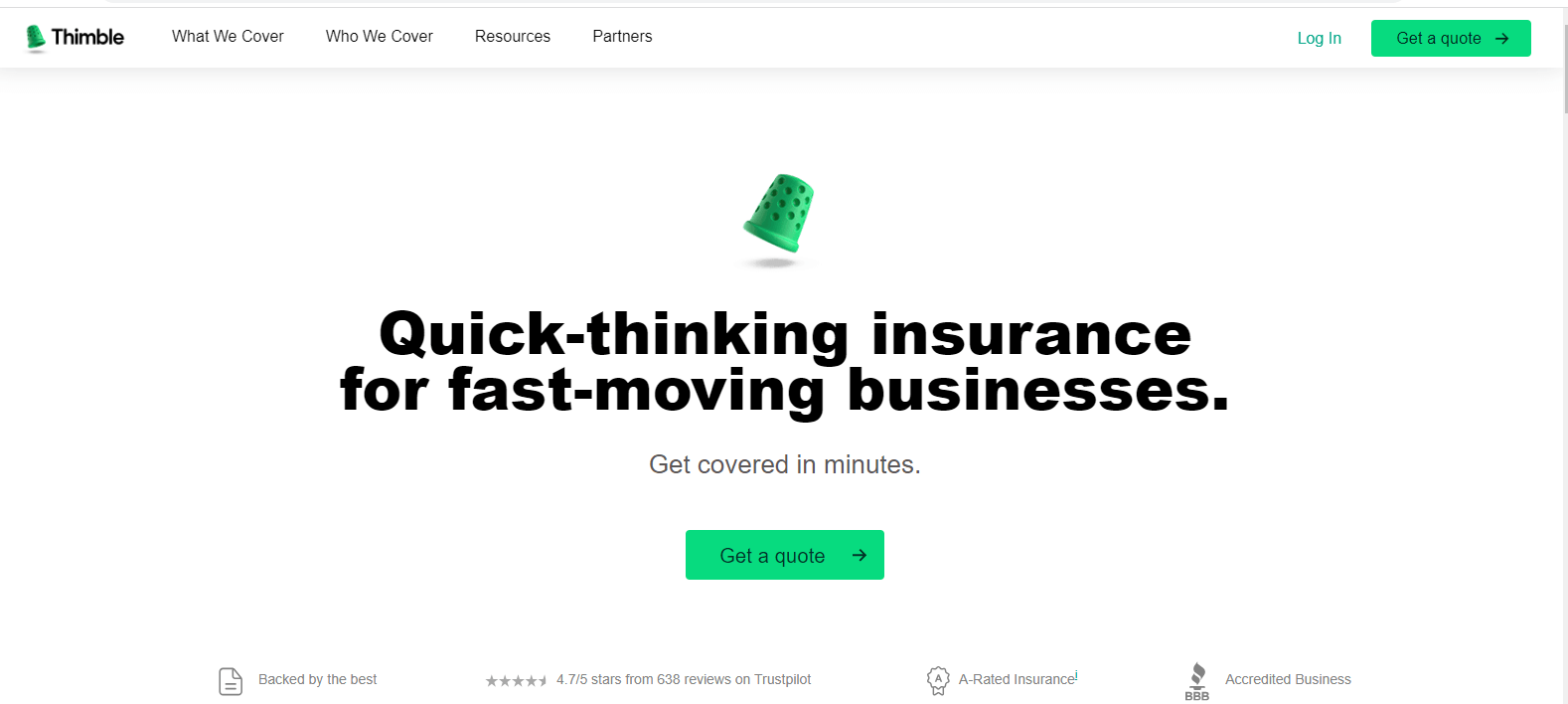 Thimble Insurance stands out for its quick and cost-effective coverage solutions for small businesses. It offers event-based coverage, making it suitable for Amazon sellers with varying insurance needs based on events or sales spikes. Thimble caters to freelancers, independent contractors, and seasonal businesses, providing tailor-made policies to suit their unique requirements. With its online platform, Thimble makes it easy to obtain the coverage you need without the hassle.
BTW, dive into this guide if you care to learn A Full Tutorial on How to Start an Online Retail Business.
Part 4: Summary and FAQs
Hence, as an online retailer choosing the best business insurance for online retailers is crucial to safeguard your operations and financial well-being. Evaluate each provider's offerings, pricing, and features to make an informed decision. Remember, the right online retail business insurance can provide peace of mind since you will know your business is risk-free against liabilities.
---
Read More:
Automated Amazon Store: The Great Scam of Our Time
A Complete Guide to Chatbot Like ChatGPT for 2023
How Can AI Bot Breakthrough of the Year Boost Your Business?
FAQs
Q1: Do I need Shopify insurance?
A: No. Not necessarily. You do not need online retail business insurance coverage if you're one of the online sellers using Shopify. However, to shield you from liability issues, you are advised to get Shopify business insurance coverage.
Q2: What sort of coverage do I require for an online store?
A: For most online retailers, general liability and product liability insurance can be appropriate places to start. Other products, such as cybersecurity insurance, professional liability insurance, and commercial property insurance, can be helpful.
Q3: Which types of insurance are needed for dropshipping?
A: Include general liability insurance in your plan to achieve success and foster business growth. This coverage usually encompasses bodily injury claims due to interactions with your business.
- End -