If you are gearing up to kickstart your online venture, understanding Amazon Business Prime vs. Prime is crucial. Both membership programs offer unique benefits to business owners and shoppers alike.
Nonetheless, knowing the difference between both can help you make an informed decision. Below, we will cover everything about both alternatives, from pricing structures to exclusive perks, to give a pinch of clarity and simplify the nuances. So, let's get started.
What is Amazon Prime?
Amazon Prime is a paid membership program offered by Amazon. Users, also called Prime members, are required to pay a monthly or annual subscription. This allows them to access exclusive services that regular Amazon shoppers cannot. For instance, a free same-day or 2-day delivery on specific purchases.
They also get unlimited access to Prime Party and Prime Wardrobe. Besides, they enjoy special Prime Day offers and conveniently stream their favorite shows, music, and movies. The service is available in numerous countries globally, including the following.
| | |
| --- | --- |
| UK | Japan |
| US | Mexico |
| France | Netherlands |
| China | Germany |
| Canada | Italy |
| Spain | Austria |
| Singapore | India |
| UAE | Australia |
Advantages of Amazon Prime
With Amazon Prime, you can access a plethora of benefits for shopping, shipping, and entertainment. Below, we have highlighted them properly:
Purchasing
Prime Wardrobe to test the clothing before spending money
Early access to lightning deals through Prime Early Access
Store endless memories using Prime Photos, offering unlimited storage on Amazon Drive
Utilize Dash Wan feature through Amazon Dash Prime
Access fresh grocery items and enjoy free shipping for eligible orders via Amazon Fresh
Prime membership sharing for adults living in Amazon Household
A speedy 2-hour delivery option and discounts at Whole Foods Market
Special offers and discounts during Amazon Prime Day event
Shipping
Special offers and discounts on Prime Day
Same-day or 2-day delivery on specific orders across the United States
The joy of free delivery on all the pre-ordered products that qualify
Free of cost same-day delivery on specific zip codes
Free of cost, no-rush deliveries for orders that aren't urgent
Entertainment
Discounted access to Amazon Music Unlimited monthly plans
Prime Music with thousands of playlists without ads
Access to additional content via Amazon Channels for a small extra monthly fee
Popular TV shows, movies, series, and Amazon originals
Endless audible channels at your fingertips
Exclusive preview of monthly book releases handpicked from Amazon's First Reads selections.
Unlimited entertainment for your little ones with Amazon Kids+
Prime Reading Library to borrow magazines, books, and more
Exclusive discounts on pre-ordered new releases and games and free monthly games through Twitch Prime
In short, you get a great set of advantages with Amazon Prime membership.
How Much Does Amazon Prime Membership Cost?
The Amazon Prime membership costs around $14.99 monthly and $139 annually. The platform also offers a special discount to students with a $6.49 monthly and $59 yearly subscription.
Those who have yet to explore the services and aren't confident about investing in Amazon Prime can test the 30-day free-of-cost trial.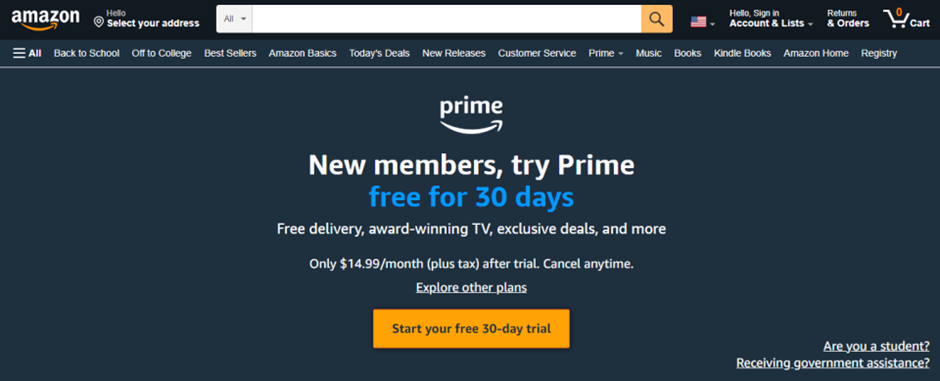 Sign Up Process for Amazon Prime
The signup process is fairly simple. Here's how to get started:
Visit the official Amazon Prime page and navigate to the sign up button.
Enter the required details and choose from a monthly or yearly subscription plan.
Follow the on-screen instructions to complete the signup process.
Pros & Cons of Amazon Prime
To make decision-making easier for you, here's a quick overview of the pros and cons of Amazon Prime:
Pros
Quick & free of cost shipping services
Free games and books
Early access to special offers
Access to Amazon originals and Prime Video
Regular exclusive discounts
Cons
Limited product listing
Subscription renews automatically
Suitable for occasional shoppers
Necessitates a credit card or online transaction
What is Amazon Business Prime?
Amazon Business, or Amazon B2B Prime, is a business-centric version of Amazon Prime. It allows business owners to buy stocks efficiently and access discounted product rates.
It offers products and services, including IT solutions, lab equipment, food services, and more - all at a discounted rate. It also comes with additional perks like corporate credit and employee logins, to name a few.
The program lets you add several team members to a single Prime account for a seamless shopping experience. Besides that, it offers numerous business analytics tools to track your spending, keep an eye on sales, and tweak strategies for the better.
You can create a free-of-cost Business Prime account and access its pros as an Amazon user. Other perks include the following:
Different levels of access for users to make their desired purchases.
Specialized shipping services for oversized items.
Setting product suppliers as per your preferences.
Opening and utilizing Amazon Corporate Credit line for streamlined payments.
Establishing approval processes and expenditure limits on purchases.
Amazon Business Prime is available in the UK, US, Spain, Japan, Germany, France, India, and Italy.
Advantages of Amazon Business Prime
As an Amazon Business seller, you can opt for Fulfillment by Amazon (FBA) to fulfill your orders seamlessly. When you choose FBA, Amazon takes the responsibility of packing and shopping the product when someone places an order.
However, you are required to pay a fee for that.
Here are a few additional benefits of choosing the Amazon business: prime vs. prime:
Shipping
Free of cost consolidated shipping for 3-5 days
Quicker shipping at discounted rates
Free same-day, 1-day, and 2-day shipping on qualifying items
Free delivery on Amazon Day
Purchasing
You can also access Amazon WorkDocs to collaborate on invoices, receipts, etc. Here are the available options.
250 GB space for a single user (Essential)
750 GB space for 3 users (Small)
1.25 TB space for 5 users (Medium)
2.5 TB space for 10 users (Enterprise)
Incentives
Special Pricing: Members can purchase bulk items because they get excellent discounts on numerous products and access attractive offers from other sellers. You can always access "Request a Quantity Discount" to check the items available for discounts.
Extended Terms: Members can extend the payment terms by requesting "Extended Terms for Pay by Invoice".
Amazon American Express Credit Card: Members can get their American Express Credit Card without paying additional fees or annual charges.
Delivery Services: It includes same-day, 1-day, and 2-day deliveries. Besides that, free shipping on eligible items and discounted speedy deliveries are also available.
Visibility of Spending: Members can monitor and evaluate spending data by visualizing and recording their spending.
Directed Buying: Administrators of Business Prime accounts have the freedom to select and mark specific items and suppliers. They can also impose restrictions on select product categories. This allows them to elevate the buying experience.
How Much Does Amazon Business Prime Membership Cost?
Amazon Business account doesn't require any payment. You can sign up for free and within a snap. It, however, offers several packages:
Essential: 3 users at $179 yearly
Small: 10 users for $499 yearly
Medium: 100 users at $1,299 yearly
Enterprise: 100 users at $10,099 yearly
Public Sector: 100 users at $3,499 yearly
As a small business owner, you can begin by testing a 30-day free trial. This will give you an insight into whether the program fits your preferences and needs.
Sign Up Process for Amazon Business Prime
The signup process is relatively straightforward. Follow the steps below:
Create your Amazon Business account or log in to your current one.
Visit the official Business Prime page and select "Sign In to Amazon Business".
Follow the on-screen instructions and complete the signup process.
Pros & Cons of Amazon Business Prime
Here's a quick overview of the pros and cons of Amazon Business Prime:
Pros
Free sign up
Special discounts on products
FBA feature
Specialized B2B features
Amazon WorkDocs
Business shipping
Cons
Fierce competition with other sellers
6-15% fee on specific product categories (excluding the FBA fee)
Limited interaction with buyers and sellers
What is Business Prime Duo?
You may also hear about Amazon Business Prime Duo when exploring Amazon Business Prime vs. Prime. Basically, Amazon Business Prime Duo is a Business plan for a single user. It costs around $69 yearly. The standard Business Prime subscription automatically follows this, with the Essential plan serving at the basic level.
Overall, it offers perks similar to the Business Prime. The only difference is that it is for a single user.
Amazon Business Prime vs. Prime: Key Differences
Amazon Business vs Prime are often used interchangeably. However, there is a fine line between both programs. So, below are the main differences between the two services:
1. Number of Users
Amazon Business allows several users in a single account. It offers numerous Business Prime plans and allows users to pick one based on their preferences.
In contrast, Amazon Prime doesn't allow multiple users. You can only share your account with one person living in the same place as you.
2. Home Page
Amazon Business Prime users can access a personalized home page, which is a plus. It makes up for a seamless and organized business experience. On the flip side, Amazon Prime includes the standard Amazon home page.
3. Discounts
Amazon Business Prime gives access to business-priced items. They also get discounts on tiered costs for big orders and multiple transactions. This allows them to buy in bulk and drive profits. However, Amazon Prime account users do not have access to such discounts.
4. Cost of Membership
Although an Amazon Business vs. Prime account doesn't charge for signing up, you need to buy a Business Prime plan to enjoy more perks as a business owner. Overall, Business Prime is costlier than Amazon Prime. However, Prime Duo is slightly more affordable, priced at $69.
As a Business Prime user, you can choose from 6 plans. Contrarily, Amazon Prime only offers one.
5. Target Customers
The target customers of both Business Prime vs Prime plans are different. Amazon Business Prime is for business owners who need to purchase business-related products. Therefore, this plan comes with guided procurement methods for members to purchase the services and products they need to run their businesses efficiently.
In contrast, Amazon Prime offers a personal account and is meant for shoppers to cater to their shopping needs.
6. Work-Related Perks
Amazon Business Prime, as the name implies, is all about work-related benefits. It allows members to track all their spending and make adjustments accordingly. Besides, it enables authorized members to restrict the spending limit and avoid extravagant expenditures.
In contrast, all these perks are not present in Amazon Prime because this service model is not meant to facilitate businesses.
7. Entertainment Benefits
Amazon Prime members can access several entertainment benefits, from music to games and TV series to online books. Contrarily, Business Prime members cannot access such features because their account is business-centric.
How to Choose Between Amazon Business Prime vs. Prime?
If you are still uncertain about choosing between Amazon Prime vs. Business Prime, here are some insights that might help:
If you are a part of a large business, consider investing in Amazon Business Prime. This will allow you to access features that will level up bulk shopping and help you drive substantial profits. Besides that, this can be your go-to option if you have a team and want to manage your account.
If you aren't a business but an avid Amazon shopper, consider investing in Amazon Prime. It will help you optimize your shopping experience.
If you have access to Amazon Prime and are willing to start a small business, consider investing in Amazon Business Prime. You can sign up through Business Prime Duo. It's a single-user account and offers perks similar to Business Prime.
For newbies interested in using Amazon, signing up for an Amazon Business account can be an option. Even though it's free, you can access several business-oriented features like reports and discounts. Nonetheless, compare Amazon Business account benefits with your personal needs before deciding.
| | | |
| --- | --- | --- |
| | Amazon Prime | Business Prime |
| Membership Costs | $14.99 monthly $139 annually | Essential: 3 users at $179 yearly Small: 10 users for $499 yearly Medium: 100 users at $1,299 yearly Enterprise: 100 users at $10,099 yearly Public Sector: 100 users at $3,499 yearly |
| 30-day free trial | Yes | Yes |
| Free 1 and 2-day shipping on eligible items | Yes | Yes |
| No of users per subscription | Can share certain benefits with people under the same roof | Different plans for a single user to 100+ users |
| Entertainment perks | Yes | No |
| Work advantages | No | Yes |
| Savings | Yes (Whole Foods Market, Prime Exclusive, etc.) | Yes (lightning deals, progressive discounts, etc.) |
Wrapping Up
Amazon Business Prime vs. Prime comparison reflects that they have their unique advantages and disadvantages. So, the final choice boils down to your unique preferences. Large businesses, for instance, should sign up for Amazon Business Prime. On the contrary, small business owners should consider investing in Amazon Prime, followed by a Business Prime Duo subscription afterward.
Similarly, Amazon buyers should consider Amazon Prime only to get discounts and entertainment services they are looking for.
To wrap up, make sure you thoroughly comprehend your needs to make an informed decision and maximize the pros and limit the cons of the chosen plan.
- End -