Introduction
Japan has begun discharging treated radioactive wastewater from the disabled Fukushima Daiichi Nuclear Power Station into the Pacific Ocean. The decision to release the water into the sea has sparked criticism in Japan and the region. An IAEA report issued last month said Japan's approach and activities to discharge the treated water were "consistent with relevant international safety standards". Furthermore, the "controlled, gradual discharges" of the treated water would have a "negligible radiological impact" on people and the environment. But is it really the truth? Concerns over the release of water from Fukushima have been increasing. Due to concerns about potential ongoing pollution in the future, there has been a certain increase in the demand for nuclear radiation detection instruments. Among them, the Geiger counter is the most mainstream product.
Market Insights of Geiger Counters
Overview
The overall sales data of the category has generally increased over the years. The significant increase in search volume for nuclear radiation detectors in February 2022 (Ukraine war)and August 2023 suggests a potential growth opportunity in this niche.
Looking at the data for one year, monthly sales in 2023 are relatively stable, with some fluctuations. The highest sales occurred in February (202302) with 3,632 units, while the lowest was in August (202308) with 1,300 units.
2021 to 2022: 2022 witnessed remarkable growth, with a substantial increase in sales and revenue, reflecting a period of rapid expansion in the Geiger counter market.


Brand Monopoly
Market Concentration: The top three brands in the category account for 22% of sales. "GQ" stands out as the dominant player, with a significant sales proportion of 70.11% and a revenue proportion of 55.07%. This suggests that GQ has a strong presence in the market.
| | | | | | |
| --- | --- | --- | --- | --- | --- |
| Ranking | Brand | Products | New Products | Monthly Sales | Sales Proportion |
| 1 | GQ | 9 | 1 | 950 | 70.11% |
| 2 | RADEX by Quarta-Rad | 4 | 0 | 43 | 3.17% |
| 3 | GZHaiTuoSi | 1 | 0 | 42 | 3.10% |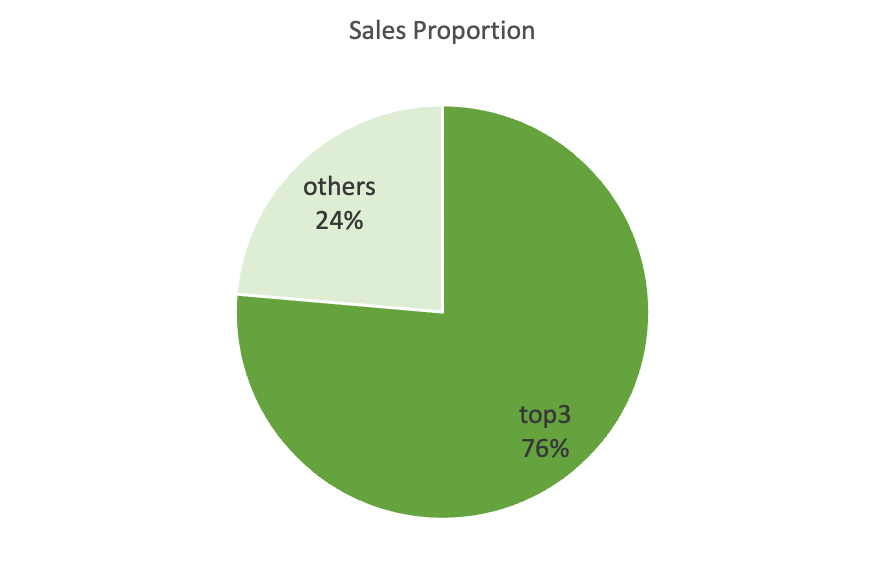 New Products vs. Existing Products: Most brands do not release new products into the market, with the majority relying on their existing product offerings. However, brands like "SAFECASTLE," "Kind Innovations," "VIPFMPET," and "Radiacode" exclusively rely on new product sales, which may indicate a focus on innovation and product development.

Price Variations: The average price of Geiger counters varies across brands, ranging from as low as $27.29 to as high as $767.13. These price differences may reflect variations in product features, quality, and brand reputation.

Ratings and Reviews: Brands with higher ratings tend to have better customer reviews. For instance, "Radiacode" and "SAFECASTLE" have high ratings of 4.3 and 4.4, respectively, which may contribute to their market success.
Diversification and Specialization: Some brands, such as "GQ" and "imagesco," offer multiple products, while others focus on a single product. Brands like "USA Gear" and "Coleman" appear to have a limited presence in the Geiger counter market.
Revenue Distribution: Brands like "SAFECASTLE" and "Kind Innovations" generate all their revenue from new products, while brands like "GQ" rely predominantly on revenue from existing products. This highlights different revenue strategies within the market.
Competitive Landscape: The Geiger counter market seems competitive, with various brands offering a range of products at different price points. Competition may be driven by factors such as price, quality, and product features.
Product Research
A Geiger counter, also known as a Geiger-Muller counter, is a portable device used for detecting and measuring ionizing radiation. It is an essential tool for monitoring and assessing radiation levels in various environments. Geiger counters are named after their inventors, Hans Geiger and Walther Müller, and they play a crucial role in nuclear physics, radiation safety, and environmental monitoring. It typically have a compact and handheld design. They consist of a cylindrical or rectangular body, which is often lightweight and easy to carry. The top part of the device usually features a radiation detection sensor protected by a thin window made of materials like mica or metal to allow ionizing radiation to enter. The main body houses the electronic components required for radiation detection and measurement. Geiger counters come in various sizes and designs, but they all share the basic structure of a portable handheld device.

Buyers Motivation
Water and food Detection(14%):After the Fukushima nuclear disaster customers are concerned about the radiation level. They were worried about the lack of data provided by the government regarding the level of radiation and the potential harm it could cause to their family. They found geiger counter to be a compact and portable solution to measure radiation levels. After measuring the radiation levels at home and outside, they realized that the levels were higher than expected and needed to be monitored. They found peace of mind by using Radex to protect their family.
Radon & Alpha Particle Measurement (4.1%): A niche segment appreciates Geiger counters for their ability to measure alpha particles as a lab measurement device, making them suitable for detecting radon and other radioactive materials.
Accurate & Reliable (2.3%): A small segment values the accuracy and reliability of Geiger counters, appreciating their consistency and suitability for ambient readings.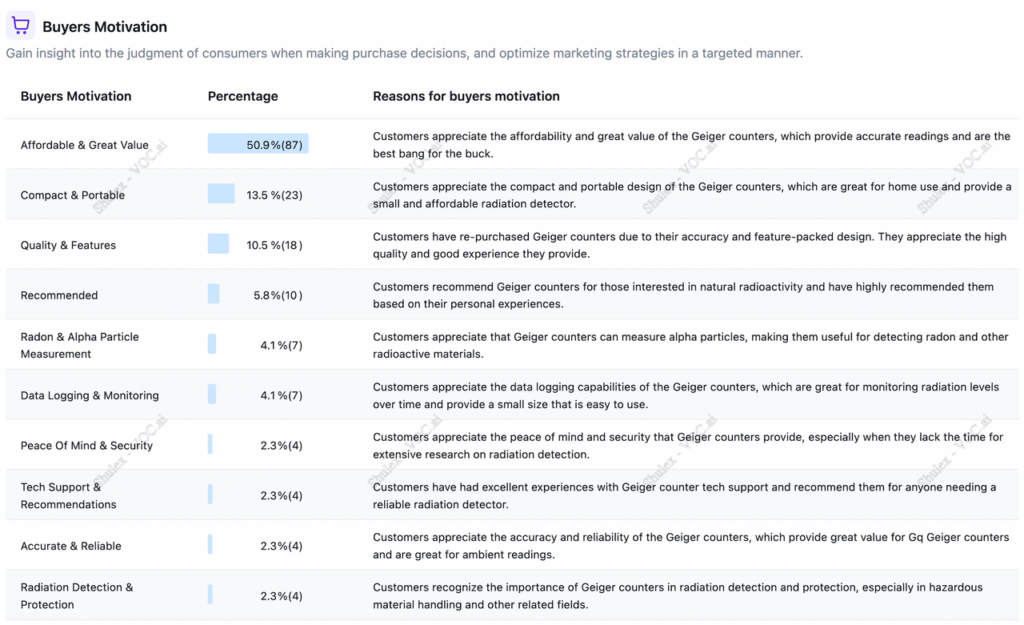 Customer Profile
From the demographic and venue data, it can be seen that there are three target groups that we are focusing on:
Professionals : 23% of reviews mention that they are professionals. This group includes individuals such as airline captains, doctors, physicists, and homeland security personnel. They use Geiger counters for accurate radiation detection and measurement during their work. For example, airline captains may use them to monitor radiation levels during flights, ensuring the safety of passengers and crew. Doctors and physicists may employ Geiger counters in medical or research settings to measure radiation accurately, while homeland security personnel may use them to assess potential threats.
Enthusiasts and Hobbyists: 8% of reviews mention that they are ametures such as rock collectors and science geeks.This group utilizes Geiger counters as tools for their hobbies and interests. Rock collectors may use them to identify and explore radioactive minerals during their collecting activities. Science geeks may incorporate Geiger counters into their experiments and science projects, fostering a deeper understanding of radiation and physics concepts.
General Users for Safety and Exploration: This group comprises individuals who use Geiger counters for general safety and exploration purposes. They use Geiger counters in various scenarios, including everyday carry for safety reasons. They use these devices to monitor radiation levels in their surroundings, whether indoors, outdoors, or during travel. Geiger counters provide peace of mind by helping users identify potential radiation hazards and ensure their safety in different environments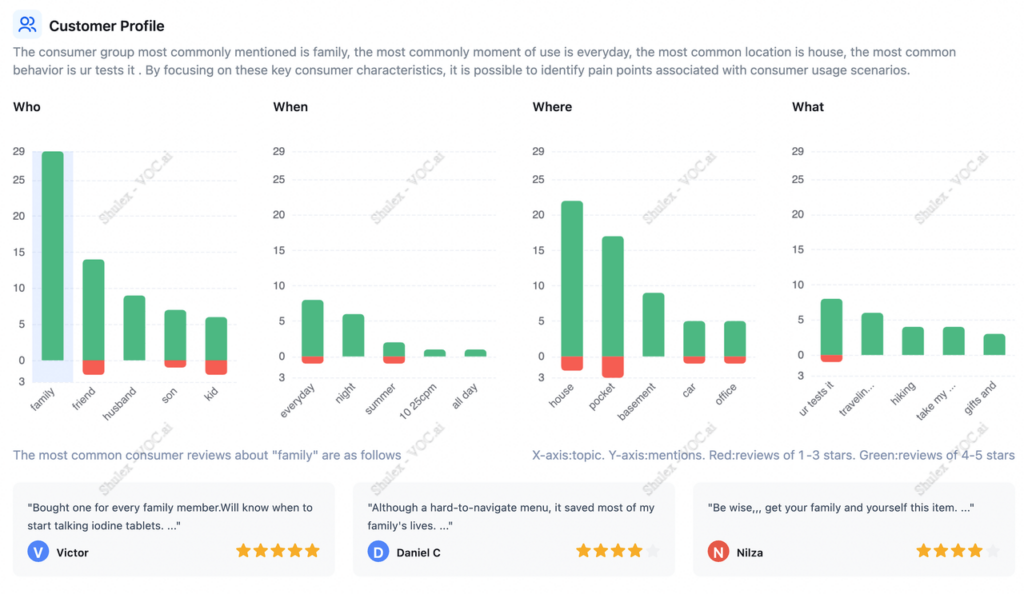 Pros and Cons about geiger counts in amazon
Sentiment
Topic
Percentage
Count
Sentiment
Topic
Percentage
Count
Negative
Poor Quality
24%
130
Positive
Easy Operation
31%
233
Ineffective Detection
14%
75
Accurate Readings
26%
195
Display Issues
14%
74
Portability
20%
145
Confusing Instructions
13%
69
User-Friendly
13%
99
Performance Issues
10%
53
Durable
12%
92
Negative feedbacks:
Quality Concerns: A common theme in negative reviews is the poor quality of Geiger counters. Customers have experienced issues such as noisy operation, scratched screens, and poorly rewired products, leading to dissatisfaction and concerns about product durability.
Ineffective Detection: Users have reported that the device is not suitable for emergency use, has a limited detection range, and lacks standard methods of conversion and data transfer. This limitation reduces the product's utility for some customers.
Display and Battery Problems: Display issues, including screen breakage and relighting problems, have been mentioned, affecting usability in low-light conditions. Additionally, complaints about battery-related problems, such as non-removable batteries and dead batteries included, have emerged as recurring concerns.
Positive feedbacks:
Ease of Use: Positive reviews consistently highlight the ease of operation of Geiger counters. Customers appreciate the user-friendly interface and the ability to use the device right out of the box, making it accessible to a wide range of users.
Accuracy and Portability: Users find Geiger counters to provide accurate radiation readings, instilling confidence in their reliability. Portability is another major positive aspect, with customers valuing the device's compact size, allowing them to carry it conveniently.
Durable and Clear Display: Positive reviews mention the durability of Geiger counters, emphasizing their suitability for various environments. The clear and easy-to-read display, including a backlight option for low-light situations, receives praise for providing accurate and interpretable radiation readings.
Rating optimization
What factors do customers consider the most crucial of geiger counter?
Quality Assurance: The most critical improvement should focus on ensuring consistent product quality. Addressing the reported issues related to poor quality, such as noisy operation, rewiring problems, and scratched screens, is essential. Customers rely on Geiger counters for accurate radiation detection, and any compromise in quality can lead to inaccurate readings or malfunctions, eroding trust in the product. Improving quality not only enhances the user experience but also prevents potential safety risks associated with unreliable readings.
Enhanced Detection Capability: Improving the counters' detection capabilities is crucial, particularly for emergency use and practical applications. Customers have reported concerns about limited detection ranges and a lack of standard conversion methods. Enhancing the counters' sensitivity and providing clear instructions on how to use them effectively can address these issues. Customers expect Geiger counters to reliably detect and measure radiation, and failure in this aspect can lead to dissatisfaction and potentially dangerous situations in situations where accurate readings are crucial.
Display Enhancement: Addressing display-related issues is another critical improvement. Broken displays, screen relighting problems, and difficulty using the device in low-light conditions have been reported. A robust and visible display is essential for users to interpret radiation readings accurately and without difficulty. Enhancing the display's durability and visibility in various lighting conditions will significantly improve the user experience and the practicality of the product.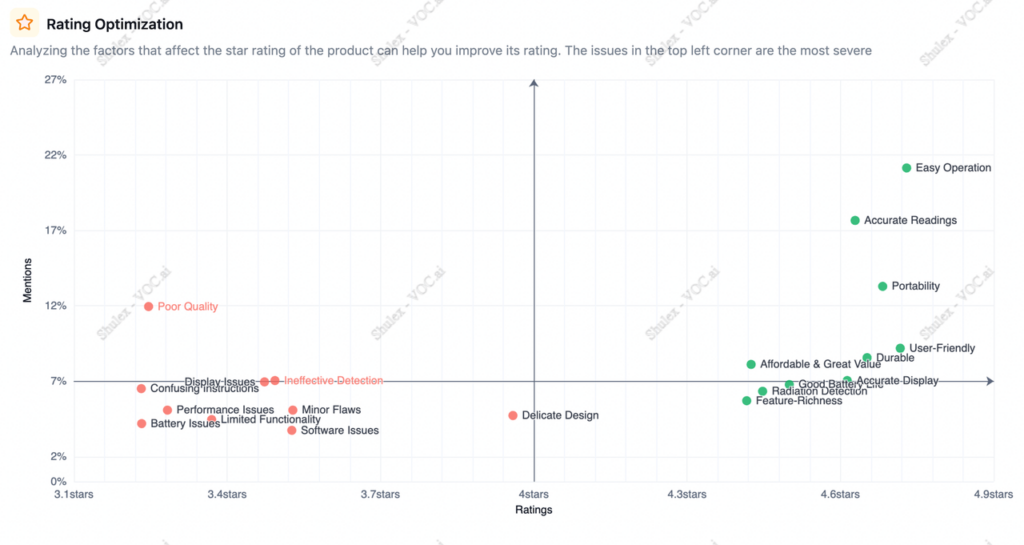 Competitive Analysis
Imagesco appears to have a competitive edge in the market due to its high scores in ease of operation and user-friendliness, as noted in both of its entries. Its significant lead in the accuracy of readings category, particularly in the second entry (40.0%), denotes a substantial advantage in providing reliable data to users. Moreover, it offers unique features such as "Warning in High Radiation", which might enhance safety measures for its users. However, when portability is a priority, customers might also lean towards the RADEX by Quarta-Rad, which has a notable score in that category. Overall, while the ideal choice would depend on individual user preferences and the specific features they prioritize, Imagesco seems to present a well-rounded option with strengths in various critical aspects.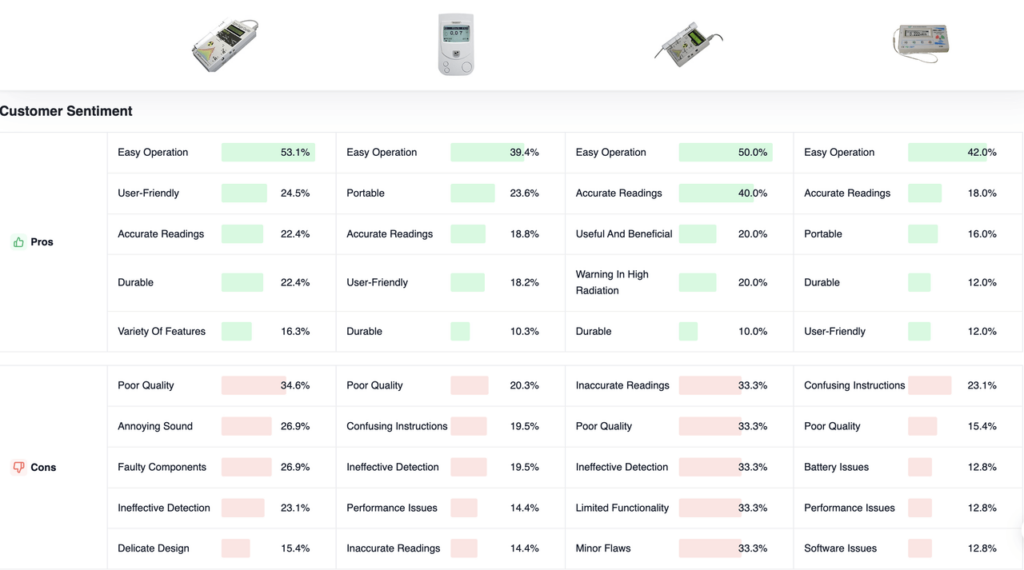 - End -