With over 2 million active sellers on Amazon, the ecommerce giant remains a popular platform to launch a product and grow business. Yet, not everyone selling on Amazon succeeds in generating profits. That's primarily because success at Amazon hinges on meticulous planning and financial foresight.
After starting your venture but before finalizing your product(s), you must gauge the profitability of your business with precision to ensure sustainability.
This requires a comprehensive assessment of initial investments, FBA costs, and estimated sales figures. Fortunately, the Amazon FBA revenue calculator can be your trusted ally in this complex journey.
This blog will dive into every facet of this essential resource to help you gain financial clarity and make informed decisions.
Know Your Costs as an Amazon Seller
Becoming a successful Amazon seller starts with a fundamental understanding of your costs before you choose a product and after its launch. Here are a few expenses to consider:
Upfront Costs
Upfront costs entail expenses before your product hits the Amazon marketplace. It may include product sample costs, actual cost of goods, investment in professional photography, and shipping fees.
Besides that, you also have to consider Amazon Seller Account fees. When you create an Amazon seller account, you have to pick between Individual or Professional accounts and then pay the corresponding fees accordingly. The former has lower monthly fees but higher per-item selling charges. Contrarily, the latter involves a monthly subscription fee but lower product fees.
Variable Costs
Variable costs fluctuate with Amazon fees and sales volume - hence the name. The major expenses, however, are associated with the FBA (Fulfillment by Amazon) fees, which include storage and shipping costs.
Additionally, the returns can significantly affect your overall variable costs. Monitoring these expenses will help you sustain your profit margins.
Marketing Costs
Sellers invest in advertising to boost visibility and sales to outpace fierce competition. YouTube, for instance, have been Amazon's top social media traffic referrers as of April 2023.
The advertisement methods generally encompass pay-per-click advertising and promotional campaigns. Considering these expenses is crucial because they directly impact your Return on Investment (ROI).
Other Costs
Amazon highlights other costs as well, including inventory, high-volume listing, and refund administration fees. Further, employee payroll, insurance, taxes, and travel expenses (in case your business requires it) are consistent overheads that can impact your overall profitability.
What Is Amazon FBA & Its Fee
Amazon FBA, or Fulfillment by Amazon, is a service offered by the marketplace to third-party sellers. It allows them to store their products in Amazon's fulfillment centers, and the platform handles the storage, packaging, shipping, and even the customer service of the products.
Generally, the FBA fee is 15% of the product's total price, including $3.00 for managing and shipping the item. It is, however, worth noting that certain factors can affect the overall Amazon FBA fee. These include but aren't limited to the following:
Product Weight and Size: Amazon categorizes items in different size tiers and the cost increases as the product weight and size increase. Lighter and small-sized items naturally have lower fulfillment fees.

Storage Duration: The platform charges a fee depending on the time your products stay in the fulfillment center. Long-term storage fees apply to the items that remain in the center for an extended period.
Category and Subcategory: The category and subcategory based on the %age of your product's sale pricealso affect your referral fee. Different categories have varying referral fee percentages.
Shipping Costs to Amazon: You are responsible for shipping your products to the Amazon fulfillment center as a seller. The shipping costs vary depending on the shipping method and distance to the fulfillment center.
Marketplace: The marketplace you choose also affects the FBA fees (Amazon.co.uk, Amazon.com, Amazon.de, etc.).
Time of the Year: Amazon often implements seasonal storage rates during peak selling seasons, such as the holiday season. Therefore, sellers must plan the potential rate increases during those times.
The Role of Amazon FBA Revenue Calculator
Amazon FBA revenue calculator is a helpful tool that allows sellers to estimate the profitability and the potential fee associated with selling through Amazon's fulfillment services.
This tool acts as an FBA fee calculator, allowing you to determine the fee associated with Amazon handling storage, packing, and inbound and outbound shipping of your items.
The fee often fluctuates depending on the size and weight of your items. So, you can input the weight and size of your items to gauge the potential costs.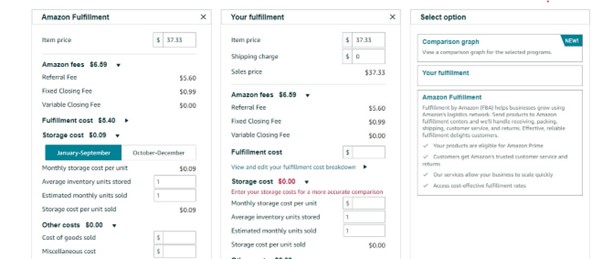 Here's what else you can find using the Amazon FBA calculator.
Referral fees: The platform charges a referral fee for each product sold. The calculator also considers this fee, which is typically a %age of the product's sale price.
Your Selling Price: You can input the price at which you plan to sell your products on the platform. The calculator will show you the estimated profit.
Comparison: You can use the Amazon FBA revenue calculator to compare the profitability of different items or pricing strategies.
In short, Amazon FBA revenue calculator is a one-stop tool to calculate the profitability effectively.
How to Use Amazon FBA Revenue Calculator?
Amazon FBA calculator is an easy-to-use tool. All you have to do is enter the basic pricing details of a product and instantly calculate Amazon FBA seller fees.
Follow the below steps to learn how to use Amazon FBA revenue calculator:
Go to the Amazon FBA calculator from the Seller Central or click here to directly navigate to it.
Head over to the column on the right side and type your product price, the shipping expense for delivering it to Amazon, and the unit cost of the product.
Once you have added all the details, hit Enter.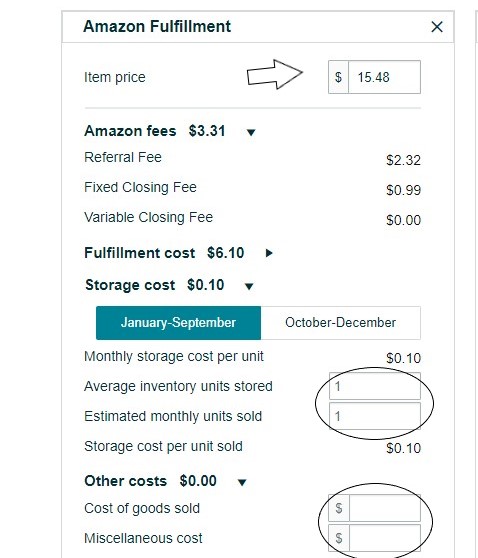 The calculator will instantly give you FBA fees, selling fees, net profit, and net margin. This way, you can also use the tool for rough estimates of the shipping and related costs of the product.
Tips to Manage Your Costs as an Amazon Seller
Knowing how to calculate product-related costs using Amazon FBA revenue calculator is just one factor in making profitable sales on Amazon. You also need to strategically manage your costs to beat the competition and still generate profitable revenue. Therefore, below are some useful tips and tricks to manage your costs as an Amazon seller:
Comprehend Amazon fee: Make sure you thoroughly understand the fees associated with selling on Amazon, including fulfillment, referral, advertising, and storage costs. This will enable you to calculate your profit margins accurately.
Set Competitive Pricing: While it is imperative to price your items competitively, you should ensure your pricing strategy allows you to cover all the expenses and drive profit. To help ease this hassle, Shulex VOC, an AI-powered tool for Amazon sellers, provides valuable insights about products and competitors so that you can adjust your prices accordingly.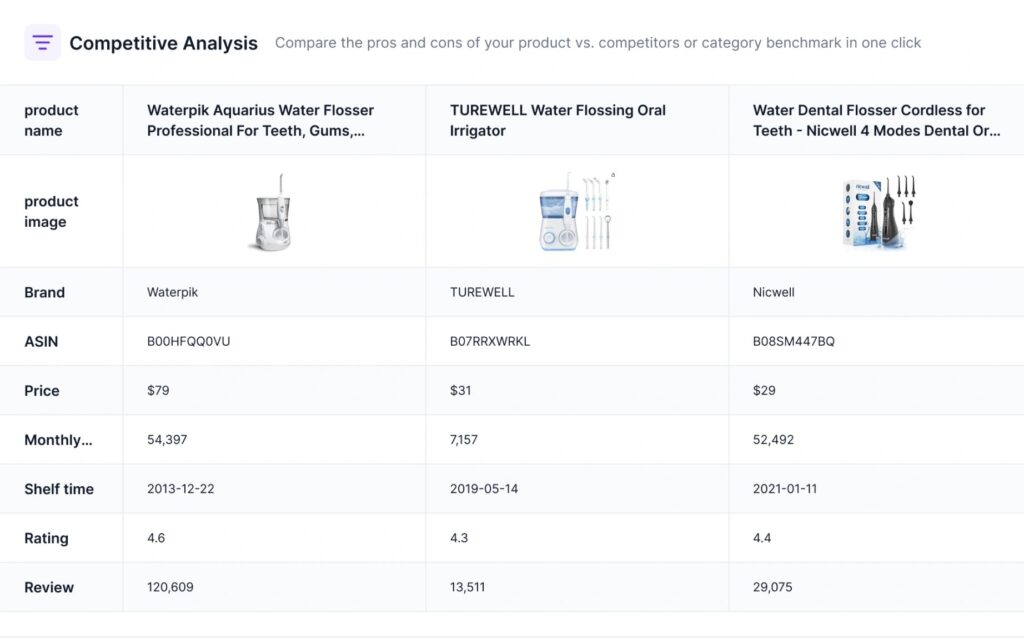 Manage your Inventory: Inventory management is also directly linked with the costs. You should avoid getting out of stock to avoid competitors winning over you and impacting your Best Sellers Rank (BSR). Besides that, overstocking also has potential downsides, as it leads to high storage fees and other challenges.
Utilize Amazon FBA Efficiently: You can benefit from Amazon FBA, but be strategic about the products you send to Amazon. Consider sales velocity, storage fees, and seasonality when deciding what to fulfill through FBA.
Optimize Shipping Costs: You can optimize your shipping costs by using Amazon's discounted shipping services, negotiating rates with carriers, and opting for a suitable shipping method based on the product's weight, destination, and size.
Minimize Returns: You can also manage your costs by reducing the number of returns. Consider providing clear images, comprehensive product descriptions, accurate size information, and prompt response to customer concerns. Besides that, use Shulex VOC customer analytics to improve customer experience.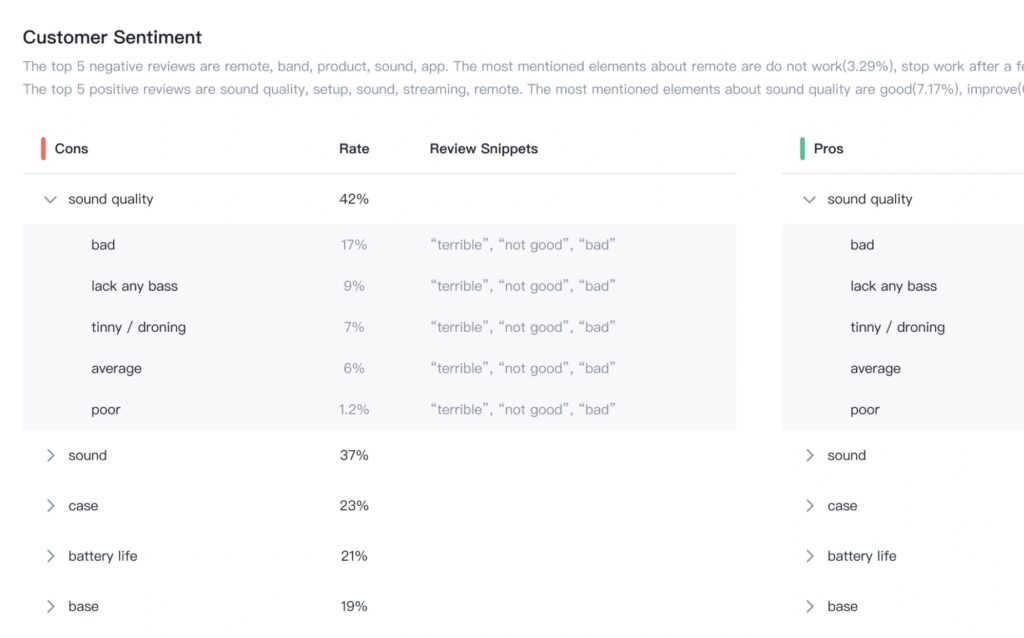 In short, it requires smart thinking and smart decisions to optimize the Amazon FBA model effectively, beat the competition, and become one of the successful sellers on Amazon.
FAQs about Amazon FBA
1. Amazon FBA vs. Amazon FBM: What's the Difference?
Amazon FBA (Fulfillment by Amazon) involves storing your items in Amazon's fulfillment centers, where they handle the shipping, returns, and customer service. Contrarily, Amazon FBM (Fulfillment by Merchant) refers to the practice where the seller manages the shipping and customer service themselves.
The former offers greater convenience but involves slightly higher costs, while the latter allows for more control but demands greater logistical involvement.
2. Is Amazon FBA Calculations Trustworthy?
Amazon FBA calculations are generally trustworthy for estimating costs. However, they should only be used as estimates and regularly checked for accuracy due to changes in Amazon's fee structure and other possible variables.
3. What Are the Pros and Cons of Amazon FBA?
Amazon FBA offers a higher customer reach, Prime eligibility, time savings, and better credibility due to the platform's reputation. However, the drawbacks may include limited control over customer service and shipping, long-term storage costs, and fees that impact your overall profits.
Wrapping Up
The Amazon FBA revenue calculator is an indispensable tool for amateur and experienced sellers. It allows you to assess a product's profitability, comprehend the intricate web of costs, and make informed pricing decisions. Through its lens, you can gain insights into profit margins and streamline your inventory to thrive in the competitive Amazon marketplace.
So whether you're starting, launching a new product, or have an established business on the platform, keeping track of your expenses using the Amazon FBA calculator and utilizing AI intelligence with tools like Shulex VOC will allow you to stay smart and ahead of the competition.
- End -