Introduction
Selling products on Amazon is a highly competitive endeavor, requiring careful planning, effective marketing strategies, and the use of powerful tools to gain an edge in the marketplace. One such tool that has gained significant popularity among Amazon sellers is Helium 10. Known for its comprehensive suite of features, Helium 10 offers a range of solutions to help sellers optimize their listings, conduct thorough product research, manage inventory efficiently, and much more. In this blog, we will delve into the Helium 10 pricing structure and explore the benefits of its free trial, giving you a better understanding of how this tool can propel your Amazon business to new heights.
Understanding Helium 10 Pricing
Helium 10 offers different pricing plans tailored to meet the diverse needs of Amazon sellers. Let's take a closer look at the available pricing options: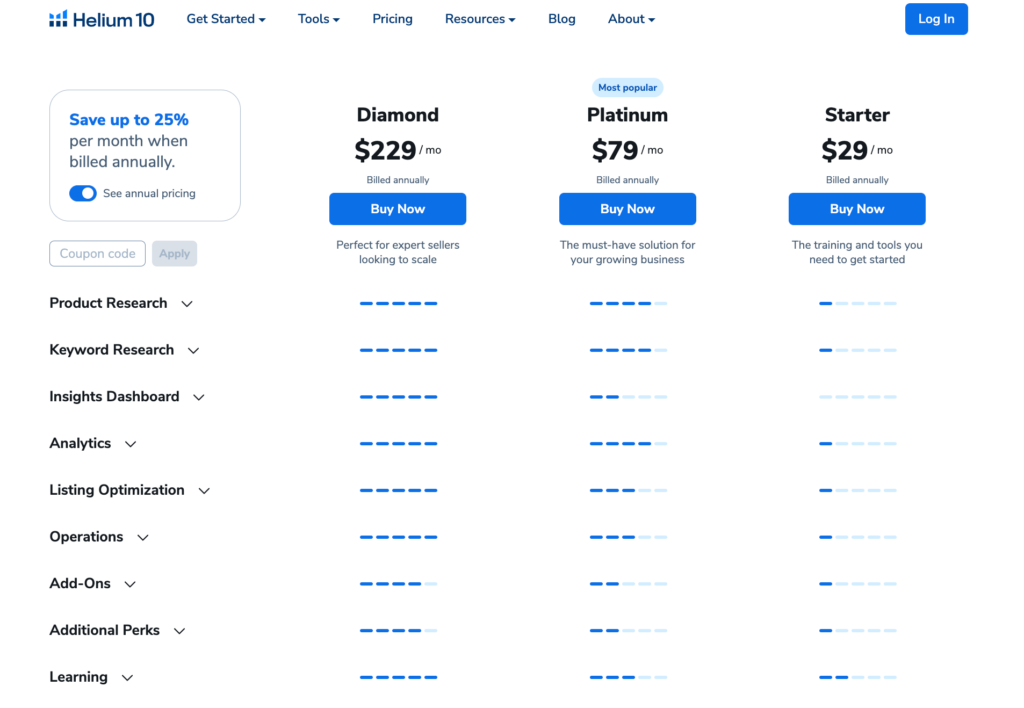 Free Plan: Helium 10 provides a free plan that offers limited access to some of its most popular features. This is ideal for beginners or those who wish to explore the platform before committing to a paid subscription. The free plan gives users a taste of what Helium 10 has to offer, allowing them to evaluate its usability and effectiveness.
A La Carte Plan: For those who have specific needs and prefer to pay only for the features they use, Helium 10 offers an a la carte plan. This option allows sellers to select individual tools from the suite and pay for them separately. It provides flexibility and cost control, making it an attractive choice for sellers who require only specific functionalities.
Platinum Plan: The Platinum Plan is Helium 10's most popular subscription option, designed to cater to the majority of Amazon sellers. Priced at $97 per month, this plan offers comprehensive access to all the tools available in the Helium 10 suite. It includes features such as keyword research, product research, listing optimization, inventory management, and more.
Diamond Plan: For high-volume Amazon sellers or businesses with multiple users, the Diamond  Plan offers advanced features and increased limits. Priced at $197 per month, this plan provides additional benefits such as enhanced access to data and analytics, priority support, and increased usage limits across various tools. The Diamond Plan is suitable for sellers looking to scale their operations and maximize their profitability on Amazon.
Free Trial: Unleashing the Power of Helium 10
To help sellers experience the full capabilities of its platform, Helium 10 offers a free trial period. This trial provides users with access to all the tools and features available in their chosen subscription plan. Let's explore the benefits of the free trial:
Exploration and Familiarization: The free trial allows Amazon sellers to explore the diverse range of tools and functionalities offered by Helium 10. Sellers can experiment with features like Black Box (product research), Cerebro (keyword research), Magnet (keyword magnetization), and many others. This hands-on experience enables users to understand how each tool works, empowering them to make informed decisions when it comes to selecting the right plan for their business needs.
Comprehensive Product Research: During the free trial, sellers can take advantage of Helium 10's product research tools, such as Black Box and Xray. These tools provide invaluable insights into product profitability, competition analysis, and market demand. By leveraging these features, sellers can identify profitable niches, fine-tune their product selection, and gain a competitive advantage over other sellers.
Listing Optimization: Optimizing product listings is crucial for increasing visibility and driving sales on Amazon. With Helium 10's listing optimization tools like Scribbles and Index Checker, sellers can ensure their product listings are keyword-rich, well-structured, and fully optimized for search rankings. The free trial allows sellers to experiment with these features, helping them understand the impact of listing optimization on their overall product visibility and conversion rates.
Inventory Management: Helium 10's inventory management tools, such as Refund Genie and Alerts, help sellers stay on top of their inventory levels, prevent stock-outs, and manage returns efficiently. During the free trial, sellers can explore these inventory management features, gaining insights into their inventory health, forecasting demand, and streamlining their operations.
Customer Support and Learning Resources: Throughout the free trial period, sellers have access to Helium 10's customer support team for assistance and guidance. Additionally, Helium 10 offers an extensive library of tutorial videos, webinars, and educational resources to help users maximize their understanding of the platform's features and make the most of their subscription.
Also you can reference the Helium 10 alternatives like blow article:
Helium 10 Alternatives Of 2023 for Amazon Seller
Top 6 Powerful Helium 10 Alternatives in 2023 | Free& Paid
Conclusion:
Helium 10 is a powerful suite of Amazon seller tools that empowers sellers to optimize their listings, conduct thorough product research, streamline inventory management, and much more. With its flexible pricing plans and free trial offering, Helium 10 caters to sellers at various stages of their Amazon journey, from beginners to established businesses. By leveraging the extensive range of tools and features available within Helium 10, sellers can gain a competitive edge and enhance their success in the ever-evolving world of Amazon e-commerce. Whether you choose the free plan, an a la carte option, or a subscription plan, Helium 10 provides the tools and resources necessary to take your Amazon business to new heights.
- End -