We are all aware that the trend of online shopping accelerated during the pandemic and has continued post-pandemic. Today, people prefer purchasing everything from the comfort of their homes, from clothes to electronics.
However, we had rarely imagined the idea of buying groceries online. Thankfully, Amazon made it possible through Amazon Fresh. Now, there's hardly any product category the marketplace doesn't sell online.
But how does Amazon Fresh work? Since people do not want to compromise on the quality and freshness of groceries, this question likely pops up.
In this guide, we will explain everything you want to know about Amazon Fresh. So, let's get started!
What is Amazon Fresh?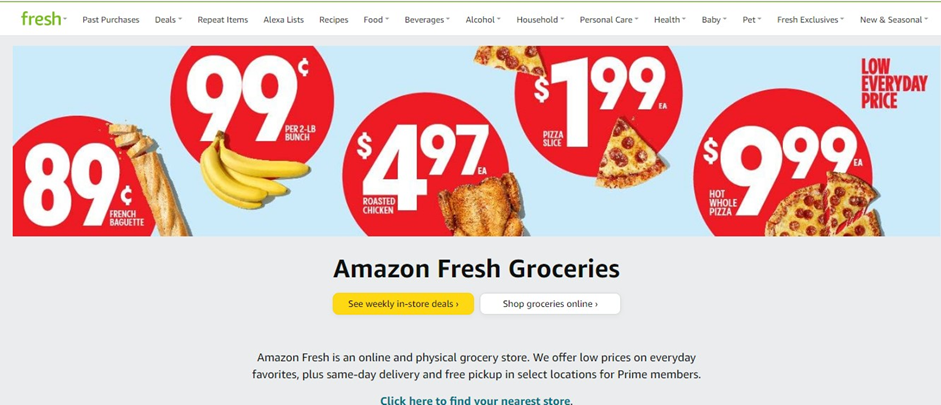 Amazon Fresh is a grocery retailer service introduced by Amazon that has both physical stores and delivery services. It allows people to visit its physical stores or buy groceries online and receive them at their doorsteps.
Amazon Fresh took this initiative back in 2007 as an online grocery service. In 2020, it opened its first physical grocery store in Los Angeles. Today, it offers the service in over 40 locations across different US states.
Claire Peters, the vice president of Amazon Fresh, mentions that they want to make grocery shopping "easy, fast, and affordable" for everyone. Therefore, the shift in policy makes sense.
How Does Amazon Fresh Work?
The process behind Amazon Fresh is relatively simple. Let's discuss its online shopping experience, while its physical shopping experience will be discussed later in the below sections.
With Amazon Fresh online grocery, you only need to search for the products, add them to your cart, and place the order. Once done, you just have to wait around 2 hours for the Amazon-trained shopper to pick up your products and deliver them to you.
Amazon Fresh provides two ways to pick the delivery:
Attended. These orders come in typical plastic bags and require someone to receive them.
Unattended. These orders are delivered in special temperature-controlled bags, allowing the groceries to remain fresh even if no one can receive them immediately.
This is how does Amazon Fresh work, delivering groceries to the doorstep within a two-hour period. Users can even utilize Alexa to assist in shopping. They can tell Alexa to add items to the cart verbally. In fact, Amazon says that Alexa will gradually improve at grocery ordering after learning about your preferences.
The Product Range of Amazon Fresh
Amazon Fresh offers a whopping 500,000 products spanning various categories. The standard categories you can expect in the store include but aren't limited to the following.
Dairy
Fresh fruit
Fresh vegetable
Meat
Beverages
Skincare
Infant care products
Fresh seafood
It is worth pointing out that people often use Amazon Fresh and Amazon Pantry interchangeably. However, there's a fine line between both. As the name implies, the former sells perishable items like fresh dairy products, fruit, and vegetables. Contrarily, Amazon Pantry sells non-perishable products.
What is the Delivery Fee of Amazon Fresh?
Amazon Fresh was only available to Prime members initially with free shipping. However, Amazon has recently ended the free shipping for Prime members with orders under $150.
Besides that, non-Prime members can now also access Amazon Fresh in selective cities. Non-Prime members must be located in Boston, Tennessee, Texas, San Francisco, Austin, Nashville, or any other city where Amazon has opened access to the service.
Non-Prime members have to pay slightly higher shipping charges compared to Prime members for orders under $150, as follows:
Below $50: Prime = $9.95/order ; Non-Prime = $13.95
Between $50-$100: Prime = $6.95/order ; Non-Prime = $10.95
Between $100-$150: Prime = $3.95/order ; Non-Prime = $7.95
Despite costly delivery fees, Amazon Fresh is getting very popular in the US. The latest poll shows that Amazon grocery delivery services are the preferred choice of 34% of consumers in the US.
How to Place Orders Through Amazon Fresh?
Fortunately, placing an order through Amazon Fresh is fairly simple. You only need to download the Amazon app on your mobile phone or log in to Amazon on your PC. Follow these steps to place orders easily:
Navigate the "Fresh" icon at the top of the Amazon home page and click it.
Select the items you want to purchase and add them to your cart.
Visit your cart to confirm whether the basket is correct - double-checking is always good to ensure a trouble-free experience.
Now choose the "Buy Fresh Items" option.
The next page will direct you to recommended items. Select "Continue" to proceed.
Choose a delivery slot that best suits you and place your order by following the on-screen steps.
Amazon informs you in the event no available slots are available. In that case, you receive a message that asks you to visit and check again. If it happens, keep an eye on your order and log back in later to see if it works.
What are Amazon Fresh Stores & How Do They Work?
Amazon has different convenience stores, including Amazon Fresh stores, Amazon Go Grocery, and Amazon Go.
These stores sell everything you will stumble upon in the online Amazon marketplace. This raises the question of how does Amazon Fresh store work?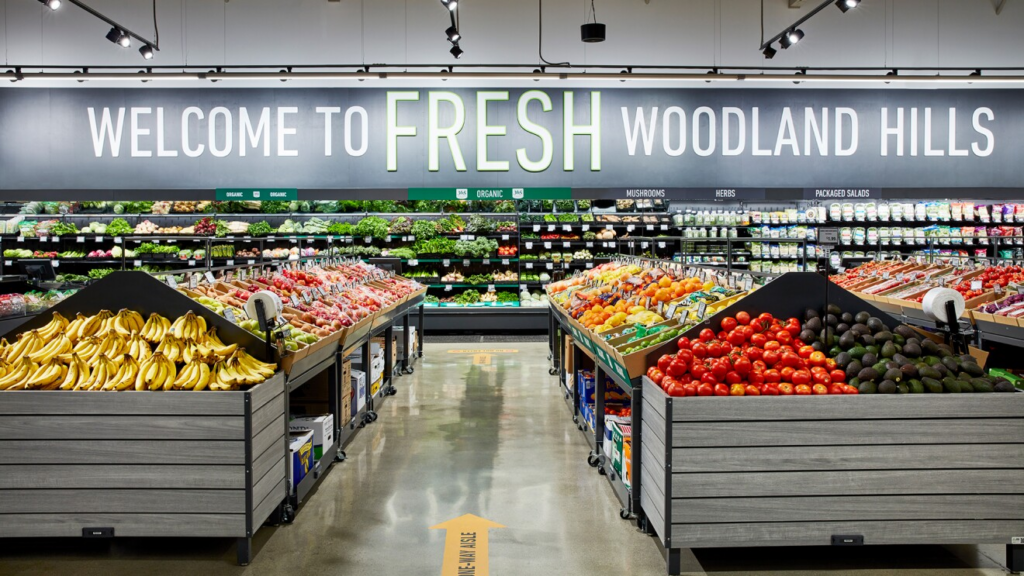 What differentiates these grocery stores from conventional stores is that they have no billing counters or cashiers. Yes, you heard that right.
You can simply walk in, select the products, and walk out. There's no checkout process. The Amazon Dash Cart lets users scan the QR code to log in and begin shopping. Afterward, all the items you place in the cart are tracked. The payment is processed automatically once you exit via the Amazon Dash Cart lane. This keeps you from the hassle of waiting in long queues, boosting grocery shopping efficiency.
What is the Food Source of Amazon Fresh?
Other than knowing how does Amazon Fresh work, another question that comes to mind is what is the food source of Amazon Fresh?
In Amazon's e-commerce marketplace, the products are stored in a warehouse where they are packed and shipped to the desired location. The Amazon Fresh model is no different. Once you place the order, your item will be picked up from the warehouse, packed, and shipped.
The stores are located in optimal places, which makes 24-hour delivery possible. Amazon has also established partnerships with various grocery stores across the cities for a seamless pickup and delivery of items.
Further, if you're curious about the official source of fresh foods, Amazon, like any other company, maintains a veil of secrecy around its behind-the-scenes operations. A few people, however, believe they come from farms in the US.
What About Amazon Fresh Sponsored Products?
Those familiar with the nitty gritty of Amazon have probably heard about sponsored advertising on the platform. Amazon offers these advertising services to empower sellers to promote their products.
Sellers have the option to pick from different ad types:
Sponsored brands
Sponsored products
Sponsored displays
For Amazon Fresh, sellers can access the Sponsored Product ads to get their products to the forefront. This helps to skyrocket the sales and outpace competitors while boosting brand awareness.
Can You Become an Amazon Fresh Seller?
Since Amazon Fresh works differently than Amazon marketplace, selling isn't as straightforward. The platform doesn't allow third-party sellers. However, a few 3P sellers who supply to Amazon and meet specific criteria set by the platform are chosen.
That's primarily because Amazon bought Whole Foods back in 2017. Although the marketplace owns it, there's a difference between products sold on both.
Amazon Fresh focuses primarily on groceries at affordable rates, while Whole Foods is about local, organic items that can be slightly expensive.
You're in luck if you're a brand that already sells Whole Foods. Simply put, you'll quickly meet the requirements to sell on Amazon Fresh. However, if you're not a Whole Foods seller, you can still apply and see whether you're eligible.
To apply, go to Seller Central, add the ASIN of the product you want to sell, and click "Apply to Sell". Afterward, you will get the "Selling Application" form to complete and apply. You also need to submit some specific documents, like invoices, licenses, product labels, etc. Once approved, you can start selling that product on Amazon Fresh.
How Amazon Fresh is Transforming Grocery Shopping?
Now that we are clear about how does Amazon Fresh work, let's shed light on how it is transforming grocery shopping. The below points reflect the reasons behind the transformative impacts of Amazon Fresh:
Amazon Fresh revolutionized the standard grocery shopping model with cashier-less stores. You can pick the items and walk out with an automatic payment process all through the comfort of the Amazon Go app.
If you are not willing to visit a physical store, you can order pantry staples and fresh products all while staying at your home. Amazon's extensive logistics network makes deliveries efficient and saves customers valuable time.
Its grocery items contain top-notch products, including organic and local options. This allows customers to make informed decisions about their purchases and meet their dietary preferences.
When we dug into Amazon Fresh customer reviews, customers had a wealth of positive feedback about the service. Most customers are satisfied with the product quality and the delivery service. Besides that, the service remains budget-friendly, as you get affordable products that won't hurt your wallet or strain your finances.
Wrapping Up
Amazon's customer-centric approach has propelled the platform to unprecedented heights. Over the years, the marketplace has strived to take convenience and efficiency to a whole new level.
Amazon Fresh is another top-notch service of Amazon that makes grocery shopping easy, modernized, and convenient. This guide thoroughly discussed how does Amazon Fresh work and tried to cover all the key points you should know about.
If you are a consumer, benefit from Amazon Fresh's physical and online stores. And if you are an Amazon seller, try to find the opportunity to get approval and start selling on Amazon Fresh. After all, who wouldn't want to venture into a world of possibilities Amazon offers?
- End -