Whether you are a budding entrepreneur or an existing business owner, Amazon is the perfect platform for your digital growth. It is dominating the retail industry, empowering even new sellers to make an average of $30,000 annually.
To become an Amazon seller, you don't need to be an expert or have an established business to start on Amazon. You can easily join this marketplace and explore new opportunities with zero upfront costs.
Therefore, we bring you an informative guide on how to become an Amazon seller, covering everything from starting your seller account to listing your first product on Amazon.
An Overview of Amazon Seller Accounts
Before getting into how to be a seller on Amazon, it is important to learn the different types of accounts that you can create on this platform.
When you request a new account creation on Amazon, you need to choose from the two available options. You can either pick the individual seller account or a professional seller account. Let us discover what each one of these accounts has to offer.
Individual Seller Account
An individual seller account is for small-scale businesses with low sales volume. This account is free to create without any fixed monthly fee, as the individual sellers are charged only when they sell an item.
Individual sellers pay $0.99 for every item sold on Amazon, plus some additional referral fees and closing fees associated with each sale.
It is an excellent option for sellers who want to explore the selling process on Amazon but are not willing to commit long-term with a monthly subscription.
The individual seller account offers several perks for new sellers. These include:
Product Listing
Order management
Inventory management
Seller dashboard access
Shipment labels printing
On the other hand, individual seller account users lack access to some features that are available for professional seller account holders. Here is the list of those features:
Inventory reports
Amazon business features
Set shipping rates
Featured listing
Restricted product sales
Bulk listings
Change existing pages
Amazon advertising services
Create new pages
Calculate taxes automatically
Despite the restrictions, you are charged nothing upfront and are required to pay only when you make sales. It is the best choice for individuals looking for how to become an Amazon seller as a beginner. Moreover, with an individual seller account, you can work as a sole proprietor or form a partnership.
Professional Seller Account
A professional seller account is ideal for large-scale businesses with high-volume sales. You don't have to pay $0.99 for each sale on Amazon, unlike individual sellers.
With these accounts, you pay an upfront fee of $39.99 for a monthly subscription with some additional referral fees.
One of the advantages of professional seller accounts is that you can save money on making huge sales. Moreover, you get access to several tools and features to maximize your experience, including:
Bulk product listings
Automated pricing
Shipping rates customization
Amazon Marketplace Web Services
Tax calculation
Business management tools
Inventory reports
In both individual and professional seller accounts, you have to pay the referral fees set by Amazon as a certain rate of the total transaction. However, professional Amazon sellers still have to pay monthly subscription fees even if they have low monthly sales.
Who Should Sign Up as an Individual Seller
The Amazon Individual Seller account is for small-sized businesses that sell less than 40 items every month. This basic seller plan offers a pay-as-you-go model for businesses to avoid overspending their money.
Once the sellers grow their sales volume and start selling more than 40 items regularly, they can easily switch to the professional selling plan.
Most newbie Amazon sellers start with an individual selling plan on Amazon to explore the platform and assess the demand for their products in the marketplace. After their sales pick up, they switch to the professional plan to access more tools.
Interestingly, sellers on Amazon can easily switch between individual and professional plans when they like. However, the monthly subscription fee of $39.99 is non-refundable when you move from a professional to an individual selling plan.
How To Create An Individual Seller Account on Amazon
If you are wondering how to become an Amazon seller, the first step is to register on the platform.
The registration process on Amazon is simple and straightforward. You can easily complete the process within an hour if you have the required documents and information available.
To register as a seller on Amazon, you need the following information:
Business name and legal name: Your business name will be made public, and the buyers can see it while purchasing your product. Whereas your legal name will not be visible and public.
Address: Your business address will be visible to customers.
Contact information: Your email address will be needed by Amazon and customers to contact you directly. It is advised to create a separate email address for handling your Amazon orders and queries. Amazon will verify your contact information.
Government-issued ID: Any document for proof of your identity issued by your government.
"Ship from" address: Add a "ship from" address if you are shipping from a different location than your business address.
Bank Account: The account where all your sales from Amazon will be received. You will get your payments after every 14 days.
Tax identity: You have to provide your tax information for Amazon registration and get it verified. Your Social Security number or the Federal Tax ID number of your company can be used as tax identity to notify the relevant authorities about the taxable earnings you make as an Amazon seller.
Business entity: Depending on the business type, you can select your entity as a sole proprietor, Private Limited, or Limited Liability Company (LLC).
After you have this information, you can proceed to the account creation process. Follow the given steps to create an Amazon individual seller account:
Visit sell.amazon.com.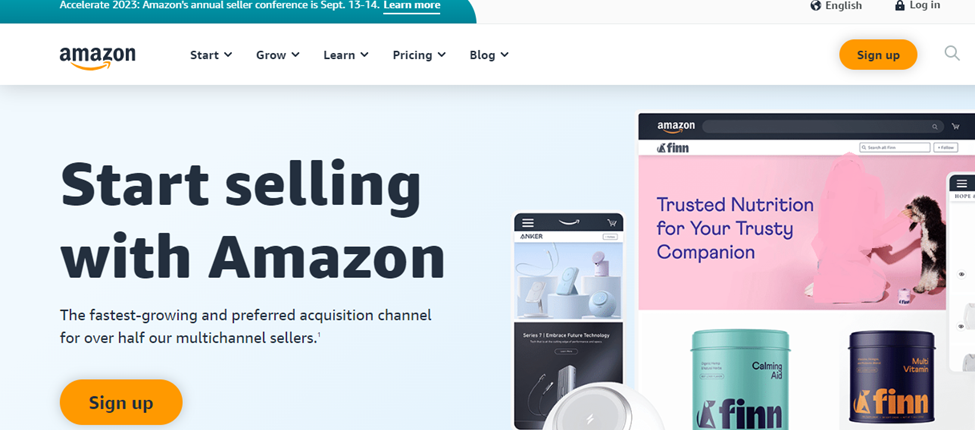 Click Sign Up.
In case you have an Amazon Seller Central account already, log in with those credentials. Otherwise, you will have to create a new Amazon Seller Central account. Click on Sign Up and enter the required information in the form.
Next, proceed to your Amazon Seller Central login and complete the registration process.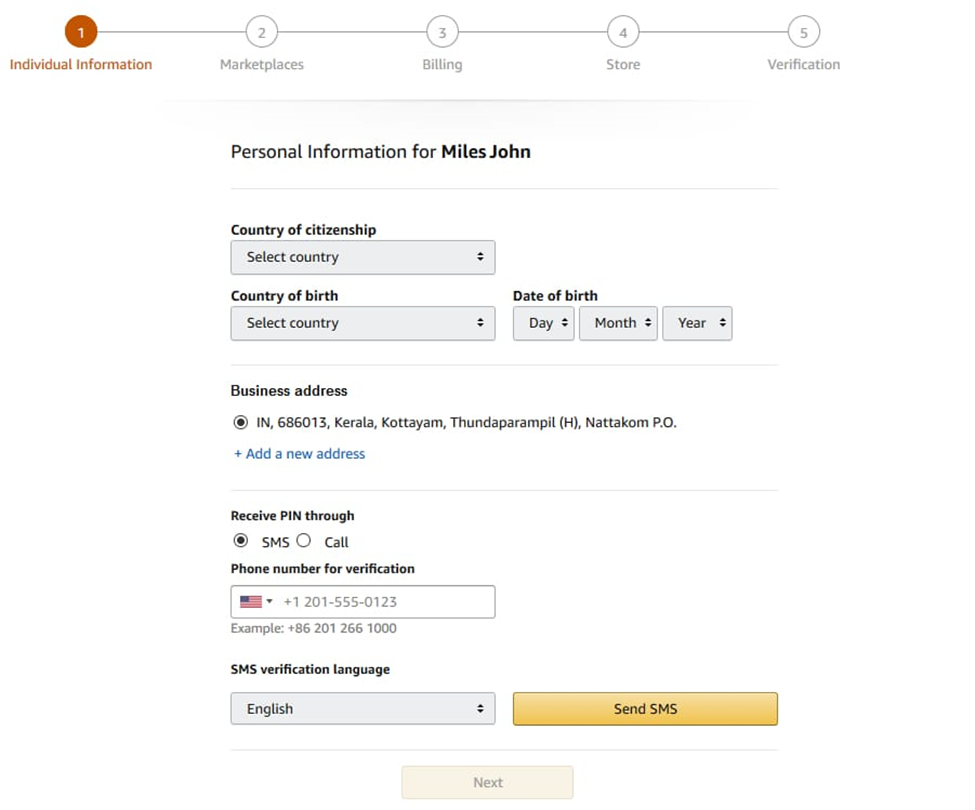 This way, you can easily address how to become an Amazon seller and create an Amazon individual seller account.
How To Upgrade Amazon Individual Account To Professional Seller Account
Once you have created your Amazon individual seller account, you can switch to the professional seller plan anytime you want. Usually, sellers upgrade to the professional plan after their monthly sales grow to a certain extent.
Here is the process to upgrade your Individual seller account to a Professional seller account:
Navigate toAmazon Seller Central and log in to your account.
Scroll down to the Settings.
Click on Account info under the Settings.
Move to Your Services section and then select Manage.
Click on Upgrade next to your account type to switch your individual selling plan to a professional seller account.
In case you want to change your professional seller account to an individual seller account, you can use the same instructions. However, you will have to use the Downgrade option instead of Upgrade to change this account type.
How To Add a Product With Your Amazon Individual Seller Account
After creating an account, you can start listing and selling products on Amazon. With an individual seller account, you can't list products that are not available on the platform already. Therefore, one workaround is to find similar products on Amazon to put up yours.
Below are the general steps you have to follow to add a product on your Amazon account:
Go to the product page on Amazon you also want to sell.
You can see the Buy Box towards the right of your listing. Scroll down to locate the Sell on Amazon option.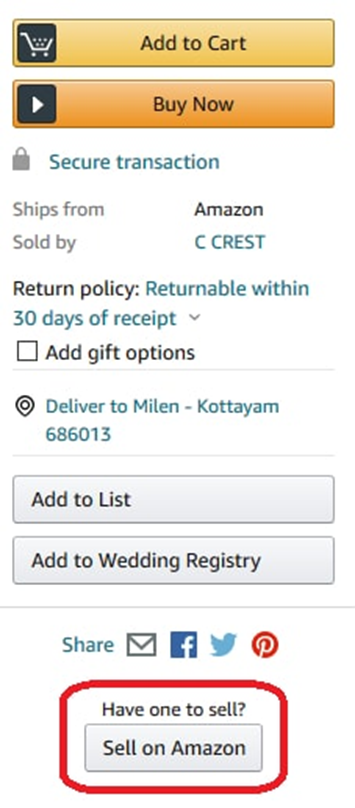 After you click the Sell on Amazon button, you will be taken to another page and required to enter the following details:
Price: You need to set the price of your item. You can also use Amazon's handy button to get the lowest price match.
SKU: Enter the code for your item in this field. If you leave it blank, Amazon will generate an SKU code for your product.
Condition: You can choose between the two categories: Used or New.
Quantity: Add the number of products available for selling. The default quantity is set as one.
Fulfillment Method: Define the fulfillment method you prefer. You can either choose Fulfillment by Merchant (FBM) to deliver the order yourself or Fulfillment by Amazon (FBA) to let Amazon handle the fulfillment. We have covered more details on how to become an Amazon FBA seller in the next section.
Once you have provided all the requirements, you have successfully added the first product to your account. After listing the product, it is time to wait for orders. If you price your product competitively at lower rates, your sales will increase rapidly. Therefore, it is essential to set your prices wisely.
What To Consider When Pricing Your Product?
Pricing the product rightly plays a significant role in the number of sales you are going to make. Besides that, it is important that you know the factors to consider while pricing.
The final price of your product is affected by various factors, such as referral, closing, and shipping. Let us quickly understand what each of these factors depends on below:
Referral fees: It is dependent on the product category.
Closing fees: It is associated with the price range of your product.
Shipping fees: It is calculated according to the distance of delivery and the volume of your package.
When you are pricing your product, it is recommended to use AI-powered tools like Shulex VOC to get a proper competitor analysis and adjust the pricing accordingly. Moreover, you can also use the Shulex VOC AI assistant for product hunting and marketing.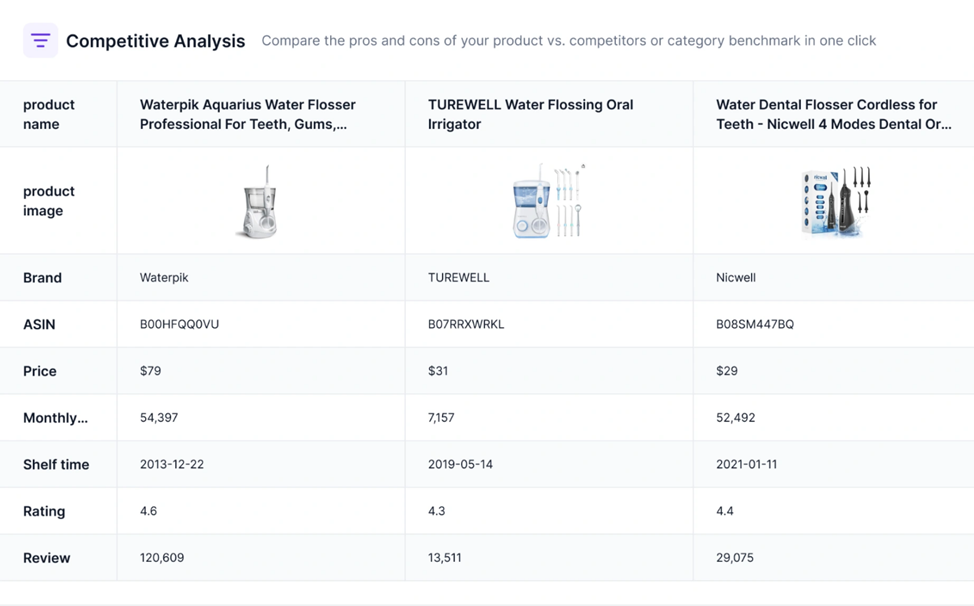 Fulfillment Methods for Amazon Individual Seller Account
A proper understanding of Amazon fulfillment methods is also important when learning about how to become an Amazon seller without inventory.
With an Amazon individual seller account, you get two options for fulfillment. You can either pack and deliver products yourself through Fulfillment by Merchant (FBM) or outsource the storing, packaging, and shipping to Amazon with Fulfillment by Amazon (FBA).
Every seller needs to pick one fulfillment strategy while putting up their product for sale on Amazon. Like the seller account type, you can switch your fulfillment method whenever you want.
Let's uncover more about these two fulfillment methods of Amazon:
Fulfillment by Amazon
FBA is the most popular fulfillment method used by Amazon sellers. Amazon takes complete responsibility from storage and packaging to shipping and customer support in FBA.
In Amazon FBA, sellers deliver their products to Amazon warehouses for storage. These products are kept in Amazon's fulfillment centers until they are purchased. During this period, sellers pay a storage fee based on the size of your item.
After an order is received, Amazon works on the transaction and updates the inventory. The Amazon warehouse staff takes care of the packaging and shipment.
After the delivery, it manages the customer service and follows the order. In the case of refunds and returns, Amazon handles the procedures. You get your payments after every 14 days.
Since Amazon handles most processes in FBA, individual sellers only need to pick their products, add listings, and maintain the inventory. However, the storage fees can cost you drastically if you are not vigilant, especially if you are a new Amazon seller with low sales. Alternatively, you can choose Amazon FBM.
Fulfillment by Merchant
The second option is to store, pack, and ship your products all by yourself. You manage and update your inventory and keep track of orders along with the transactions.
With FBM, individual sellers would also have to provide customer service and handle product returns if requested. The shipping cost may go higher than FBA, but you don't have to pay storage fees.
If you are confident enough about consistent sales, you can go with FBA to let Amazon handle the procedures for you. But if you are just starting out and unsure of the sales volume, it is better to stick to FBM.
Wrapping Up - Navigate Yourself to an Amazon Selling Experience
Amazon is a massive e-commerce marketplace and the ultimate digital hub for sellers. The best thing about Amazon is that anyone can join the platform and start selling any product. In this guide, we talked about all the basic details you need to know about how to become an Amazon seller. So, use this guide as your reference, explore the Amazon marketplace, and begin your Amazon selling experience.
Learn more: Top Tips for Selling on Amazon
- End -