Amazon is the largest e-commerce platform, with over 12 million items in its inventory. Almost 86% of its sellers utilize this warehouse facility through the Fulfillment by Amazon (FBA) program. However, they don't have full control over the packaging and shipment of their products.
Amazon Seller Flex is an innovative program for sellers to track their inventory and accelerate the delivery process. In addition to several other benefits, sellers get exclusive authority over the entire fulfillment and stock control.
This guide covers the Amazon Seller Flex program in depth, presents the enrollment procedure, and lists the benefits and drawbacks of the program.
What is Amazon Seller Flex - A Quick Overview
Amazon Seller Flex is a service that gives better control of the fulfillment process to the sellers. It was originally introduced in India back in 2015 and then quickly rolled into the U.S. It was launched to empower sellers using the Fulfillment by Amazon program.
In a typical FBA program model, sellers have limited control over the process as Amazon handles everything from storage to shipment and customer service post-delivery. Customers trust sellers following the FBA plan; however, it may sometimes lead to delayed deliveries.
With Seller Flex Amazon, sellers can manage FBA inventory, customer service, and shipment of products. They can also keep products in their own warehouses under this program. However, Amazon still collects orders from the warehouses and transports them to the customer locations.
To understand the program completely, you must learn about its features covered next.
Basic Features of Amazon Seller Flex
Amazon Seller Flex comes with several unique features. Some of the prominent features include:
Inventory Management Software: A dedicated inventory management software developed by Amazon for the sellers under the Seller Flex program.
Account and Inventory Management Training: Extensive training sessions by Amazon professionals to train sellers.
Login Credentials: Dedicated user identity and password to access the Flex software.
Customer Service Handling: Amazon takes care of all customer service issues.
Who is Eligible to Join Amazon Seller Flex Program?
Amazon Seller Flex program works under the "invite-only" principle, unlike other Amazon programs. You can only join and participate in this program if Amazon has invited you.
Amazon sends the Flex program invites to sellers based on fixed criteria. Wondering how to get Amazon Seller Flex invite? We have got you covered.
Here is the set of characteristics that Amazon considers while sending invites:
Total monthly sales worth $0.6 million
Product sales close to 1000 each month
Amazon seller rating of 90% or above
Located in specific geographical regions
From these attributes, it is evident that Amazon essentially looks at your monthly sales to decide if a seller is eligible for the Amazon Seller Flex program.
So, if you think your sales are not up to the mark and have the potential to reach that limit, then try out Shulex VOC to get a virtual AI-powered companion that can provide suggestions about listing optimization, marketing, customer sentiments, and more.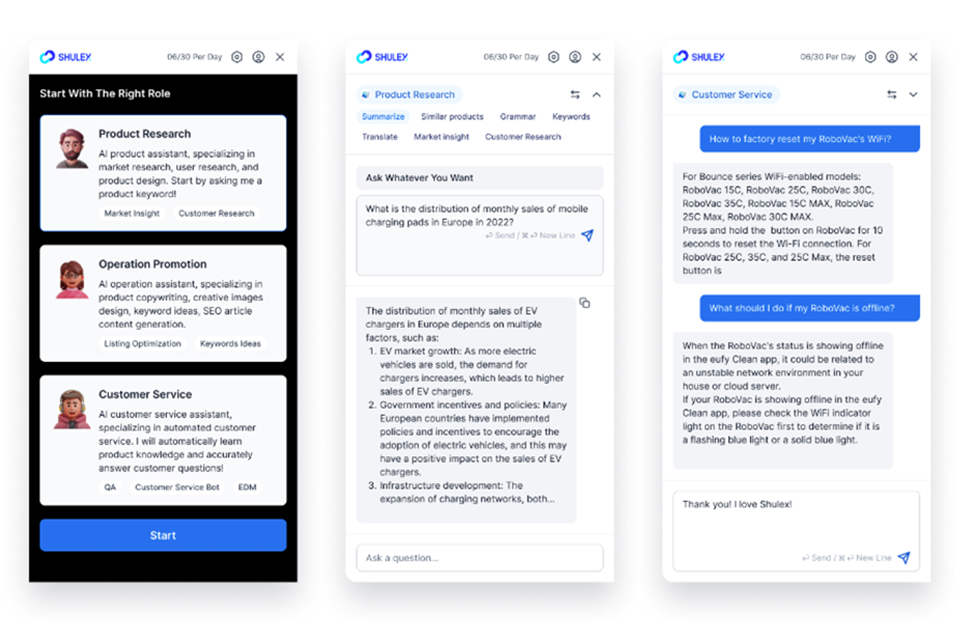 How Can You Apply for the Amazon Seller Flex Program?
If you didn't get a Seller Flex Amazon invitation but think you are eligible and meet all the program requirements, you can contact the Amazon team through the following channels:
Send an email to amazonflex-support@amazon.com
Call at (+1) 888-281-6901 or (+1) 877-212-6150
If you contact the phone line support from outside the United States, the Caribbean, and Canada, you will be charged additional costs. You can proceed to the Amazon Flex application only after you receive the approval.
Once you have received an Amazon Seller Flex invitation, you can proceed to the registration process and follow the steps below:
Provide your business details and fulfillment requirements in an Amazon Flex application form.
Send the required documents for verification to Amazon.
After verification, the support team will contact you to help you install the warehouse management software. You will shortly receive your flex credentials, instructions for procedures, and training on the platform. You can then sign up for Amazon Flex.
What Do You Need To Start the Amazon Seller Flex Program?
To start the Amazon Seller Flex program, Amazon sellers need to have some setup fundamentals according to the guidelines. Sellers and warehouse owners cannot enter the Flex program without fulfilling these Amazon Flex requirements.
Broadly, you need to have your own warehouse and a complete in-house hardware setup. These Amazon Flex requirements can be categorized into 3 types:
Solid Business Plan
In order to be accepted for the Amazon Seller Flex program, one must have a well-designed and thoroughly crafted business plan. It would show how deeply the sellers understand their business potential and how well they are prepared to maximize their growth with the new opportunities.
Hardware Setup
The most important factor needed to start your Amazon Seller Flex program is a complete hardware setup. The following requirements are covered under this category:
Two desktops or laptops with Windows 7 OS or above and 2 GB RAM each
Two high-quality and stable internet connections
Backup power supply, including Uninterrupted Power Supply (UPS) inverter
Two barcode scanners
Three printers - one each for printing shipping labels, gift labels, and PDF invoice files
Packaging System
For packing the products under the guidelines, you need to meet the following requirements:
Six or more workers to run the warehouse
Labeled racks and bins for storing and organizing the products
Designated packing station area
Spacious parking lot to accommodate Amazon transport vehicles
What are the Advantages of the Amazon Seller Flex Program?
The Amazon Seller Flex program comes with several perks that make it worth trying. Other than gaining more control over your fulfillment plan, it provides many benefits.
Here are some of the advantages of the Amazon Seller Flex program:
1. Enhanced Credibility
Once you enter the Seller Flex program, you will receive an FBA tag. When this unique identifier is attached to a product, it gets easier to be identified in warehouses worldwide. Also, customers prefer products sold under the FBA program, increasing the credibility.
2. Improved Customer Satisfaction
With the Seller Flex program, Amazon provides a quicker and more profitable delivery of orders. Moreover, you can track orders and interact with your customers. Hence, you can provide a better customer experience, increasing the chances of the customers to shop from you again.
3. Greater Authority To Your Business
In a traditional FBA program, Amazon handles the inventory, shipment, and customer service. However, the Amazon Seller Flex program provides you with more control over these procedures, and you can manage orders, packaging, and delivery.
4. Close Interaction With the Experts
When you get approval and sign up for Amazon Flex, you receive exclusive training from Amazon personnel who teach you about the program in detail. They guide you on using the inventory management software, handling the orders, and managing the operations efficiently.
5. Reduced Expense of Delivery
With the Seller Flex Amazon program, you don't have to arrange transportation for order delivery. Amazon handles the entire shipment process by picking up the orders from the warehouses and dropping them at the customers' doorsteps. Moreover, as products are not sent to Amazon, the costs get reduced.
What are the Limitations of the Amazon Seller Flex Program?
Despite the numerous benefits of using the Amazon Seller Flex program, sellers experience some drawbacks as well. It is important for sellers to understand the limitations before signing up for the program.
Here are some of the drawbacks of using the Amazon Seller Flex program:
1. Strict Eligibility Criteria
To enter the Seller Flex Amazon program, sellers need to meet strict criteria, which are primarily based on the sales volume. It targets businesses selling expensive goods with a wide range of variety. But if you run a small-scale business or sell cheap products, you don't qualify for the program.
2. Additional Costs of Operations
To benefit from the Seller Flex program, the sellers have to set up large warehouse space, buy necessary equipment, and hire skilled workers to run the operations smoothly. All these expenses may be unbearable if you lack sufficient capital.
3. Maintenance of Quality Standards
Even after entering the Amazon Seller Flex program, you have to maintain the standards specified by Amazon. If you fail to keep up with high-quality standards, you will be removed from the program right away.
4. Limited Service Availability
One of the biggest drawbacks of the Seller Flex program is the limited availability of service. This program is only available for certain regions, and sellers from outside those areas can't join it.
Should You Try Amazon Seller Flex?
Amazon Seller Flex is an initiative to involve the sellers in managing their business operations with FBA. Although this program has many beneficial features, it may not suit every business.
Here is a checklist that you should consider before applying for the Amazon Seller Flex program:
Are you a large-scale business owner selling a wide variety of products?
Do you make sales above 1000 units each month?
Is the Amazon-owned warehouse far away from your location?
Can you consistently maintain the minimum standards?
Can you afford the setup requirements of the program and the additional costs?
If the answer to each one of the questions above is in affirmation, you are good to go. However, in case of doubt, we suggest you first uplift your Amazon revenue by optimizing your existing listings.
One reliable companion in this journey is the Shulex VOC AI-powered platform. It provides ChatGPT-powered intelligence to get customer sentiment analysis, competitive analysis, buyers' motivation, and many more. In short, use Shulex VOC to evaluate your current listings, optimize them, and find new growth opportunities.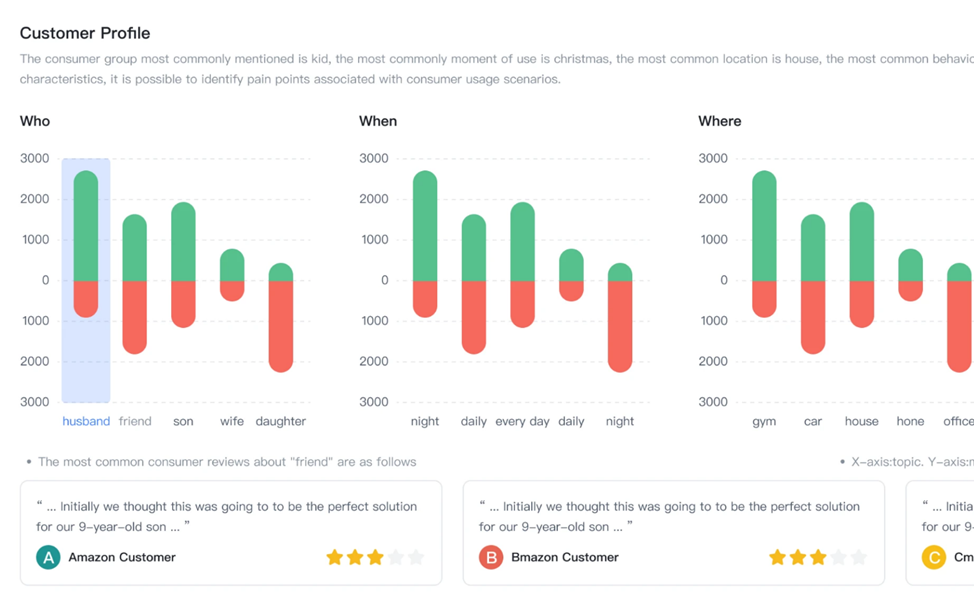 Wrapping Up - Be Wise with Amazon Seller Flex
Amazon Seller Flex is a promising solution for large-scale businesses committed to maintaining high-quality standards. Sellers can enjoy extra authority over the inventory and product packaging, with Amazon handling the shipments.
This guide explained in detail how to apply for Amazon Flex and highlighted the perks and limitations of the program. Although the Flex plan offers flexibility in pricing and authority over operations, it requires strict compliance with the Amazon guidelines.
If you are eligible for the Flex program and willing to use it, then contact the team. Take charge of your FBA process like never before and unlock new opportunities for your business.
- End -