Introduced in October 2021, the Amazon Product Opportunity Explorer by Amazon is a product research tool for sellers. The tool gives sellers information about which products, categories, search keywords and niches are trending and which aren't. This data and insights can assist sellers in making more informed decisions about what products to offer, enabling them to maximize their sales potential.
This article provides all the necessary details about Amazon Opportunity Explorer to understand how it works, how effective it is, and whether it will be helpful to you. If you're confused, this guide will clarify it and help you decide whether to incorporate it into your strategy.
Part 1: What is Amazon Product Opportunity Explorer?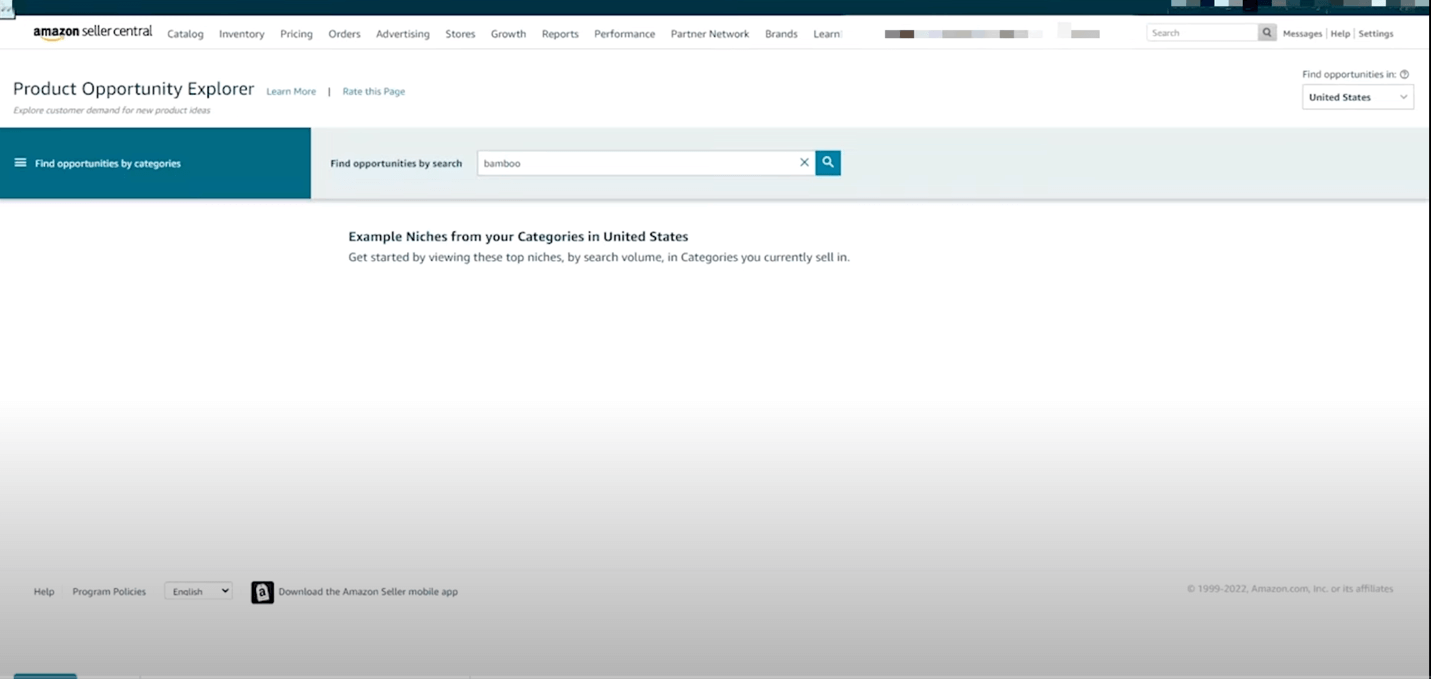 The Amazon Product Opportunity Explorer is a feature in Seller Central that shows sales and search data for specific product niches. It also suggests new and trending niches that may be profitable. It's free to anyone with an Amazon seller account.
The Amazon Product Opportunity Explorer assists third-party sellers in discovering more profitable and untapped markets, or "opportunities," to sell their products using accurate data from Amazon. It provides valuable data and insights into what products are selling, which categories are most popular, and what search terms customers use to find products. This data helps sellers determine which niches they should target.
These are the statistics the Amazon Product Opportunity Explorer provides, based on the product niches:
Search terms (i.e., the most popular searches for that niche)
Search volume
Search volume growth
Search conversion rate
Units sold (based on the search terms)
Average price (of all products within the niche)
Top 3 clicked products (per niche)
Percentage of products using Sponsored Products
Percentage of Prime (i.e., percentage of products that were Prime eligible for at least half of page views)
Average brand age for the niche
Number of new products launched
Average product listing quality
Click count
Click share (within the niche)
Average customer rating
Average Best Seller Rank (BSR)
The average number of sellers
The Amazon Product Opportunity Explorer relies on data to help sellers make informed decisions and is particularly beneficial when it comes to managing PPC campaigns like Sponsored Products. With this tool, sellers can identify the ideal keywords to target in their ads. Furthermore, Amazon's Opportunity Explorer provides important information about buyer behavior and shopping habits, which sellers can skillfully leverage to improve their sales figures significantly.
Part 2: Step-To-Step Guide To Amazon Product Opportunity Explorer
The Amazon Product Opportunity Explorer can be found by clicking the "Product Opportunity Explorer" in Seller Central under the "Growth" section.


A new page will open, and you will be shown three sample niches. At the top right, you can choose between the United States, Germany, United Kingdom, France, Italy and Spain marketplaces.
Below there is a search bar where you can search for specific search terms.
If you don't have search terms, click "Browse and Filter," and various "Categories" will be displayed.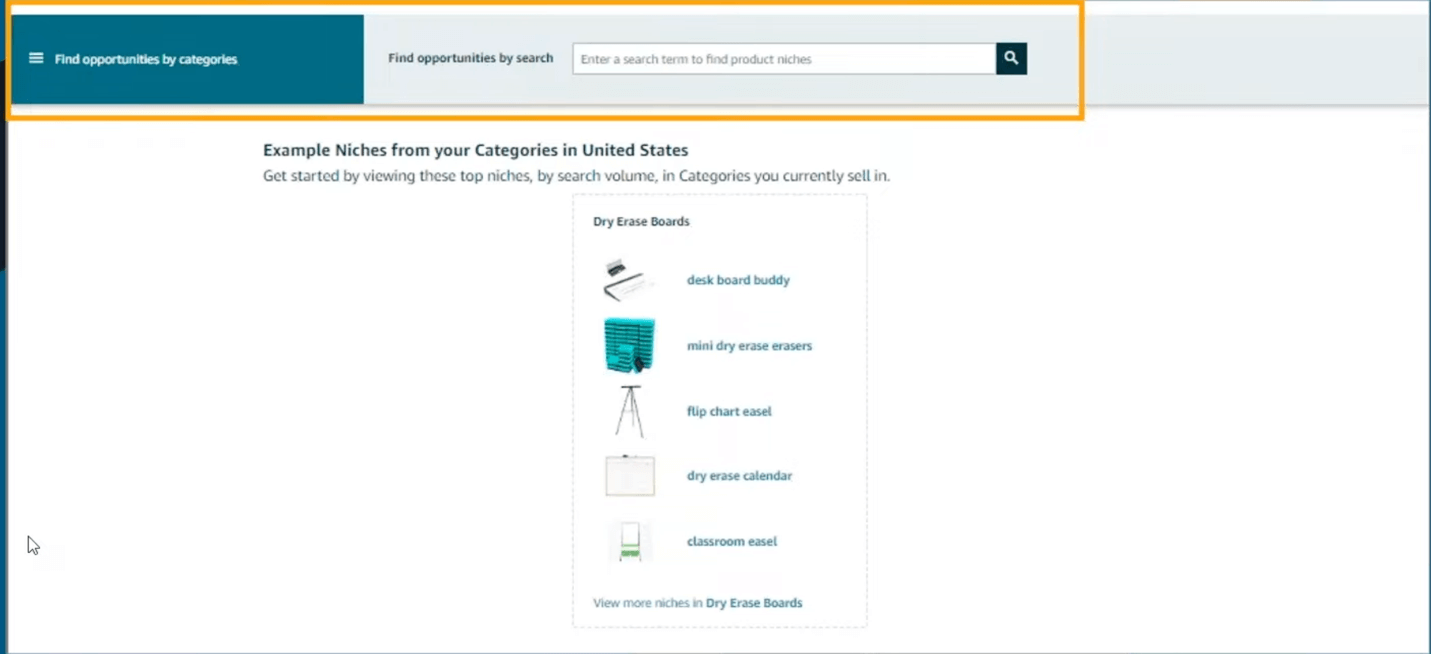 You can filter by search volume (90 days, 360 days), volume change (90 days, 360 days), units sold, number of the top clicked products and average price under "Browse and filter." For example, if you enter 500 for "Units sold," the tool will display the products that were purchased 500 times and above.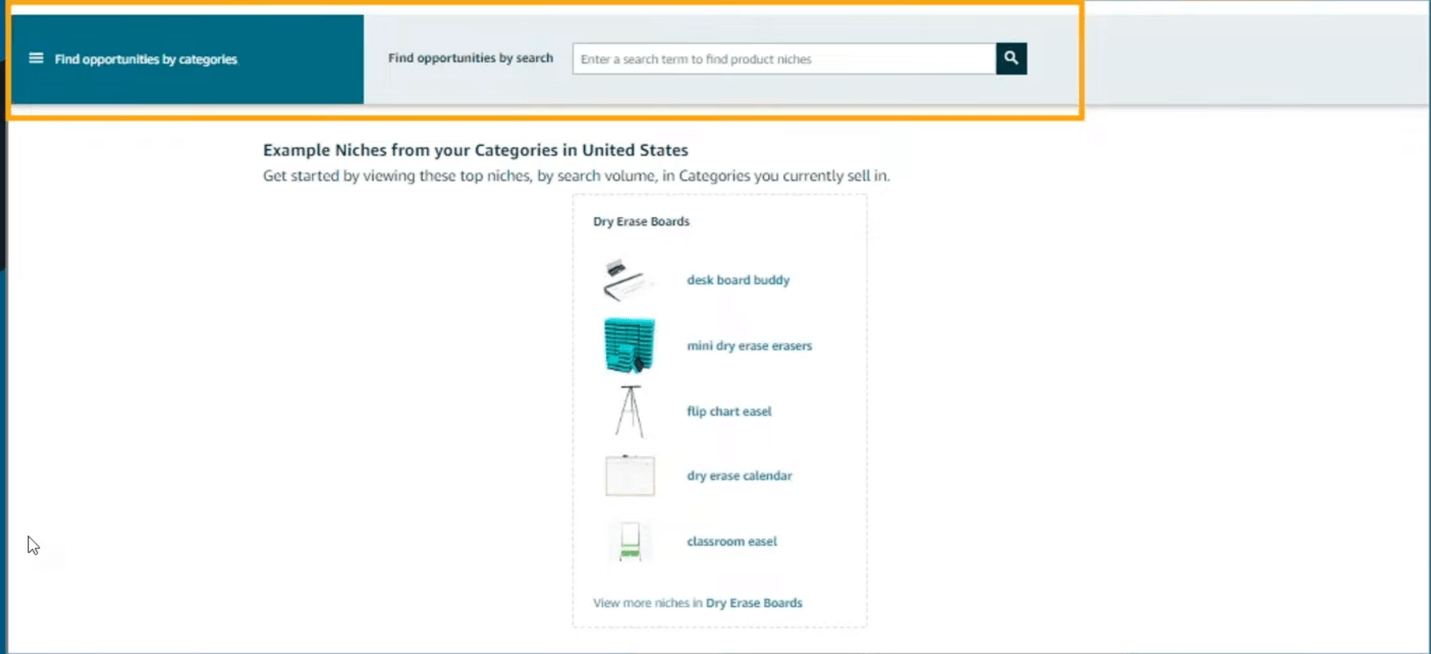 Let's consider niche "dog costume" to explain how this tool works. By clicking on the "dog costume," you will find general information about that topic at the top of the page.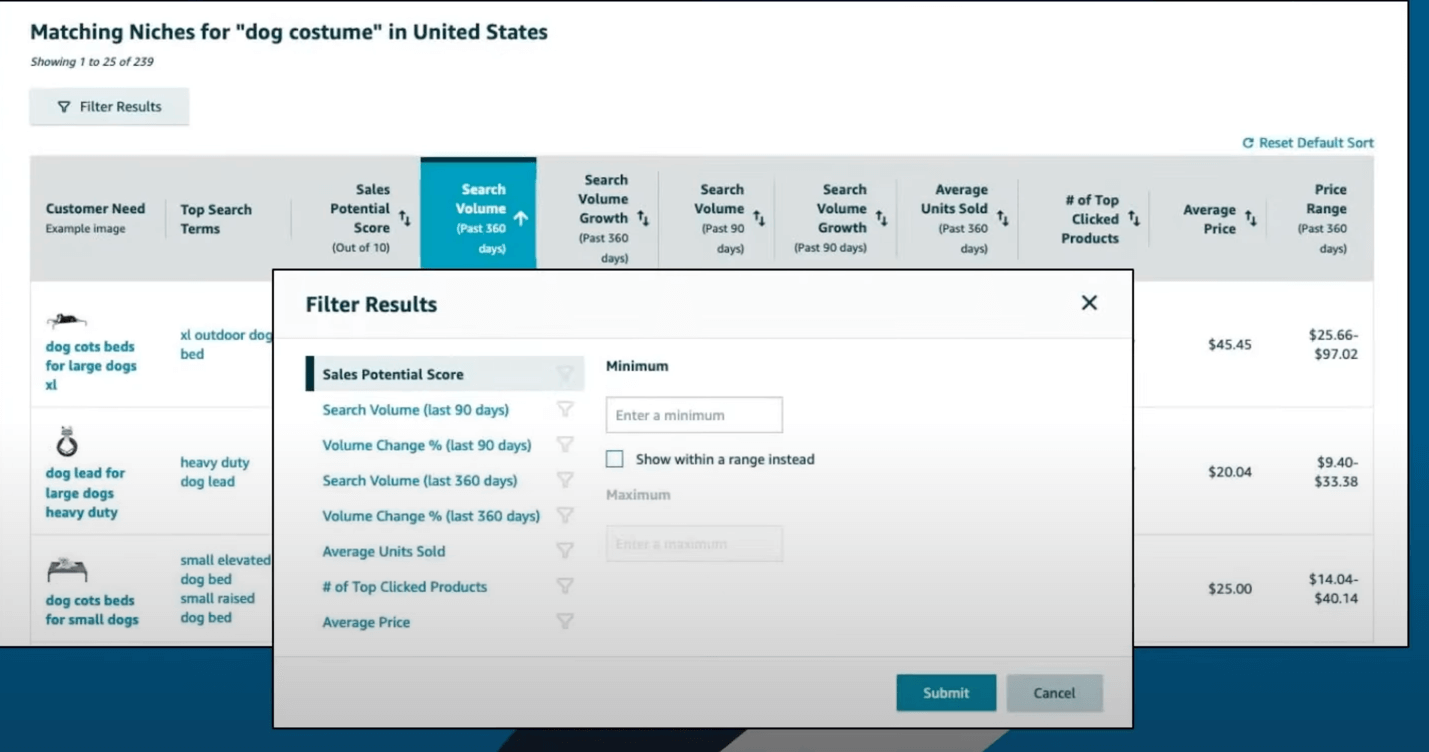 Here we can see 230 - 500 units of the "dog costume" niche were sold in the US marketplace in the last 90 days, and the average price is $18.46 per unit.
For each niche that Amazon describes, the data is categorized into three main sections:
Products
Search Terms
Insights
Products
This category shows the products customers click on the most often after searching for a niche. The tool displays the performance of the products based on various metrics and how they compare to competing products.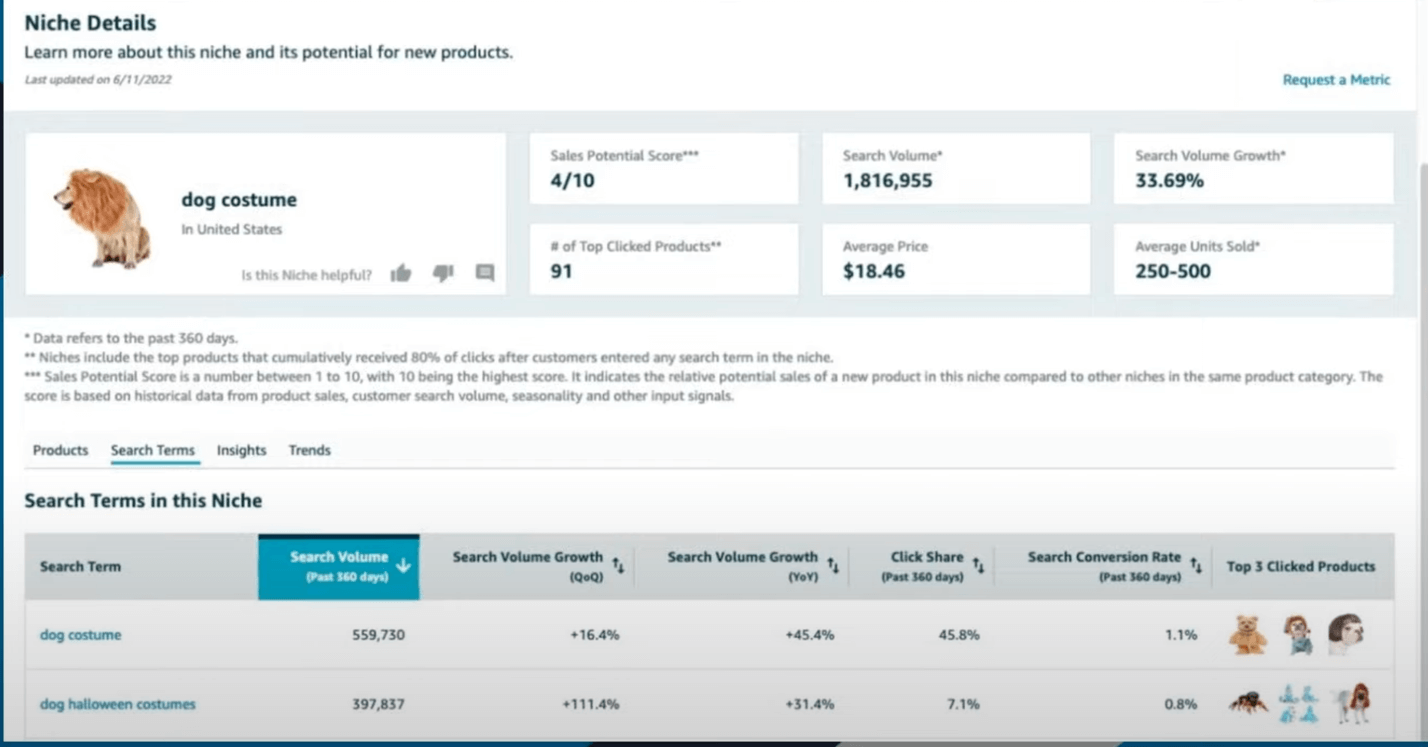 The ranking includes the following factors:
Parent ASIN name: The column displays a list of products being compared
Brand: This is the brand of the product
Category: The column displays the path taken by Amazon customers through the category tree until they reach the search term
Launch Date: this describes the date when the ASIN was first sold on Amazon
Click count: The column shows the total number of clicks that this product has received, indicating how many customers have clicked on this ASIN
Click share: The column shows what percentage of total clicks this product has received based on the number of clicks relative to the total number of clicks.
Average selling price: The column displays the average selling price of all products in this market niche.
Total reviews: The column indicates the total number of reviews a product has received up to this point.
Average Customer Rating: The Average Customer Rating metric reflects customers' average perception and product rating.
Average BSR: Amazon Bestseller Rank (BSR) measures a product's sales performance compared to others in its category. A lower BSR indicates higher sales, with the product ranked 1 as the top seller in that category.
Average number of sellers and vendors: The column on Amazon shows the number of third-party or first-party vendors selling the product.
Search Terms
This tool categorizes the search terms customers use to find a product. It then evaluates the relevance of the search terms using different metrics.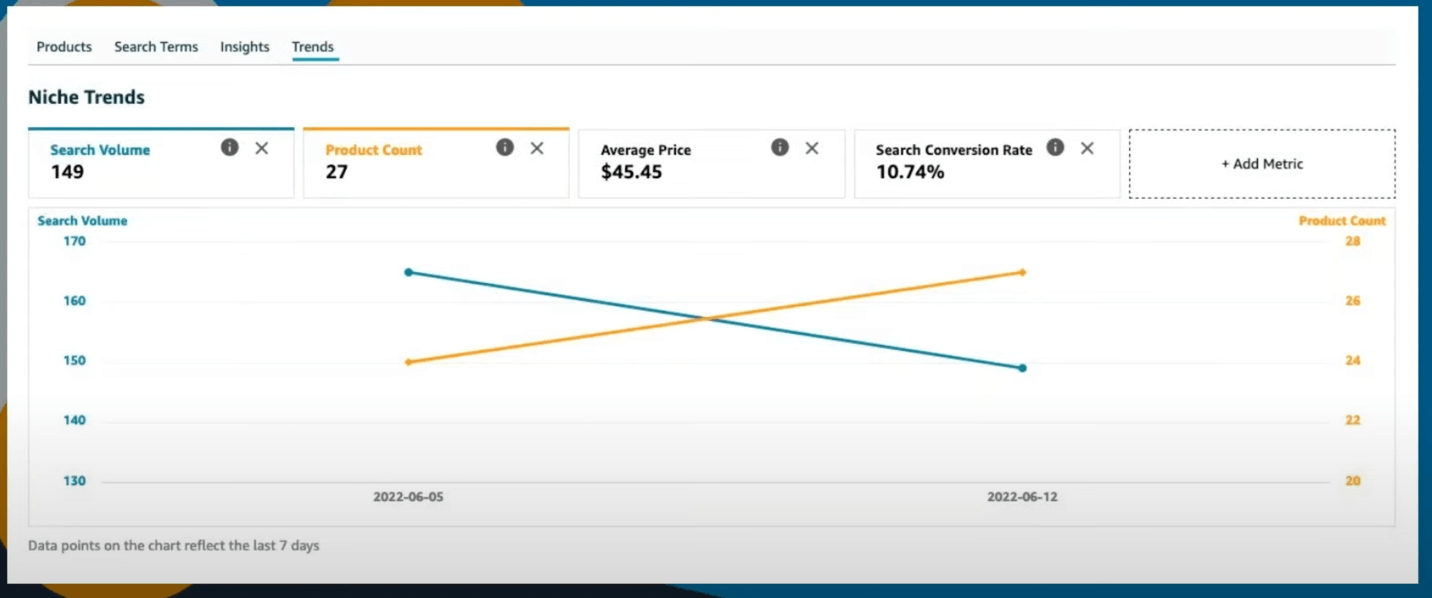 The ranking includes the following aspects:
Search Term: This column displays the search terms customers use when purchasing a product in this niche.
Search volume: The search volume represents the count of customers who have searched for a particular term on Amazon's search bar within a period of 90 days.
Search volume growth (QoQ): QoQ means "quarter over the quarter" and compares search volume quarterly.
Search volume growth (YoY): The acronym YoY means "Year over Year," representing a comparison between search volume for a particular term in the current year to that of the previous year.
Click share: This column shows the percentage of customer clicks on products related to the searched term within this niche. The percentage is calculated based on the total number of customer clicks across all search terms.
Search conversion rate: The conversion rate is the percentage of customers who purchase after clicking on a product.
Top 3 clicked products: This metric displays the ASINs of the three products that received the most clicks after entering a search term.
Insights
In this section, you can see how the niche's performance has changed.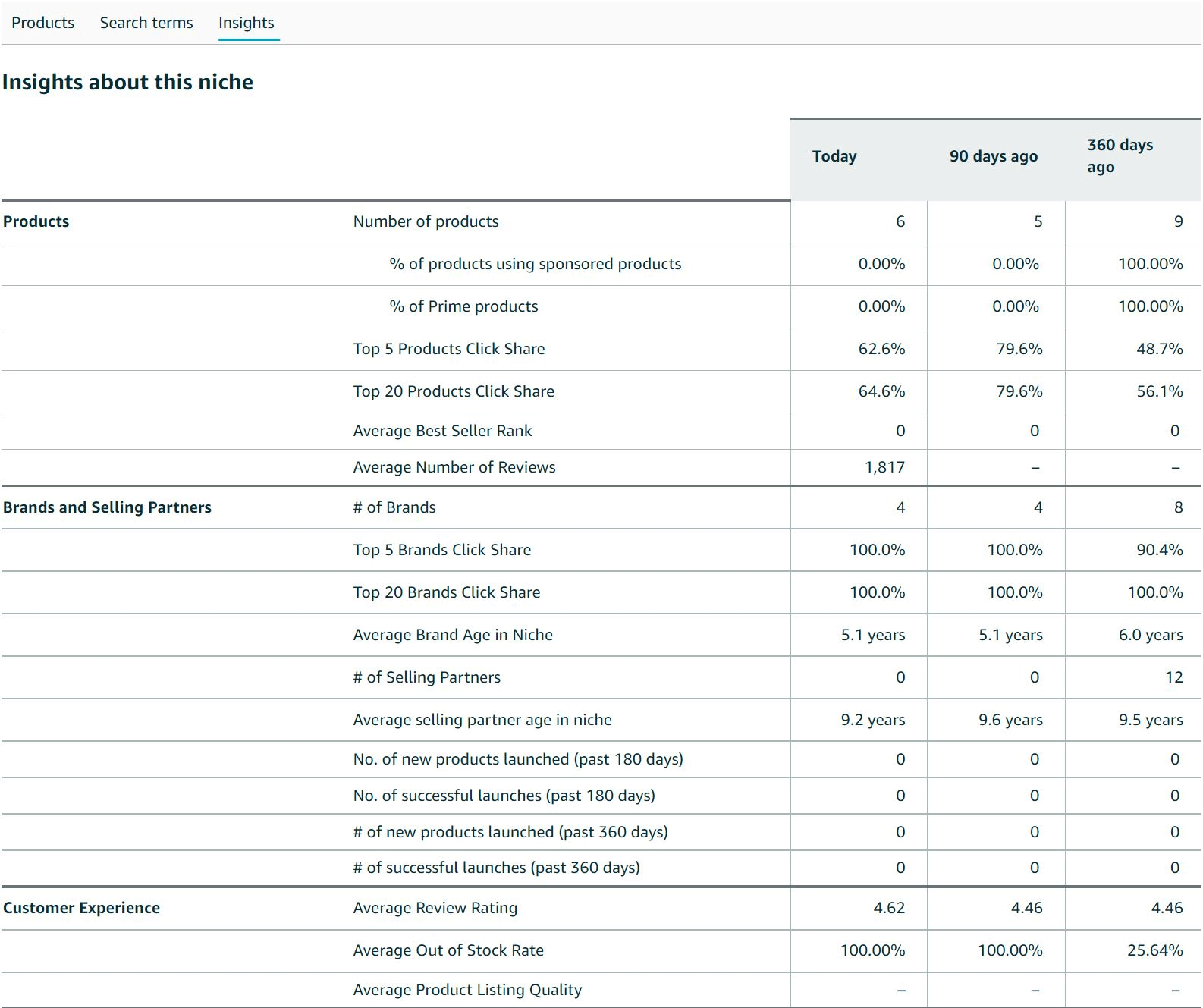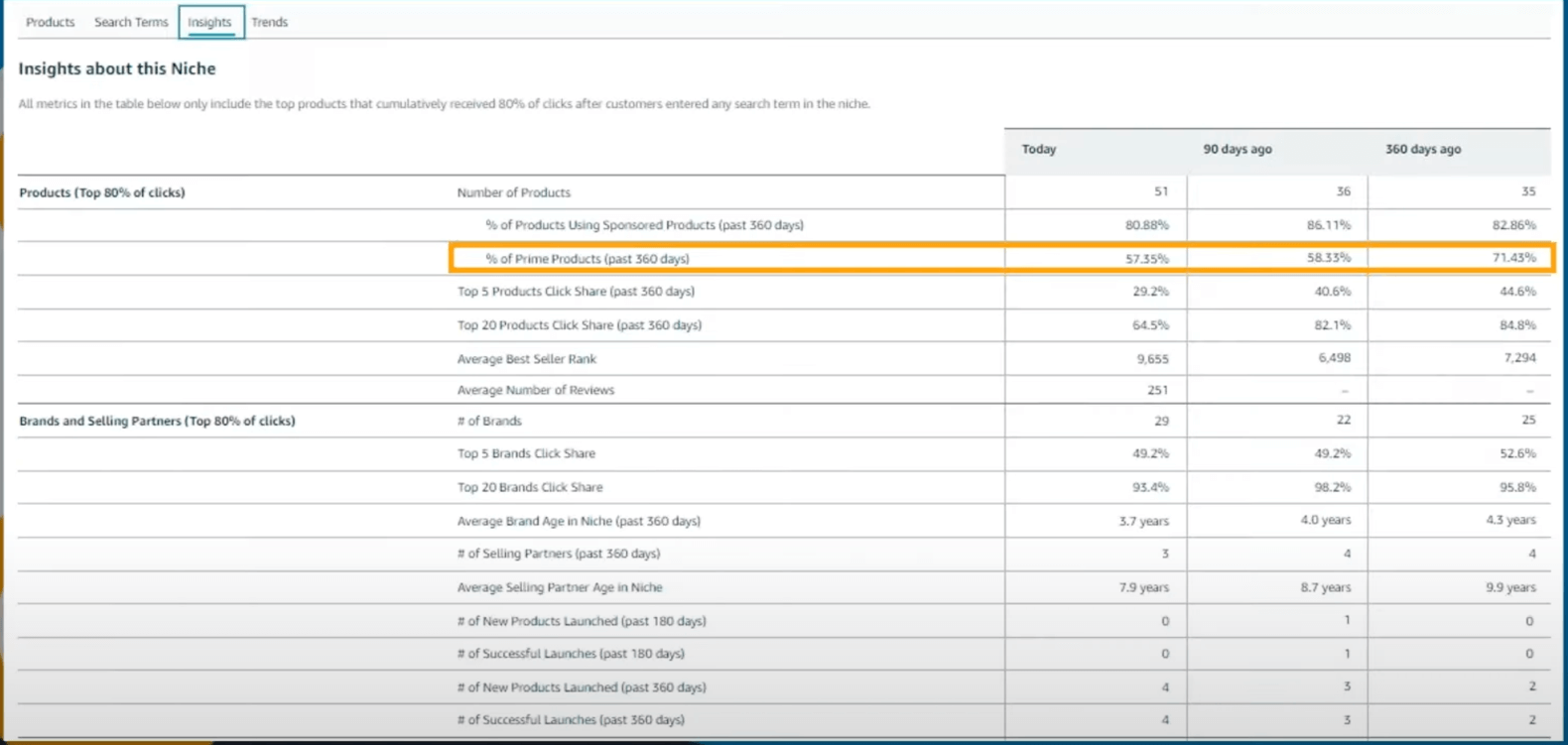 The ranking includes these factors:
Products: The Products row provides information on the number of products offered and currently available in a particular niche.
Brands and Selling Partners: You can use this row to view information about the number of brands and the click-through rates of the top 5 or top 20 brands. It also shows the average age of the brands, the number of sales partners, and the number of new products launched in the past 180 and 360 days.
Additionally, you can see the number of successful launches, which are product launches that generated more than $50,000 US in annual sales. If there are few new product launches and many successful launches in the previous quarter, this can indicate high demand and low supply.
Customer Experience: Here, you will find the average ratings given by customers, the average rate of products being out of stock, and the average quality of product listings. The out-of-stock rate indicates the number of days products were unavailable for purchase compared to the total number of days they were sold.
Part 3: Best Alternatives To Amazon Product Opportunity Explorer
1. Shulex VOC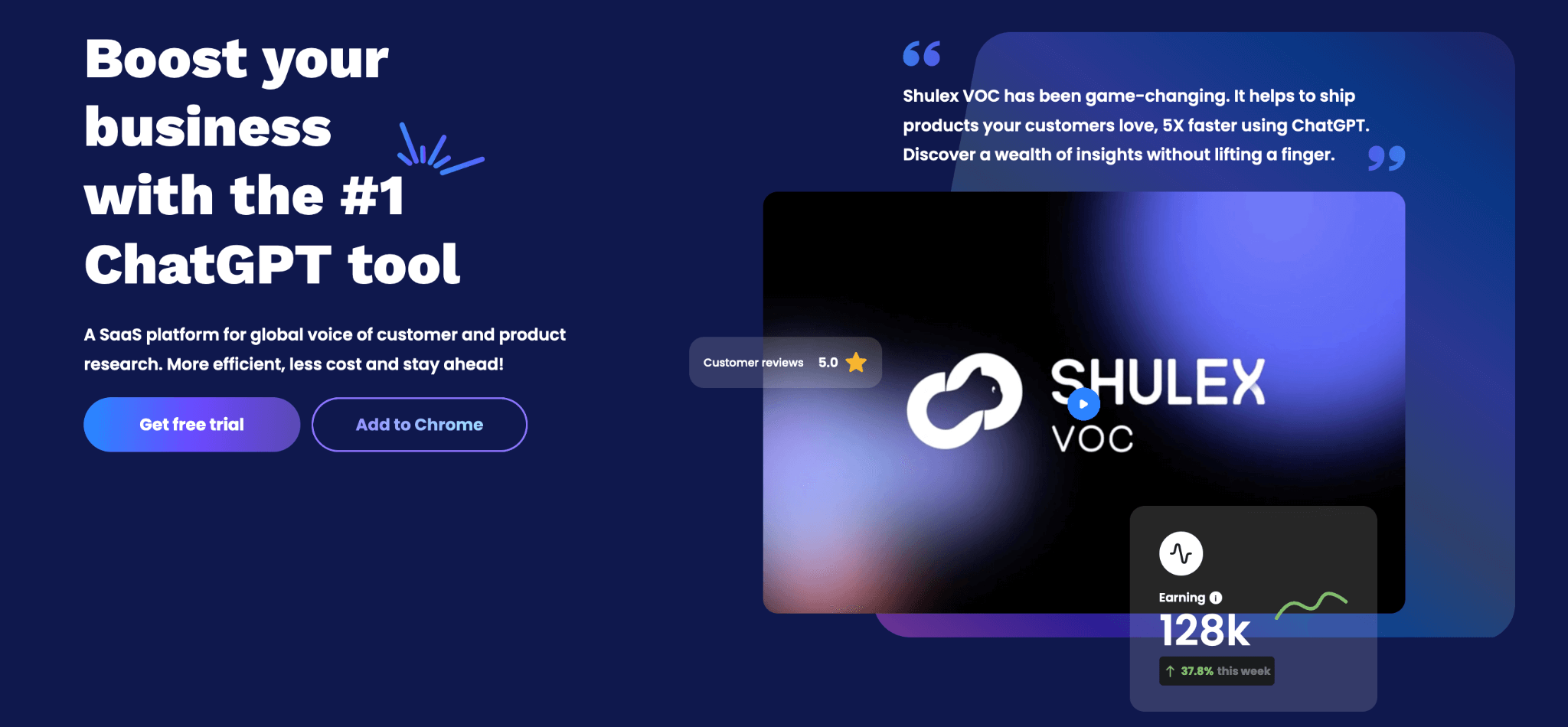 This is one of the best ChatGPT tools for Amazon sellers. Powered by AI, it helps sellers to analyze and monitor Amazon reviews and understand product demand and customer feedback. The process can be complex and time-consuming, and Shulex VOC makes it easy. Shulex VOC is a powerful ChatGPT tool that can streamline this process and save you time.
By collecting and analyzing various product reviews from multiple channels, Shulex provides valuable insight into what customers liked, didn't like, and what they wish was different. With this comprehensive analysis, you can understand your competitors' strategies and make informed decisions to increase your sales and stay ahead of the competition.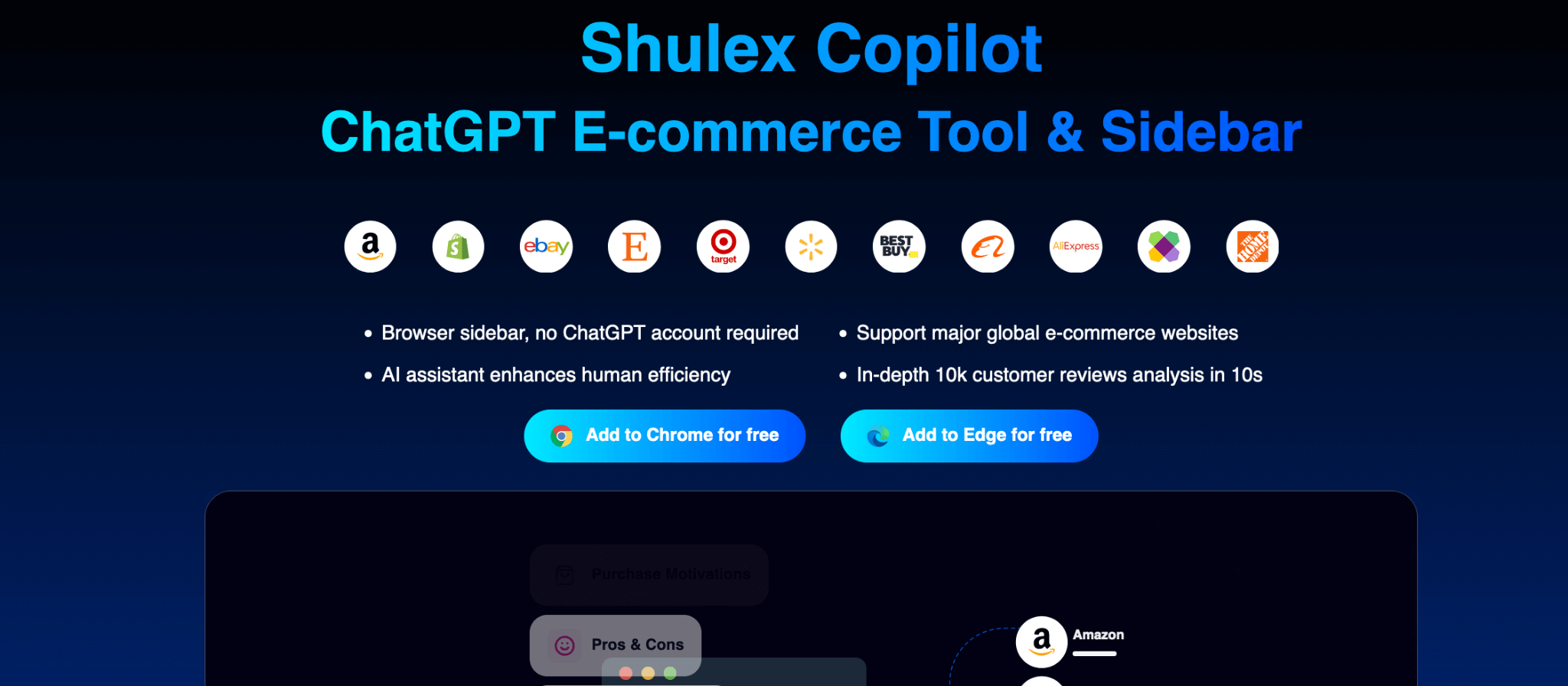 Shulex Copilot is a browser extension developed by ChatGPT that supports major global e-commerce websites. It is designed as an E-commerce tool with a sidebar and can analyze customer reviews in ten languages.
2. Google Keyword Planner & Google Trends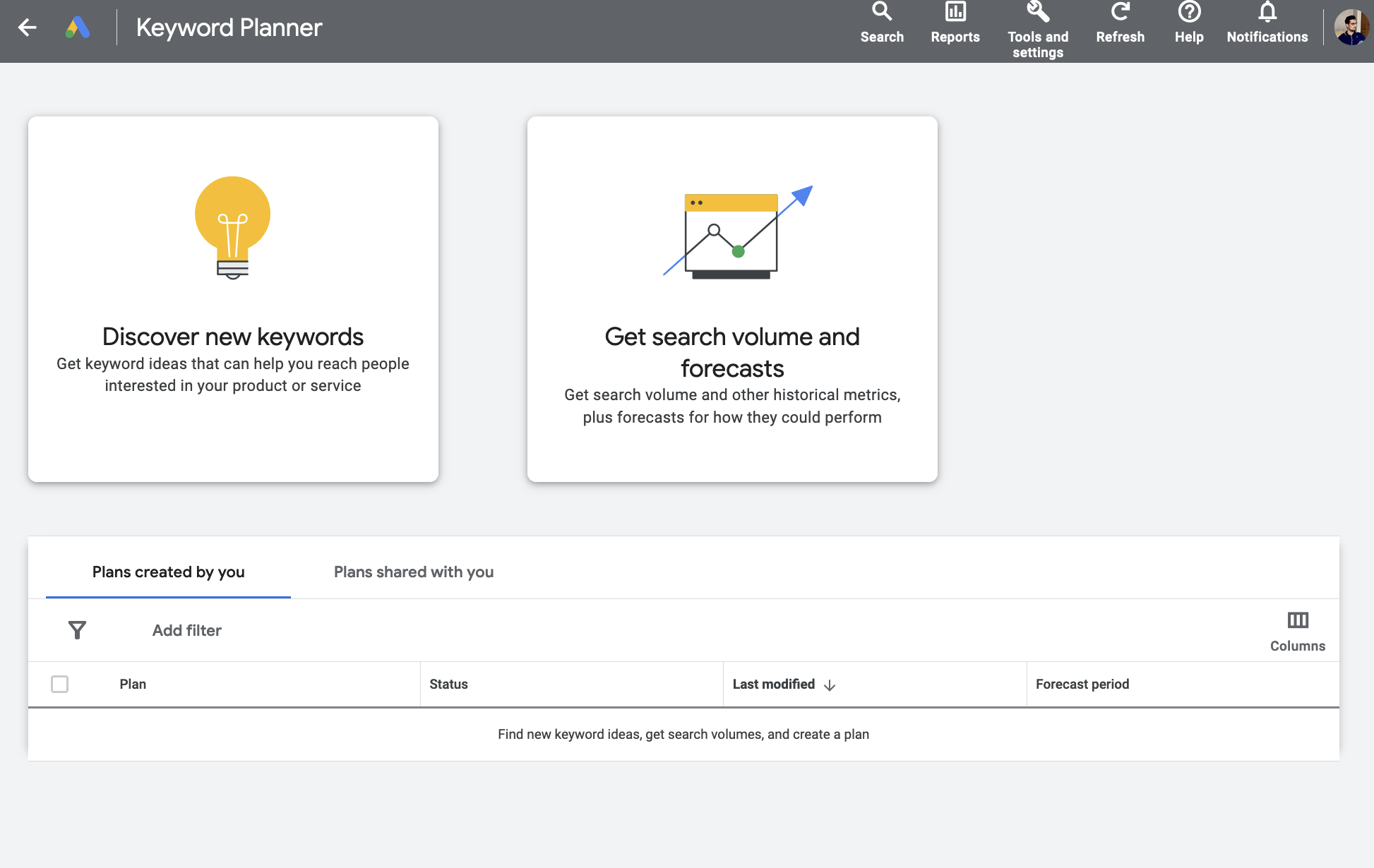 Google Keyword Planner and Google Trends also offer valuable insights into customer behavior regarding online shopping. They provide information on what people are searching for, related search terms, potential competitors, and more.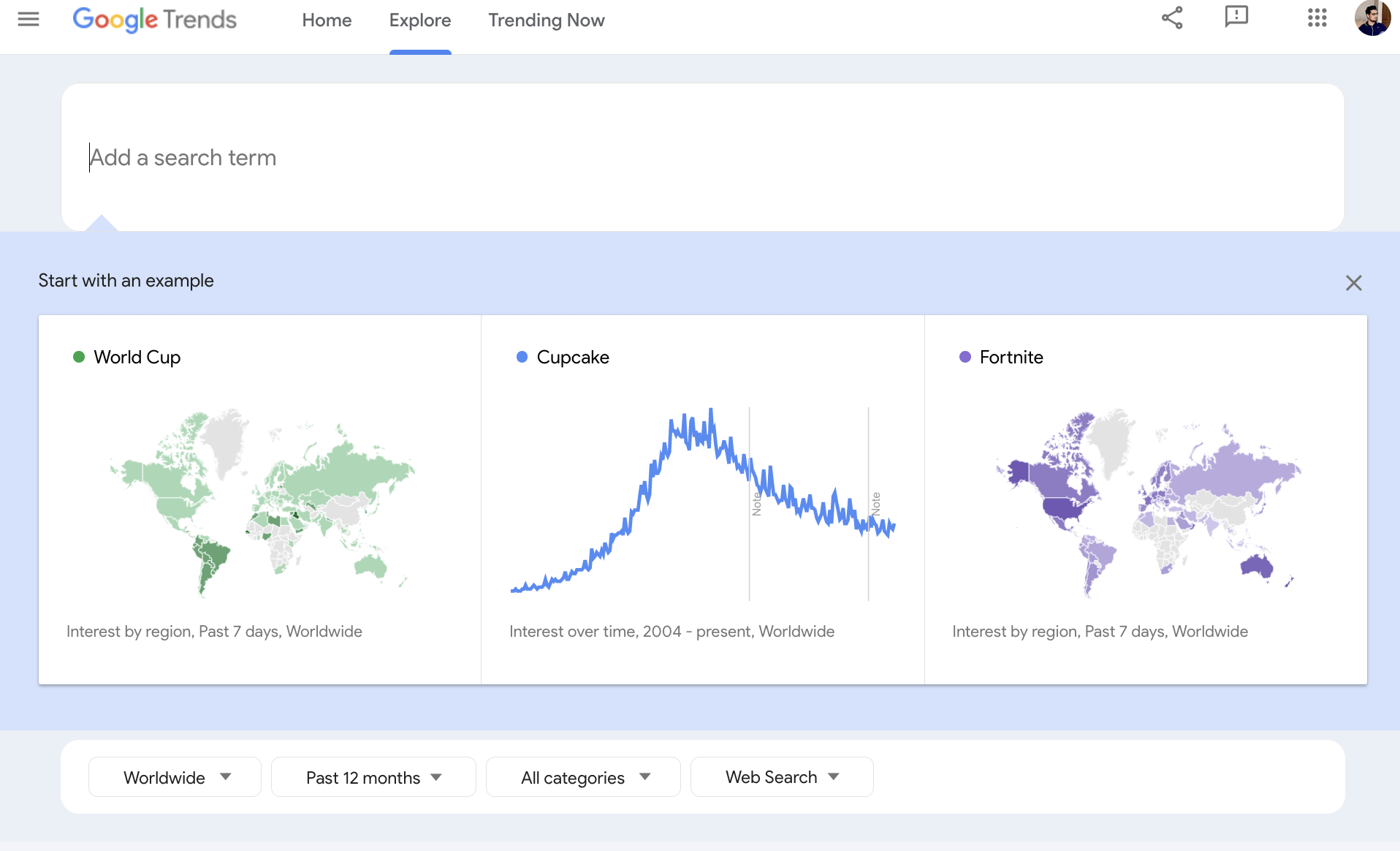 These two tools also explain what your customers look for online and their perception of associated products and services. Furthermore, it also clearly indicates how the market is trending in a specific niche.
3. Helium 10
Helium 10 is a product research and customer review analysis tool designed for sellers to maximize their sales on Amazon. This tool helps sellers understand their niche and get more insights into their product categories on Amazon which can give you an edge over your competitors, improve sales operations, and boost profits.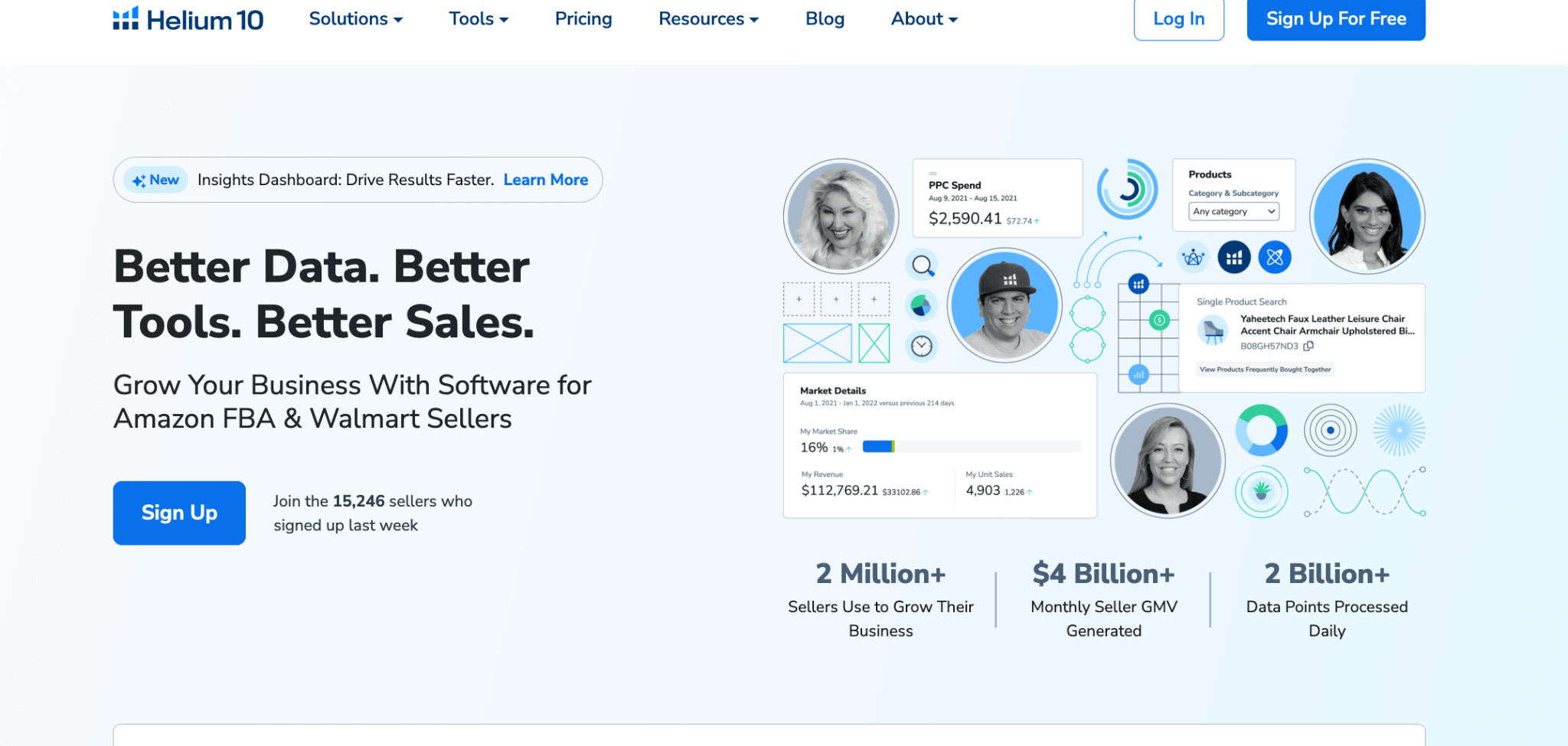 With Helium 10, finding potential products to sell in a given category and researching customer feedback trends is easy. This helps sellers provide customers with high-quality products that meet their needs more precisely.
Read More:
How to Buy on Alibaba and Sell on Amazon?
Summary
Amazon Product Opportunity Explorer is an excellent tool for sellers to research product trends and customer reviews. However, there are other tools that can be used to gain further insights into the market, such as Shulex VOC, Google Keyword Planner, Google Trends, and Helium 10.
Each provides valuable insight into customer behavior and product trends, enabling sellers to make better-informed decisions and improve their profit margins.
- End -