Do you want to use the booming e-commerce industry and sell products on Amazon? If so, then Alibaba is a great place to start. Alibaba and Amazon are the top e-commerce websites that draw in numerous sellers and buyers.
Buyers can easily find what they are looking for at an affordable price on Alibaba, thanks to its vast inventory of millions of products from suppliers worldwide. Alibaba is also the ideal platform for sellers looking to customize their products with private labeling and branding. Many businesses depend on Alibaba to source profitable products for Amazon FBA.
Part 1: What is Alibaba?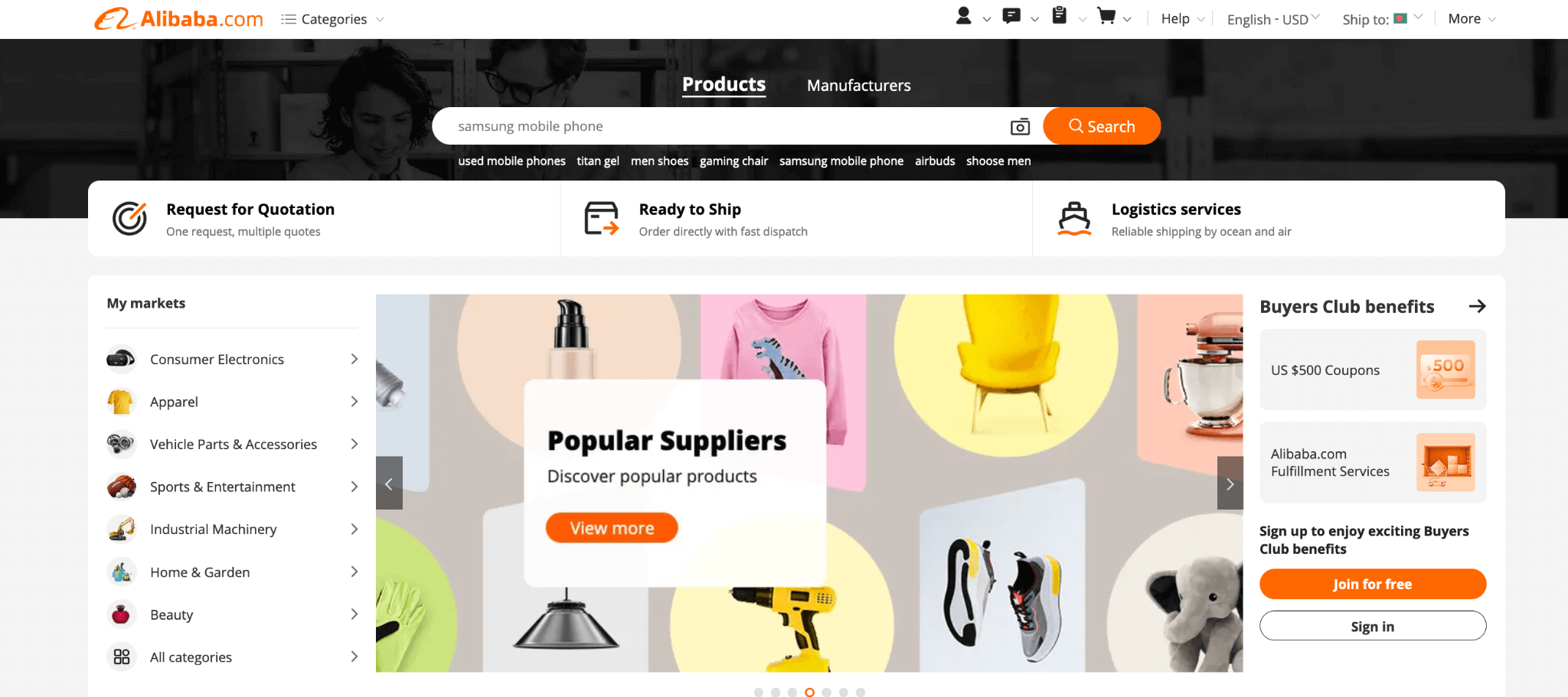 If you want to create custom private-label products for your company—Alibaba is the place to go. It is a leading B2B e-commerce platform that connects manufacturers and suppliers with interested buyers globally.
Many compare Alibaba with Amazon, but that's not correct. Amazon sells products to consumers, but Alibaba doesn't. Instead, it provides a platform for merchants to obtain products from manufacturers and suppliers. Merchants can buy products in large quantities from Alibaba to resell on Amazon FBA or in brick-and-mortar stores.
Alibaba provides a diverse range of products suitable for various business models. This includes private-label products that merchants can purchase and rebrand as their own. Additionally, wholesalers can buy products in bulk at a reduced price compared to other platforms allowing them to sell them at higher prices to make more profits.
Does it work?
Yes! Many businesses are partnering with Alibaba to source products at a low cost and then resell them on Amazon for higher profits.
One of the main reasons Amazon sellers prefer working with Alibaba is the competitive prices offered by the platform. Most suppliers on Alibaba are manufacturers, so you can bypass the middlemen or intermediaries and reduce your expenses.
And since Alibaba is located in China, the world's manufacturing hub, you can further lower the prices of their products.
Convenience is another factor to consider. For instance, let's say you plan to sell a 'waffle maker' on Amazon but need to find a manufacturer to make it for you. You may not know any manufacturers who make them or don't know how to search for them. Many sellers are facing this issue.
Alibaba resolves this by offering a feature on its website where sellers can find suppliers and search for a specific product, like a 'waffle maker.' Additionally, they can also find hundreds of manufacturers who can supply the product and what prices they are asking.
What else should the seller know about?
It's important to remember that Alibaba may not have branded products available for purchase as China does not allow manufacturers to sell them outside of China. Furthermore, Amazon may not allow products of specific brands to sell their products on its website at all. We recommend sellers do a comprehensive research before sourcing products on Alibaba to avoid any issues.
Part 2: How To Buy From Alibaba And Sell On Amazon
After you decide what product you want to sell, you need to find suppliers.
Finding Suppliers

The first thing you need to do is a product search on Alibaba. For this article, we will search for "waffle maker."
You will see many results based on your keyword search. Find the one that matches what you're looking for. Here we selected the "waffle maker machine." But before that, look at the filters on the left-hand side of the page.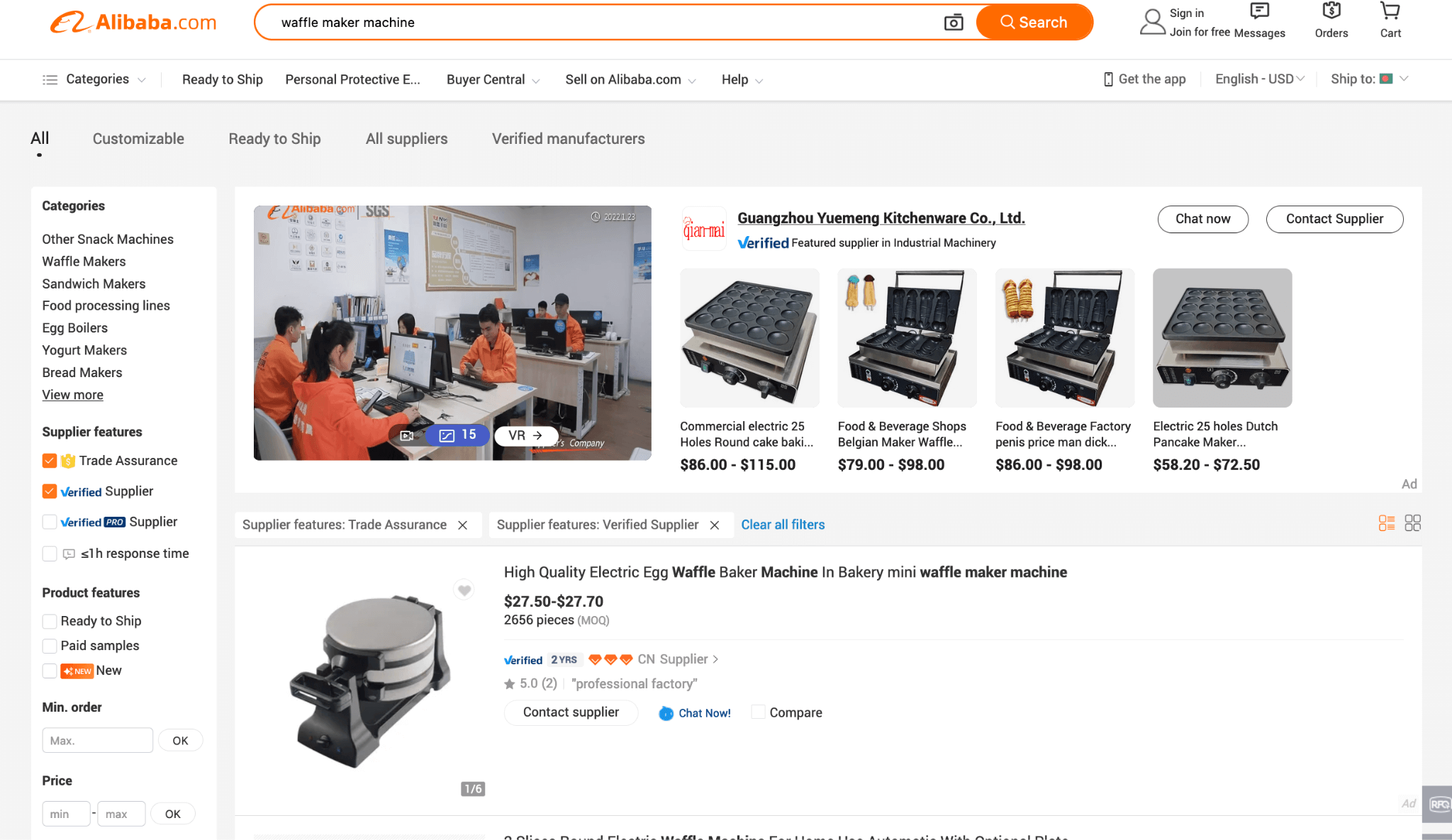 You can see many filters, such as supplier type, price, supplier country, product type, and certifications. There is a misconception that Alibaba only has suppliers from China, which is untrue. You can select suppliers from other countries for the specific product with the Supplier Country/Region filter.
But the most important filter is "Supplier Types." We suggest you check "Trade Assurance" and "Verified Supplier." This means you'll be dealing with legitimate suppliers.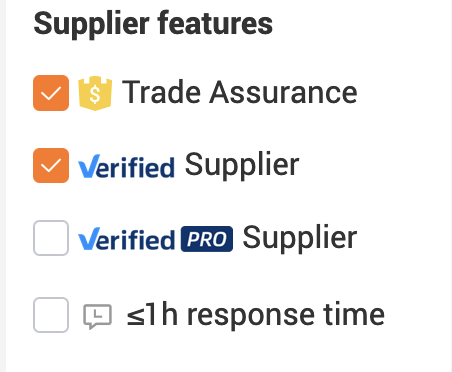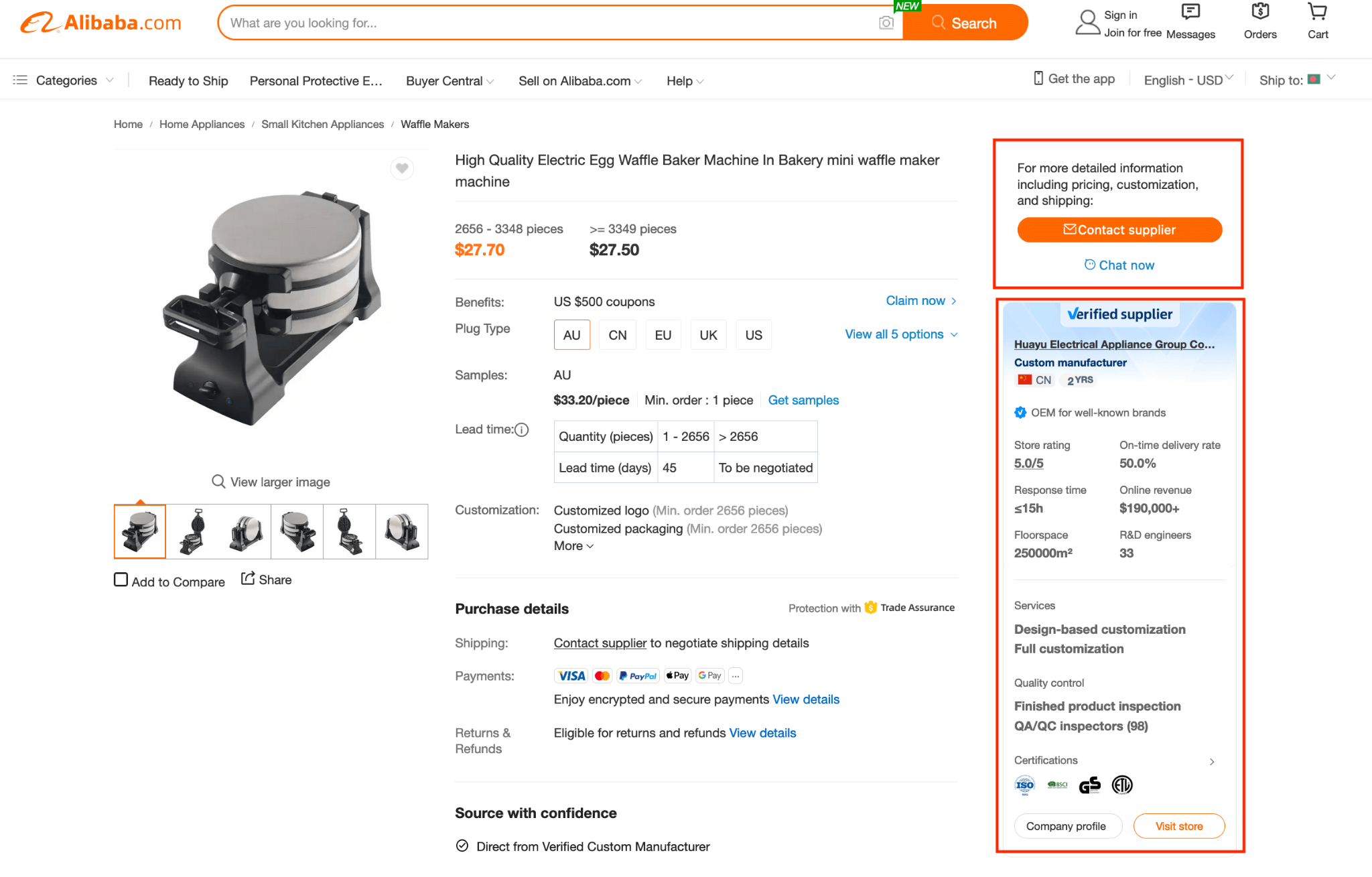 Now go through the results and search for products that interest you. You can also see the pricing information, but it may change. The per-unit pricing of the products depends on the product specifications and the total number of units bought from the supplier. So, contact the supplier to get the actual pricing of the product.
Analyzing Suppliers
After you select a product, you can find more information about the product and the supplier. At the side of the page, you can use the "Company Profile." This is where you can find more information about the supplier, their employees, total sales, product quality control, and more.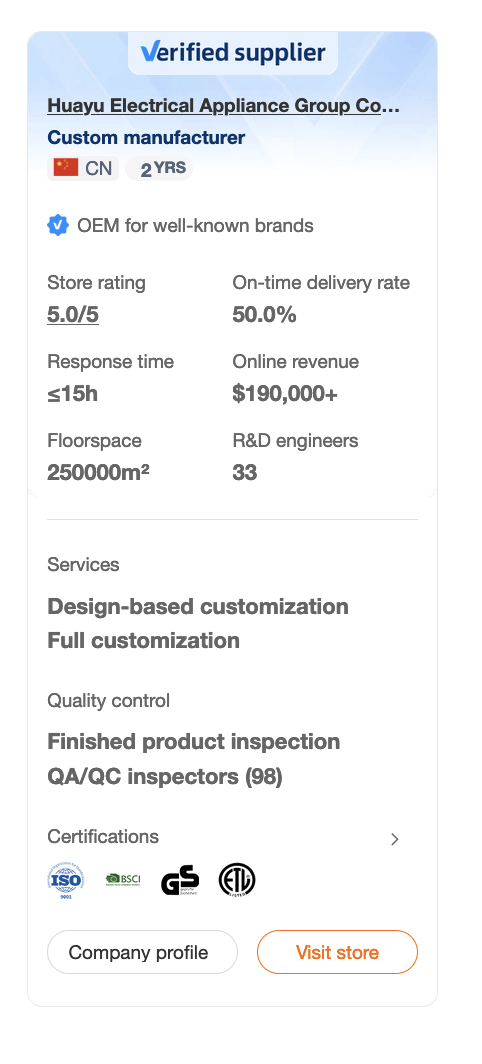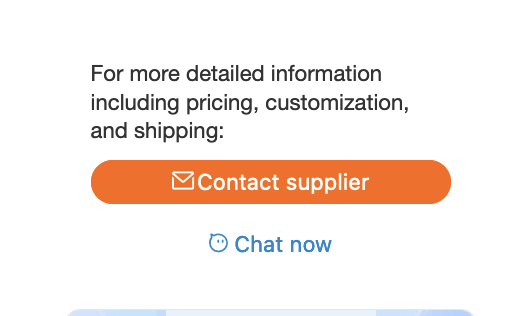 Once you click through to a listing, you'll see a "Contact Supplier" button with an option to have a live chat.
Selling Products From Alibaba On Amazon
To ensure seamless delivery of your products to Amazon, you must first create a listing. You must set up your Amazon account and complete your listing before shipping your products from China to Amazon FBA.
In Seller Central, go to Catalog > Add products.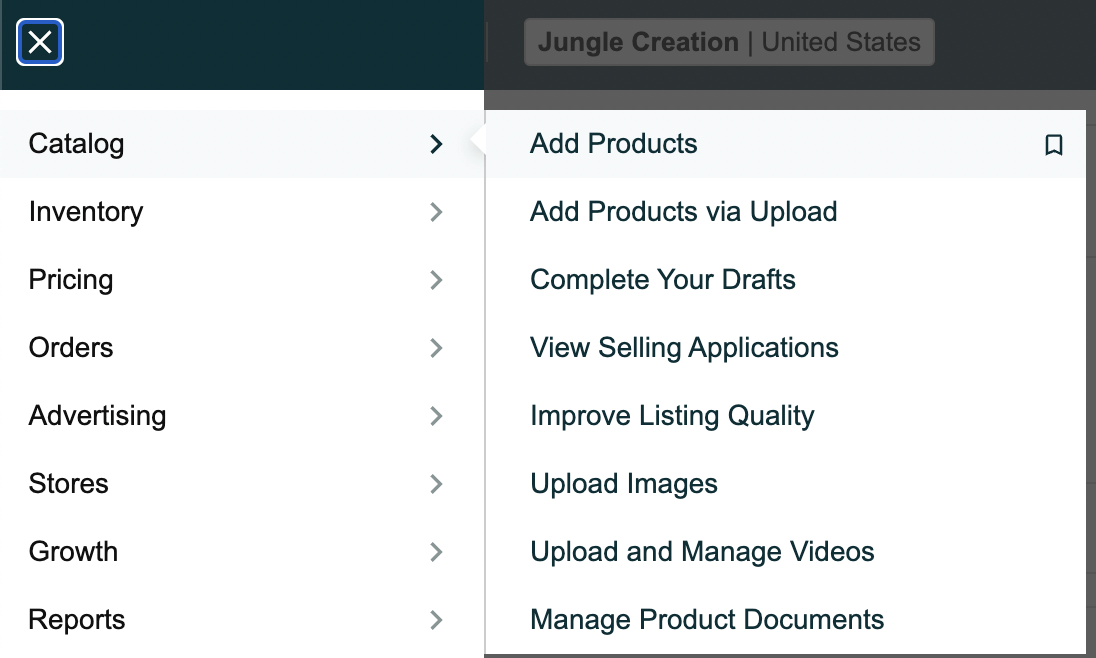 Choose "I'm adding a product not sold on Amazon," then choose your product category.

Enter the product information, including its UPC, brand name, product features, description, images, etc.
Your listing will be live when your inventory from Alibaba arrives at the Amazon FBA.
Part 3: Summary
Building an online business with Alibaba is great and secure, but choosing the right suppliers is essential. This begs the question—is running a business with Alibaba safe?
To ensure your transactions on Alibaba are secure, only select "golden suppliers" as they have a positive reputation and have been selling for years on the platform. These vendors also pay extra to improve their ranking and visibility in Alibaba's search results.
Additionally, Alibaba offers a trade guarantee program that protects buyers by providing a refund if the supplier doesn't comply with the terms of the contract. This guarantee covers issues like inconsistent product quality, quantity, and delivery delays, reducing risks for buyers.
So, are there any risks with using Alibaba to sell on Amazon?
Though purchasing products from Alibaba is safe and secure, you should be aware of scammers. To encounter this problem, Alibaba provides recommendations and useful tips to help customers avoid fraudulent activities such as:
Avoid suppliers/vendors that offer extremely low prices and requests payment through methods like wire transfer and Western Union.
If suppliers ask for prompt payments, ensure all the transaction elements are clear and accurate.
It's recommended you contact suppliers by phone or use Skype.
Take precautions if the name of the company and the vendor are the same and you're using free email services like Yahoo or Hotmail.
If you need clarification on the supplier's authenticity, request a sample fee to ensure the product meets your expectations.
If you want to improve your sales on Amazon, it's vital to source find products with high demand from reliable suppliers. ShulexVOC is an Amazon product research tool that can help you improve your product research and beat your competitors. The tool offers real-time information that assists you in making informed decisions about the products you want to sell.
Additionally, it allows you to conduct comprehensive product research, analyze keywords, track competitors, monitor your Amazon sales, and more.With ShulexVOC, you can enhance your Amazon product research and gain an advantage over other sellers. If you want to experience the power of AI, try Shulex ChatGPT for Amazon for free.
How to Import Amazon Reviews to Shopify?
- End -