As we look ahead to the year 2023, it's important to stay ahead of the curve when it comes to online shopping trends. One thing that's certain is that Amazon will continue to be a major player in the e-commerce space, and savvy shoppers will be on the lookout for the top selling products on Amazon in 2023.
One trend that's likely to continue is the rise in pet ownership, which means that pet supplies will remain in high demand. From food and toys to grooming products and accessories, pet owners will be looking for the best deals on Amazon.
Another trend to watch for is the continued focus on essential items during times of economic uncertainty. Health and household products will be more popular than ever, as consumers prioritize their health and safety. Look for top selling items like cleaning supplies, personal protective equipment, and health supplements.
But it's not just about practicality - shoppers are also looking for products that make their day-to-day lives easier and more enjoyable. That's why categories like personal care/beauty, fashion, and home appliances are predicted to be popular on Amazon in 2023. Innovative products like snap-and-strain devices for cooking and other essential household items are expected to sell well based on data analysis.
Ultimately, the key to success on Amazon in 2023 will be listening to customers and delivering products that meet their needs. By staying on top of the latest trends and understanding what shoppers are looking for, you can position yourself for success in the competitive world of e-commerce.
Best Products To Sell On Amazon In 2023
Video By @DebtToDollars
Online shoppers' preferences change every year without warning.
Consumer trend reports and the state of the economy can predict what shoppers will focus on in the coming year.
Pet ownership is increasing, leading to a rise in demand for pet supplies.
Consumers are uncertain about the future due to inflation, geopolitical attention, and a strong labor market.
Essential items like health and household products will be more popular than dispensable items like toys and games during economic uncertainty.
Shoppers are looking for simplicity, products that improve day-to-day life, and brands that listen to their customers.
Sustainability remains important but is not rising in interest as much as previous years.
Personal care and beauty, fashion, and health/household categories are predicted to be popular on Amazon this year.
Snap-and-strain devices for cooking, slotting kitchen caddies, air purifiers, meditation cushions, oven liners, black apparel made from recycled fabrics,
plastic storage bins,
acne/pimple patches,
and essential household items are predicted to sell well this year based on data analysis
The most wished-for products list (for private labeling), best sellers list (for wholesaling), movers & shakers list (for recession-proof products) update hourly on Amazon's website
What's More - For Amazon business, consumer insights are also very important
VOICE OF CUSTOMER lets consumers tell you what they need, what they expect, and why they buy. Multi-channel integration + AI intelligent insights + scientific business models, from data to action in  a  single step, using the voice of consumers to guide business decisions. consumer voice to guide business decisions. VOC can help you solve the following problems to improve product quality and drive brand growth. 
A variety of feedback channels: Various feedback channels such as Amazon/ebay, social media, email/chat, etc.
Insufficient number of manual spot checks, resulting in wrong conclusions: Wrong insights, resulting in serious wrong business decisions
Time lag of insights conclusion: Organizational manpower spends a lot of time reviewing partial feedback, not able to identify problems in time
Inability to identify new opportunities in a timely manner: New opportunities are a few voices hidden in a large amount of feedback, which is difficult to find manually
Inability to develop quantifiable action points: Problems can't be optimized if they can't be measured
Which aspect of the competitor's product do consumers like and why? Everyone knows this product sells well, but few people know why?
In which aspect does the competitor surpass my brand and why? In which aspect of installation/use scenario/quality/packaging/logistics, the reputation is better than mine
Which attribute of the competitor has the best reputation and why? Which factor impresses consumers the most, capacity, color, material?
What are the reasons for my consumer churn? What consumers dislike most about the products/services I provide
About Shulex VOC & GPT
Shulex is a global business data insights company and an AI-powered applications company. We capture multimodal consumer voices from across the web and leverage GPT AI's powerful analytics to provide our global clients with intelligent, scientific, and efficient consumer insights. We also provide a free Amazon ChatGPT browser extension, a custom VOC consumer insights platform, an Amazon category analysis report, and a one-stop e-commerce customer experience workbench. From AI data analysis to AI business application, we provide a full range of services to effectively help global sellers achieve business strategic planning, product planning and solutions, e-commerce operation optimization, and customer experience improvement.
If you want to experience the power of AI,try our free tools at Shulex ChatGPT for Amazon
How to Shulex ChatGPT for Amazon?
Step 1: Install ChatGPT Tool for Amazon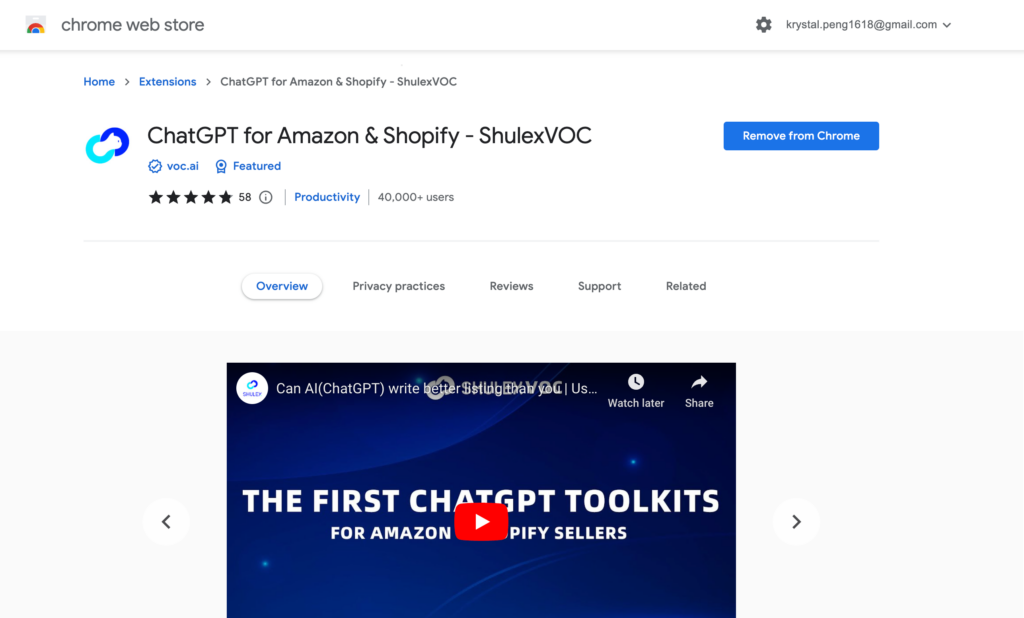 Step 2: Open Amazon and Use ChatGPT Tool for Amazon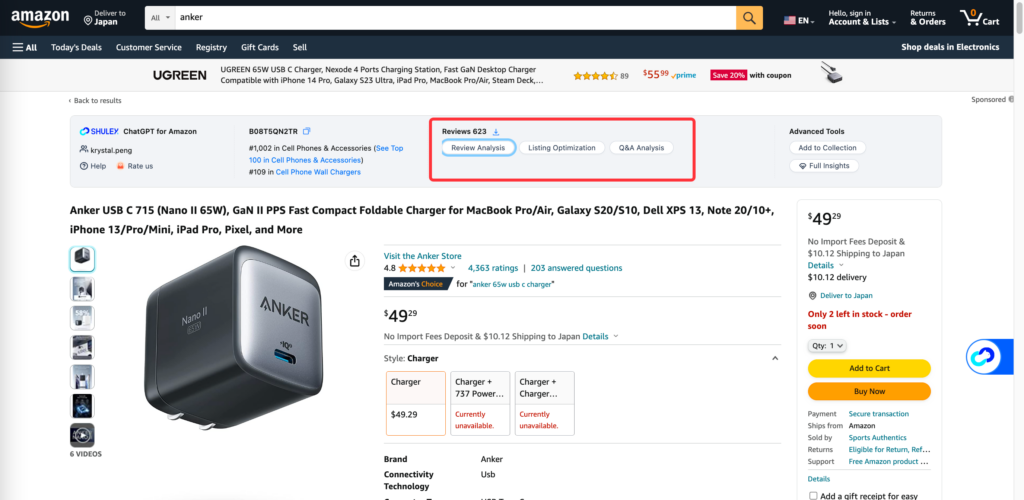 Step 3: Product and Consumer Research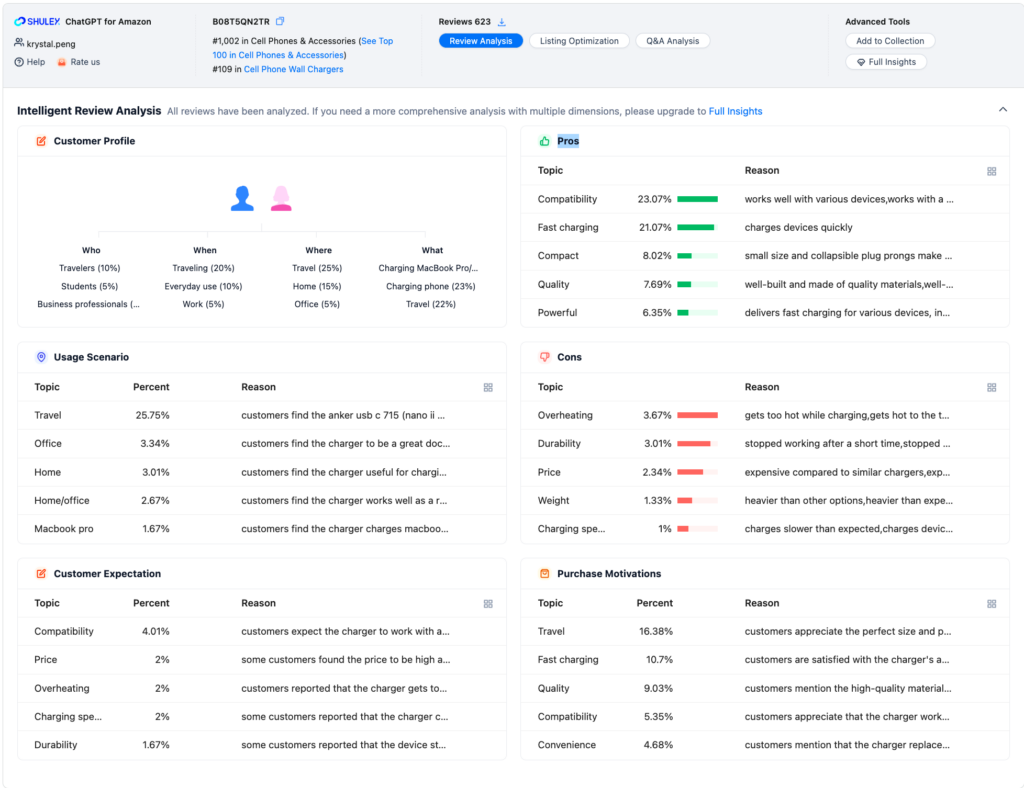 Step 4: Amazon listing Optimization

Step 5: Enjoy full version of ChatGPT Tool for Amazon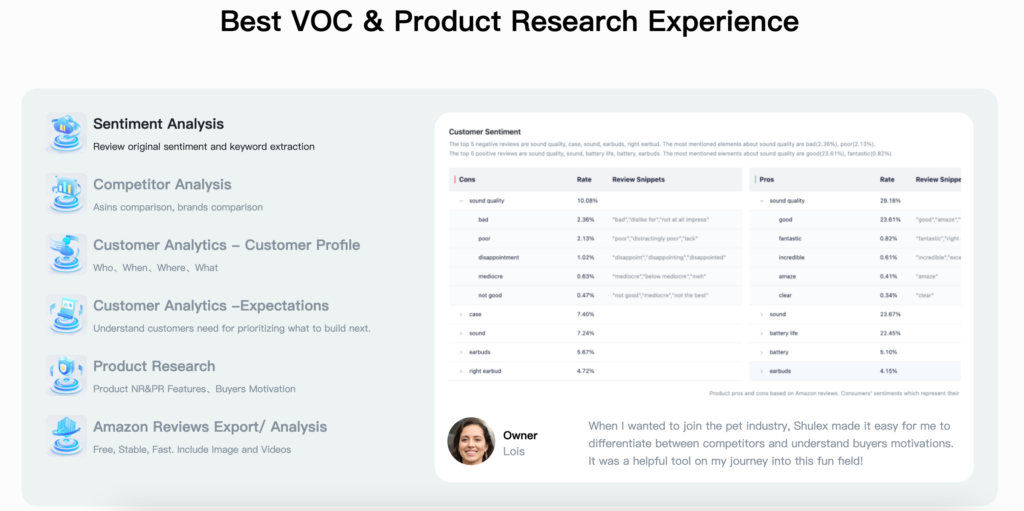 - End -