Amazon is the world's most popular e-commerce store, listing over 353 million products. In 2022, Amazon's total net sales revenue was a whopping $514 billion. So, imagine a massive growth opportunity Amazon provides to entrepreneurs and businesses of all sizes. However, the big question is how to start selling on Amazon.
Although there are many ways to start your Amazon seller business, dropshipping on Amazon is one effective way to run a profitable business on Amazon. In fact, successful dropshippers are able to make 10-30% of profit for each sale. Therefore, this guide will talk deeply about how to dropship on Amazon, covering every minor to major detail you need to know. So, let's begin our million-dollar journey today!
What is Amazon Dropshipping?
Amazon dropshipping is a sales model in which the seller lists products on Amazon without holding inventory. When a customer places the order, the seller places the same order with the supplier/manufacturer and lets the supplier ship the product to the customer.
The seller does not have to purchase any inventory to start dropshipping on Amazon. However, sellers mostly reposition the products to make them look like they were delivered directly from the seller. So, customers are mostly unaware that a third party is involved in packaging and shipping the product.
The below steps break down how dropshipping works on Amazon:
A customer orders on Amazon for one of your listed products.
After receiving the order, you place a separate order with the supplier for the same product and also provide the customer details.
The supplier will package and ship the product to the customer.
This is how Amazon dropshipping empowers sellers to start an e-commerce business with a small investment.
Very Important!!! Understand The Amazon's Dropshipping Policy
Before we head deep into how to dropship on Amazon, you must be aware of Amazon's dropshipping policy to avoid account suspension.
Below are a few main points you need to follow to do dropshipping on Amazon:
For all invoices, packaging, or other slips, you must be declared the seller. There must be nothing that mentions the supplier/manufacturer.
Remove all the invoices, packaging, or other slips that mention third-party suppliers before shipping the order to the customer.
You will deal with the processing of returns.
You must follow all of Amazon's Terms of Service.
In short, you have to present yourself as the product's shipper without hinting that it is a dropshipping product. Besides that, you should also avoid purchasing products from online retailers and shipping them directly to the customers.
For example, a customer has ordered a hair dryer from your Amazon listing. So, you went to Walmart.com, purchased a hair dryer at a lower price, and entered the customer details to ship. This way, the customer will receive a Walmart-packaged product. This is a big NO in Amazon and will lead to account suspension. If you want to resell online retail products, Amazon retail arbitrage is a better option for you.
Amazon Dropshipping vs. Other Sales Models
Amazon dropshipping is just one type of sales model available on Amazon. So, let's make a quick comparison to see how it differs from other popular sales models.
Wholesale vs. Dropshipping
Wholesale is a sales model in which you purchase products in bulk directly from the supplier or manufacturer at a cheaper rate than the market. This process requires significant investment and negotiations.
On the other hand, dropshipping allows you to just list the products on Amazon without purchasing them. Once a customer orders, you purchase the same product from the supplier and let the supplier ship the product to the customer.
Private Label vs. Dropshipping
A private label is a sales model in which you sell your branded product. This means that you are the only seller of that product. So, you will be involved in product manufacturing, packaging, and shipping.
In contrast, dropshipping on Amazon is all about looking for existing trendy products from Amazon dropshipping suppliers and listing them on your seller account. So, you will be selling products that are already sold by other Amazon sellers as well.
Retail Arbitrage vs. Dropshipping
Retail arbitrage is a sales model in which you visit physical or online retail stores to purchase discounted or discontinued products at a lower cost and then sell them on Amazon at a higher price.
On the other hand, Amazon dropshipping is also about making a profit from the price difference. But here, you only purchase the product once the customer has placed the order. So, there is no need to hold an inventory or invest upfront in products.
Amazon FBA vs. Dropshipping
Although Amazon FBA is not a separate sales model, its difference with Amazon dropshipping is also worth mentioning to clarify doubts. Fulfillment by Amazon (FBA) is the process in which you send the inventory to Amazon's fulfillment center so that Amazon handles the storing, packaging, shipping, etc. Wholesale, private label, and arbitrage sale models can all use the Amazon FBA model.
In contrast, Amazon dropshipping is not associated with FBA. It's the opposite, i.e., Fulfillment by Merchant (FBM). Simply put, Amazon dropshipper suppliers are responsible for storing, packaging, and shipping products to the customers on your behalf.
Why Choose Dropshipping on Amazon?
Looking at all the different sales models available on Amazon, you might be wondering what are the perks of choosing dropshipping on Amazon. To be honest, Amazon dropshipping has both its pros and cons.
So, the choice mainly depends on person to person. But let's list some main pros and cons so that you can make an informed decision.
Pros
Low Investment: Amazon dropshipping eradicates the need to own the inventory like in wholesale, private label, and retail arbitrage. Once the customer purchases the product, you only have to purchase the same quantity from the supplier. So, you need a very small investment to run a dropshipping business.
Easy and Quick to Set Up: When you don't have to purchase, store, and ship inventory, you are able to set up a complete Amazon dropshipping account in less time. In fact, it just requires 24-48 hours to search for products from suppliers' websites and list them on Amazon.
Easy Product Hunting: It is easy to search for products to dropship because you are selling existing products that customers are already searching for. Tools like Shulex VOC help do product hunting on your targeted niche and find potential products to dropship.
Automated Process: Dropshipping on Amazon is mostly automated and requires minimal input from you. In fact, plenty of plugins and apps can even automate every stage of dropshipping.
Cons
Delivery Time: Most of Amazon's dropshipping suppliers are located overseas, so it takes longer to deliver the product to the customer.
Competition: Dropshipping is a much easier way to start selling on Amazon with a very small investment. Plus, you are selling pre-existing products. Therefore, there is a huge competition.
No Quality Monitoring: Since the products are shipping directly from the supplier to the customer, you cannot control the quality of the products. Moreover, products are shipped from overseas, so there is a higher chance of getting damaged during the shipment.
How to Dropship on Amazon Without Money: Step-by-Step Approach
Now that we know all the basics, advantages, and disadvantages of dropshipping on Amazon, let's head to the most important question, i.e., how to start dropshipping on Amazon. Follow the below steps to start a dropshipping business from scratch:
Step 1. Create an Amazon Seller Account
The first step you have to take is to create an Amazon seller account. So, go to Amazon Seller Central webpage and create a seller account.
Step 2. Begin Product Hunting
Now you have to look for products in high demand and low competition. This is the main step in dropshipping, as you have to find profitable products. To ease the process of product hunting, you can use Shulex VOC AI-powered product research capabilities. Shulex VOC will assist in finding winning products with deep competitive analysis and insights about consumers.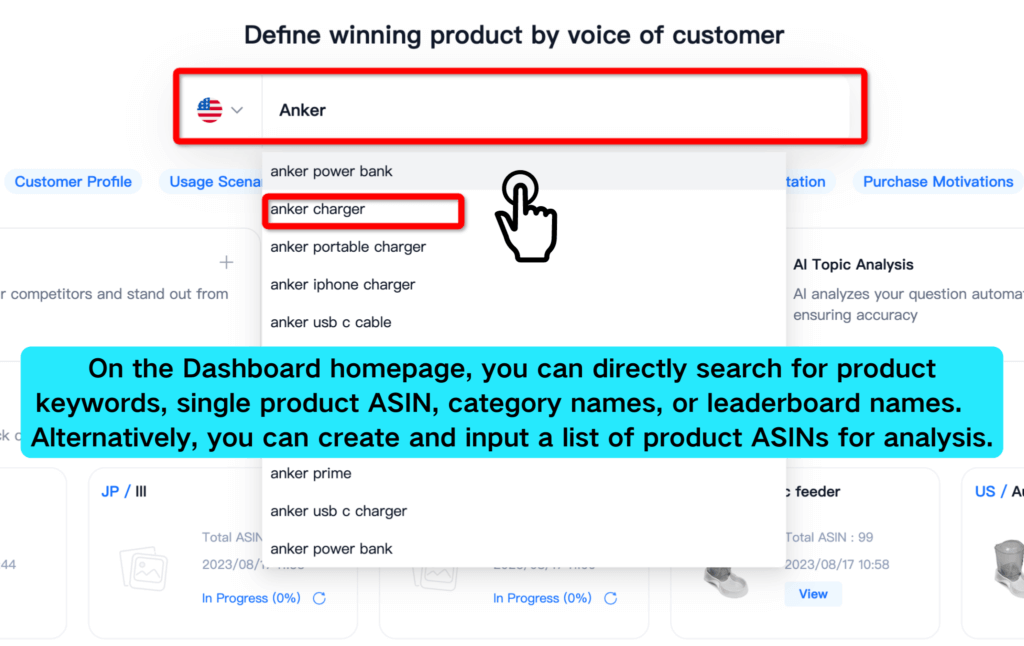 It is recommended that you pick less costly products in the beginning and target home, garden, housewares, sports, and outdoors categories. This is because these categories have many low-cost products that are in high demand. However, you are free to choose any category and do product hunting.
Step 3. Find an Amazon Dropshipping Supplier
Once you have finalized the products to dropship, the next thing is to find a supplier that can provide those products at a cheap rate. AliExpress, CJdropshipping, Alibaba, SaleHoo, and others are popular sites to find Amazon dropshipping suppliers. So, search for your shortlisted products on those sites and find the best supplier. Below is one example of a product from AliExpress.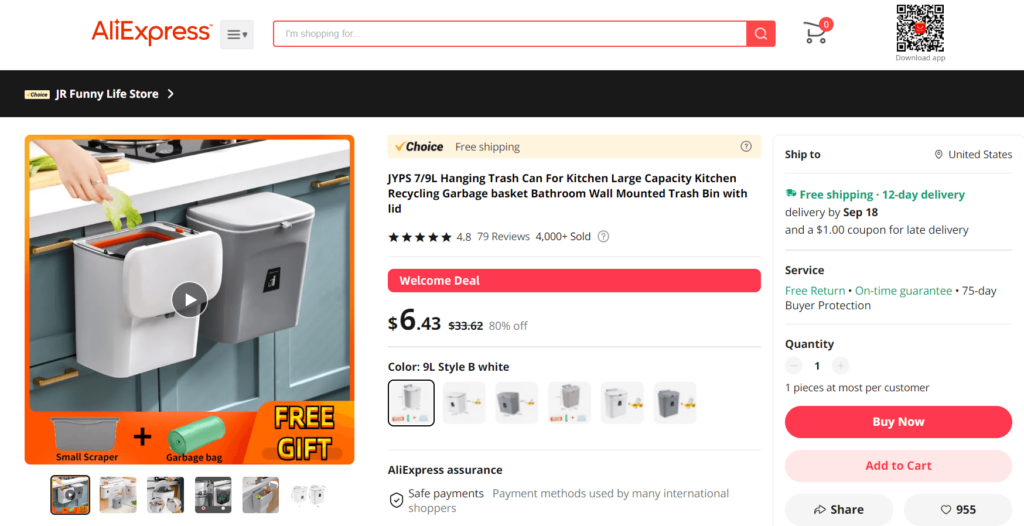 The product is a hanging trash can that costs $6.43 per unit. The seller is providing free shipping of the product, which will arrive in 12 days in the U.S. Moreover, the seller is also offering 75-day Buyer Protection. So, it seems like a good seller.
Now, you have to contact the seller/supplier and tell him to ship the order to the customer directly without labeling their company information anywhere. This way, you can place the order of the product with the supplier whenever a customer places an order on your Amazon listing.
Step 4. List the Products on Amazon
Once the products and the supplier are finalized, the last step is to create an Amazon listing. Sign in to your Seller Central account and click Inventory > Add a product. In the next window, click Inventory > Add a product > Create a new product listing.
Pick the relevant product category and fill out the details. Use Shulex VOC AI intelligence to get deep insights about existing customers and then create a customer-centric description.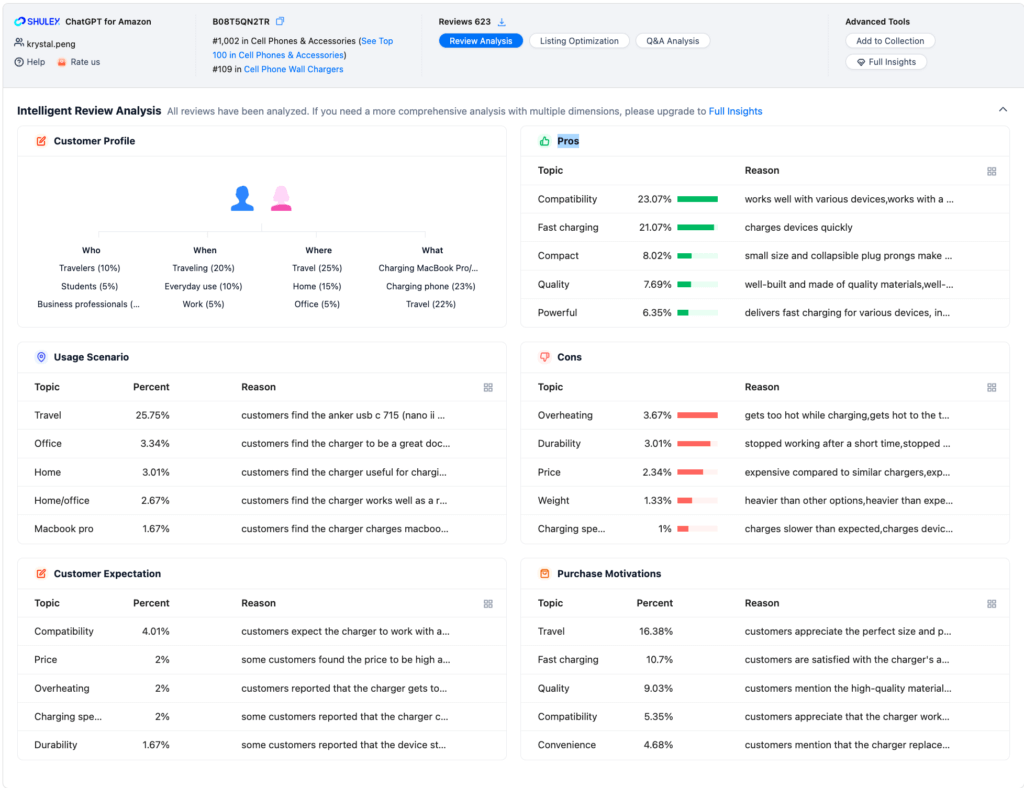 While setting the pricing of the product, include the Amazon fees as well to remain profitable. If you have set up a professional seller account, you have to pay around 8-15% referral fee based on the selected category. Alternatively, you have to pay an extra $1 per sale if you have set up an individual seller account. You can check out the Amazon fee schedule for further details.
Step 5. Start Selling
Once you have reached this step, you have successfully listed the products and have finalized the supplier. Now, all you have to do is wait for the first order and start making money.
4 Tips To Run a Successful Dropshipping Business on Amazon
Although dropshipping is easy to set up, it requires dedication, effort, and proper tactics to beat the competition and make profitable sales. So, below are a few tips on how to run a profitable dropshipping business on Amazon:
1. Emphasize Marketing
Marketing is the key to getting the attention of a large audience in a short time. There are many ways to market your listings, such as Amazon Pay-Per-Click advertising, social media marketing, influencer marketing, etc. So, choose the marketing tactics that align with your budget and promote your listings to drive traffic and sales.
2. Optimize Listing Descriptions
The product descriptions have a great impact on the customers' decision to buy the product. You should create informative and compelling descriptions that target the pinpoints of customers, making them make the purchase. Besides that, you should also optimize the titles, images, keywords, etc. If you struggle to optimize listings, use Shulex VOC to get AI-based recommendations on optimizing listings.

3. Get Samples from Suppliers
In the competitive business era, customer satisfaction is very crucial. That's why you should get some samples of the listings from Amazon dropshipping suppliers without letting them know it is ordered by you. Once you receive the samples, you can check the packaging, product quality, and other aspects. This way, you can ensure that only quality products are delivered to customers.
4. Sell Multiple Products
Since dropshipping on Amazon requires negligible investment, it is recommended to list multiple products. So, if some products fail, you will still generate revenue from other successful listings.
Wrapping Up – Lose Your Fear & Start Amazon Dropshipping
Dropshipping on Amazon has helped many new sellers to join the marketplace. In this guide, we have discussed in detail how to dropship on Amazon without money. All you need is to find the right product with Shulex VOC, find a trustworthy supplier, market the listing, and start making revenue. So, wait no more and start your own Amazon dropshipping business today.
- End -