Data reveals that Amazon's net sales for the second quarter of 2023 amounted to an impressive $134.38 billion. This figure is nothing short of astonishing for those seeking to sell online and generate substantial profits. However, achieving profitability through Amazon sales requires a meticulous strategy paired with diligent market research.
This is where the importance of selecting the optimal product becomes evident. Choosing from the top selling products and categories on Amazon significantly improves your success rate as a seller.
This guide digs into the most selling products on Amazon in 2023 to help you pick the right products/categories and maximize sales.
What Are the Most Selling Products on Amazon?
Amazon's "Best Sellers" section is a curated list of top selling products on Amazon. The platform updates it regularly and displays numerous items for various categories, including electronics, clothing, home appliances, and more.
The marketplace determines these products based on their popularity and sales performance within specific categories.
It uses a complex algorithm to gauge and update the best sellers in each category. This may include but isn't limited to:
Customer ratings
Units sold
Customer reviews
The product that consistently sells well and receives positive customer feedback is more likely to get featured among Amazon Best Sellers.
It is crucial to keep an eye on these products since the product you finalize might get swapped by another. For instance, the products trending during the holiday season might get replaced as soon as the holiday season is over.
However, a few products like electronics and books exist on the list perpetually. You can always choose these to comprehend the profitability and demand because they remain the best sellers.
Also, Amazon assigns the Best Sellers Rank (BSR) to demonstrate products' ranking in primary and related sub-categories.
There are generally two types of rankings: one for the primary category and another for the sub-category, providing a more detailed view of the product's performance.
8 Top Selling Products on Amazon
A few categories, including home, clothing, and books, are preferred regardless of the time of the year. However, other items have a high seasonal demand. So, we have curated a timeless list of top selling products on Amazon to help you choose right products:
1. Electronics

The sales distribution of electronic products has often been higher than other categories and for good reasons. The Internet of Things (IoT) is becoming an imperative aspect of our lives. Consumers are henceforth intrigued to leverage technology for an easier life.
Amazon buyers are interested in numerous technological products, including smart-home assistants and handy gadgets. The marketplace offers numerous products in the electronics category to help customers make their purchase decisions. According to the recent data, the most popular products in this category include.
Amazon Fire TV stick
Apple Airtag
Apple AirPods Pro
Wall charger
Roku Express
Blink video doorbell
2. Apps & Games

Since Pixar and Disney continuously release new animations, products in line with new movies hit the market.
Besides that, the trend of online education has accelerated, parents prefer investing in educational games or those that boost their children's cognitive abilities.
Therefore, sellers must keep themselves abreast of the latest games and newly released movies to launch similar products and stay on top of the competition. Currently, the top products in this category include.
Minecraft
Geometry Dash
Sniper Strike
Green Farm
Scary Teacher 3D
3. Camera & Photo

Camera and Photo is an essential subcategory of Electronics. The photography industry has seen an incredible spike in the last few years and is only predicted to grow more.
It is seen that people prefer purchasing Wi-Fi photography products for a seamless experience. Here are the most popular products in this category.
Occer Compact Binoculars
Stereo Microscopes
Carson MicroBite Plus
Compound Binocular Microscopes
Adorrgon 12x42 Binoculars for Adults
4. Books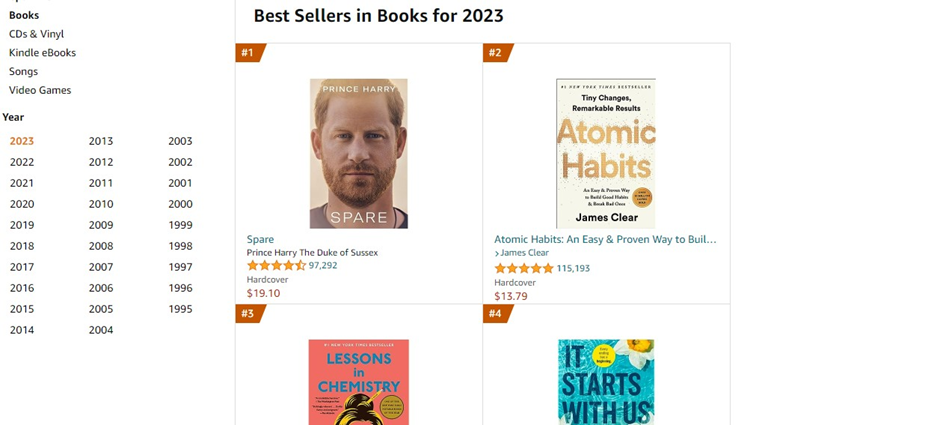 Regardless of how many ebooks launch, a few people still prefer paper books.
Research highlights that 42.73% of people opt for paper books, while 24.79% of people like e-books better. Therefore, even if people read books online, they'd want to purchase their physical version because they find them more fun.
Also, interestingly, Amazon started as a book seller and later added more categories. This could be another reason books remain among the platform's top-selling categories.
Besides that, this category is an ever-green niche because book lovers will always be willing to purchase them. The most selling products on Amazon in the books category include:
Spare by Prince Harry
Atomic Habits by James Clear
Lessons in Chemistry by Bonnie Garmus
It Starts With Us by Colleen Hoover
It Ends With Us by Colleen Hoover
5. Home & Kitchen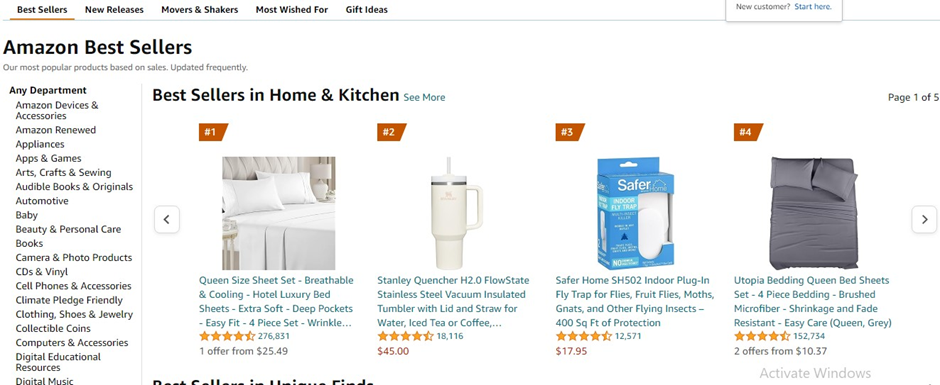 Home and kitchen products are always in demand. The most popular items in this category include cleaning supplies, air purifiers, bedding, and furniture.
A few decor products (including organization units) rank high on the BSR list during specific seasons. The best selling products on Amazon in this category include:
Queen Size Sheet Set (Breathable and Cooling)
Stanley Quencher
Safer Home Indoor Pulg-In Fly Trap
Utopia Bedding
Simple Modern Tumbler with Handle & Straw
6. Clothing, Shoes, and Jewelry

When it comes to clothing and apparel, the emphasis is typically on the visual appeal. However, surprisingly, buyers in this category care less about aesthetics and more about comfort. In fact, Amazon best sellers in this category are proof.
This implies you can generate more sales by creating a product that enhances customer convenience. However, if you manage to add visual appeal besides comfort, it will be the cherry on top. That said, here are the popular products in this category.
Crocs Unisex Adult Classic Clogs
Gildan Men's Crew T-Shirts
Men's Coolzone Boxer Briefs
Stelle Ballet Shoes for Girls
BRONAX Pillow Slippers
7. Pet Products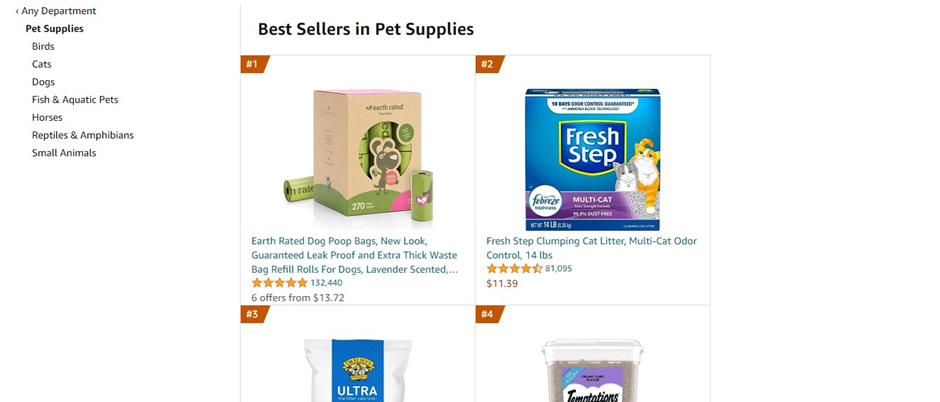 Pet ownership has skyrocketed in recent years. Data shows that 66% of US households own a pet. As such, the demand for pet products has risen.
This category includes a wide range of pet items, including birds, cats, horses, dogs, and more. Besides pet food, people can also find relevant items like beds, toys, and cleaning tools.
The top products in this category include.
Earth Rated Dog Poop Bags
Fresh Step Clumping Cat Litter
Dr. Elsey's Precious Cat Ultra Cat Litter
TEMPTATIONS Cat treats
Amazon Basics Dog and Puppy Pee Pads
8. Sports & Outdoors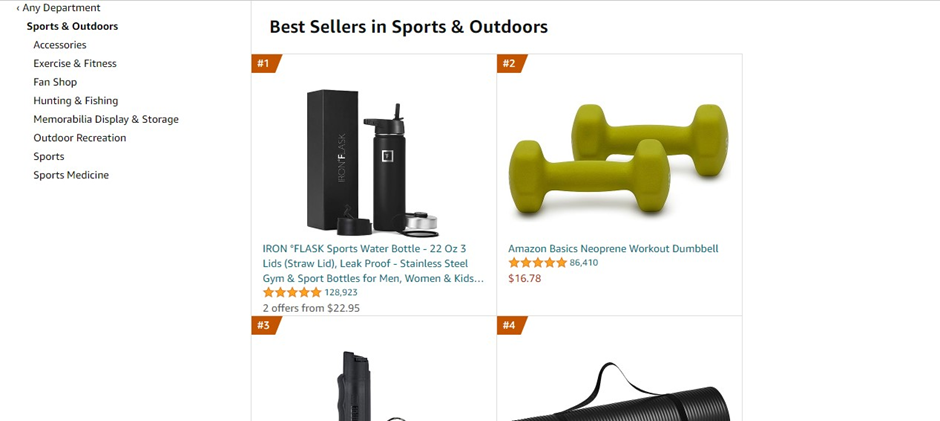 Health and fitness awareness is on the rise. Hence, the demand for sports-related products is growing.
This category includes products related to indoor and outdoor sports. Make sure you thoroughly read the product description and find the right keywords to excel in this category.
Besides, adding aesthetically appealing images can also draw more sales. Here's what sells the most on Amazon in this category.
Iron Flask Sports Water Bottle
Amazon Basics Neoprene Workout Dumbbell
SABRE Pepper Spray
Amazon Basics Yoga Mat
Geekism Soccer Shin Guards
How to Find the Top Selling Products on Amazon?
Amazon Best Sellers section provides a glimpse of what's trending in the marketplace, but it gets updated frequently and cannot be trusted alone to pick products. To find best selling products on Amazon, you need more in-depth analytics. This is where tools like Shulex VOC come to the rescue.
Shulex VOC is an AI-powered Amazon seller tool that provides an all-in-one platform to find top selling products on Amazon with in-depth analytics about competitors and customers.
Based on your targeted category or product, you can use Shulex VOC to gain valuable insights into buyer motivation, pros and cons, competition, etc.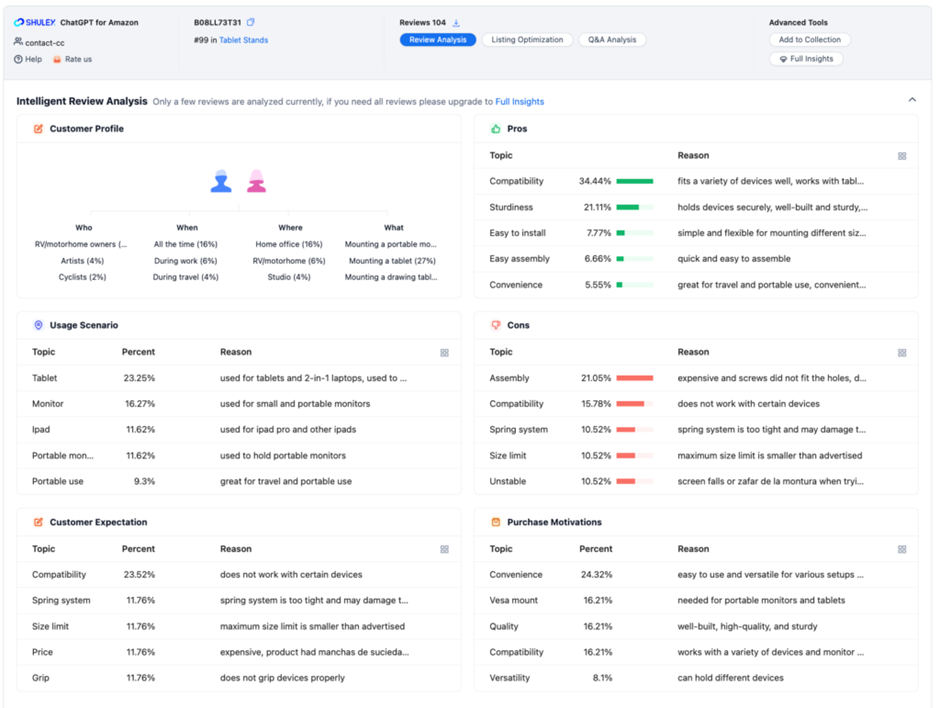 Moreover, it provides an AI-powered chat box through which you can ask specific product-related questions and have human-like conversations.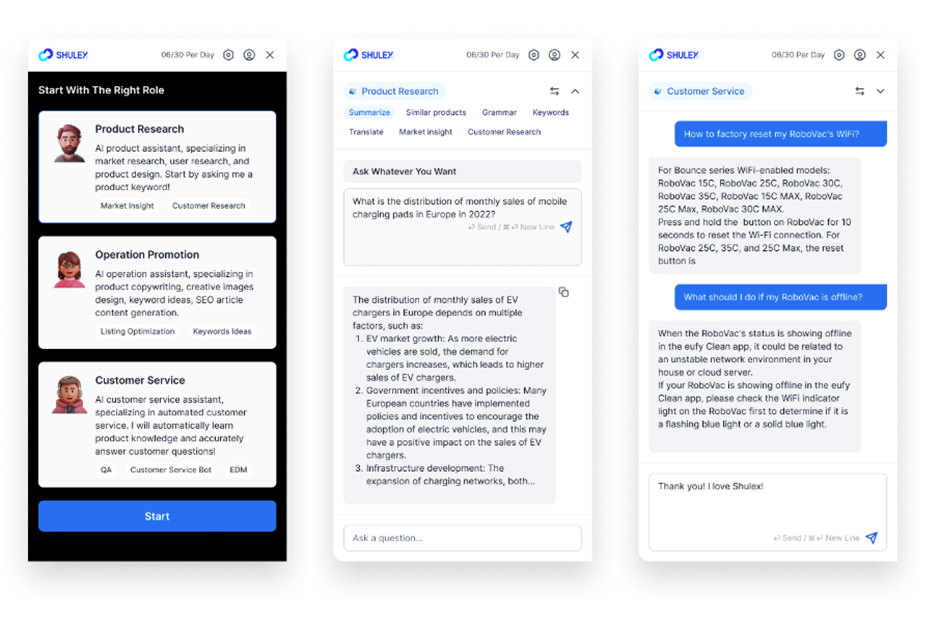 This way, you can use Shulex VOC AI capabilities to find best selling products on Amazon. Furthermore, you should consider a few other key factors besides identifying the top-selling product.
You must know the product's shipping costs, durability, FBA fees, and weight to ensure you've picked the item with the potential of generating a decent profit. Generally, products between $10-$100 make up for an ideal price range.
Do a comprehensive competitor analysis to find your chances of winning customers. Use Shulex VOC's competitive analysis to get comprehensive competitor data in one central place.
Compare your chosen product with the items ranking in Amazon's BSR list. This will help you determine whether the product has the potential to pique consumer interest.
You can also look into "customers also bought" and "frequently bought together" to determine the products that are more likely to sell. In fact, you can use the Shulex VOC "related products" search to easily find relevant similar products.
Overall, the trick behind finding the most selling products on Amazon is to evaluate the marketplace thoroughly using tools like Shulex VOC and then shortlist the best category and product to sell.
Things to Consider Before Finalizing a Product
The categories discussed above will help you kick-start your journey as an Amazon seller. However, you need to keep a few things in mind to ensure you are headed in the right direction:
Not all most selling products on Amazon give high returns. Therefore, make sure you evaluate the profit margin of the product you choose.
Avoid products that are trending during specific seasons. Their sales will likely plummet once the season changes.
Keep track of the latest product data because Amazon updates the BSR list regularly.
Gain a clear perspective by researching the recent and historical sales of the product.
It's always better to choose products with high and consistent demand. This doesn't imply they make incredible sales every single day. Instead, they sell at a steady rate - think 25 items a day.
Products that require extensive paperwork must be avoided. That's primarily because it gets challenging to stay updated about them.
Wrapping Up - Amazon is a Money-Making Machine for Smart Sellers
Getting into the Amazon marketplace with demanding products leads to high profitability in a short time span. Therefore, you must invest time in researching for the right product that has the potential to grow your business.
The eight most selling products on Amazon discussed in this article promise to deliver substantial profits for smart sellers who are willing to put in the effort to optimize their listings and stay updated with marketplace trends. To wrap up, keep yourself in the loop of Amazon's ever-evolving marketplace and find products that are in demand and profitable using AI-powered tools like Shulex VOC.
- End -