Outline of the content
Introduction
Step 1: Prepare Your Shipment

Gathering the necessary materials
Printing and applying item labels
Using poly bags for multiple units
Bubble-wrapping fragile products

Step 2: Create a Shipping Plan

Adding the ship from address
Specifying the number of units
Resolving any required preparations
Packing individual units
Providing box details

Step 3: Schedule Shipment Collection

Choosing the shipping date
Selecting the shipping method (UPS)
Printing and applying box labels
Scheduling a collection with UPS

Conclusion
Introduction
So you've listed your first product on your Amazon account and now you're ready to ship off the product so you can take advantage of Amazon's FBA program. In this article, we will guide you through the entire process of sending your first Amazon FBA shipment. Whether you're a beginner or just looking for a refresher, we've got you covered. So let's dive right in!
Step 1: Prepare Your Shipment
Before you can send your products to Amazon, you need to make sure you have everything prepared. Here are the steps to follow:
Gathering the necessary materials: To start, you'll need item labels, poly bags (if applicable), bubble wrap (for fragile items), and a suitable box for shipping.
Printing and applying item labels: In your Amazon inventory, locate the "Edit" button and click on "Print item labels." Select the appropriate template for your labels and print them using a regular printer. Peel off the labels and stick them on top of the existing barcodes on your products.
Using poly bags for multiple units: If you're selling a product in a pack of two or more, you can simply put them in a poly bag. Place the units in the bag, seal it, and then stick the label on top of the bag.
Bubble-wrapping fragile products: For products made of plastic or glass, it's essential to protect them with bubble wrap. Cut the bubble wrap into small pieces, wrap it around the product, place it in a poly bag, and seal it. Then, stick the label on top of the bag.
Step 2: Create a Shipping Plan
Once your shipment is prepared, it's time to create a shipping plan on Amazon. Follow these steps:
Add the ship from address: If you're creating a shipping plan for the first time, you'll need to provide the address from where you'll be shipping the products. This address will be saved for future shipments.
Specify the number of units: Enter the number of units you're sending in this shipment. Make sure to input the correct quantity.
Resolve any required preparations: If any of your products require additional preparation, such as bubble wrapping, Amazon will notify you. Ensure you complete all necessary preparations before proceeding.
Pack individual units: Click on "Ready to pack" and follow the instructions to pack each unit in a suitable box.
Provide box details: In Step 1b of the shipping plan, select the option that best fits your scenario. If you're sending everything in one box, choose "Everything will fit into one box." Confirm the box dimensions and weight, and then proceed.
Step 3: Schedule Shipment Collection
With your shipping plan ready, it's time to schedule the collection of your shipment. Here's what you need to do:
View tracking details: Access the tracking ID for your UPS shipment on Amazon. Copy the tracking ID.
Schedule collection with UPS: Go to ups.com and select "Schedule a collection." Paste the tracking ID and provide your address details. Indicate the number of packages and their total weight. Choose the date for UPS to collect the shipment.
Print and apply box labels: Use the provided UPS box label template and print it on sticky label sheets. Peel off the labels and stick them on the sides of the box, ensuring the barcodes are clear for scanning.
Confirm collection details: Review all the information you've entered and confirm that everything is correct.
The Best Amazon ChatGPT Tool -- Shulex
Shulex is a global business data insights company and an AI-powered applications company. We capture multimodal consumer voices from across the web and leverage GPT AI's powerful analytics to provide our global clients with intelligent, scientific, and efficient consumer insights. We also provide a free Amazon ChatGPT browser extension, a custom VOC consumer insights platform, an Amazon category analysis report, and a one-stop e-commerce customer experience workbench. From AI data analysis to AI business application, we provide a full range of services to effectively help global sellers achieve business strategic planning, product planning and solutions, e-commerce operation optimization, and customer experience improvement.
If you want to experience the power of AI,try our free tools at Shulex ChatGPT for Amazon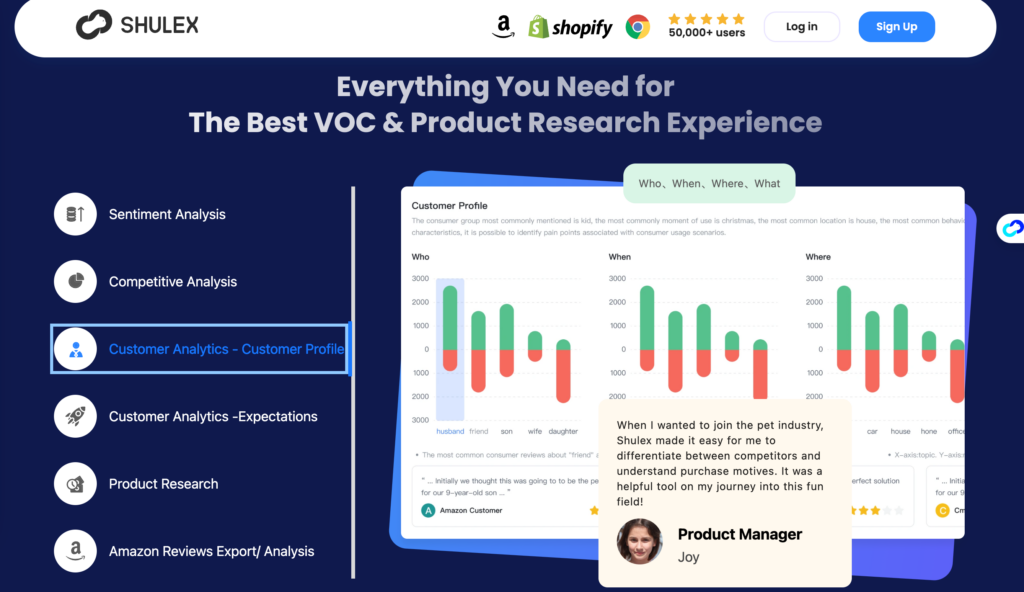 Conclusion
Congratulations! You've successfully prepared and sent your first Amazon FBA shipment. By following the step-by-step process outlined in this article, you've ensured that your products are properly labeled and packaged for safe delivery to Amazon's fulfillment centers. Remember to always use Amazon's recommended carriers, such as UPS, for cost-effective and reliable shipping. Now you can sit back and wait for Amazon to receive your shipment and handle the rest. Good luck with your Amazon FBA journey!
- End -