Part1: [Free&Official] Use Reviews and Rating App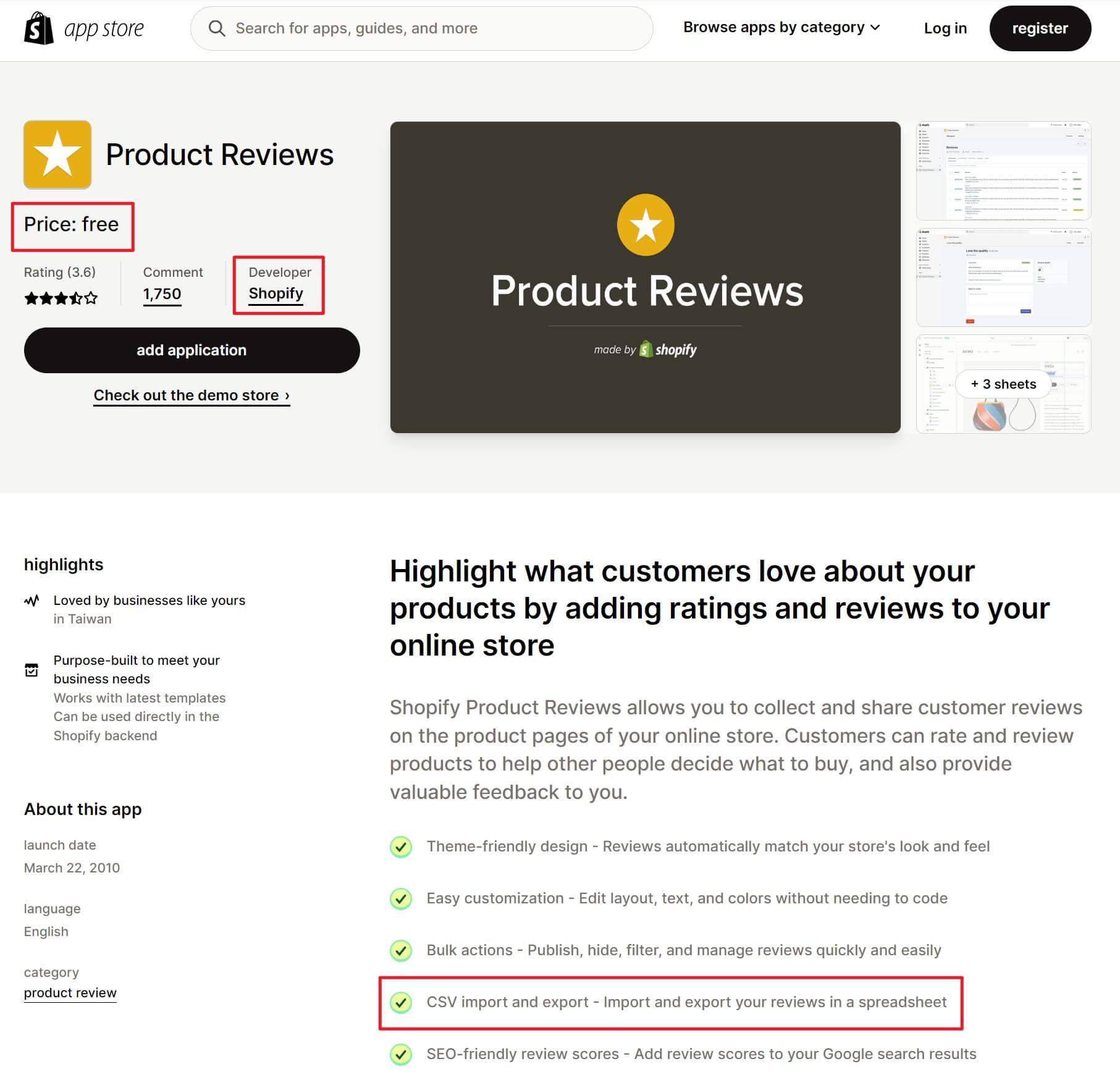 Shopify Official lunched a review import for Shopify app, and that's Product Reviews. It allows you to import and export reviews in format of CSV to or from your shopify store. And that' the official & free way we are talking about.
To import your precious reviews from amazon to Shopify store, firstly you will need to download your Amazon reviews. Unfortunately, Amazon official doesn't support you with an official tool. Here's a magical tool enabling you to export Amazon review in a fast and free way: Shulex VOC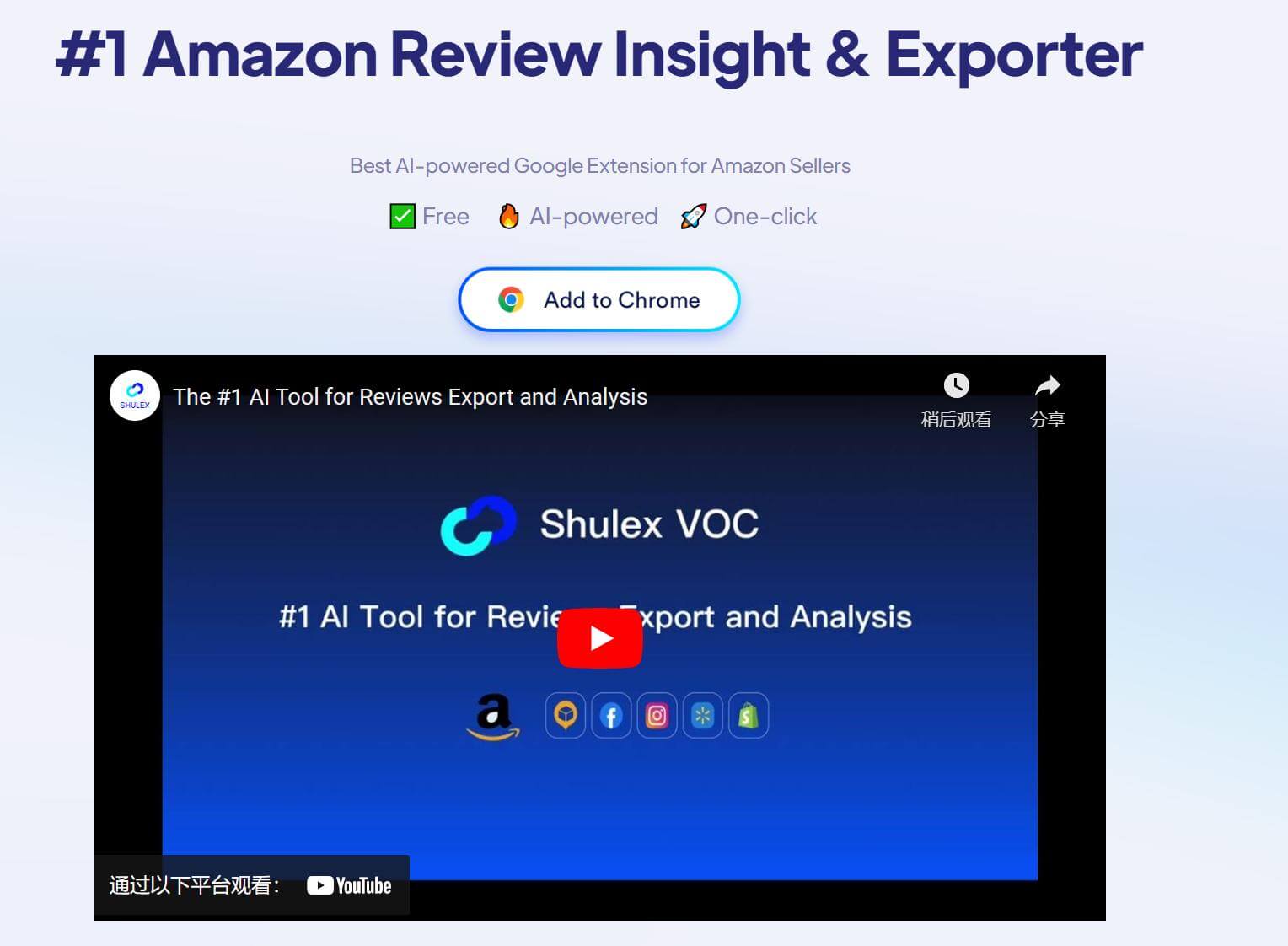 This extension allows you download any reviews in one click, even from products of other shoppers. You just need to add it to your browser, sign-up, then go to amazon and download the reviews. Give it a try NOW.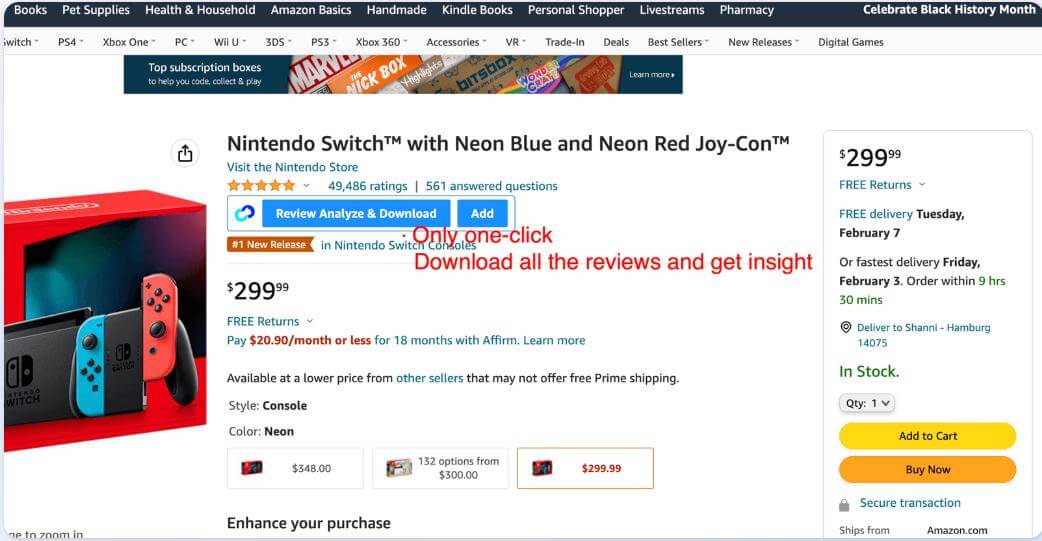 What's better, the tool can analyze reviews for you in an insightful way.
OK, now you got Amazon reviews in CSV format. Here's a guide on how to use Reviews and Rating App.
Main Feature:
Reviews and Rating App also offers a theme-friendly design, which means that the reviews will automatically match your store's look and feel.
The app also allows for easy customization of the review layout, text, and colors without any coding.
You can perform bulk actions such as publishing, hiding, filtering, and managing reviews quickly and easily. You can also import and export reviews in a spreadsheet using the CSV feature.
How to Use:
Add the App to your Shopify store: You can add the app directly from the Shopify App Store. Once added, the app will be available in your Shopify admin dashboard.
Customize the App settings: After installing the app, you can customize the settings to match the look and feel of your online store. You can edit the layout, text, and colors of the reviews section without any coding.
Import Customer Reviews: You can manage customer reviews in the app dashboard. You can publish, hide, or delete a review as needed. You can also filter and sort reviews by various criteria such as date, rating, and content.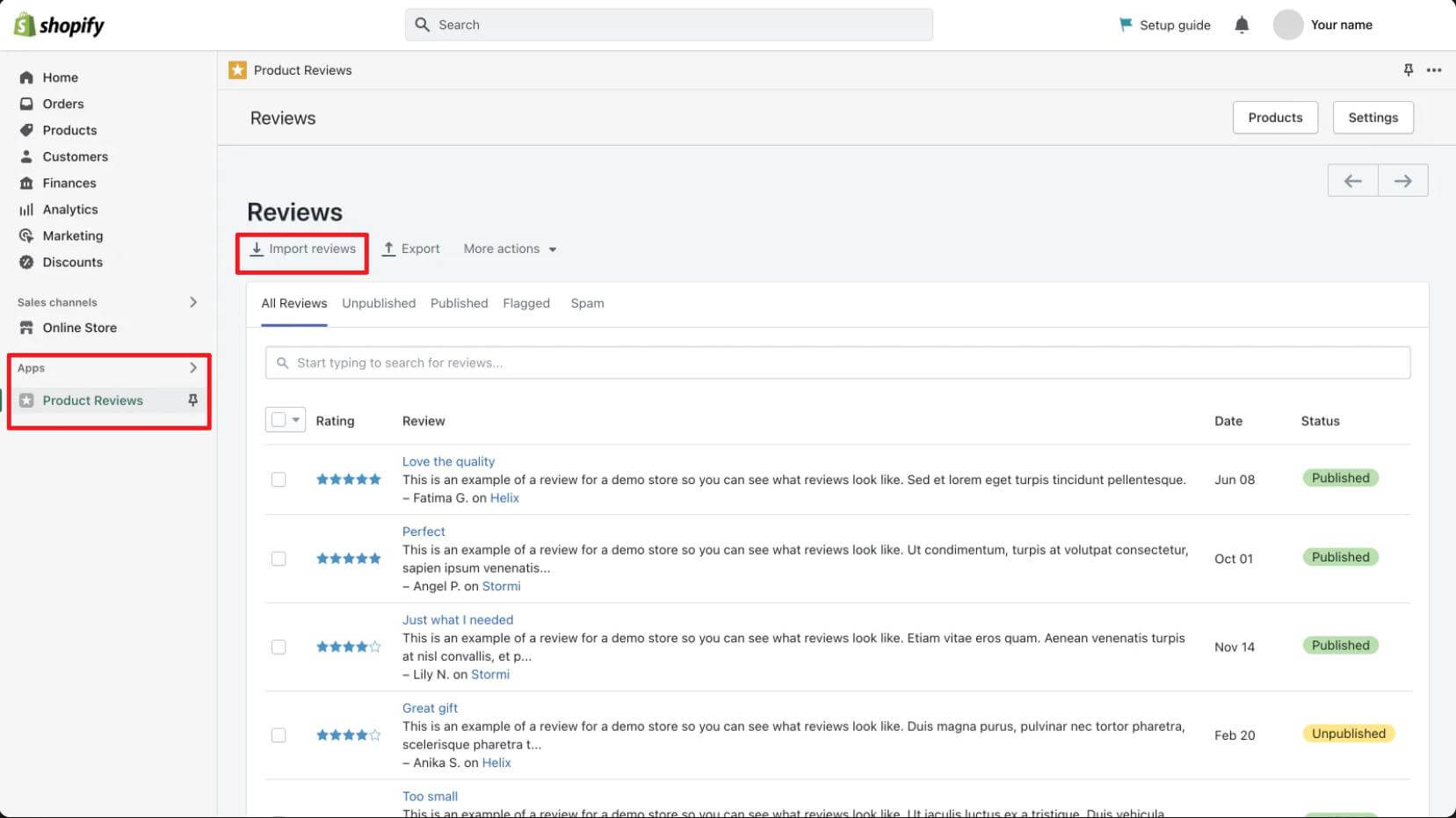 Part2: Use an importer tool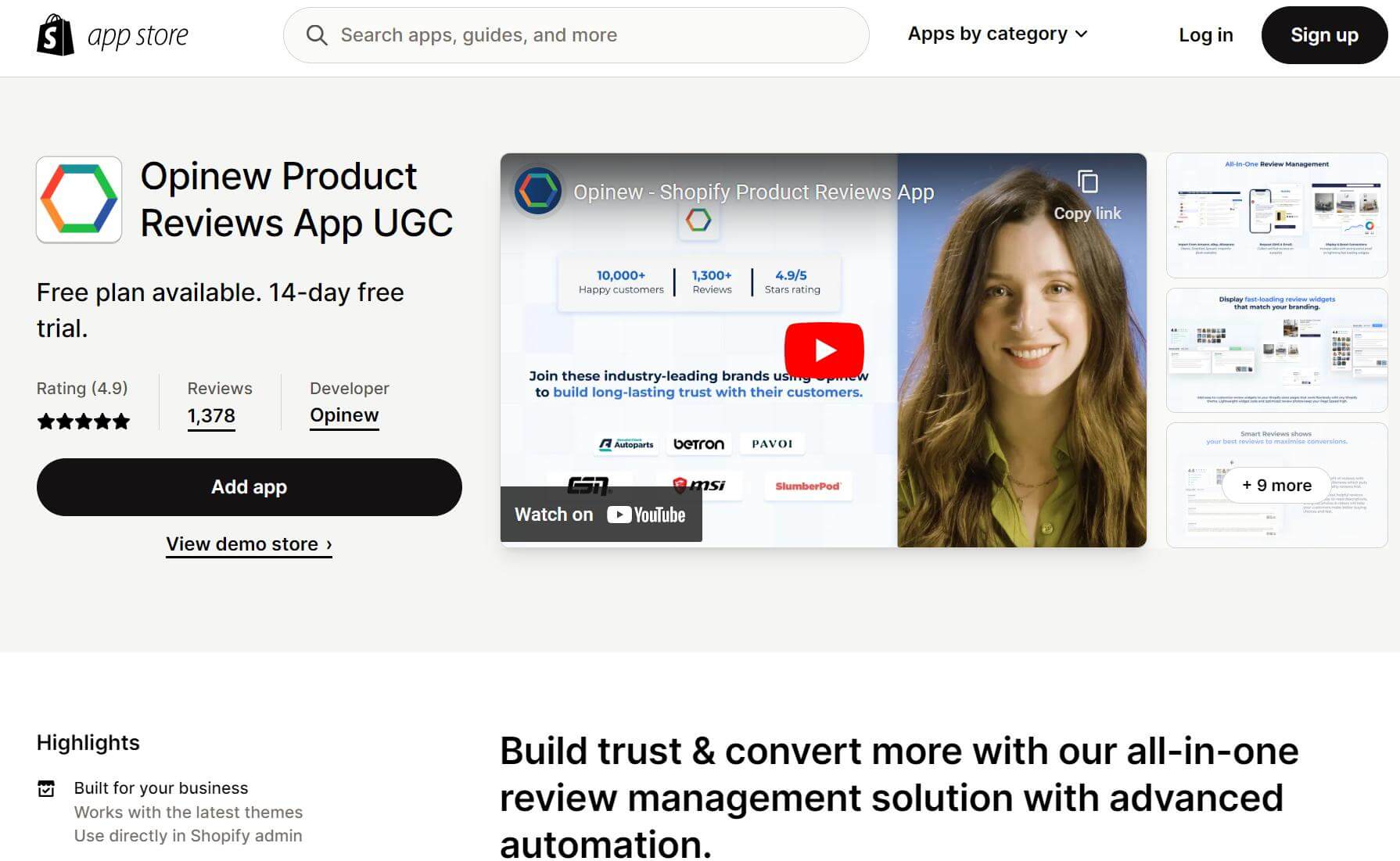 Price: Free to import 100 reviews. $19 for month
Main Features:
Import reviews in minutes from Amazon, eBay, AliExpress.
Automatic sync above reviews to Shopify.
Automated email & SMS review requests, include coupons.
Automatically show best reviews in your store.
Pros: Automated review manage tools integrated in one.
Cons: A relatively high price for review import.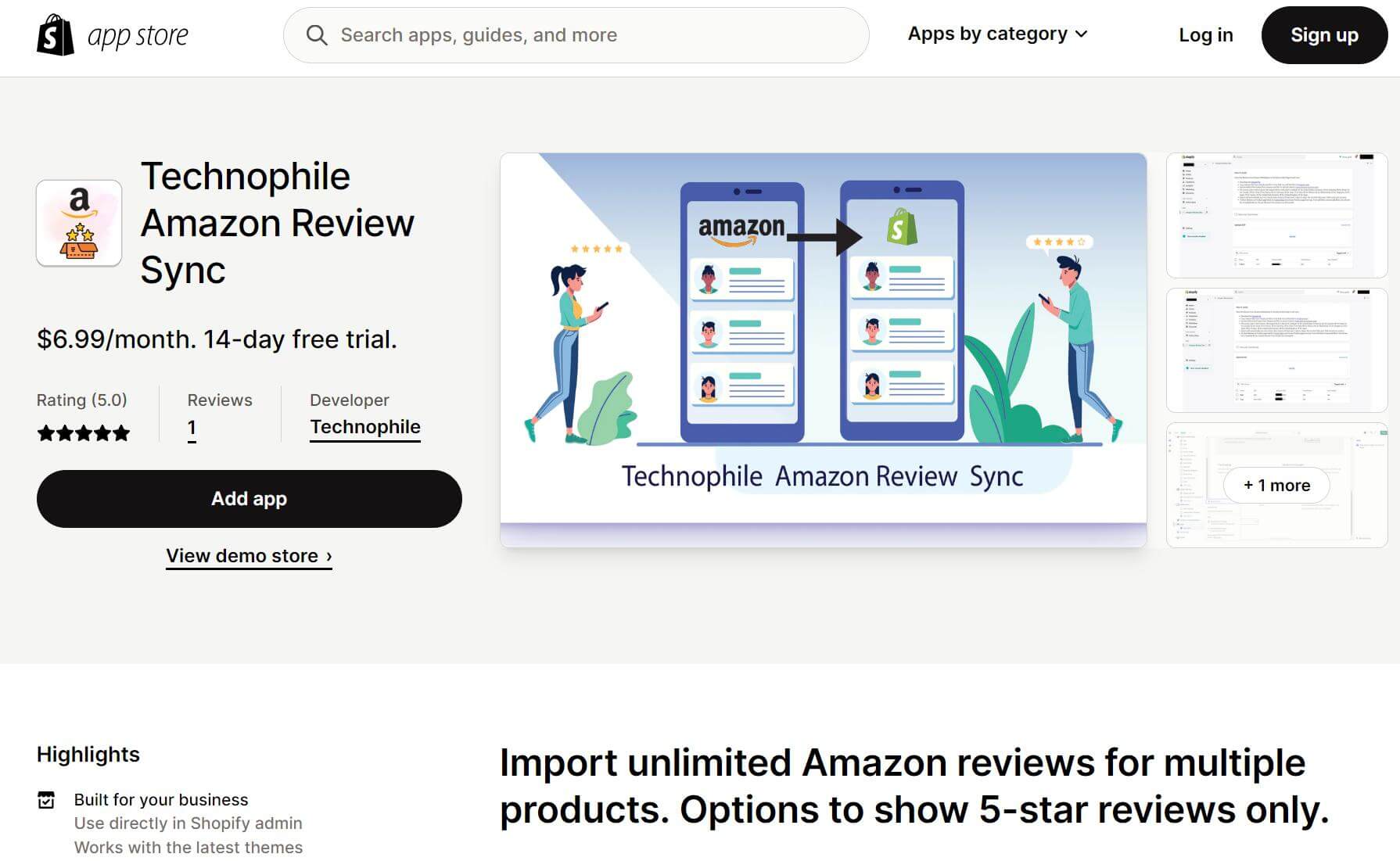 Price: 14-days free trial. 6.99$ for month
Main Features:
Easy upload through CSV
Auto Sync from Amazon store
Pros: long enough free trail for beginners
Cons: Nothing else than review importing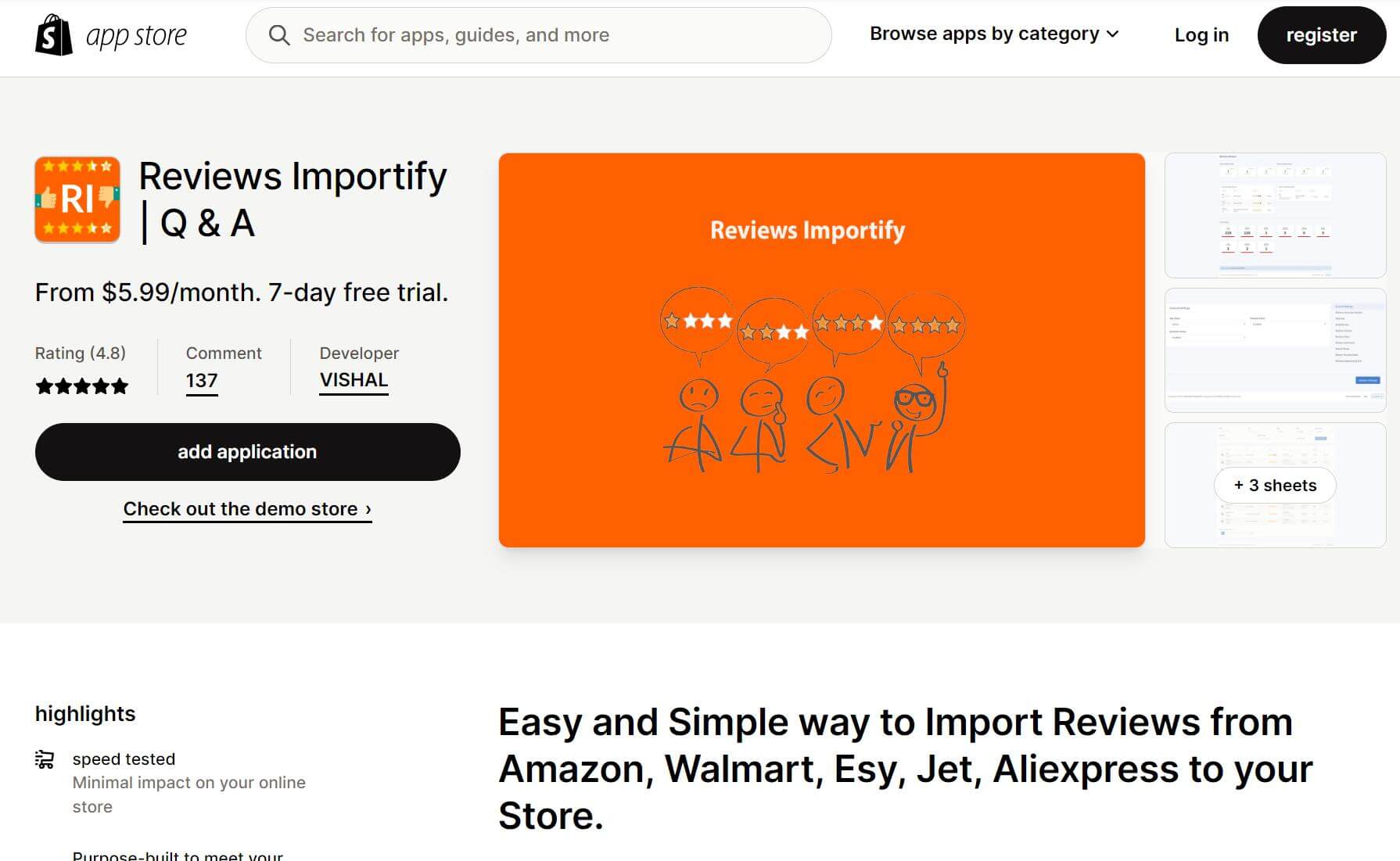 Price: 7-days free trial. 5.99$ for month
Main Features:
Easy way to Import Reviews from Amazon, Ebay, Walmart, Etsy, Jet & Aliexpress.
Provides Google Reviews XML Feed that can be used to submit Reviews to Google.
Pros: Import 1,000 Review per Profile for $5.99 a month, much cheaper than any other apps.
Picture and video importing supported.
Cons: Provide nothing else than review importing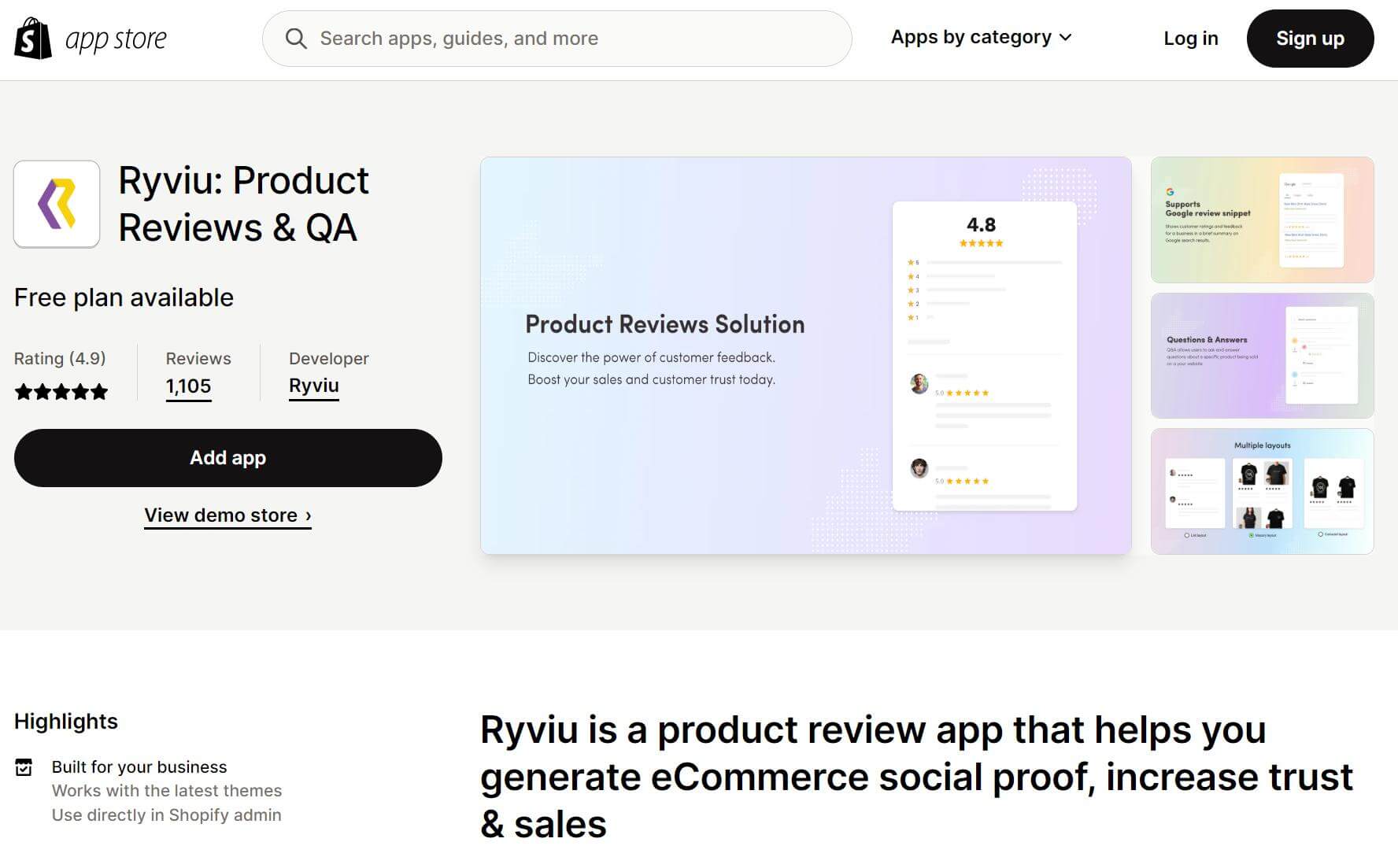 Price: Free import up to 20 reviews for each 50 products. 6.99$ for month
Main Features:
Import reviews with photos from multi-sources: Aliexpress, Amazon, Etsy, CSV,...
Send emails to collect reviews after customers purchase products.
Pros: Free plan for a small amount of reviews.
Cons: Provide nothing else than review importing
Part3: Dig deeper with you Amazon reviews
If you cares about Amazon reviews, you are on a right track. Here are some pro tips other than importing them to other platforms.
1. Why Amazon reviews matter?
Reviews help shoppers evaluate the quality and suitability of a product.
Reviews provide social proof for the product.
Reviews provide insights into the product's performance and benefits.
Reviews help shoppers identify potential issues or drawbacks with the product.
That's when Shulex VOC comes in. Facing tons of reviews, you will need an AI tool to sort your mind out. Shulex VOC is such a ChatGPT-like tool for Amazon sellers to analyze their reviews. Learn what it can do for you:
2. how can Shulex VOC helps shoppers?
Provides an overview of reviews: Shulex VOC can provide an overview of the reviews available for a product, including the number of reviews, the average rating, and the most common themes or sentiments expressed in the reviews. This can help shoppers quickly get a sense of what others are saying about the product.
Identifies common themes and sentiments: Empowered by ChatGPT, Shulex VOCcan use natural language processing (NLP) and machine learning algorithms to identify common themes and sentiments expressed in the reviews. This can help shoppers quickly identify the most common issues or benefits of the product, and help them make an informed purchasing decision.
Filters reviews: Shulex VOC allows shoppers to filter reviews based on various criteria, such as the rating, the date, the length of the review, and the sentiment. This can help shoppers quickly find the most relevant reviews that address their specific concerns or interests.
Provides insights and recommendations: Shulex VOC provides insights and recommendations based on the analysis of the reviews. For example, it can suggest alternative products that might better meet the shopper's needs or provide additional information about the features and benefits of the product.
3. What else shoppers can do with reviews?
Improve your Amazon product listing: By analyzing Amazon reviews, you can identify common complaints or issues that customers have with similar products, and use this information to improve your product listing. This can help you address potential customer concerns and make your product more appealing to potential buyers.
Use Amazon reviews for marketing: Positive Amazon reviews can be used in marketing materials to highlight the benefits of your product and build trust with potential customers. You can also use customer feedback to improve your marketing messaging and target your advertising to the right audience.
Leave a reply: As a seller on Amazon, you can respond to reviews to thank customers for their feedback, address any issues or concerns, and provide additional information about your product. This can help build trust with customers and show that you value their feedback.
- End -