With Amazon's continuous growth, the potential for building an e-commerce business by selling on  their platform also expands. These trends suggest that 2023 holds vast opportunities for entrepreneurs in the e-commerce industry. However, to seize the tremendous potential that Amazon offers,  you must  complete the Amazon seller registration process. On the other hand, along with the development of AI technology, the operation of Amazon business has become more intelligent, and very many AI tools can help them to reduce operating costs and improve sales conversion.
To ensure your account is verified and to give yourself the opportunity to establish a thriving Amazon business, we will guide you through the updated registration process.
How to start an Amazon business
The greatness of Amazon lies in the fact that there is not just a single approach to commencing an Amazon business. Whether it's the business model you opt for or the products you select to sell, there are numerous paths to achieve success on this platform.
Nevertheless, the fundamental steps to establish and operate an Amazon business remain consistent irrespective of the chosen business model or product.
1. Choose right business plan
There are multiple ways to start an Amazon business, each with its own advantages and considerations.
Online or Retail Arbitrage: Arbitrage involves finding and buying low-priced items from online or physical retail stores, then reselling them on Amazon for a higher price. This method is suitable for those with limited capital. By using the Amazon Seller's app, sellers can easily identify profitable products and learn the basics of selling. It can serve as a stepping stone before venturing into larger business endeavors.
Dropshipping: With dropshipping, you outsource product management to a third-party company that handles inventory, shipments, and storage. Your focus is solely on making sales. While some dropshipping suppliers offer free trials, ongoing service usually requires payment. Another similar option is print-on-demand, where you can create or upload unique designs for products like t-shirts and mugs. Both dropshipping and print-on-demand are affordable opportunities worth considering.
Wholesale: Wholesale purchasing involves buying products in large quantities directly from established brands. These products can be resold at a profit without the discounts offered for bulk orders. This method offers the advantage of leveraging well-known brands but may require higher upfront costs.
Private Label Products: Private label merchants purchase products from external manufacturers and add their own branding to them. This allows sellers to bring their product ideas to life and secure trademarks to prevent competition. By enhancing pre-existing designs, sellers can create customized products without starting from scratch. Platforms like Alibaba provide access to pre-made bulk products for private labeling.
Notes: 76% of Amazon shoppers prefer purchasing private label products over brand name products.
2. Choose fulfillment method
When it comes to fulfillment, you have two options to choose from:
Fulfillment by Amazon (FBA): With FBA, Amazon takes care of the entire fulfillment process. You send your inventory to an Amazon fulfillment center, and they handle storage, packaging, shipping, and customer service. This method offers benefits like Prime eligibility, reliable shipping, and access to a vast customer base. However, you will incur fees for Amazon's services.
Fulfillment by Merchant (FBM): FBM means you handle the fulfillment process yourself. You store inventory, package orders, and ship them directly to customers. This gives you more control over the process and can be cost-effective for smaller businesses. However, you are responsible for customer service, returns, and may not have access to certain Amazon perks like Prime eligibility.
Both methods have their own advantages and considerations. It's important to carefully analyze each option to determine which one aligns best with your business needs. Additionally, you have the flexibility to use both FBM and FBA to fulfill orders, depending on your specific requirements.
3. Find winning product
If you have a product idea, it's crucial to validate its potential demand on Amazon. Even if you believe your product is marketable, it's important to follow this step to ensure that there is sufficient demand and minimal competition. This validation process will help you identify products that have a high demand but low competition, increasing your chances of success on Amazon.
When considering potential winning products, market insight plays a crucial role. The first consideration is the market size and growth. It's important to assess whether there is enough room in the market for the chosen category. This involves understanding the size of the market and determining if there is still demand for this category based on the market's growth rate. By analyzing these factors, we can gain valuable insights into the market's potential and make informed decisions about product selection.
To assess the competitive landscape, it is important to examine the target audience, product features, and development plans of competitors. Additionally, analyzing the overall market share is crucial.
The competitive landscape can be evaluated based on two main aspects:
Analyzing the market share of the specific category to determine if there is any space for entry. If the market share is dominated by established competitors, it may indicate limited opportunities for new entrants.
Evaluating the competitiveness of the company by comparing it to other competitors in terms of their market position, strategies, and offerings.
By considering these factors, we can gain insights into the competitive environment and make informed decisions about positioning and strategies for our own product or business.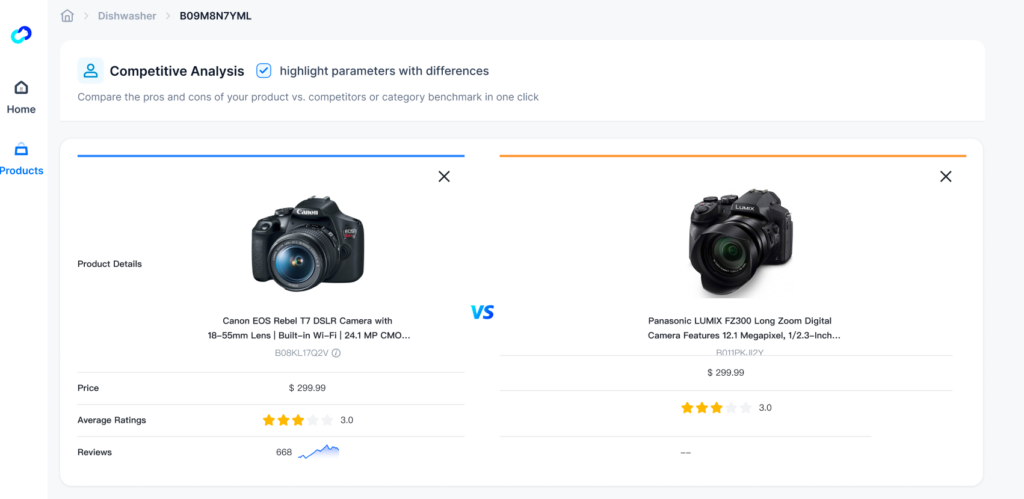 If you want to discover breakthroughs in innovative products or identify key points for outperforming competitors, it is important to gather real feedback from consumers through a Voice of the Customer (VOC) program. Below are five essential steps to consider when developing your VOC program:
Define Your Objectives: Clearly establish the goals you want to achieve with your VOC program. This could involve understanding customer needs, preferences, and desires, or identifying areas for improvement in your existing products and services.
Map the Customer Journey: Gain a comprehensive understanding of every step in your customers' journey. This enables you to identify specific touchpoints where customer feedback can be collected. Feedback can come from recent purchasers or long-term users of your products.
Select the Right Tools: Choose the appropriate tools for collecting customer feedback based on your objectives. Options include reviews, surveys, interviews, usability studies, or focus groups.
Analyze the Results: Once you have gathered customer feedback, analyze the results to gain valuable insights into the strengths and weaknesses of your products. This analysis helps you pinpoint areas that require improvement.
Take Action: Implement necessary changes based on the identified areas for improvement. This could involve product enhancements, better customer service, or launching new promotional campaigns. By implementing the insights gained from your VOC program, you can ensure that your products align with customer needs and drive innovation.
By following these steps, you can establish an effective VOC program that uncovers crucial insights, propels product innovation, and positions you ahead of competitors.
4. Calcuate How much does it cost to sell on Amazon?
We also need to utilize a tool to estimate the cost and profit for new categories that have not been explored before. For instance, we need to analyze the average cost of products with Best Seller Rank (BSR) 5 or even BSR 100 sold on Amazon. Amazon's cost structure comprises manufacturing costs, freight costs, warehousing and logistics costs, transaction commissions, marketing discounts, and traffic promotion expenses.
In general, we can rely on tools to determine the cost structure of a product. By utilizing these tools, we can calculate the various costs associated with manufacturing, shipping, warehousing, marketing, and other factors, which allows us to estimate the potential profitability of venturing into a new category.
Here are some of the fees that you may need to pay as an Amazon seller:
Amazon referral fees: This is the commission charged by Amazon for selling on its platform. The percentage varies depending on the category, typically ranging from 12% to 40%. For most products, the referral fee is around 15%.
Individual seller fee: If you have chosen an individual seller account instead of a professional plan, there is a flat fee of $0.99 added to each sale in addition to the referral fee. This fee is per item and applies only to individual sellers.
FBA fees: If you utilize Amazon's FBA (Fulfillment by Amazon) program, you will be responsible for covering the shipping and handling costs incurred by Amazon.
Other Amazon fees: There may be additional fees such as long-term inventory storage fees (applicable for FBA users), media fees (for selling books, DVDs, etc.), and advertising costs.
It's important to consider these fees when calculating your potential profits as an Amazon seller.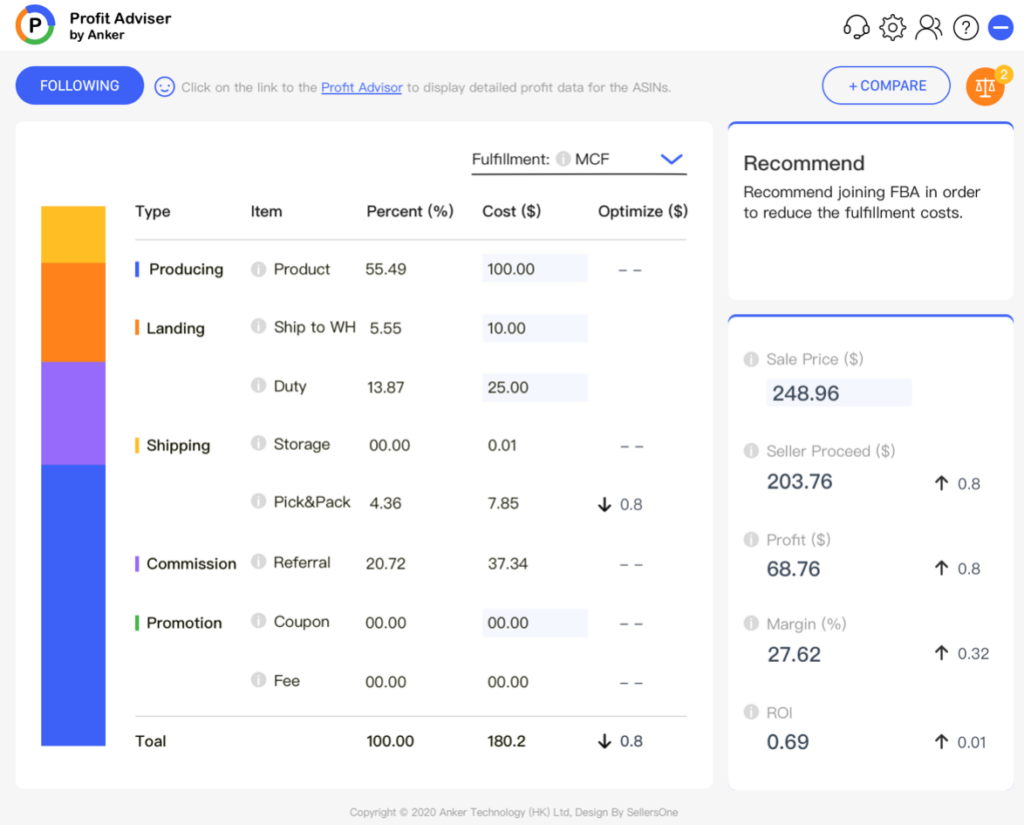 5. Create an Amazon Seller account and setup store
Step by step about how to create amazon seller account in the next section.
How to create an Amazon seller account
After determining the products you intend to sell on Amazon, the next step is to complete the straightforward Amazon seller registration process.
1. Select selling plan
Before sharing any personal information, it is crucial to conduct research and determine which of Amazon's selling plans best suits your needs. While the Professional plan is typically preferred by experienced sellers, the right plan for you depends on your specific goals, available resources, and current stage in your selling journey.
The Individual seller plan involves a fee of $0.99 per item sold, making it suitable for those who are still deciding on a product or have monthly sales averaging less than 40 units. This plan offers a cost-efficient option for sellers who move 40 or fewer items because the per-item fees can accumulate. It is a money-saving choice for those who are not yet ready to launch their store or are in the process of finding a product. Additionally, the Individual seller plan is ideal for sellers testing the waters on Amazon with a small number of products. However, as this plan does not provide access to inventory tools, sellers with a large product catalog or high sales volume may find the Professional plan more suitable. You can upgrade to a Professional account at any time after selecting a product or as your sales increase.
On the other hand, the Professional seller plan has a monthly fee of $39.99, and Amazon also collects a seller fee (a percentage of the total transaction that varies by product category) for each sale. Sellers on the Professional plan enjoy benefits such as Brand Registry, which protects their business from fraud and abuse while providing additional advantages for their listings. In summary, the Professional plan is ideal for sellers looking to establish their brand on Amazon and offers various benefits, including monthly fee capping, access to the Amazon Advertising platform, eligibility for top product placement on detailed pages, and promotions like free shipping. Both the Professional and Individual seller plans allow you to add new products to the Amazon catalog and grow your business through the Fulfillment by Amazon (FBA) service.
Notes: Please note that if you opt for the Individual seller plan, your products will not be eligible for the Buy Box, and you will not have the ability to advertise them on Amazon.
Notes: For the Professional seller account, there is a monthly charge of $39.99 for the initial month. However, if you don't have any active listings in a particular month, you will not be charged the $39.99 for that month. Once you have an active product available for sale, the monthly charge will be applied again.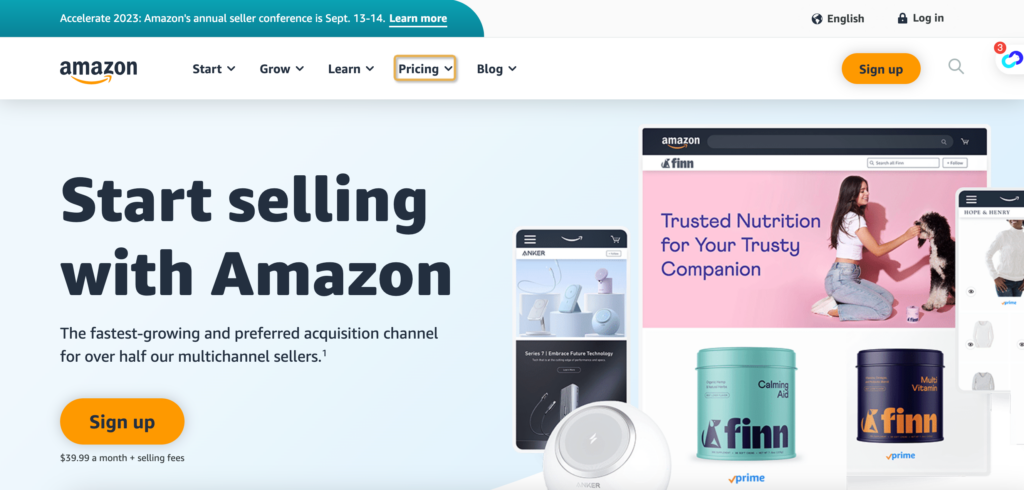 Step 2: click compare selling plans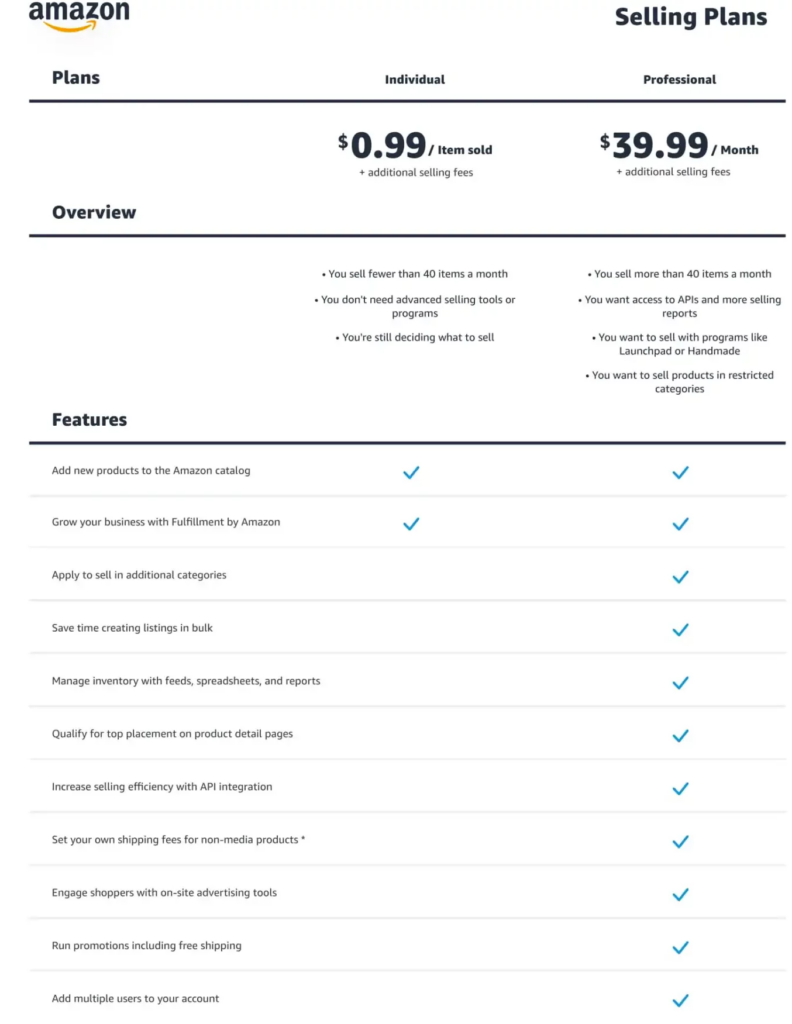 2. Create new account
After selecting the seller plan that suits your needs, the next window will prompt you to enter your email address and choose a password for your seller account. Once you have provided this information, click the 'Next' button to proceed.
Upon entering the required information, you will be directed to a second screen that informs you to enter a verification code sent to your email. This is an additional step by Amazon to verify the email address you provided during registration.
After successfully entering the correct verification code, you will be automatically redirected to the welcome screen
To complete your registration, Amazon will inform you about the required items:
Valid government-issued ID or passport.
Recent bank account statement or credit card statement.
Chargeable credit card.
Mobile phone.
Step 1: Go to https://sell.amazon.com & click "sign up" button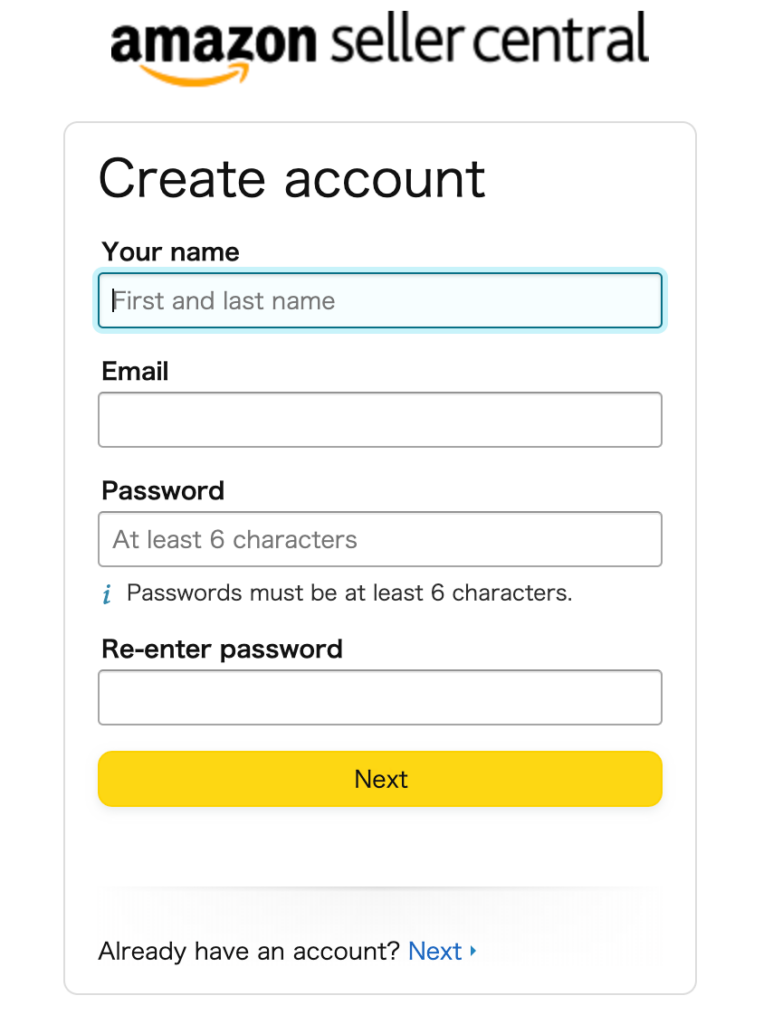 Step 2: complete regiseration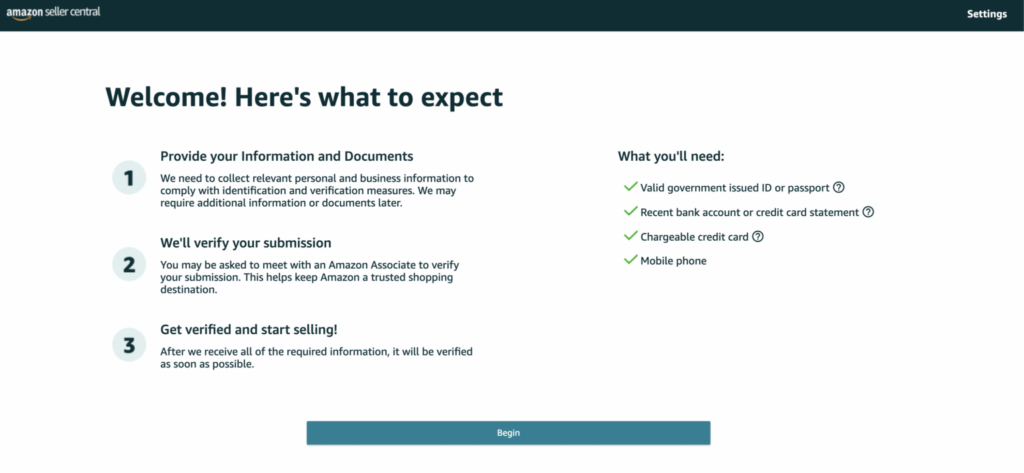 3. Choose business location and business type
In the next step of the Amazon seller registration process, you will be asked to provide the following information:
Your business location: This refers to the country where your business is physically located. It is crucial to ensure accuracy in this information as Amazon will verify it during the process
Your business type: You will have the option to select your business entity from the following choices (most businesses fall under the 'Privately-owned' category):
State-owned business
Publicly-owned business
Privately-owned business
Charity
None, I am an individual
If you do not have a formalized business entity, choose "None, I am an individual." In that case, Amazon will request your full name in the subsequent step.
Notes: Business information: Prior to moving forward with this step, it is important that you have already registered your business with the appropriate state or federal government. This will allow you to acquire a company registration number or an Employer Identification Number (EIN) within 24 business hours, provided you are a seller based in the United States and registering with the IRS.
Step 1: type business location and type, then click "Agree and continue"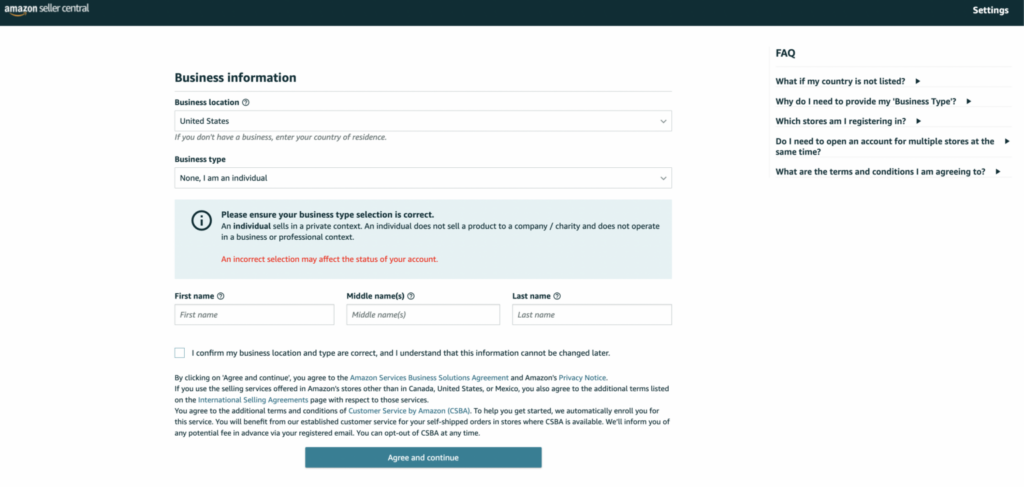 4. Complete personal information and billing information
Seller information: Following that, you will be asked to provide information about a point of contact for your business. In addition to the standard details such as name, location, and verification, the form will require you to confirm whether the contact is a beneficial owner or legal representative of the business.
Billing information: Before you can begin earning money, it is crucial to select a suitable seller plan that aligns with your business goals. Once you have chosen a plan, you will need to enter your payment information, including card number, card expiration date, cardholder name, and billing address, in order to complete the purchase. If you have used the same login for both Seller Central Amazon and your Amazon customer account, your billing information may already be saved. However, please note that providing this information is a necessary step to establish and operate your business on Amazon.
Step 1: seller information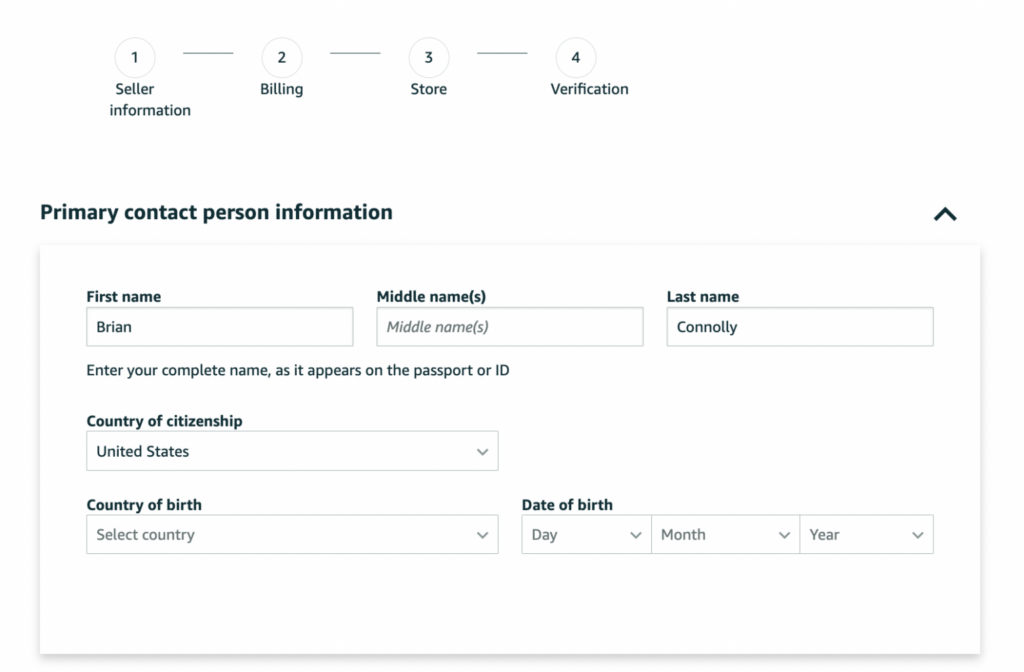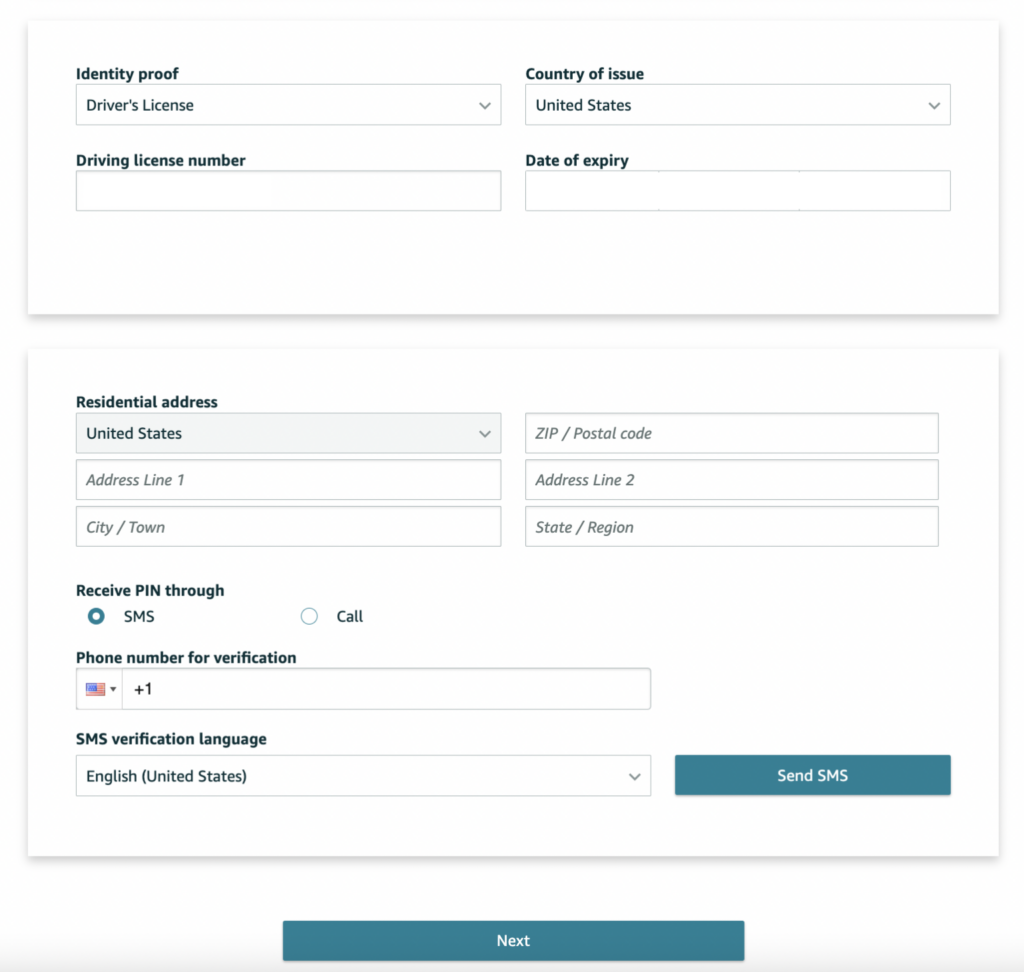 Step 2: billing information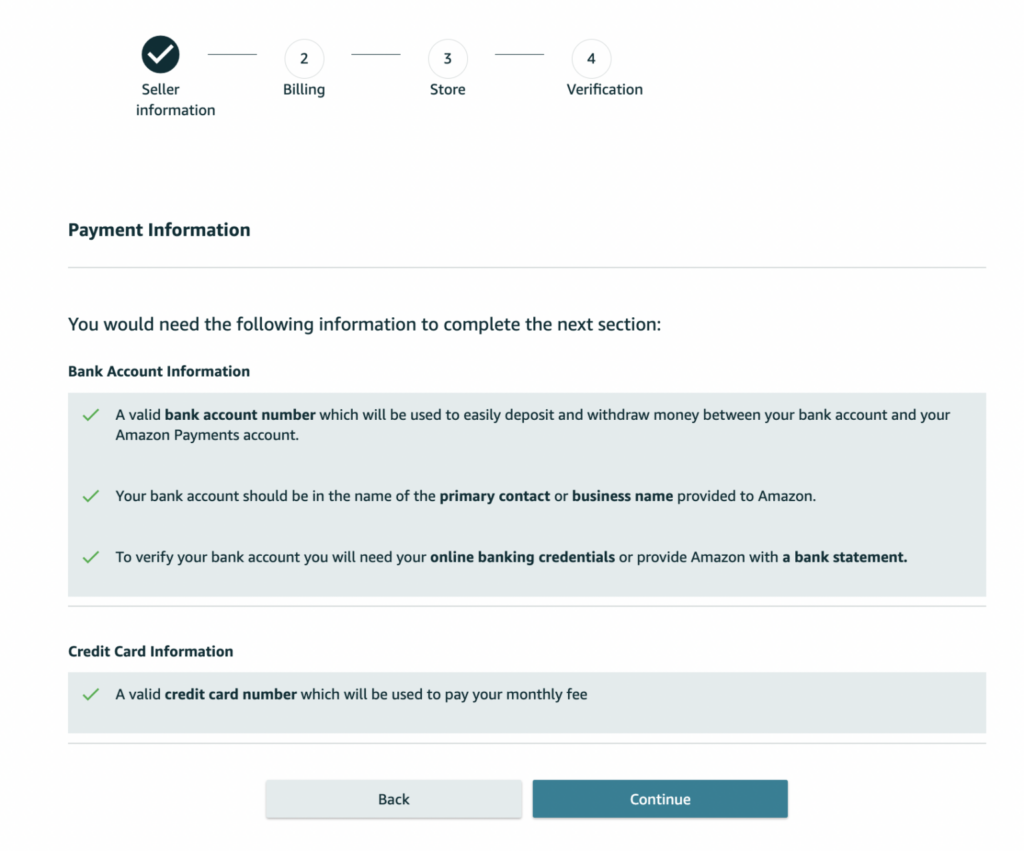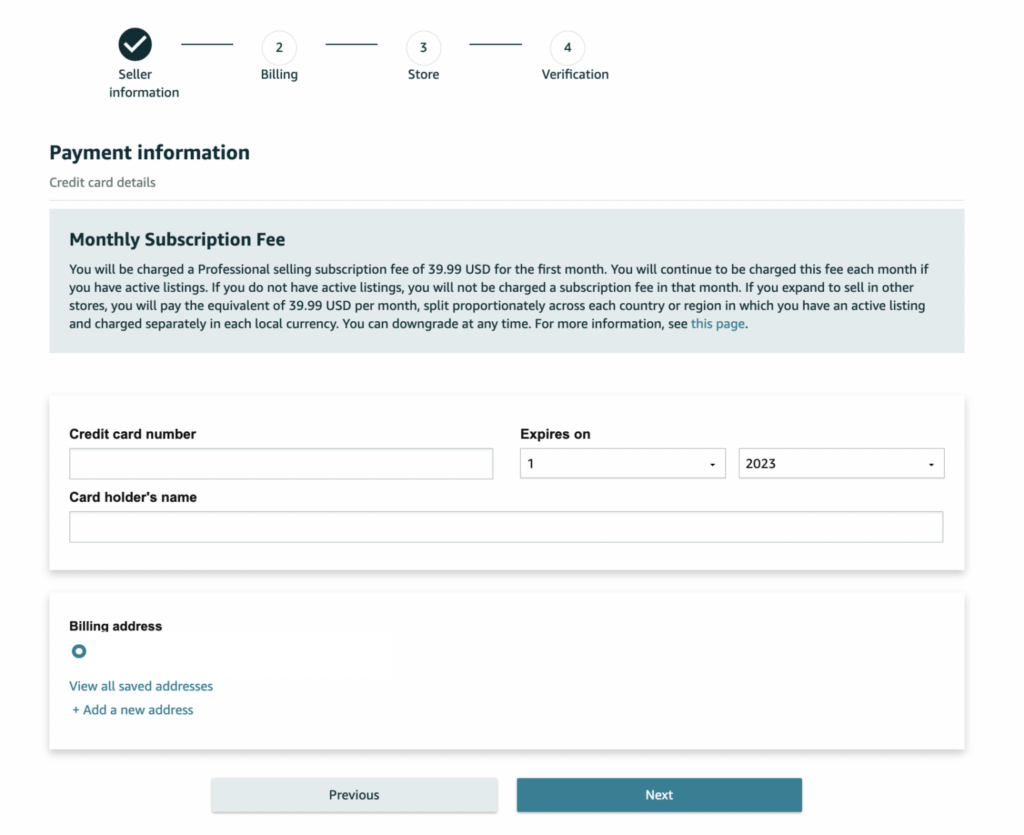 5. Default store information
Once you have provided and verified your credit card information, you will be asked a series of questions regarding your Amazon store and the products you intend to sell. In order to proceed to the next stage of the Amazon seller registration process, you will be required to answer the following:
The name of your Amazon store (do not worry too much about this, as it can be changed in the future).
Whether or not you possess UPC codes for your product(s) (if you are uncertain, simply select "Yes").
If you hold any diversity certifications.
If you are the manufacturer and/or brand owner of the product(s) you wish to sell. If you select 'Yes' or 'Some of them,' you will be asked: "Do you possess a government-registered trademark for the branded products you intend to sell on Amazon?"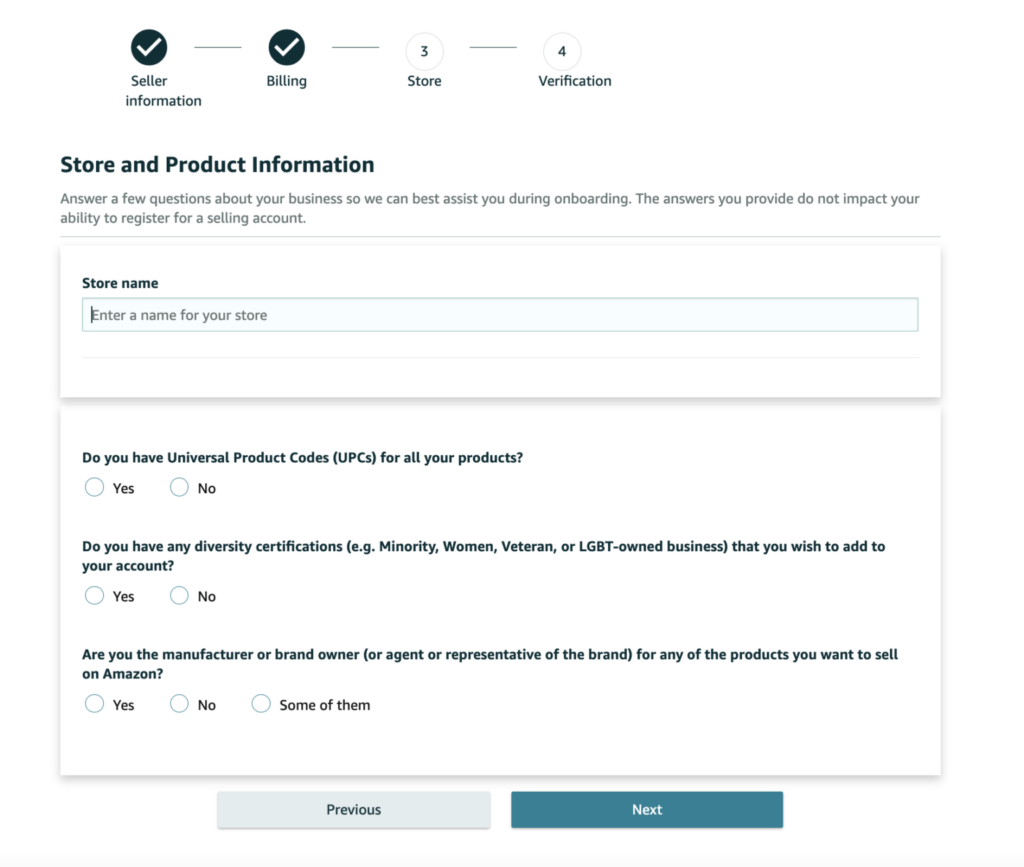 6. Verification
Next, you will be prompted to verify your identity by uploading images of your identification document (such as a driver's license or passport) and a bank statement. This step is necessary to confirm your identity and ensure the security of your account.
Once you have uploaded your documents, click on the "Submit" button.
After submitting all your documents, you will be required to undergo an Identity Verification process through a video call with an Amazon associate. This is done to verify the authenticity of your documents and the accuracy of the personal information you provided.
Please note that completing the Identity Verification is now a mandatory part of the registration process. We recommend scheduling the verification call as soon as possible so that you can begin selling products on Amazon. At the end of your application, you may have the option to initiate the call. If you are unable to do so at that time, you can schedule an appointment for a future date and time.
Step 1: upload document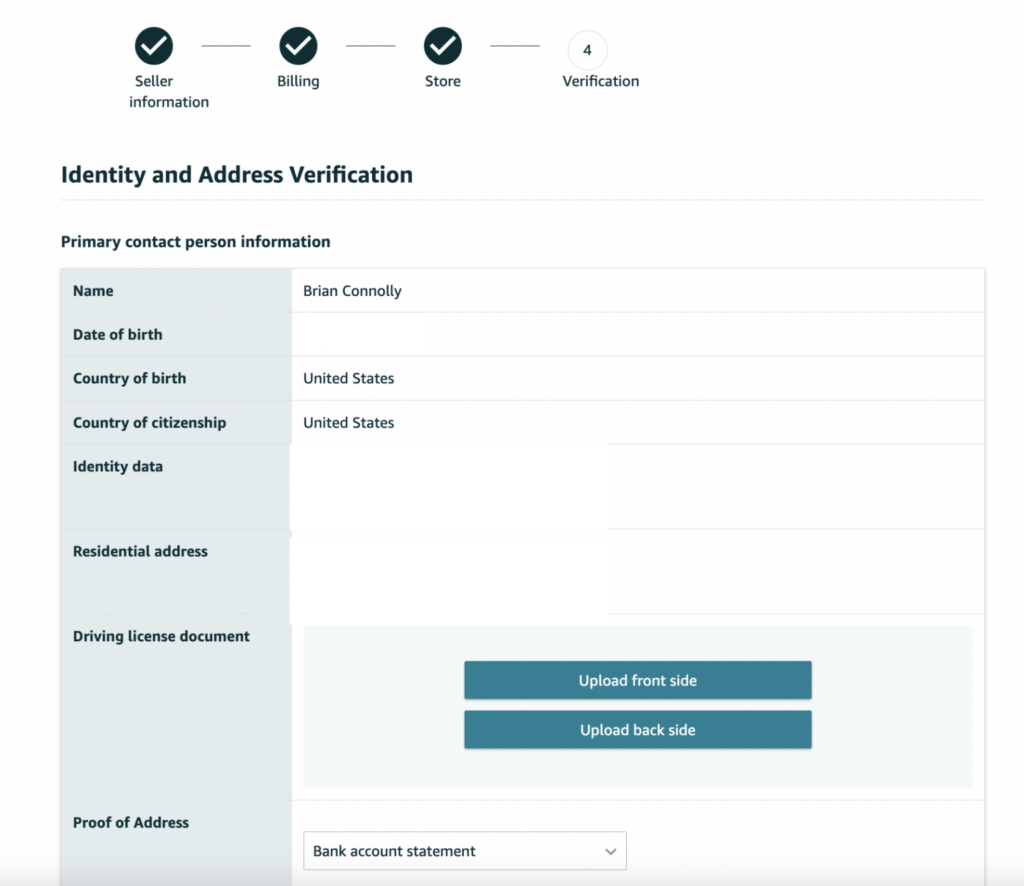 Step 2: Complete verification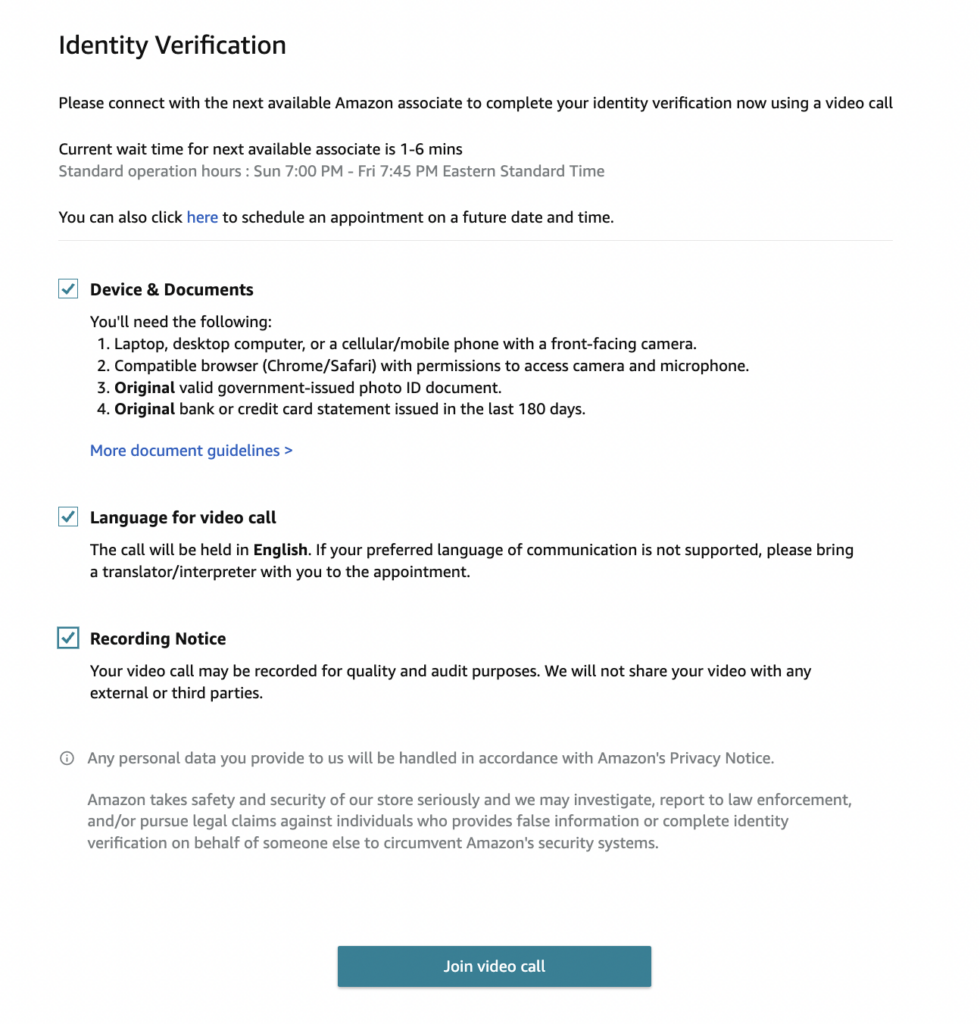 When finish all Steps, you're in!. You can access https://sellercentral.amazon.com to get starting. Shulex VOC and ChatGPT suits will help you that using AI analysis of all marketplace products, and provide marketplace optimization AI tools. If you want to use AI to help your Amazon business, start a free trial now.
- End -